Two weeks ago, 2 of my sons and I hopped in the truck to see my uncle and cousins in Michigan and the land settled by my great-great-grandfather John Lessiter in 1853. In addition to seeing my dad's "Wall of Excellence" plaque at the high school (one of 24 to be honored to date), our visit to the southeastern Michigan village of Lake Orion included the family cemetery plots, the "Junction" where my cousins and I traded barn-strewn cans and bottles for baseball cards and Faygo pop, and to check out the surviving buildings of the farm that had been in our family for 140 years.
Today, hundreds of $700,000 homes dot what once were rolling pastures that served as a playground for annual summer stays. The 100-year worn farm lane is gone, as is the tool shop, barns and sheds. All that remains of the old Lohill Farm is the 1853-built original farm house and the 96 x 40-foot barn built in 1905, though we're grateful to learn they'll be forever protected by a young couple who bought the property for an event venue, and whom we had the pleasure of meeting that late afternoon in May.
I've been back numerous times since the land became someone else's, but perhaps my 54 years have made me more sentimental about the Baldwin Road property I remembered as a kid.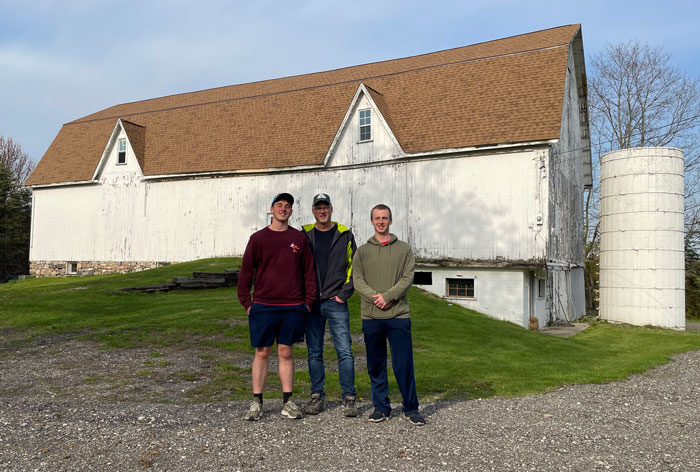 Back on Lohill Farm, the centennial farm established in 1853 by my great-great grandfather John Lessiter of Wiltshire, England. The barn was built in 1905. 
The last time I entered the 1905-built barn or original farm house was 30 years ago, just before my Uncle Neil and late Aunt Janet moved to Lapeer to clear 80 acres of cornfields for a new house, barn and pastures for their Simmental and brace beagling operation.
The boys and I had a great time on Uncle Neil's NeJan Farm. We got a few farm chores in, gawked at an hours-old calf and chased (unsuccessfully) another one who'd slipped out. We even had an impromptu meeting at a farm machinery dealership and Farm Equipment subscriber thanks to owner Roger Blumerich at Dick Coulter Inc in North Branch, Mich. And we did just enough business that day to legitimately charge off an Arby's lunch in town.
While Roger endured an editor's grilling on his business and how it survived the 1980s, our interest in meeting Neil's all-time favorite dealer got him into the store, where the friends shook hands on a new 31-horsepower ZTR before we drove off.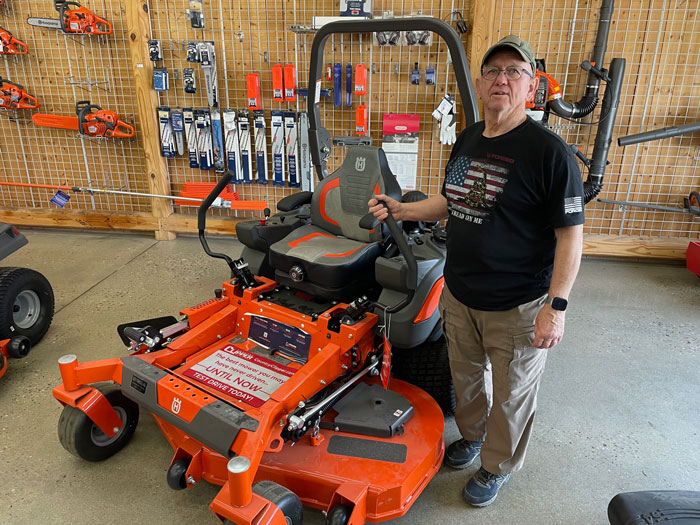 'Uncle Neil' Roberts with his new Husqvarna ZTR purchased at New Holland dealership Dick Coulter Inc. The deal was officially sealed during the visit.
A few days later, back at the office and making calls for the new Farm Equipment 100TM project, the dialog with executives turned time and again to worries over where we'll find tomorrow's equipment dealer personnel. Said one executive: "It's difficult to attract new talent to the industry, especially in rural communities where people are moving to the big cities. And it's harder to attract them to a dealership." 
This reminded me of a trip to a Pennsylvania dealer almost a decade ago where a dealer-principal sounded the talent-shortage alarm, and how he'd already stomached a double-punch. Not only was his dealer group losing farm customers, but many of his full-time techs also farmed. The dealership had been a great off-farm career for them because they were afforded time off for planting and harvesting, he said. But as these techs retired, and as their farms were divided into homes and strip malls, the dealership was losing both employees and customers.
Father-Son Interview
Reflecting on the ensuing talent challenges prompted a discussion with my 18-year-old son, Owen, who is headed to the University of Minnesota in the fall. While his older brother, Drew, knows farmers and dealers through his work at our annual events and a few other travels, most of Owen's exposure to my work was from tagging along to Farm Equipment Manufacturers Assn. board meetings and farm shows (back when the lure of a farm show milkshake and grilled cheese sandwich was enough to miss a day of school.)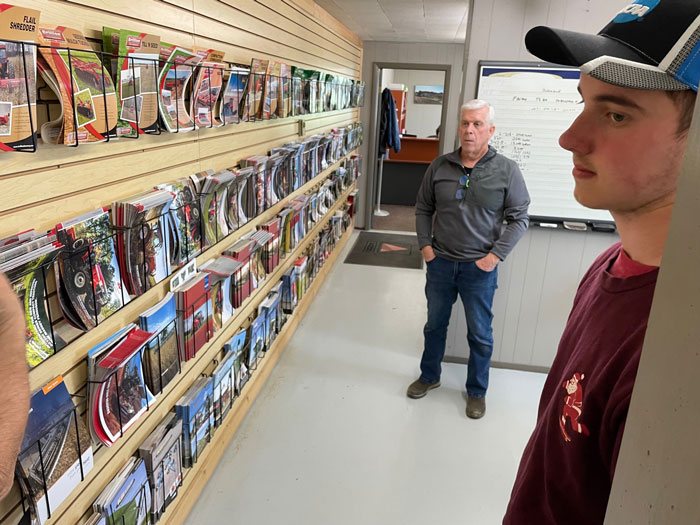 Roger Blumerich, owner of dealership Dick Coulter Inc., explains the dealership's shortline equipment offering to Owen Lessiter.
Fresh off the trip and the conversations with dealer execs, I asked the 18-year-old suburbanite for his observations after a few days' respite in the country. Here are the high points of that living room interview with Owen:
He noticed less of a rat race and people rushing to get the next thing "done."
He commented on the friendliness we encountered in town. Even at the gas pump, our Wisconsin plates spurred welcomes and well wishes for our stay).
He's drawn to the green and growing fields, far more so than the city billboards and bustle that reminds him of stress in life.
He appreciated the dark night skies ("an awesome night's sleep," he says) and the views from the farm house's back porch.
"There is always something to do," he says, noting the sense of purpose. (As I began to remind him of the jobs around our "homestead," I found myself echoing my dad's words to a "younger me" … That is, that I couldn't be troubled to pick up a day's worth of dog crap at home yet found it cool to sling manure for Uncle Neil for 6 straight hours.)
While suburban life offers conveniences in the distance to school, friends' houses, and stores and restaurants, the lack of traffic was definitely noticed. The 18-mile drive to the dealership took about 20 minutes.
His observations on the farmer – "reliable, loyal, hardworking, proud of what they do, good people to do business with and very family oriented."
His observations on the dealers – "everyone appeared to like their job, was knowledgeable and proud of their work and showed concern about making sure they put the customer into the right machine now and in the future, but not overbuying either."
I asked a few more questions about his age group and interests in a career outside of the area they grew up. His generation, he reminded me, is looking for a change, especially after losing 2 years of their youth due to COVID. He and his classmates are restless, he says, and looking for ways to make up for lost time.
His pursuit of actuarial science or architecture may make it more challenging for him to do so, but he said he'd welcome the chance to work in the country (C'mon rural broadband!). He thinks maybe he'd like a piece of property of his own to enjoy the outdoors life and nature. 
As for how to recruit his peers, a classmate he called "J.B." came to mind, someone he described as "a pickup truck-driving outdoorsman" who likes to work with his hands. Owen's advice for dealers and rural employers who want to recruit out of the bigger towns and cities – where there are numbers to draw from – is to include the following in your pitch:

Outdoors R&R. Play up the hunting and fishing ("and good snowmobiling and ATV trails if you have them nearby") and flexibility to pursue those activities around ag's seasonal work schedules, he says.
Paid-For Training. He's pursuing a 4-year degree but he and his friends are keenly attuned into the debt that college will bring. The free training he learned that exists for tech and other positions, he says, will turn heads. He said we might want to connect with J.B. on a farm equipment career and rural living. I'll look for him at graduation in a couple of weeks. 
The 14 hours in the truck, and subsequent conversations, made for a memorable trip with the boys and a few days away from the office stresses. And at the end of the "interview" with Owen, which I assume was due in no small part to his new connections with our farmers and dealer audiences, he asked if he could fill out an application to work at our company this summer. 
Thanks Roger and Neil. And by the way, the caliber of people comprising this industry will always be its single-greatest recruiting tool...
Photo Gallery