What a crazy end to 2021, and what a crazy start to 2022. Lead times haven't gotten better, and in some cases they have gotten worse. Chip shortages are still an issue, and we likely won't see much relief in the near term. The first and second quarters of the year will look and feel like 2021. What about the last half of 2022?
Like 2021, the last half of the year is shaping up to have the most deliveries from OEMs. Throughout 2022, new machines will get delivered and the trades, in most cases, are presold. Most equipment is moving from farm to farm and never actually making it to the dealership. Moving equipment from farm to farm isn't going to change much, and the demand to update equipment will continue through the rest of 2022 and into 2023. Market price for used equipment is at an all-time high, and the market feels like it has topped out.
Used equipment selling will diminish starting in the fourth quarter of 2022 and will continue throughout 2023. I want to be clear in my statement. I am not saying demand will decrease, Rather, I am saying that the premium on used equipment will diminish. With more new equipment landing in the 4th quarter of 2022 and more "normal" as OEM factories get caught up, more used equipment will be available. Therefore, there will be more available used equipment on dealers' lots. By this time, more sections of farmers' fleets will have been updated, and there will be fewer buyers in the marketplace.
That being said, the age of the farming fleet still will need more updating. The demand for equipment won't slow down in 2023. Instead, it will continue to look and feel similar to current conditions. Instead of having 10 buyers imposition on a piece of equipment, there might be 6 or 7. This is where the erosion of the premium is going to come from. As more equipment is readily available and new equipment delivery dates shorten, more buyers will weigh their choices as 2023 progresses.
Some new buyers have purchased late-model, low-hour equipment in the current market instead of new models, because no new one was available. In 2023, some of these customers will order the new machine and trade their recent purchases.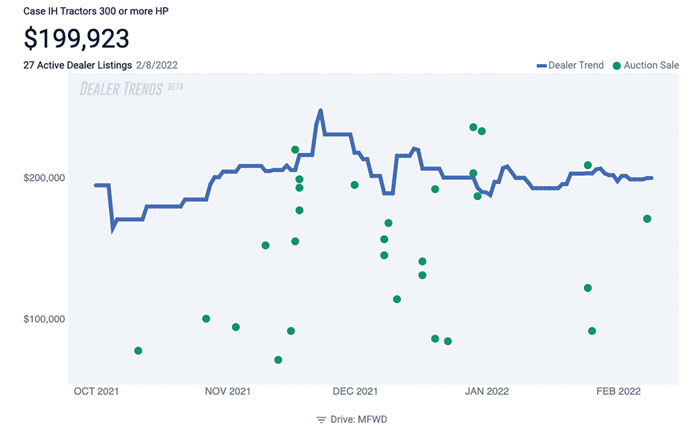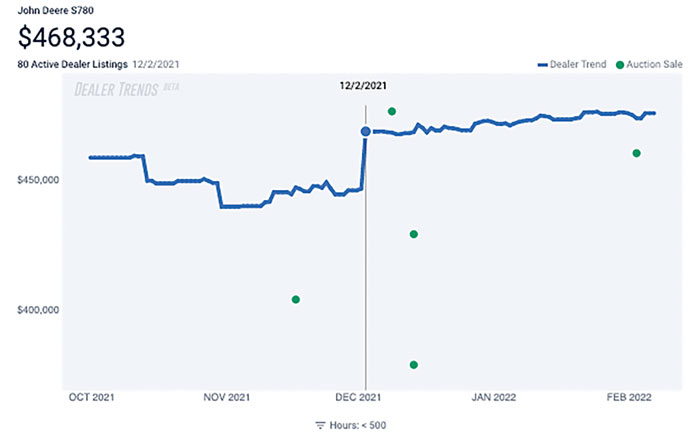 As a result, this used machine will better feed the secondary and tertiary buyers. In many cases, this machine might only have a partial season of use, and the overall value of the machine may not move much, but the next buyer will see the better value over time.
Looking at this advertised pricing data from Tractor Zoom's Iron Comps above, there's a sharp rise in November for tractors (top) and in December for combines (bottom). Both models have a similar pattern, but looking at the top side of the graph, the month of January has plateaued. Therefore, I believe pricing will come down and more machines will come to the market available to sell. The demand is overwhelming, comprised of machines available after June 1, 2022 and early and late fall availability.
Because of the available dates, the third and fourth quarters of the year will already have inventory that doesn't have a home. 2023 will be the year the cupboards will start to refill. The machines will slowly begin to make its way to dealer lots, and sales personnel will again have to prospect and think about various structuring deals. 
This pattern will continue through 2025. In 2026, used equipment inventory will be a significant topic of conversation to the negative. And 2027-28 will have a breaking point that will lead to inventory liquidations similar to 2014-16 to start in 2029-31.
The timeline I have laid out is not a foregone conclusion. The repeating of history can all be stopped if processes are dialed in now, best practices are shared with the used equipment community as a whole and we educate the end-user on equipment values and trends. 
The more information is shared, the softer the landing is after this rocket ship decides to come back to Earth. We don't have to repeat history over and over again continually. Blaze a new path.