"If rising levels of optimism can be turned into equipment sales, dealers could have a good year ahead of them."
This is how we're summarizing the results of the 2018 Dealer Business Outlook & Trends survey. Conducted early last month, the survey included the responses of 229 U.S. and Canadian dealers, and indicates that farm equipment dealers are far more confident about business prospects in 2018 than they have been for quite some time.
We've been reporting during the last few months that there were signs popping up in various places that suggest that business levels are improving for North American dealers. Many of these came from our own dealer surveys during the past year.
For one thing, our monthly Dealer Sentiments & Business Conditions Update during the past year has shown that dealers are feeling more optimistic than they were the year before. For example, in August 2016 a net –25% said they were "less optimistic" than they were the month before. This past August, this dropped to –3% who felt "less optimistic." Still not great, but overall sentiments since the beginning of the year were appreciably better than what they were in the previous year.

In our 2018 Business Outlook & Trends survey, dealers were asked to give their best estimate of how they're 2017 revenues from the sale of new and used equipment will stack up against their 2016 results. Some 40% responded that revenues will up by 2% or more in the current year compared to the previous year. Twelve months ago, less than 18% expected improved revenues from new equipment sales in 2017.
A similar result can also be seen when it comes to used equipment. Last year, less than 30% expected higher revenues in 2017. At this point, nearly 43% said their revenues would be higher than they were in 2016.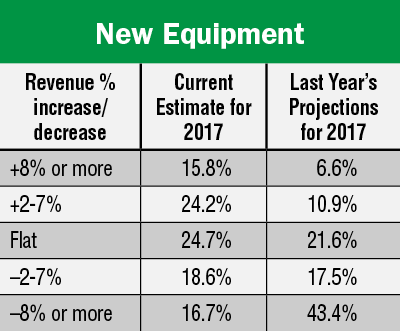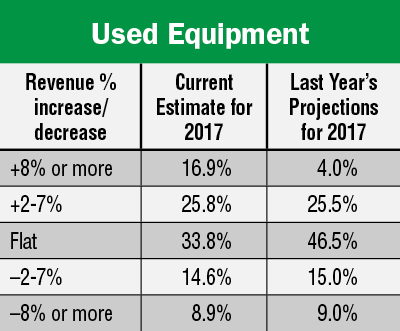 Looking ahead to 2018, 46.5% of dealers expect their new equipment revenues to increase 2% or more vs. 2017. A year ago, less than half of this number (22.4%) were projecting higher revenues.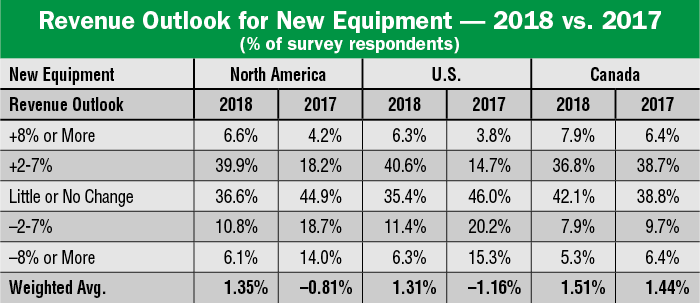 You'll find more detail on the 2018 outlook in the October/November issue of Farm Equipment.
In its most recent quarterly report on Aug. 31, Titan Machinery said, "We have early indications that many of our customers are approaching the point of new equipment replacement."
Some dealer commentary from the September Dealers Sentiments & Business Conditions Update survey offered a similar view. As one dealer put it, "There are more customers inquiring about new models and/or updating equipment from a year ago. This hasn't correlated into purchases at this time, but at least they are willing to have the conversation this year."
Again, no one is predicting a breakout year in 2018, but it's still good to see some signs that things are at least starting to point up.