One of the fun things about our coverage of the farm equipment business is discovering and sharing how each of the various cogs perform together in the larger "machine." On each of the Dealership Minds special issues (most recently the award-winning coverage on Kern Machinery), we've had subscribers laugh about how they learned something they didn't know about the role of a person they'd worked 10 yards away from for a decade, sometimes more.
Similarly, the question of "what exactly does a dealer development manager do?" spurred some exploration of the position. I found an willing party in Alan Graff, who serves in this capacity for Winnipeg-based Versatile. To help us understand what he does, Graff agreed to our request to share his daily call reports for a week. This is the type of candid, warts-and-all assignment that I like to work on.
This "general interest" story is a departure from our regular blog, But I wanted to share it, as many of you haven't been through the "new dealer dance." Or, if you have, you may recall a process that's unlike today's when distribution options are so hard to come by. You may even feel a little empathy for those folks whose job it is to show up at your door and fight through the "cold-shoulder to the cold-caller" as they hope to learn enough about your needs to make a case for earning your business.
Meet Alan Graff
Graff grew up in family-owned equipment dealership in Illinois (Graff Implement). After 23 years there working across all departments, he moved over to the OEM side. He worked with Landoll and Great Plains before joining Versatile in 2008.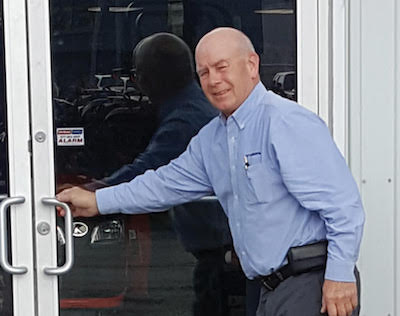 Knocking on Dealer's Doors ... Versatile Dealer Development Manager Alan Graff.
Now operating out of his home in Wisconsin, Graff is on the road 45 weeks per year (Diamond-level status on Delta Airlines, he says) and 200 hotel nights.
As to the question about what a dealer development manager does? In short, the answer is to identify open markets for the OEM, evaluate the market's capacity and recruit a dealership to step up and take on the product line.  While not directly selling by standard definitions, his job is definitely a sales position, he says. Being able to communicate and work closely with the factory and the TMs is a big part of the job, too.
The week that Graff was "followed" took him from his home in Columbus, Wis., to the Milwaukee airport to Michigan, Ontario, and finally to Iowa. His week consisted of travels with the territory manager (TM) for onsite dealer cold calls and courtesy visits. Phone troubleshooting with dealers and with the factory in Winnipeg. Days that started at 5:45 each morning on the elliptical machine (Graff's goal is 12,000 Fitbit steps per day) and ended in the hotel room at 10:30 p.m. after territory market analyses and paperwork (always after a nightly phone call to wife, Vicki).
You'll see Graff adheres by the rules you too have drilled into your sales staff — keep knocking on doors and don't give up when you're convinced there's a good fit. "This job is not for the thin-skinned," he says.
The Process
The path to a new dealer signup has become more arduous for both OEM and dealer —including the paperwork and approval process. Graff, who profiles as "old school," didn't like the stricter requirements at first, which includes several applications and 5-year forecast projections. But he's since come around.
Some of the new dealers don't have deep pockets or histories, he explains. "The banking requirements are a lot harder today after the crash of 2007-08, so a lot more information is needed," he says.
And now that Versatile has become fuller-line, it tends to show up in the "brand purity" dialog, which makes the addition of the brand a harder sell to a dealer-principal already fretting about OEM reactions. In addition to drawing candidates from the traditional farm equipment dealer model, Graff also pays attention to shortline dealers ("They must be established and strong performers to get floorplan approval") and repair shops, which he says can be outstanding prospects due to customer following but generally lack sales experience and confidence.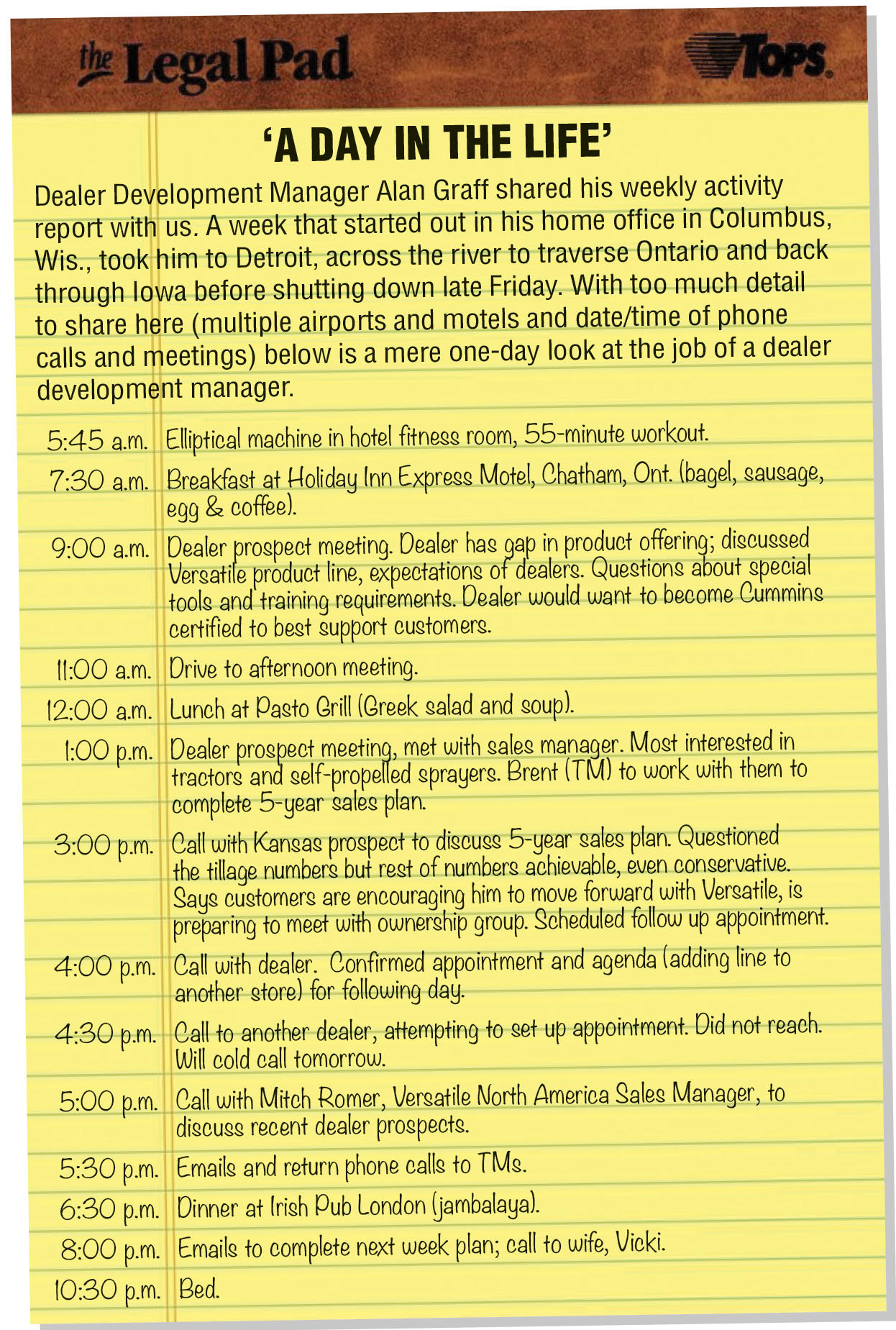 Graff recalls that 10 years ago, Versatile was losing about 40% of the new dealers it signed up. "It's easy for a new dealer to get overwhelmed during the first 2 years; it's like drinking from a fire house."
As a result, the company tightened its requirements and added more staff to devote to training and onboarding — a recent development. "If we make these new dealers more successful, we'll keep them." He now has a trainer in Gordon Roman who follows up, does the orientations and returns quarterly to the dealerships so new dealers don't get lost. Roman also tests them to see how much they've retained.
Graff says his biggest challenge is time and the attention-span of dealers. "If I see a dealer prospect today and don't see him for another 6 weeks, I'll have to start the conversation all over again. Now that we have more people involved, we are getting back to them sooner."
Cold Calls Count
Noting that the greatest success to a new dealer signup (high 90%) comes with dealers reaching out to the OEM, the reality shows it's an infrequent occurrence. Most of the new dealer signups stem from Graff's cold calls or conversations at farm shows.
Cold calling works, but is also time consuming and frustrating. "It might take 3 visits into a store before I'm acknowledged. They might be the nicest people in the world, but until they get to know you, some won't give you the time of day."
When targeting an area with a high market potential, Graff turns to the dealer listing websites to find all the potential prospects, including traditional machinery dealers, shortline dealers and repair shops. "I might drive by all of them first before figuring out who to concentrate on."
Even a few meetings in, Graff often hears the dealer isn't interested or "just too busy" to think about it. "But if the market is good and the operation is the right fit, we don't give up; we'll keep coming back until they say, 'Get out and stay out.'" The dealer-manufacturer dynamic is always changing, he says, and you never know where things are on that continuum. "That's why we continue to persist."
Graff says the most progress is made after the 6th visit, when the prospect starts asking about floorplans and terms. Even then, it's necessary to be onsite to keep things like the applications moving forward. That's another reason the TM often joins Graff early in the process. "The TM can stop back in and move things ahead faster, as opposed to my getting back to an area only once a month."
Last year, Versatile signed 20 new dealers, with a number that are at various stages in the pipeline right now. When the dealer is motivated, it can be ready to retail equipment within a couple of months.
Shooting Straight
During the week, Graff and TM Brent Bogue met with prospective dealer who operates 4 Canadian stores and 1 in Michigan. In discussions about adding Versatile to the Michigan location, the dealership's president asked for details about the ownership of Versatile. Graff explained some dealers have been bit by suppliers who ran into financial difficulties and the resulting loss of product and staff support.
Graff recalls his answer. "Since 2007, the ownership group has put a lot money back in to the company. We had 9 engineers back then and now have 90. I point to all the things they've added and the investments. If Rostselmash hadn't bought the company, we wouldn't have had the combine, the DeltaTrack or upgrades in the 4WD, the tillage or the sprayers."
He adds the diversification is more than just product, too. "When sales are slow here in North America, sales opportunities may exist in export markets such as Europe, Russia or Australia." He stresses that the company is investing in R&D, ISO certification and has addressed previous product concerns. "I think most see that we're moving in the right direction," he says.
Beyond hearing the "pitch," Graff says prospective dealers want to know how things "really work," and it's always best to shoot straight. He'd rather deliver the straight scoop — warts and all — vs. trying to change one's mind or "selling" him on a relationship that won't work for either party. He puts candidates in touch with dealers who "call it like they see it." "Talking with current dealers is important for others' confidence," he says.
A Reason for Showing Up
So when a dealer development manager stops by at your dealership, take notice —  and take the meeting. The OEM is investing this travel time where it believes there's potential for market share gains, so ask yourself what they're doing there. Ask to see their analyses of the UCC data, the void they believe they've identified and why they view the upside in your market. Whether you entertain adding their line or not, you'll be a little smarter about new products in their future and the various programs that manufacturers are unleashing to earn a chance at your business. And you might just connect the dots when another fledgling dealer is about to put the pedal down. That's good to know, too, right?
And if Graff pops into your town, take a few minutes with a guy who has a wide view of the business and one from whom I learn something in every conversation. And here's a little personal intel that I gleaned from talking to him about his call reports. You'll likely be able to lure this microbrew connoisseur over to your county's best craft brewpub for a dinner meeting. His favorites are Porters and Stouts.
A variation of this article appeared in the Versatile Dealer magazine, a quarterly publication produced by Lessiter Custom Media exclusively for Versatile's dealer network.