Kern Machinery, Bakersfield, Calif.
History: Founded in 1969 by Don Camp, Sr. as West Kern Machinery in Buttonwillow, Calif.
Board of Directors: Clayton Camp (Kern Machinery), Don Camp, Jr. (Western Power Products), Edwin Camp (D.M. Camp & Sons), Shirl Jackson (Jackson Consulting), Tony Leggio (Bolthouse Properties)
Leadership Team: Clayton Camp, president; Charlie Moe, aftermarket manager; Larry Sitzman, general sales manager; Marty Buck, chief financial officer; Davin Peterson (Camp Equipment, general manager)
Locations: 4 in California: Bakersfield, Buttonwillow, Lancaster and Delano; acquired 3 locations in Ontario, Ore., Burns, Ore., and Weiser, Idaho, in 2015
Employees: 123 at Kern Machinery; 32 at Camp Equipment
Lines Carried: John Deere, Air-O-Fan, Bezzerides, Bubco, D&M Mfg., Domries, Dowdy, Exact, Flory, Freeman, Great Plains, Jackrabbit, Land Pride, Lockwood, Nikkel Iron Works, Orchard-Rite, Progressive Ag, Rears Mfg. Co., T.G. Schmeiser, Trioliet, Valley Ag Software, Weiss McNair, Western Power, Wilcox, Woods, Bear-Cat, Echo, Honda Power Equipment, Honda Motorsports Shindaiwa, Tru-Cut, Yamaha
Customers/Geography: More than half of the country's vegetables, fruits and nuts are grown in California; Kern Machinery's AOR includes all of Kern County and 15% of Tulare Country covering 1.1 million acres of crops; dealership has experienced a major shift from row crops (cotton, potatoes, carrots, etc.) to permanent crops (almonds, grapes, citrus, pistachios, etc.) in the past decade; average farm is 4,500 acres, with some operations as large as 90,000 acres; some crops produce as much as $40,000 in revenue per acre
Revenue: Family would not allow publication of annual revenues, but revenue per employee would be about 87% of Farm Equipment's last three large-store Dealerships of the Year, which included two dealers in large combine states; Kern Machinery revenues are double what they were just 5 years ago
Top 2014 Revenue Streams: John Deere Ag, C&CE (39.6%), Other Wholegoods (39.8%), Rental Revenue & Sales (19.6%), Used Equipment (1%)
---
History of Kern Machinery
Originally from South Carolina, grandfather to the current owners of Kern Machinery, W.B. "Bill" Camp, working for USDA, moved to California to introduce cotton production to the region in 1917. He started his own cotton farm in Kern County in 1936. Development of the California Aqueduct brought water and agriculture to Kern and Tulare Counties, at the southern end of the San Joaquin Valley.
In response to the developing agricultural opportunities, Bill's son, Don, opened a John Deere equipment dealership (West Kern Machinery) in 1969. In 1970, he purchased the dealership in Bakersfield, calling it South Kern Machinery, and another in Delano in 1971, which became North Kern Machinery. North Kern Motorsports was established in 2000 to sell and service the full line of Yamaha and Honda recreational products. A new location in Lancaster (Antelope Valley) 2 hours north of Los Angeles was opened in 2004 and the four locations became known simply as Kern Machinery.
The Camp family maintained and expanded its farming operations throughout this period and in the late 1970s it established Western Engine Distributors to act as a distributorship of Deere in central California for engines to local original equipment manufacturers and provide diesel power units for various agricultural and industrial applications. This part of the Camp family business was renamed Western Power Products in 2001 after acquiring the Deere engine distributor for northern California.
Today, the three sons of Don Camp, Sr. head up the three divisions of the Camp's business. Don, Jr., is president of Western Power Products, Edwin is president of D.M. Camp and Clayton is president of Kern Machinery.
In the fourth of Farm Equipment's every-other-year Dealership Minds series, six editors travelled to central California to experience first-hand how a successful dealership — Kern Machinery — operates in a market where agriculture can only be described as "diverse," "intensive" and "rapidly changing." It wasn't that long ago when cotton, potatoes and hay dominated the landscape. Today, vegetables, fruit, grapes and nuts are taking over.
Kern Machinery's immediate AOR covers more than a million farm acres and includes 12 different row crops, 11 different vegetables, 5 different citrus varieties, almonds, grapes, pistachios and pomegranates. It's become even more intensive as growers are at it 24/7 and 12 months a year.
Keeping up with the changing nature of California agriculture has been daunting, but, according to Clayton Camp, president of Kern Machinery, these cropping changes have brought about new equipment sales opportunities. "Cropping pattern changes have driven equipment changes and because commodity prices have been good with these new crops, growers have been able to afford the equipment for that next-level efficiency gain in harvest. Nearly 40% of our business is shortlines — up 10% since 2012 — and that's a big part of our growth," he says. "Vendor and tillage parts also constitute more than half of the entire parts sales. And then just recently we took on another shortline — a pistachio harvester — that drove our revenues up again. We're on the lookout for that next shortline."
Growers working at this pace afford the dealership additional opportunities. With customers in the field every day, Kern has had to gear its business to cover afterhours service, weekend service, as well as ample parts and loaner and rental tractors. Camp is particularly proud of the afterhours service and the employees who provide it. While some dealers charge a key fee to unlock the store after hours for parts, Kern Machinery does not.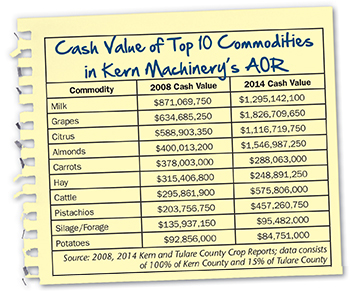 Table shows the sea change in the cash value of the top 10 commodities in Kern Machinery in the 7 years between 2008-14.