What I'm hearing: Negative vibes from folks all over, batten down the hatches, don't feel like buying.
What I'm seeing: In January and February 2016 there were very strong auction sale prices on good condition used farm equipment all over and many dealers aggressively cranking down used inventory levels. Stuff is moving.
So wait, what?
I know, the negative chatter/sentiment doesn't seem to match what we're actually seeing happen in the used farm equipment market right now, but it is what it is. Frankly, this is exactly why it is and always has been vitally important for dealers, for those with ownership stakes, for sales managers and for used inventory managers to be really "plugged in" to the very latest hard cash sale price data truths.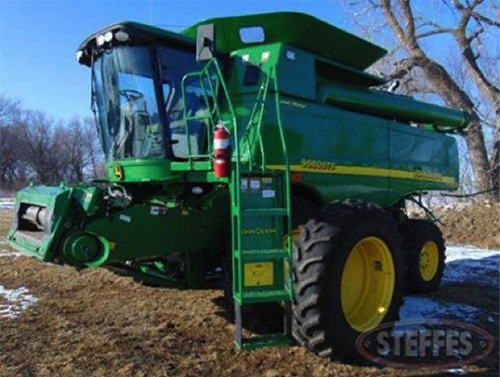 This 2006 John Deere 9660 STS combine*, 1,505 engine hours, sold for $91,000 on Feb. 25, 2016, at a farm auction in southeast North Dakota.
What did it sell for today? Maybe it was a bit more than you thought it would bring.
Here are some recent examples for you to chew on:
2013 John Deere 8335R tractor with 415 hours, ILS, sold: $235,000 on 2/11/16 farm auction southeast Iowa. Same sale — 2013 John Deere 8285R with 367 hours, ILS, sold: $182,000.

2006 John Deere 9660 STS combine with 1,505 engine hours, sold: $91,000 (see pic and recent auction prices on 9660s) on 2/25/16 farm auction southeast North Dakota — this is the third highest auction price on 9660 in the past 15 months.

Another 2006 John Deere 9660 STS combine sold on 2/18/16 farm auction in east-central North Carolina farm auction, 2,268 engine hours, sold: $80,000.

2013 Case IH 8230 combine with 850 engine hours, sold: $195,000 on 2/15/16 farm auction northeast Maryland — this is the highest auction price in 15 months.

2011 John Deere 7230R with 452 hours, sold: $131,000 on 2/25/16 online farm auction west-central Minnesota.
On the auction front, I think one of the reasons for these strong sale prices in January and February 2016 has been the slower time of year for sales. January and February are always down times for the number of machinery auctions. It's understandable why folks shy away from scheduling their sales this time of year — it's C-O-L-D. But this in fact is exactly why sellers should schedule their machinery auctions during this slow period or a similar slower period in October to November. Perhaps that's too close to harvest. But you know what?
Editor's Note: Feel free to leave a comment below with any questions or feedback you have on this column. We'd also like to hear if there are any topic ideas you'd like us to pursue in future installments. 
Other Articles from Machinery Pete
Auction sale prices are usually stronger during these "quiet" periods. Prices have been for years as our auction price data shows. Now it's becoming even more pronounced.
This brings me to March and April 2016. I see a ton of machinery auctions coming down the pike. Sales are getting bunched together. The last time I saw that was just back in December 2015, and how did sale prices cut then?
They were very soft.
Another factor in the stronger auction sale pricing I saw in January and February 2016 was, I think, some "footing" coming to used values on large late model equipment sectors. I saw this develop throughout 2015 until December when used values fell fairly sharply (due to too many auctions crammed together). Early 2016 saw solid footing returning to used values, which was a good sign. So basically used values on the challenged large late model equipment categories have fallen far enough over the past 3 years that farmer buyers with strong balance sheets are sensing good value buying opportunities out there.
That truth is further evidenced on the retail side of the used equipment market by the success many regional dealers have had recently smashing down their used inventory levels. Was it painful? Very. But a lot of hard work is being done, and these dealers who have been able to do this have now become very active buyers in the used market.
Here are the top searched for combine models on MachineryPete.com since Nov. 1, 2015, by manufacturer:

Opportunity comes in the least expected places sometimes.
The dealers I've talked to who have had success smashing down their used inventory levels all indicate the same thing: price it right and it will move. The key there obviously is "pricing it right." Then there's also the matter of targeted messaging to prospective farmer buyers. Notice I didn't say "advertising" there. Nope, that term and mindset has to go. Everyone needs to be more strategic with the marketing spending today. Find and reach farmer buyers with your special used equipment pricing offers. Laser in on them.
It's so fun to see the great success many dealers have had along this vein with the branded Machinery Pete farmer email blasts we can send out that come with your name/brand/logo.
The cool part is you aren't showing your used pricing specials to the whole farm audience. Nope, just to those farmers you are targeting in your email blast (we have nearly 400,000 farmer emails; we know what they grow and where they are). Open rates on these branded dealer email blasts are very high. One dealer even mentioned to us that they sold every equipment item highlighted in one email blast.
Wow, every one. Price it right and it will move.
New targeted marketing tools for new times. The idea is simple — to help dealers retail more of your used inventory using these new tools and in the process — be in the position of having to take less used equipment to auction.
Leave a comment in the field below with your feedback and questions and any topic ideas you'd like us to pursue in future installments.