---
ABOVE: This 2011 John Deere 9770 STS combine, 700 engine hours, sold for $176,000 on March 16 at an auction in west-central North Dakota.
I didn't see this one coming.

Values on used combines are surprisingly strong here early in 2016. Values are even holding to up (yes, up) on some slightly older used models in that 5-10 year-old range. I was not predicting this development, particularly after the very soft last 3 weeks of December where we saw lower sales across the board on used combines.

TIP FOR DEALERS: If you use the auction route in your used equipment management tool kit, try hard to avoid those "jammed up" times of year for machinery auctions, December in particular. It's best to get out ahead of the rush if you can, and it makes your sale and your machinery stand out more which equals strong sale prices. December 2015 saw a glut of large wholesale auctions all over.

To highlight the stronger used values to start 2016, let's take a common example, the John Deere 9770 STS. So far in 2016, the average auction price for John Deere 9770s = $110,989, which is only fractionally off last year's average auction price of $111,862.
Check out a few 9770s sold so far this year in the accompanying data table. Note the ones I've highlighted that sold for strong prices, none as strong as 2011 model 9770 STS with only 791 engine hours that sold (no heads) for $192,256 (U.S. dollars) on a March 5, 2016, farm auction in southwest Ontario, Canada.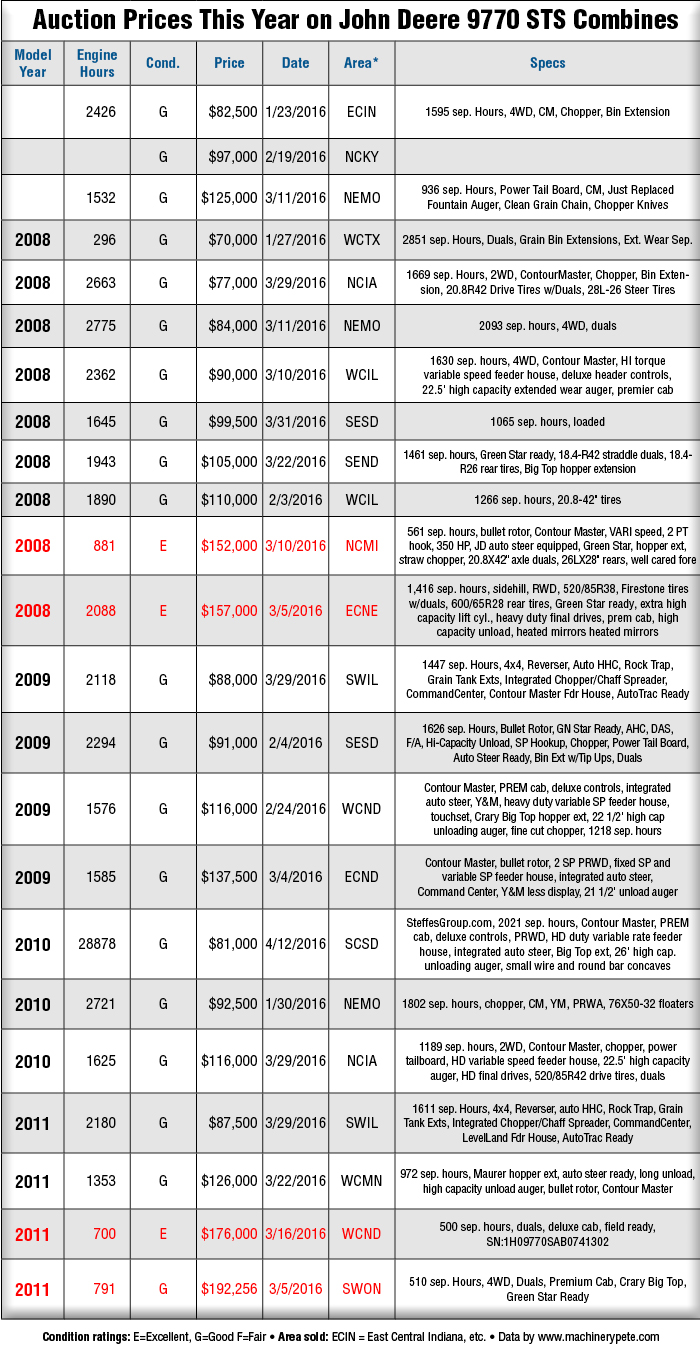 That is the highest auction sale price I've seen on a 9770 since December 2014.
This is NOT just a case of one particular model selling strong. Nope, I have many examples for you, like Case IH 8010 combines. The average auction price is up 13.4% on Case IH 8010s so far in 2016 ($76,667) vs. last year's average auction price ($67,558).
It's the exact same thing with John Deere 9660 STS Combines, that are up 9.9% in value so far in 2016 ($72,715) vs. last year's average auction price ($66,172).
I've even seen much stronger auction sale pricing on larger, later model used combines. For example, the 2013 Case IH 8230 with 576 engine hours that sold for $227,000 on a March 17, 2016, farm auction in northwest Ohio. That is the second highest auction price for an 8230 in the past 15 months. Or the 2013 John Deere S680 with 603 engine hours and a 615P header sold for $296,258 (U.S. dollars) at an April 12, 2016, farm auction in south central Manitoba.
Editor's Note: Feel free to leave a comment below with any questions or feedback you have on this column. We'd also like to hear if there are any topic ideas you'd like us to pursue in future installments. 
Other Articles from Machinery Pete
So what is happening here? Well, I think in part it has been farmers with fairly strong balance sheets have had some time and chewed on the reality that right now here early in 2016 is a great buying opportunity to upgrade into late model used. This was a theme I've constantly preached to our Machinery Pete farm audience since late last fall: "Eyes wide open folks, the time to be a buyer is now. Talk to your local dealer, see what they have for deals, keep an eye on the auction market, lots of sales coming."
I know farmers have been listening. They tell me so. At Commodity Classic in New Orleans in early March an Iowa farmer came up to me and said "Pete, I took your advice. I just bought a really nice S670 from my local dealer and got it for a very good price." In the middle of writing this blog for Farm Equipment I talked to another farmer, who told me about the incredible financing they got from the dealer on a Case IH 5130 from their local dealer. That's a happy buyer.
So will this surprising trend of slightly stronger used combine values hold through the spring and summer months of 2016? That's a good question. We'll see. One thing I would point out is that for each of the past 11 years I have noticed auction sale prices have gone down during second quarter. 
Leave a comment in the field below with your feedback and questions and any topic ideas you'd like us to pursue in future installments.