As 2015 draws to a close, there's a lot of pessimism, maybe resignation, in the air that we're in for another tough year in 2016. During the last several times I was out and about visiting dealers or at industry events, if I was asked once, I was asked a dozen times, "You got any good news for us Dave?"
I could only respond, "We'll keep looking." 
And so we did and found a couple of tidbits that we hope will make the year-end a little more optimistic for farm equipment dealers.
Our sister publication, Rural Lifestyle Dealer, recently completed its annual Dealer Business Outlook & Trends survey. Dealers' responses are very encouraging for this segment of the equipment market; even compared to a year ago when dealers expressed a high degree of optimism. 
Nearly 46% of the 152 dealers who responded to the 2016 survey expect revenues to increase 2-7%, compared with 39% who expected similar increases last year. Another 13% expect revenues to increase by 8% or more compared to 2015 when only 8% of dealers expressed that high level of optimism. Another 30% are expecting this year to be as good as 2015, compared with 37% in last year's survey. In total, 87% are forecasting revenue to increase or be as good or better than last year. Only 13% are projecting a downturn in sales revenue.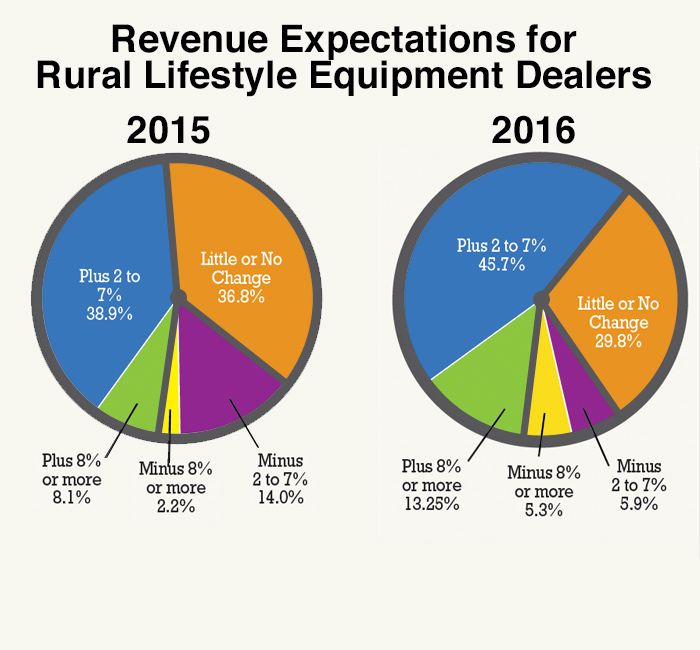 Through November, U.S. sales of tractors under 40 horsepower were up for the year by 7.7%.
While most of the machinery analysts we work with have pretty much written off next year as another down year for the industry, one sees a strong possibility for a pick up later in the year.
Avondale Partners, which only recently initiated its coverage of Deere & Co., among other ag equipment companies, points out that farm receipts have historically driven industry sales. "On that front, the situation does not appear to be as bleak as the current consensus may suggest.
 "The latest USDA projections point to a stabilization in U.S. farm cash receipts beginning in 2016 after 2 years of sequential declines. While the factors underlying the USDA outlook vary, the current forecast does seem to reflect relatively solid intermediate-term world farm fundamentals," say the Avondale analysts.
They go on to say, "Despite record crop production levels, and nearly perfect weather conditions globally over the past 3 years, the stocks-to-use ratios for major commodities remain remarkably tight. In fact, the consumption of main agricultural commodities is expected to catch up with supply by 2015-16, with corn moving into deficit according to the latest USDA forecast." (see chart below) 
Global Corn Supply & Demand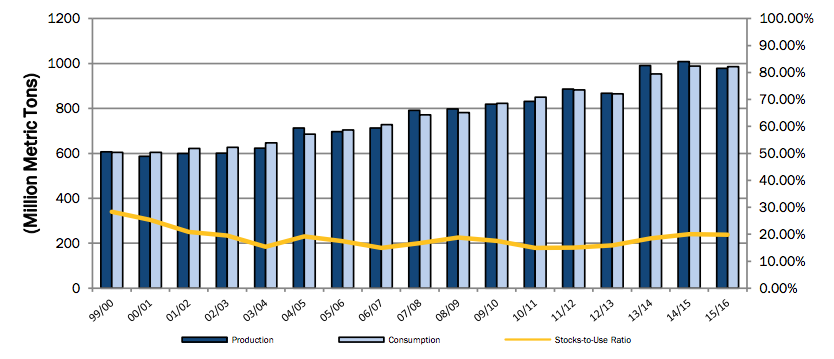 Further, they say, "We do not think the Street fully appreciates the fact that from the peak of 2013, the U.S. ag industry equipment sales for core high-horsepower products will be down an estimated 45% this year. In terms of unit sales, this means that in 2015, the industry would be approaching levels not seen since 2000-2006 period. To compare, at that time, prices of corn and soybeans averaged $2.12 and $5.62 per bushel respectively vs. $3.84 and $9.12 today, while farm cash receipts were just over half of USDA's current 2015-16 projections. In short, we do not view the current industry sales run-rate as sustainable."
A couple of other things that are giving us a little more optimism about 2016 is the registration levels of our two ag conferences that will be held in Indianapolis in the first week of January. Our Precision Farming Dealers Summit hit its attendance goal last week and is officially sold out. Registrations for our 2016 National No-Tillage Conference are 20% ahead of last year's level for the same date. 
During times like these, we'll take good news wherever it comes from!
In the meantime, best wishes for a very Merry Christmas and a prosperous New Year.