We recently completed our monthly survey of N. American Ag equipment dealers and had several discussions with large ag dealers in the farm belt. While it's not surprising to hear that price realization on new equipment continues to be strong, what is surprising to dealers over the last few months has been the strength in used equipment values. This appears to be the result of persistent tight availability of new equipment and a growing sense that demand is more elastic on lower horsepower equipment as higher Interim Tier 4 prices work their way down the product line. This dynamic, along with recovering dairy and cattle sectors would help explain some of the recent strength in values in the over 100 horsepower used tractor segment.
Combines, on the other hand, have seen values soften as dealers still face some challenges with used inventory. Dealers have been asking for more in trades this year to adapt to the softer combine demand in the used market. We think this is healthy for the market as dealers have been much more cognizant of this fact and appear to be taking the necessary steps to help orchestrate a 'soft landing' in the used combine market. Overall, we came away from our recent discussions confirming that a higher number of dealers are lowering prices on existing inventory to move used combines more aggressively. The charts below would also suggest that is the case.
— Curt Siegmeyer, Cleveland Research Co.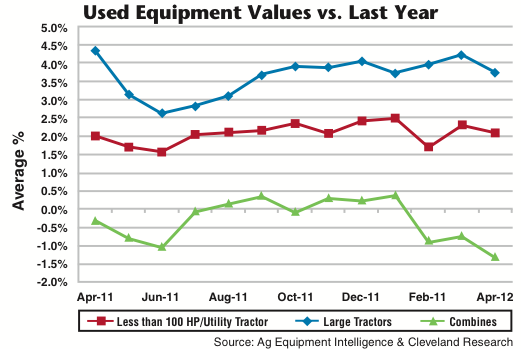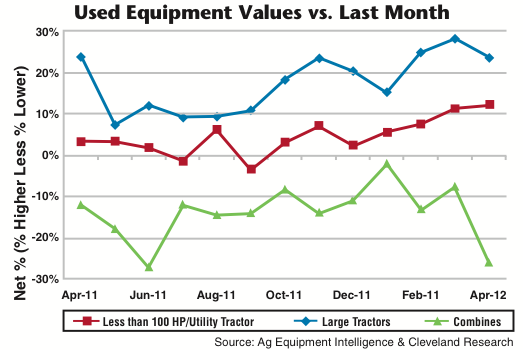 Ag Equipment Intelligence and Cleveland Research Co. conduct monthly surveys of North American farm equipment dealers. Monthly reports of the data collected are distributed to participating dealers and subscribers of Ag Equipment Intelligence.