Originally published June 2012
The Successful Equipment Remarketing Strategies series highlights the best practice strategies employed by top farm equipment dealers to promote and sell used equipment. It is brought to you courtesy of Iron Solutions.
At Iron Solutions, we are the trusted managers of equipment and agronomic lifecycle data for the crop production marketplace. The actionable intelligence we provide through IRON Search and our IRON Guides drives profitability. Learn more...
Few farm equipment dealers need to be reminded that moving used equipment quickly has taken on more urgency than many would have imagined just a few years ago. As a result, dealers are in need of more in-depth and timely data that allow them to make informed decisions about the age, condition and pricing of used machinery — both when they take it in and when they move it out.
For more than 70 years, IRON Solutions' IRON Guides have been a primary source for collecting and dispensing used ag equipment data used by retailers, wholesalers and others. The charts shown in this part of Farm Equipment's special report on used machinery were developed by Cameron Hurnard, director of data services for IRON Solutions, to illustrate trends in used machinery pricing, age and usage.
According to Dallas Blome, vice president of IRON Guides, the industry's "blue book" for used farm machinery valuation, the data collected represents more than 150,000 annual sales transactions as reported by U.S. and Canadian dealers. "In tractors and combines alone, data on some 3,200 different models are compiled," he says.
"Dealers report sales transactions to us on a daily basis. They provide us with the type, make, model, options on the machine and the actual cash selling price for each piece of equipment," he says.
The following charts summarize the pricing trends for the major categories of farm equipment over a specified period of time. The commentary accompanying the charts is collaboration between Farm Equipment and IRON Solutions.
Machines Getting Bigger
The robust market for new and larger ag machinery during the last decade can also be seen in the size of the used machinery dealers are reporting. This trend is reflected in both Figure 1 and Figure 2.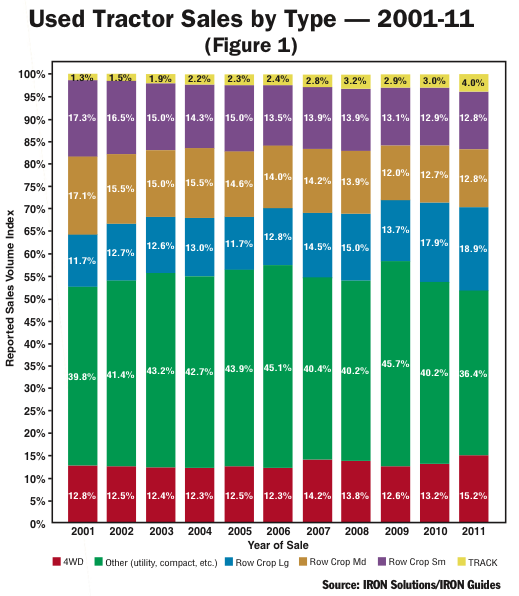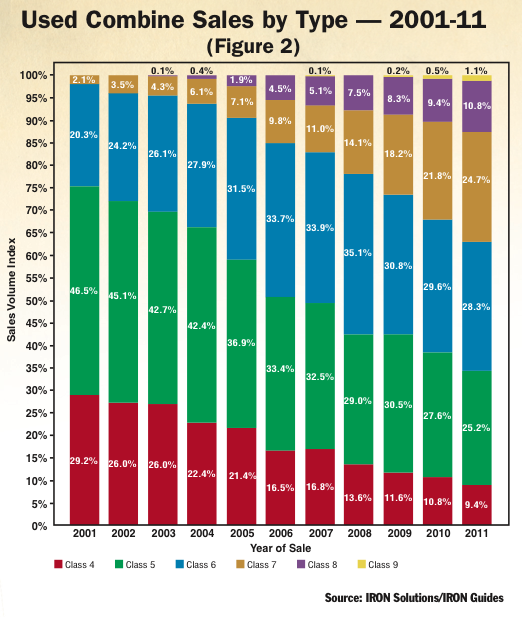 The most significant trend noted in Figure 1 is the growing percentage of large row-crop (180-plus PTO horsepower), four-wheel drive and track tractors that make up the used equipment mix as the decade progressed.
In 2011, these three tractor categories accounted for more than 38% of all reported used tractor sales vs. 25.8% in 2001. At the same time, medium row-crop (140-179 PTO horsepower) and small row-crop (100-139 PTO horsepower) units decreased as a percentage of total reported sales of used tractors during the same period. Overall, the percentage of total tractor trades reported by dealers for these two classes declined to 25.6% in 2011 compared to 34.4% in 2001.
"Farming operations are getting larger and require the efficiencies of high horsepower tractors to cover more acres in the time available," says Blome. "Ideal planting and harvest seasons represent a small window of opportunity, so larger operations have to cover more acres within these windows of opportunity. The strong ag economy in recent years has provided the means for buyers to afford the large equipment needed to stay within these windows of opportunity."
Blome says he sees the trend toward larger used tractors remaining intact "as long as commodity prices remain strong and smaller operators continue to be absorbed by larger farming operations."
How These Charts Were Developed
The charts that comprise the remainder of this part of our special report on used farm equipment were developed by IRON Solutions for Farm Equipment to illustrate the pricing, age and usage trends for a variety of ag machinery.
"Our first official guide was published around WWII, and our current production database of used ag equipment transactions allows for instant analysis of pricing trends over the past 10 years. We have unmatched depth and breadth of historical data." says Cameron Hurnard, director of data services for IRON Solutions.
Dallas Blome, vice president of IRON Guides, the data product family used by dealers to determine the valuation of farm machinery taken in on trades, emphasizes that the IRON Solutions dataset represents the information the company receives from dealers across North America. "Each year our editorial staff processes over 150,000 sales transactions containing units from more than 1,000 manufacturers. Statistically speaking, IRON's data pool is both relevant and powerful — evidenced by services we provide to enterprise customers like John Deere and JPMorgan."
The growing use of larger combines is also evident in Figure 2. In 2001, more than three-quarters (75.7%) of all used equipment combine transactions reported by North American dealers involved Class 4 (0-214 horsepower) and Class 5 (215-267 horsepower). That percentage dropped to less than half of that (34.6%) by 2011.
According to IRON Solutions data, the last 10 years saw the rapid expansion in the use of Class 6 (268-322 horsepower) and Class 7 (323-374 horsepower) combines. Where these classes of combines made up only 22.4% of used combine transactions reported by dealers in 2001, this percentage of sales transaction in 2011 rose to 53% of all used combine sales reported in 2011.
The current decade has also seen the introduction of Class 8 and Class 9 combines into the used equipment market. Class 8 units began appearing in 2003 and Class 9 units in 2006.
While the horsepower for Class 8 is generally accepted at 375-plus horsepower, the horsepower ranges are for Class 9 and Class 10 combines is not entirely clear.
"To my knowledge, AEM (Assn. of Equipment Manufacturers) has not defined the full range for Class 8 nor the range for Classes 9 and 10," Blome explains. "I've seen charts for Class 9 defined as 429-plus, 450-plus and 462-plus horsepower, so it's unclear where the starting horsepower is for this class."
He adds that Class 10 combines are often defined as 523-plus horsepower, but adds, "I know of Class 9 machines rated at more than 523 horsepower. So again, the ending point for class 9 and starting point for class 10 is not definitive."
Trends in Used Tractor Pricing, Age & Usage
Click on a chart to enlarge it
"The growing percentage of used large row-crop and 4WD tractors in the past 10 years has been significant …"
Trends in Used Combine Pricing, Age & Usage
"In 2001, 76% of all used combine sales involved Class 4 and 5 units. That dropped to less than half by 2011 …"
Trends in Used Planters, Air Drills and Sprayers
"Growing sophistication and size of seeding
equipment has greatly added to its price tag in the past 10 years …"
Trends in Used Planters, Drills And Sprayers: Pricing, Age & Usage
While tractors and combines get the most attention when it comes to farm equipment sales trends, increasingly planters, seed drills and crop sprayers are playing a more significant role in dealership sales strategies.
The growing complexity and sophistication of seeding equipment has not only increased the demand for newer products that offer a far higher level of precision, but the size of this equipment is also growing, which adds to its price tag. As this equipment is traded in for newer models and enters the used equipment market, it is forcing the value of the previously owned products up as well. Dealers are reporting that some customers are treating planters in much the same way as they do tractors and combines, trading them in at shorter intervals, in some cases annually.
These trends are also contributing to the changing nature of the used ag equipment market.
Similarly, the popularity of crop sprayers is also adding to the overall rising value of used farm machinery. Like planting equipment using precision technologies, the newest generation of sprayers have become increasingly sophisticated and, to some extent, larger, than their predecessors.
Like tractors and combines, IRON Solutions also collects data on planting and spraying equipment. As shown in the accompanying charts, the value of this machinery is also demonstrating higher used values and similar age and usage trends as the larger row-crop tractors.