Ag Equipment Intelligence
According to the November 2011 Ag Equipment Intelligence Dealer Trends & Business Outlook report, farm equipment manufacturers were not as aggressive with their incentives to increase sales in October as they were in November.
A net 7% of dealers report that manufacturers were less aggressive with incentives in October — 11% more aggressive, 70% same, 19% less aggressive — compared to September. This is a reversal from the last month where dealers reported manufacturers were more aggressive with incentive programs.
In fact, in the 7 months that Ag Equipment Intelligence and Cleveland Research Co. began tracking dealer sentiments on a monthly basis, in only 2 of those months dealers reported that manufacturers were more aggressive in offering sales incentives. In all likelihood, this is a good indication of the continuing strong sales of ag machinery in 2011 where incentives weren't necessary to stoke retail sales.
The October survey had 245 respondents representing combined annual revenues of roughly $7.5 billion.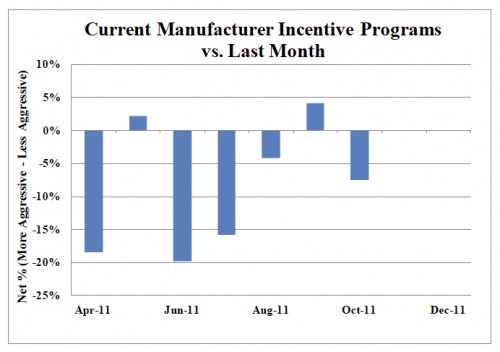 Recently-Released 2012 Dealer Business Outlook & Trends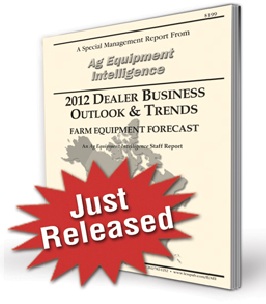 This 48-page report from Ag Equipment Intelligence will improve your planning and forecasting. This is the most in-depth projection for North American farm machinery sales. Based on surveys from nearly 300 North American dealers, this report not only gives you a "from the trenches" look at what dealers see for equipment sales in the year ahead, but is also identifies trends for individual product sales growth.
Don't miss this detailed analysis loaded with charts, graphs and information you won't find anywhere else.
Click here to order today!