As North American sales of ag equipment continued their strong push in March, it's little wonder that manufacturers have become far less aggressive in offering incentives, according to the results of the Ag Equipment Intelligence's March 2013 Dealers Sentiments & Business Conditions Update survey.
The Assn. of Equipment Manufacturers reported last week that U.S. and Canada ag equipment retails sales again grew across nearly every category. Row-crop tractors, mid-range tractors and combine sales increased 28.2%, 8.4% and 67% year-over-year, respectively. Meanwhile, 4WD tractors fell 5%, down from a 37.9% increase in February. New equipment inventory levels also continue to rise, supported by industry's strong unit sales growth. 
A net 7% of dealers report that manufacturers were less aggressive with incentives in February (18% more aggressive; 58% same; 24% less aggressive) compared to a net 20% who reported manufacturers were less aggressive in January.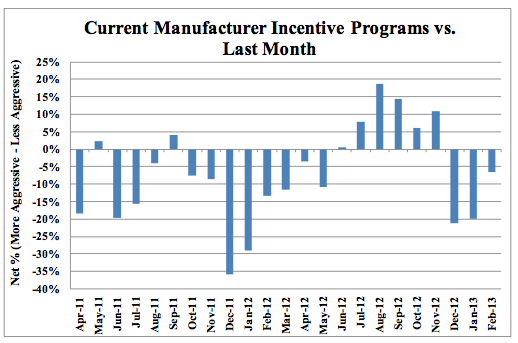 Click to Enlarge
Improving Lead Times
At the same time, a net 23% of dealers report longer factory lead-times compared to last month (33% longer; 57% same; 10% shorter), down from a net 35% last month.
Overall, lead times decreased for all categories tracked this month. On average combine lead times are 6.8 months; 4WD are 5.3 months; row-crop tractor lead times are 5.9 months; and smaller tractors (<100 HP) lead times are 4.8 months.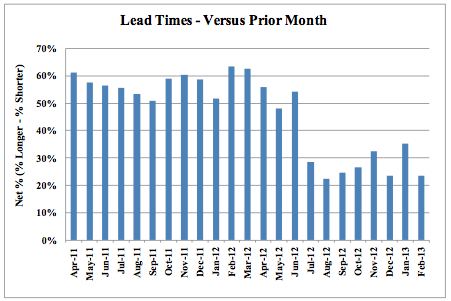 Click to Enlarge