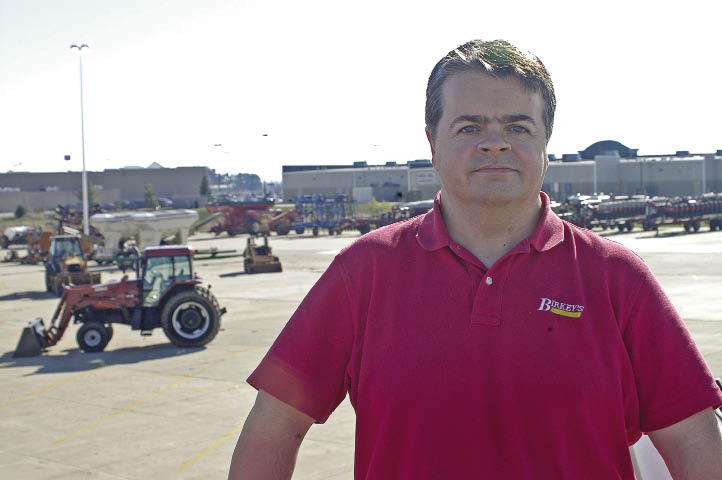 Quint Campbell, Marketing Manager
Years with Birkey's: 14
Role: Manages the print and online advertising for Birkey's, which includes  creating all catalogs, calendars and direct mail pieces. He also manages its website and is charged with maintaining a consistent, professional image for the company.
---
"Beat the drum."
You've heard it before as sales-and-marketing speak that means getting your message into the marketplace and reiterating it to prospects time after time. You deliver it with printed and electronic marketing materials, as many times as necessary, with the hope that your product's brand attains the swagger of brands like Apple, Kleenex, Frisbee or Xerox.
Birkey's Marketing Manager Quint Campbell understands the concept well.
While there's dealership blood in his veins (his father, who is a recently retired owner, and grandfather were both dealers), Campbell followed an unconventional path to the dealership. His pianist skills lent themselves to speedy typing. That skill won him employment with a newspaper, typesetting copy. That led to learning design, first through Quark Xpress and then Adobe InDesign.
His desire to learn software made him jack-of-all-trades within Birkey's, boot strapping his way into management of company-wide marketing efforts.
"It was all self-taught," says Campbell. "My degree was actually in percussion performance. They don't have a high demand for playing drums in this company."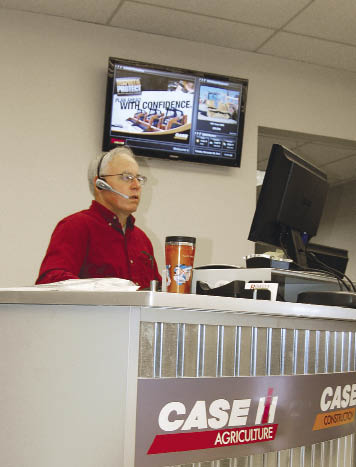 Birkey's Farm Stores recently installed LCD screens behind the counters that alert customers to used equipment and store promotions. Messages are controlled from Quint Campbell's desktop through a package from Four Winds Interactive.
Balancing Print & Electronic
Managing marketing at Birkey's means balancing print and electronic marketing mostly by feel, without a clear idea of which methods work best. The stalwart print marketing continues to drive sales. So catalogs, calendars and other printed pieces must be designed and shipped to the printer for timely distribution.
"Right now, print takes priority because it's still our biggest go-to method to reach our customers," says Campbell.
Campbell personally creates many of the printed pieces using Adobe Creative Suite 5. He maintains a holistic vision of the company's image throughout his work.
"My goal is to brand the entire company, while maintaining a consistent look," he says. "Every Monday morning, I'm working on print ads, but through the week, my schedule is determined by the demands of the season."
On Deadline
His schedule is also determined by need. He has struggled with communicating the necessary leadtimes for printed pieces. These marketing materials take time to gather, time to create and more time to proof and print. And turnaround times are tight to get it all done.
"We did a service mailer a couple weeks ago and we turned it around in less than a week from start to finish — laid it out, sent to the printer and out in the mail," says Campbell.
At the same time, he is expected to not only embrace, but also to lead the way, with the ever-expanding and complex technology that finds its way into the Birkey's marketing mix. Web sites are only the beginning.
The company updates its inventory of used equipment on its web site every day, sometimes 2-3 times a day. Campbell manages that process, which is critical both for salespeople and the farmer seeking used items. He's also managing the deployment of digital signage across all Birkey's locations.
"We update our online inventory every day; everybody's going online to see what equipment you have," he says. "We're starting to look at other avenues to better promote our used equipment online, but it all comes down to time and who's going to manage it."
In-Store Messaging
Birkey's has also started down the path of integrating advanced digital signage into each of its locations, using a software/hardware package from Denver-based Four Winds Interactive. From his chair at the Rantoul administrative office, Campbell controls the messaging playing on the 46-inch LCD TVs that hang from the wall behind the parts counters in Birkey's stores.
These TVs display used equipment for sale at various Birkey's locations, showing images of the equipment along with details like year, make, model, pricing and other relevant information.
As customers wait their turn at the parts desk, they see promotion information developed on Campbell's computer screen.
"Our main goal is to show our promotions and our used equipment," he says. Customers are often surprised to learn that some pieces are right out on the lot of the very store they're visiting.
It's not the lowest cost solution, but it's user friendly, says Campbell.
"I deploy the content and the schedule, with the ability to show one messaging and graphics a specific time of day, every other day and also tell it when to shut off," he says. "Right now, we've got the screen split into different sections. We have a main content section that scrolls every 30 seconds, updates a graphic to show our parts specials or our service specials. We have a ticker running across the bottom. Then we have the weather, time and our used equipment scrolling."
Campbell says the company approved plans to implement this technology across all of its stores, which means a sizable investment.
"You've got your flat screen TVs, your mounts, each one operates from a PC," he says. "You have to run cabling, networking, software and maintenance. But if we sell 2-3 items, it will have paid for itself."
Helping the Stores
Marketing and promotional pieces march their way across Campbell's desk almost continuously: Tractor House ads, magazine and newspaper ads, postcards, self-mailers, promo items, key chains, pens and even soy candles, to name a few.
While Campbell is responsible for much of the design and final approval of each of these pieces, he is also peripherally involved in the day-to-day marketing operations of each of Birkey's 11 ag stores.
Typically, marketing responsibilities fall to each store's office manager. Campbell serves as a liaison, available to answer any marketing questions as well as to ensure quality control and organization-wide consistency of print materials.
"A few years ago, we brought all of our office managers to Rantoul for training," says Campbell. "We couldn't find one piece of design software we could all use, so we ended up using a Microsoft Word program."
He set up some basic templates for a large postcard, small postcard and a self-mailer. He placed the Birkey's logo in each and created wireframe templates to show the office managers where they could modify the promotional pieces and the areas they need to leave alone.
"It was basically set up for them, so they could drop in their store information," he says, noting that some stores are still more comfortable with the process than others.
"I ask to see what they do before it goes to print so I can determine if it's right for co-op advertising dollars," he says. "I also want to see what the stores are doing and make sure it maintains that Birkey's look. We don't want different looks going out."
He's careful not to be too restrictive nor discouraging. "You need to put yourself in their shoes. They've got just as much going on as I do. They're not just sitting there waiting to put together a mailer," he says.
Campbell gives the store office managers latitude on copy and images. If they're willing to put something together, he says, that's great. "We have one office manager who likes to write poems. She'll put a few poems here and there on her mailers. She likes to do it and it's working — it's unique."
A Marketing Vision
Looking ahead to the next 12 months, Campbell sees web site redesign as a priority. The current design has been out there for 4 years, he says. Newer technology can bring used-equipment sales into the age of real-time, where the web site interfaces directly with Birkey's back-end database of used equipment.
"Right now, we have one person who takes the inventory from our database, manually updates Tractor House, and we export from there. Then he uploads the information to IronSearch," says Campbell. "Birkeys.com is updated through an import. I want to interface Birkeys.com directly with our database, so it's at least one less step."
Campbell would like the web site to operate in a near-real-time environment, much like the video displays above the parts and service counters.
"It's hands off," he says. "As soon as you make the change, it's instant, like the video signs. I've had guys say, 'I just posted that picture 10 minutes ago and it's already on the screen! How'd you do it so fast?'"
Campbell says he'd like to bring that sort of feel to the web site, which would provide the type of value that Birkey's wants to be known for.
He's a jack-of-all-trades, and a master of many of them. From his role as creative designer to producer of "on-hold" messages for the phone system to being the visionary for new marketing product development, Campbell has his hands in almost everything on the marketing side of the business.
Birkey's Budgeting Process
Read more from the Dealership Minds Special Report:
Get inside access to Birkey's Farm Stores in our 15-part video series.