Dealers share how they go about the process of identifying — and closing — a customer thought to be loyal to Brand X's color.
Let's face it: as the number of professional farmers decline, growth for most dealers is going to arrive by winning over customers who've bought from other stores. That's business in a mature industry and such competition is what our economic system is made of. Anyone who isn't actively thinking about how they can take away business from the next dealer is probably in trouble. 
One, they're missing golden opportunities to offer their wholegoods, parts and service to a new customer. 
Two, a dealer asleep at the wheel is more likely to lose deals to a neighboring dealer actively targeting his customers.
The features of the iron can have less to do with success than affecting some change in psyche (See sidebar article, "It's Not Just About Iron, It's in the Head, Too.") "Farmers are rather loyal to a color," says Jess Schure, GM, Vacin Humphrey, Humphrey, Neb. "That's why companies throw spiffs to get the farmer to change colors. They can throw a little money around to gain market share, and feel it comes back in parts and service revenue down the road."
While some dealers, like Boyd Hampson, sales manager, Green Acres Equipment, Unity, Saskatchewan, say converting other-colored owners is never easy, even with weak competition, others find it to be prime for growth. "Price used to be the determining factor in color changes," says Ron Waldschmidt, VP sales, A.C. McCartney Equipment, Wataga, Ill. "But features are now more important, so the more you know about your product the better your chances are to convince the farmer to change." 
Many dealers say it's the dealer support, not the brand, that customers care most about. "There are a lot of customers that bleed only one color, but more and more they're looking for the right dealer to take care of them," says Eric Schnelle, president, S & H Farm Supply, Lockwood, Mo. 
To Waldschmidt, the days of the low-buck order taker are numbered, and good farm operators are willing to pay for sound advice, opening the door to color conversions. "The salesperson that proves he knows his product, how it works and how it fits the needs of his customers' operations has a very good chance to make the sale, regardless of color," he says.
This editor has been on single-color farms only to discover that the owner wasn't necessarily brand-loyal. Instead, no one else had ever bothered to try to gain their business.
In order to see what was working in customer conversions, Farm Equipment contacted dealers about the path they're taking to successfully close a customer who has historically bought equipment of a different color than the sign out in front. 
Where it Starts
If there's one truth to guide you here, it's that every equipment buyer is a potential customer, regardless of what sign you have out front. And your competition views your customers in the same way.
But some sort of window usually opens for a conversion opportunity. "Happy people don't move," says James McNeil, VP, McNeil Tractor & Equipment, Laurel, Miss., a Kubota dealer. "Other manufacturers' high prices, declining quality and/or total marketing disarray have given us the wedge we needed."
Vacin's Schure sold red for 25 years before selling green. A Case IH MXM 135 owner came to his Deere dealership because of parts availability issues. "The family always had red iron up until that point, but a farmer will change colors for parts-related issues. nd, of course, farmers will change if they're dissatisfied with service or the lack thereof."
The paths into the dealership come from all corners. According to Farm Equipment survey data, most successes originate with the sales professionals in wholegoods, followed by service and parts. But while wholegoods might initiate a conversation, the buyer's comfort with parts and service is usually the deal-closer.
Something Unique
If there's one thing dealers agree on, it's that some sort of differentiator is needed to win over a new customer. More often than not, it's the shortline or specialty equipment that can crack a color-loyal customer's armor.
"Selling a shortline is a way to get to know the customer better and for them to get to know us," says Ron Birkey, president/CEO, Birkey' Farm Stores, Rantoul, Ill. "If we do our job right, particularly on the parts and service side, this sale gives us an opportunity to show some of our major-brand products at a later date."
Alan Anderson, operations manager, Grosshans International, Aurora, Neb, agrees. "Shortline equipment gets them in the door so you can show them first-hand," he says, also noting that products like Trimble RTK systems are another good entry. Auto-steer has no idea what color it is steering, adds Richard Garber, store manager, Deer Trail Implement, Emporia, Kan.
Dealers must identify something that the customer does not have, and another dealer can't easily satisfy. "If all the tractors are green, we talk about some specialty implements," says Ian Bunbury, account manager, Avenue Farm Machinery, Sumas, Wash. "Often, there's an opportunity to provide a better alternative with another brand."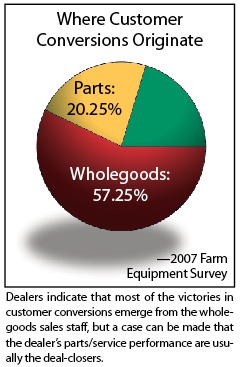 AC McCartney's Waldschmidt says his customers no longer assume that the majors do everything right and are the most reliable. "Any product that is well represented will capture the attention of good, progressive customers," he says. 
Jim Sommer, manager, Service Motor, Appleton, Wis., says that he has only seen success with something that other dealers don't carry, such as a self-propelled chopper or self-propelled sprayer. "But bulk oil is a product that can be sold to any color customer," he says.
Bentley Busing, sales rep, Birkey's Farm Store, Hudson, Ill., says that his victories tend to smart small, with first-time sales coming in mowers, light bars and compact tractors. Wherever the opportunity presents itself, it's one to take seriously, and a way for a dealer to prove its value in parts, service and all the intangibles.
But first, says Jim McDonnall, president, McDonnall Harvester & Parts, Delta, Ohio, "you'd better be convinced yourself that what you have is as good or better than the competition." 
Aftermarket Operations Bring Conversions
"Service is one of the best road maps into the competitive owner's world," says Garber. "We continually ask for their service business and look for areas where we can penetrate and do the most good. Winter service specials on tractors, combines and hay equipment are another good avenue, as are customer clinics — we always invite competitive customers."
It's Not Just About Iron, It's in the Head, Too
Tim Brannon, parts manager, B&G Equipment, Paris, Tenn., explains how difficult it is to change the buying habits of North American farmers.
Formerly an Allis-Chalmers employee, he recalls stopping in at a John Deere dealer in the mid-1970s, when Deere was having problems with its articulated 7000 series 4-WD transmissions. "I asked him how he was handling the problems and retaining customers with the strong competition from Case and Versatile. e put his hand on my then-young shoulder and said 'Son, I'm going to tell you something. Deere worked on what's between the owner ears so much hat what we do working between the headlights and the drawbar doesn't matter.'"
Brannon says that's still the case today with Deere's marketing prowess. "The recent problems Deere had with the 9-liter engine and crankshafts failures would have been devastating to Cummins, AGCO or Iveco.  asked a friend at a large Deere dealer in Arkansas about the problem and if it would hurt sales. is reply, 'It's a non-event to a Deere customer.'"
Dick McCormac, sales, Elder Implement, Muscatine, Iowa, says that his service department draws owners of other colors. "Eventually, they may switch colors as it becomes easier to justify changing brands without having to eat crow. By then, they've been coming here for some time."
Parts is also a critical ingredient in the recipe for sales growth among non-customers. "The victories begin in parts where more customers come and go on a regular basis," says Roger Brown, fixed operations manager, Western Implement, Montrose, Colo. "Those customers regularly pass by the new equipment after getting great arts service."
Dwight Rasmussen, parts manager, Ernie Williams Ltd., Titonka, Iowa, says he and his parts guys continually ask customers what services they want to see, and ask for "all" the customer's business. "In the spring, we ask for the filters, oil, blades for every model they might have. In the summer, we're asking for all fall harvest needs — regardless of color. In the fall, we start asking for tillage items. In the winter months, we ask for oil and filter orders for spring pick-up or delivery." He adds that the dealership also comes up with a Christmas service offer each year.
Having good parts inventory also tips the scales in your favor. John Stepniak, owner, J & M Repairs, Ridgetown, Ontario, prides itself on offering lower cost part prices from non-mainline companies. "We aren't committed to one supplier, so we search thoroughly for the best prices. We do all the shopping for the customer."
And if you think the customer conversion emphasis is a small-dealer tactic, think again. RDO Equipment, with 54 stores in nine states, plays the game too. "We have five stores within 50 miles with over $2 million in inventory. If one store doesn't have the part, another location probably does, and a parts van makes a scheduled run to all of the stores. This enables us to transfer parts between locations at a minimal cost to the customer," says Bill Fisher, parts manager, RDO, Hermiston, Ore. He adds that while 90 days is the norm, RDO offers warranty on parts for 6 months if sold over the counter and 12 months at no extra cost if installed by the dealership. 
Other things, like keeping longer dealer hours during planting and harvest, or having parts dropboxes throughout the county, can bring in first-time customers, say dealers.
How to Approach Them
Frank Lee, president, International Ag Univ., Flower Mound, Texas, notes that "As a mature industry, the lines of differentiation have blurred. The farmer can select any manufacturer and make the equipment work. Dealerships look the same and the promises of dealers sound the same.
"When this happens, the only thing separating one offer from another is price. In this situation, the salesperson must differentiate himself," he says, advising dealers to develop a consultative approach.
Dave Teigen, Bonneville County Implement, Idaho Falls, Idaho, describes his dealership's five-step conversion process, which includes:
Identifying and establishing a relationship with the farm manager-owner
Identifying buying trends and practices
Identifying farming practices
Demonstrating and renting equipment
Informing, motivating and closing 
Sounds easy, right? Maybe not. But the first step is knowledge — knowing your customer's need, knowing your product and knowing the competitor's product.
"You've got to be patient and professional and, above all else, know the product," says Bunbury. "Often, the customer researches equipment and may know it better than we. So, we need to be product specialists to find ways he can save money or be more efficient."
Dean Deike, GM of Deike Implement in Waverly, Iowa, notes that the Fendt tractor he sells allows him to push the fuel use factor, and he goes through the exercises of demonstrating fuel savings, a hot topic in recent years.
In trying to convince a customer to switch brands, you also have to tread delicately on offending a past purchasing decision.
Dealers Say Qualification Counts
Dealers point out that qualification of the customer is a critical step. Not only to avoid wasting time on someone who'd never buy, but also to tailor-make a sales presentation.
"We work hard to target competitive customers that are receptive to a demonstration of the product," says Ron Birkey, president/CEO, Birkey's Farm Store, Rantoul, Ill. "If we can put it in their hands and do all of the things necessary for a quality demo, then we have a chance. But first, we qualify that customer. ome competitive users wouldn't switch even if you gave them the product. We must work on the ones that have the best probability for conversions." 
Alan Anderson, operations manager, Grosshans International, Aurora, Neb., considers the "quality" of his potential customer. "Shoppers and bargain-buyers are the main source of complaints and problems," he says. His advice? "Earn your money with customers that make a living in production agriculture and spend less time on those that pit one dealer against another."
The important qualifying step also alerts dealers of the buttons to push, and those sensitive areas to avoid. "Two approaches are needed," says Charles Savedge, owner, Surry Equipment, Surry, Va. "The compact tractor buyer has less loyalty and is more open to the salesman pointing out differences and advantages of your product. The traditional farmer, meanwhile, often believes that he has already made the correct color choice. So only extended superior customer service will win him over. Your product advantages need to be very subtly pointed out without being critical of his past choices."
Tim Brannon, parts manager, B&G Equipment, Paris, Tenn., says that his firm attempts to monitor the coffee shop talk and how customers relate the needs of their neighbors. "If a sales possibility exists, we try to find a feature n our product that can solve that need. We've learned, however, never to use this ntil we have gently guided the rospect nto admitting he has the need; otherwise he feels ambushed or betrayed, and that we know more than we should about his business. 
"Realizing all his, the salesman needs to pproach rospects hat have r are considering other brands by admitting there are lots of good products, that our product has the features that will best fill his needs and that we will be there to back up the sale. And, contrary to the main weapon used y Deere, our product's resale values are equal to or n relation to he ales price of the competition when traded." 
Getting too aggressive and overselling can turn things in the wrong direction too. "We're very careful not to oversell our product," says Dave Siemens, owner, Dave's Tractor, Red Bluff, Calif. "We will tell them the strengths and any weaknesses for their application. If our Mahindra is not a good fit when a guy needs a tractor to mow an orchard, we recommend another brand like a Kubota, even if it means sending him to another dealer."
Anderson agrees. "Once in a while, a competitor's product is better for him. If you tell the truth, you can arn their onfidence in other sales. he money you save him may well be spent at your place later on."
Mark Hopkins, owner, Mesa Tractor, Albuquerque, N.M., utilizes his manufacturer in helping close the sale. "Because Kubota makes its personnel accessible to dealers, we can add that personal touch that some other colors have gotten away from. ervice of the product, not only from the technician viewpoint, but help in questions on parts, products and service has made orange the growing color." Hopkins says that this direct-manufacturer involvement is valuable to his sales effort, and he hopes Kubota maintains it.
Dealers also note that the prospect's experience can't be underestimated. Garber says one of his dealership's most important methods is "our people's sincere desire to make that customer's experience in doing any kind of business one that he will not forget, whether on the farm or in our store." 
"Our number-one approach from the beginning is to be as courteous and helpful to the customer with other branded equipment as we are to our brand-loyal customer," says Darren Mead, GM, Deem's Farm Equipment, Nevada, Mo. "We welcome their business at the parts counter and in the service department, and eventually they find reasons for doing more with us."
That acknowledgement of the customer at the parts counter can do wonders for a return visit, says Paul Versey, parts asset manager, Kenver Equipment, Dawson Creek, British Columbia. You've got to let him know he's a priority as he walks in the door.
"He probably just left your competitor unsatisfied. If I take the time to solve his problem, even if I find the parts at another store, he'll remember that I was the one who came up with the solution. If I'm able to find the parts in my own store, that's even better. But for the younger employees who don't have the experience to know what might work on another brand, I tell them to make sure the customer leaves here optimistic that he's on the track for what he needs, even if they need to call around and find a source for the item."
And while it sounds obvious, many dealers reiterate the importance of the post-sale efforts. "You've got to promote that parts and service will back up the sale. Unless you can sell refrigerators to Eskimos, I know of no other way," says McDonnall.
Driving Up the Lane
While cold-calling is somewhat of a learned art, it's necessary for any dealership serious about increasing its sales volume. Lee advises making a list of what you bring to the table before calling on any competitive owner. "Check what your competitor also provides. Ask yourself why the customer should switch if you bring the same things. What is the unique value proposition you bring?"
They're Buying You, the Dealership & the Equipment — In That Order
"I strongly believe that the salesman must sell himself first. Once he has done this, only then can he win the customer from the other brand. You can have the best machine, but if the customer doesn't like, trust or feel right about the salesperson, they'll go in a different direction. Second, you must sell the dealership, such as parts and service. They've got to know they'll get their machine worked on, and get parts for it in a timely manner to make a change."
— Marcus Madewell, equipment sales, S&H Farm Supply, Rogersville, Mo.
"I sell mostly ohn Deere equipment, so the quality of has always been there. What I need to do is show a competitive customer that I can be an asset to him and his needs and that I can provide a fair price. Personal service will make sales even when product quality is not always there." 
— Bobby Carey, salesman, Producers Tractor, Marvell, Ark.
"Most customers don't just buy a product, they buy into the dealership. After the sale, it is our responsibility to maintain the value that the ustomer placed in us through communication, parts support and service." 
— Tim Brannon, parts manager, B&G Equipment, Paris, Tenn.
"We've always stressed that people buy from people. No matter what color you sell, it's the relationship that provides the loyalty. We try to become friends with our potential customers, find common ground to gain their confidence and then get the demo."
— Richard Miller, GM, Trigreen Equipment, Mount Juliet, Tenn.
One objective of the personal visit is simple reconnaissance. "Cold calling allows you to find out what a customer already has, and then you have the opportunity to earn their parts and service business," says Loper.
Birkey's Busing says it takes numerous cold calls. "On those, I try to learn as much as possible about the customer's operation and I provide as much of our product information as they will listen to or read. I encourage them to come see our product and make comparisons to their current brand. The best tool is an in-field demo, when appropriate."
The good salespeople can do things in a way that doesn't appear to be selling. "We egularly call on the customer without trying to sell any particular item," says Bucky Ferguson, GM, Patrick Tractor, Tifton, Ga. "Just a friendly stop with a closing comment of 'If there's anything we can do to help, don't hesitate to ask' and 'We'd like to be considered if you decide to price a tractor or whatever.' It's about keeping yourself visible, trying to establish a rapport and above all, knowing when to leave."
When you know the customer's likes, dislikes and needs, you want to see him often enough that your name comes to mind when he's ready to buy," says John Harbison, ag sales, Barbee Neuhads, Weslaco, Tex. "You want to be first in line to quote him. Don't wait until he has shopped around and uses you just for a comparative quote."
Tom Madsen, owner, Madsen International, Shenandoah, Iowa, agrees, adding that you've got to be ready to ask for their business, even if starting small. "Just asking for the opportunity to earn their business is a great way to start," he says.
"The best way to competitive sales is to gain that customer's business through continuous visits on a steady basis," says Steve Malanca, GM, Thomason Tractor, Firebaugh, Calif. "Keep him on your regular sales call sheet as often as feels right. Gain a relationship with that customer, maybe after business hours through functions outside of farming like school, church and sports events.
"Cold calls can be exciting in that once that customer gets to know you as the rep for that dealership, he'll call you before anyone else."
The Demo: The Time to Shine
If you've done everything right in the process, you earn a chance to do the demo, whether on the farm, at the dealership or during field days. "The only way I have ever sold anyone away from their favorite color was to demonstrate my product and prove it was better," says Delbert Schafer, Schafer's Shop, Franklin Grove, Ill.
Color Conversions Key for Dealer of the Year Birkey's Farm Store
Farm Equipment attended Birkey's Farm Store's annual sales meeting this summer to present the 2007 "Large, Multi-Store" Dealership of the Year award. At the conclusion of the sales meeting, ag division vice president Mark Foster directly challenged all salesmen to convert at least one customer not yet buying red equipment. In fact, each salesman was directed to e-mail the Rantoul, Ill., office with the prospect's name by the following Monday.
Foster called on several salesmen to share their success stories and how they did it, which boiled down to simply being aggressive, making the calls, doing the demos, and in some cases, taking the service manager to the farm. 
"It's not easy; it's about being aggressive and persistent," says Foster. "It starts out by selling a neighbor, a guy who wasn't treated well by his dealer.
"But I tell you you've got to drive up that lane more than once. Visit them, demo them and get them in your marketing sights and keep them there. Know the product, the competitive advantages and be ready to give the best price at the right time. You don't always get a second chance."
Specifically, he added that his crew needed focused efforts to find homes for used combines, that this customer conversion activity was critical to growing Birkey's market share for a secured future, and to use all resources at both the dealer and manufacturer levels. "Sell the product, sell yourself and sell the dealership," he says.
The willingness to do a demo itself can speak volumes. "We demonstrate a piece of machinery for a potential customer to let him know that we want to gain his business," says Anthony Clark, president/owner, Clark Farm Equipment LLC, Gilbertown, Ala.
Adds Loper: "A product demonstration really works if you do it right. There is nothing like getting someone in the seat of your machine to let them see for themselves." 
But a good demo is not a dump-and-run. Experienced dealers also hone their craft on demos, even to the point where a "problem" can be spun into a positive, such as ease of repair or adjustment. "We like demonstrations on the farm," says Jerry Owens, president, Owens Implement & Supply, McCook, Neb. "We let him take his time, making sure he feels comfortable with the product and then we leave the scene. We call back later and hone in on ne or two features that his current machine doesn't have, and then ask for the order. But we don't push; he may buy later."
Once the deal is made, followup is critical to see that things continue to go well. "The product support is so key," says Wayne Allison, ag & turf equipment sales, Hawthorne Pacific Corp., Tamuning, Guam. "That's why we introduce the customer to the parts and service managers during the selling or delivery process, and make sure he has their cards and contact numbers. We usually do a visit within 45 days of the sale to eliminate any issues early on." 
Conversions: A Team-Play
While there are many different paths for a customer conversion, a dealer-wide effort is needed for success. "People often bring their business to us because they were impressed with the help they received from parts, service or sales. Any department can be the reason customers come back and increase their volume of business with us," says Waldschmidt.
"Go the extra yard to solve a parts issue rather than saying we don't have the part. Look a little deeper into a mechanical problem and solve it, or give some sales options that the customer didn't know about and you will have an account until someone else tops you. It becomes everyone's job to keep that business once we have gained it."
Adds Anderson: "Victories don't stay victories without 100% effort from everyone in the business. If you sell them an item and service them properly, then you have a victory. Then and only then, will they buy the second item."