It's not unusual for dealerships to partner with local colleges as a way to train and recruit new technicians to their service department. However, Andy Luikens believes it's important to start reaching out to students even sooner.
"If you are not opening your door to high school students, I'm sorry, because trust me — they've already picked where they're going to work," says Luikens, the recruiting program manager for RDO Equipment Company, a 30-store John Deere dealership group based in Fargo, N.D.
"By the time they get to community college, it's a done deal," Luikens says. "You've got to open the door to younger students. It's not just high schools — it's middle schools and elementary schools."
According to Lukeins, there are three times in a student's life when someone can make a big impact on their career trajectory. 
"Step number one is kindergarten," he says. "They're about to start their education. What's the first thing they forget when they meet all these new friends? How cool the tractors in their sandbox are. You've got to remind people how cool this stuff is."
The next significant point is the transition from 8th grade to 9th grade, Luikens says. Students are choosing their high school course load, and he argues the importance of reaching out to engage with them and remind them to sign up for shop or automotive classes.
"[Encourage them to] take a computer class or robotics," he says. "This stuff all translates to our workforce."
Finally, Luikens wants to interact with students who are in 11th and 12th grades as they decide where to go to school after they graduate. He invites them into his stores to get a closer look at the kinds of jobs that could be available to them.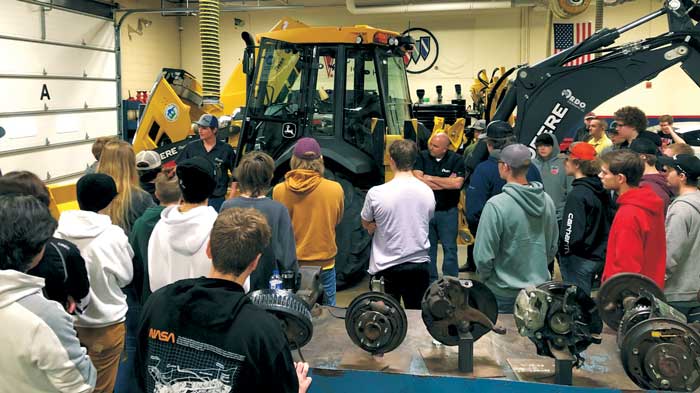 RDO Equipment invites high school juniors and seniors to their stores to get a better understanding of the types of jobs that could be available to them. They take students on a tour of the store and let them get up close to the equipment.
4 Keys to Turning Partners into Advocates
Andy Luikens, recruiting program manager for RDO Equipment, offers these 4 points on how to turn partners into advocates for your dealership. These individuals can be key to your recruitment efforts. 
Identify the stakeholders: Administrators, career centers, faculty and staff
Educate: Educator conferences, professional development meetings and externships
Prove your value: Show your partners what you do for them
Support your partner's vision: Financial gifts, but more importantly, in-kind gifts such as time, expertise and equipment
"Open the door to these students," Luikens says. "Our team would take [them] on a tour. We've built it into our culture."
He's also established a job shadowing program for high school students who have work-based learning at their school. 
Students who can commit to anywhere from 3-10 hours in the shop can rotate through every department and get a sense of what each person does, Luikens explains.
"They're getting high school credit while they're working for you," Luikens says. "You pay them a decent wage. You give them some jobs. They can stock parts or be the second pair of hands in the shop. They can learn the technology. It's a huge pathway into your team."
Focus on the Long Term 
Luikens stresses the importance of focusing on long-term goals when making connections with students and reaching out to schools in the area to facilitate partnerships.
"Don't think about them as a student in the program," he says. "Think about them on the day they graduate and have 5 years of experience. This is a 7-year investment in a young person to get a seasoned technician."
Click here

to watch the full dealer-to-dealer panel "Technician Recruitment that Gets Real Results" from the 2022 Dealership Minds Summit. This and all the Summit session videos are brought to you courtesy of DeLaval.  
One way Luikens makes sure his goals are realized is by reaching out to anyone on the high school campus who can advocate for him and his program. He goes beyond connections with the students' instructors and gets to know people in the career center and in the administration.
"We teach them who we are and how we're supporting their students," Luikens says. 
"If they understand the value we're providing, they'll give us more access. You have to train them on what their value is. I go to the teachers' convention and teach them about our industry. You've got to create advocates for you, because you cannot be everywhere.
"Make sure you prove to them that you're supporting them. The high school wants to know that the student they send forward is going to be supported once they leave. If everybody feels like they're winning, they'll continue to send people into your pipeline. And they'll handpick the best ones."     
More Tech Recruitment Articles
Find these articles at www.Farm-Equipment.com/1022
Take Your Service Management to the Next Level
3 Factors Impacting Your Absorption
Winning Comp Plans that Align with Process, Deliver Results
19 Proven Service Processes to Enact Today
Young's Equipment Measures Hours, Not Dollars
Prioritize Process, Performance & Communication for Service Department Success
Connections with Younger Students Contribute to RDO's Successful Recruitment Efforts