Electric tractor manufacturer Solectrac caused a stir in the ag equipment industry when it announced it would be selling directly to customers as well as supplying dealers using a hybrid sales model.
CEO Mani Iyer, longtime Mahindra executive, says the move is an economical way to develop a sales network without putting many dealers across very limited sales areas.
"In the traditional sales model, you have many dealers selling against one another, lowering margins," he explains. "We have a few dealers in larger areas with room to grow and take care of service needs of units they sell, as well as units we sell directly to end-users. In all cases, the dealers will be handling service needs, and we will be providing service technicians in each area to help them grow their service capabilities along with sales."
If needed, Iyer says, Soletrac will authorize service stations within sales territories to help with any maintenance and minor service work its tractors might need.
Solectrac launched its certified dealer network in March 2022 starting with 8 Brim Tractor stores in Washington and Oregon, and followed that announcement with the appointment of Columbiana Tractor in the southwest . Solectrac plans to expand that network across North America throughout 2022.
While dealer appointments to date have been familiar, the threat of different and competing models of distribution is a concern for more than half of the total North American dealers surveyed in February 2022. About 48% of U.S. dealers are concerned about this issue, compared to 75% of Canadian dealers. 
Like OEMs, dealers will need to identify early adopters and strategies to capture them. Rob Dongoski, partner at consultancy group EY and agribusiness practice leader, says dealers should consider how regenerative agriculture, an increasingly popular trend, could change their customers' practices.
"If you've got an indication that 50% of the farmers in your region are going to move to regenerative ag practices, perhaps the equipment need could change," Dongoski says. "You can anticipate that you're going to see an uptick with this particular population."

I. The all-in-one electric and autonomous NEXAT system harvests sunflowers. The system is based on an interchangeable carrier vehicle with the technology needed to cultivate, sow, spray and harvest installed as a module on the machine.
Dealers also realize their service and parts departments will need to expand capabilities to handle the new technology. A major concern of surveyed dealers is the prospect of finding well-trained technicians to service EVs, citing existing problems in finding adequately trained individuals to work on sophisticated farm machinery. Many technicians are familiar with farm equipment computer controls and on-board circuitry but lack certification to work with battery systems with high voltage and current capacity.
Martha Hennigan, director of sales, operations and marketing at Solectrac, says the company is focused on the training techs need to work on electric tractors. The  company is building knowledge with certified dealers as they come on board, as well as working with FFA, 4-H and similar groups to start education early.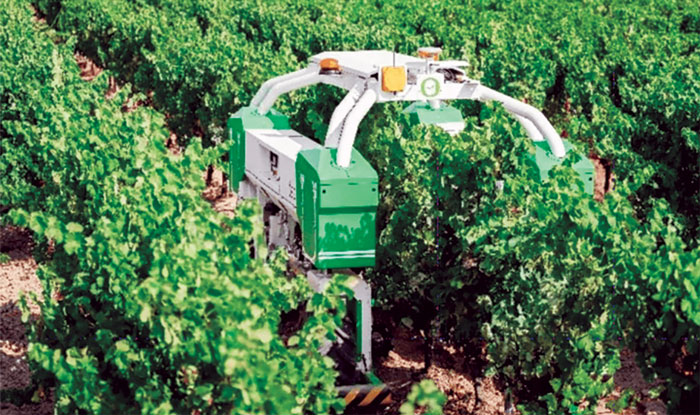 J. A "Ted" robot weeds a vineyard autonomously. Naïo introduced the robot to the North American market at the 2022 CES in January. Ted travels about 3 mph and can cover about 12 acres per day with an electric battery that lasts 8 hours.
"It's much more electrical-focused, and many of these technicians are already pretty much qualified from the technology they use for the rest of the tractor, but you just have to go through all the steps," Hennigan says. "It's a shift, but there are a lot of really great technicians out there who can make that shift."
Insights from Outdoor Power OEMs
Jason Wilk, senior product manager for ECHO, predicts a decrease in the demand for typical engine maintenance items like air filters, spark plugs and more, but he notes that battery-powered products are still going to wear and require service. Plus, the dealer will become the customer's source of fuel — batteries.
K. AGCO's Fendt e100 Vario all-electric prototype compact tractor is a 100-horsepower machine with 700-volt rapid-charge batteries. The e100 Vario features a 5-hour run time and hydraulic and electric implement compatibility
"As batteries deteriorate over time and need replacements, that fuel purchase is coming to that dealer, whereas in the past that fuel purchase happened down the street," Wilk says. 
Brian Manke, product manager for STIHL, says he laughs a little when he encounters dealers highly concerned about a loss of service revenue. Regardless of its power source, he says, electric products will still be subject to heavy use and abuse, have components with issues and suffer accidents in the field.
"I don't see electrification changing the importance of a servicing dealer at all," Manke says. "In fact, it's just as important because some of these products are more expensive than their gasoline counterparts."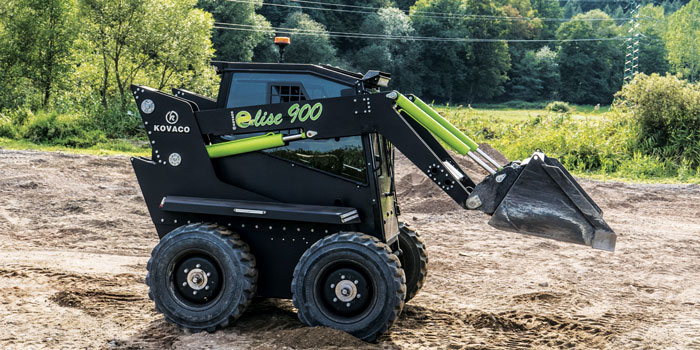 L. The Elise 900 all-electric skid steer by First Green Industries (formerly Kovaco Electric) is compatible with more than 75 quick-attach loader tools. Dealers say it's an attractive option for barn chores because it's quieter and cleaner than diesel loaders.
Electrical storage systems for the initial offering of electric tractors typically will be in the 400-volt range, much like today's hybrid and plug-in passenger car and light trucks. Servicing that category of equipment requires automotive industry standard certification. In the future, as more powerful farm equipment adopts EV technology, systems likely will include 700-volt batteries that will require even more training and certification for proper service.
For a period, different brands of equipment can be expected to use proprietary battery designs and charging circuitry, which will likely present compatibility issues and some frustration in service departments handling multiple equipment brands. Battery makers, however, are emphasizing the need for standardization across the board in EV design, an effort that promises much easier service calls over time.
In addition, dealers can anticipate help from EV manufacturers in the form of online and software-based training programs to help solve end user problems.    
Monarch Tractor's New Hire & Distribution Models
In early April, Monarch Tractor, the Livermore, Calif., manufacturer of the fully electric, driver-optional smart tractor, introduced Luc de Gaspe Beaubien as the company's global head of sales "in response to the company's rapid growth." 
The press release noted that, "Beaubien has a rich automotive background with past go-to-market, revenue-generating and compliance success. He most recently served as vice president of business development at Mahindra Automotive North America. He also previously served at Techtonic Industries where he led business development and compliance for its Baja vehicle division, and at Bombardier/BRP where he was responsible for growing the dealer network and managing daily operations of over 1,400 North American dealers." 
While Monarch has been consistent in its message that it is selling direct to the consumer for the foreseeable future with units scheduled to ship to the North American market in late 2022, the appointment of Beaubien — and his experience — could indicate that the firm is already preparing for a different go-to-market strategy. 
Yet in tapping an automotive and powersports executive instead of one from farm machinery, might Monarch be eyeing distribution model different than that of the traditional tractor dealer? 
— "AEI Observations," March 2022 Ag Equipment Intelligence
More from "Is Ag's Future Electric?" report
Ag Prepares for Electirc-Powered Future
Stockpiling & Pulling Sales Forward: Will There be a Repeat From Diesel's Tier 4 Days?
OEMs Explore, Acquire Electric Farm Power
Could Electric Machinery Disrupt the Traditional Dealership Model?
Most Realistic Applications of EV Technology on the Farm
Electric Tractors Present 'Greatest Opportunity in the World' for Alabama Dealer