Editor's Note: This SHOWCASE special content features selected excerpts from a 52-page custom research report by Ag Equipment Intelligence. "Electric Farm Machinery: Outlook Through 2027" was released in mid-March.
Spurred by global environmental concerns and farmer demands for more economic productivity, some equipment makers are increasingly turning their research and development sights to the efficiencies of the electric motor.
Over the past 5 years, agricultural media reports have traced a sharp rise in OEM interest in electric vehicle (EV) technology to address tightening environmental standards and related consumer demand for "sustainable" on-farm production practices. In 2021, analysts from British market research firm IDTechEx went on the record to predict the market for EVs in agriculture, construction and mining could grow to $100 billion annually.
Developers of electrified equipment for the farm — primarily tractors and skid-steer loaders as of 2022 — also say moving to battery-powered, zero-emission EV technology offers owners significant reductions in fuel and maintenance costs over the life of the machine when compared with diesel-powered equipment of the same capacity. Additionally, developers say all-electric, digitized and automated tractors can significantly lower growers' cost of production by reducing labor requirements and providing on-the-go crop condition data.
"ELECTRIC FARM MACHINERY: OUTLOOK THROUGH 2027" BY AG EQUIPMENT INTELLIGENCE
This special research report includes additional coverage on:
Battery Technology Progress
Primary Surveys of Growers and Dealers
Verbatim Commentary
Concerns of both Growers and Dealers
Click here for more information
Following are 3 drivers of the trend toward electric power. 
1. Regulatory Pressure
Regulators in Europe and California continue their quest for zero emissions, despite major improvements in air quality scored by the U.S. Environmental Protection Agency's amendments to the Clean Air Act in 1990. That legislation sparked the overhaul of both North America and Europe's diesel fuel sulfur content and, by 2015, resulted in the completion of 4 tiers of diesel exhaust emission control regulations.
In 2016, the European Union's parliament voted to implement a 5th stage of tougher clean air standards that applied to the smallest and largest off-road engines.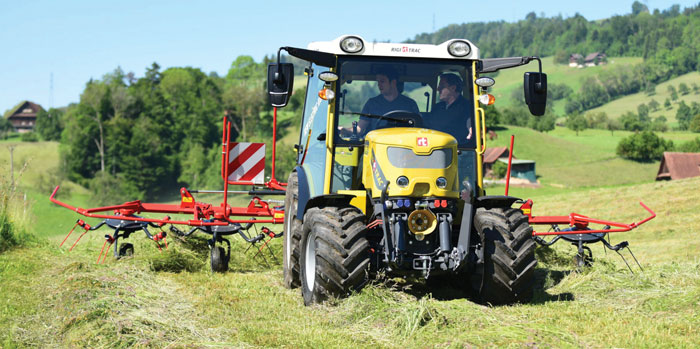 A. Rigitrac unveiled its 50 SKE 50kW, 59 horsepower electric tractor at Agritechnica 2019. The unit reportedly runs 5 hours on a single charge of the 80kWh lithium-ion battery. The Swiss manufacturer told Farm Equipment that it is releasing another model, the SKE 40, for mass production and sales in 2023.
Likewise in late 2021, California's Air Resources Board (CARB) approved its own two-phase Tier 5 stiffened emission standards to cover small off-road engines (SORE) — from leaf blowers to generators — beginning in 2024. In a December news release, CARB announced the first phase of the CARB plan that seeks a 40-90% reduction in emissions based on engine size, and seeks zero emissions from all covered power equipment by 2028 in its second phase.
Gridtractor, a partially owned subsidiary of Polaris Energy Services, launched in California in November 2021, offers fleet electrification services to farmers. California provided Gridtractor an opportunity to utilize extensive electrical infrastructure on farms, incentives for electrification and pilots for vehicle grid integration, the company notes in a statement.
B. California-based Solectrac's e70N is a 70-horsepower narrow electric tractor suited for hobby farmers, vineyards and orchards. The company is taking a hybrid approach to sales by selling directly to customers as well as supplying dealers.
While the EPA maintains jurisdiction in California over emission standards for off-road diesel-powered farm and construction equipment under 175-horsepower, OEMs and independent equipment makers are aware political winds could easily shift, and more stringent rules could be in place overnight.
Changing regulation could drive manufacturers — and farmers — to adopt new practices. Regenerative farming is also becoming popular as consumers demand more sustainable products.
"The drive to more sustainable farming will be incentivized, not only by taxes, grants, credits and things like that," says Rob Dongoski, partner at consultancy group EY and leader of its agribusiness practice, "but I think we could see some co-investment from food and beverage manufacturers who want sustainable ingredients in their end product."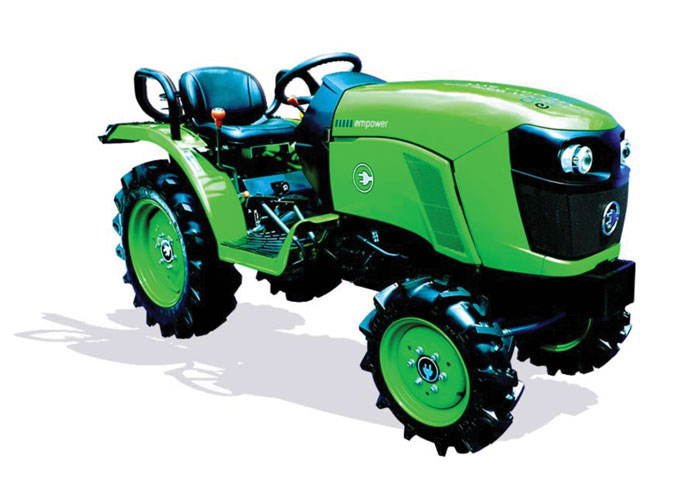 C. Cellestial Emobility, India's first manufacturer of electric tractors, offers 27, 35 and 55 horsepower equivalent electric tractors. The 55-horsepower model is pictured here.
Some significant buyers of ag commodities have already made commitments to more sustainable crop production practices. General Mills alone, for example, announced that it would work with farmers, suppliers and farm advisors to advance regenerative agriculture on 1 million acres of farmland by 2030. If the path to sustainable products includes EV technology, it may result in a world where the food and beverage industry specifies the need for electric tractors out in the field.
2. Electric Efficiency
The U.S. Dept. of Energy (DOE) and the European Community of Manufacturers of Electric Machines and Power Electronics cite premium electric motors as capable of over 90% efficiency in converting input power to output power. Meanwhile, current computer-controlled, emissions-compliant diesel engines range from 35-45% efficiency in converting chemical energy in fuel to power output.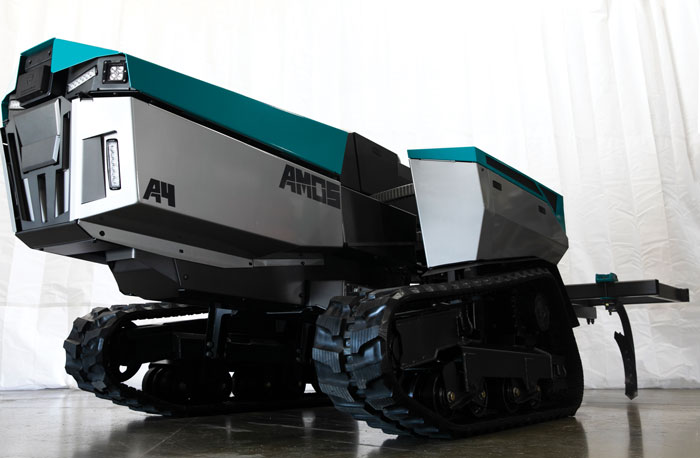 D. Iowa-based AMOS Power, the result of a partnership between One3 Design and Redshield Electronics, is an autonomous electric tractor primarily for vineyards and orchards. AMOS Power began field testing row crops in May 2022 by planting a field of soybeans in Iowa and mowing waterways.
Kraig Schulz, co-founder and CEO of Autonomous Tractor Corp. (and 2018 keynote presenter at the Precision Farming Dealer Summit), says an electric drive system can provide fuel savings of 10-40% over a similarly sized internal combustion engine (ICE) powertrain. The savings come from eliminating the power lost through complex transmissions and relatively inefficient hydraulic systems.
Electrifying 1 "medium-sized" tractor with an EV reduces carbon emissions by as much as replacing 45 cars, according to Gridtractor. The company estimates farms can save 55-75% on fuel costs by going electric, plus pick up additional savings by supplying stored power to irrigation pumps and the grid.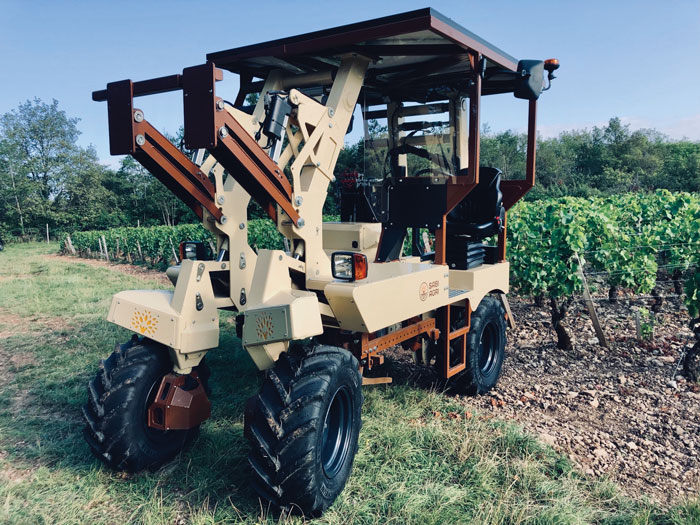 E. SABI-AGRI's "driver optional" 4WD electric vineyard tractor completes groundwork and vegetation maintenance using a 50-horsepower electric motor. The electric tractors have been operating in French vineyards since 2019.
"We estimate that on top of the field savings, farmers can save 15% for smart charging and Vehicle-to-Load/Vehicle-to-Grid applications, for a total of 90% cost savings that will be supplemented by lower maintenance and repair costs," says Gridtractor CEO David Meyers in a statement.
University of Kentucky ag engineer Joe Dvorak, whose research involves battery technology and electric propulsion, says the efficiency of an electric motor is multi-pronged.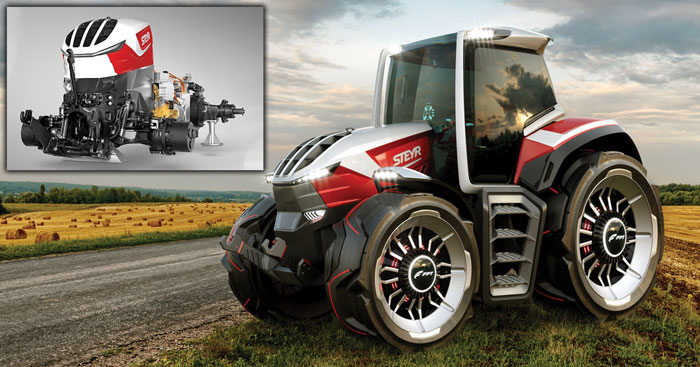 F. CNH Industrial introduced the STEYR diesel-electric hybrid tractor in 2019. Christian Huber, vice president of global tractor product management, says the tractor is a "conceptual study that will not enter production," but some of its ideas may be seen on future STEYR products.
"There are only a handful of moving parts in an electric motor, and their life expectancy is far superior to internal combustion engines," he says. "While electric motors for in-field farm use have to be designed to resist vibration, temperature fluctuations, and dust and water infiltration, think of all the electric motors in a farm shop — fans, drill presses, compressor motors — many of those are 30-50 years old and are still running."
In addition, electric motors provide significant amounts of instant torque and, with the proper motor controls, don't require a heavy, complicated transmission to operate at different loads and speeds.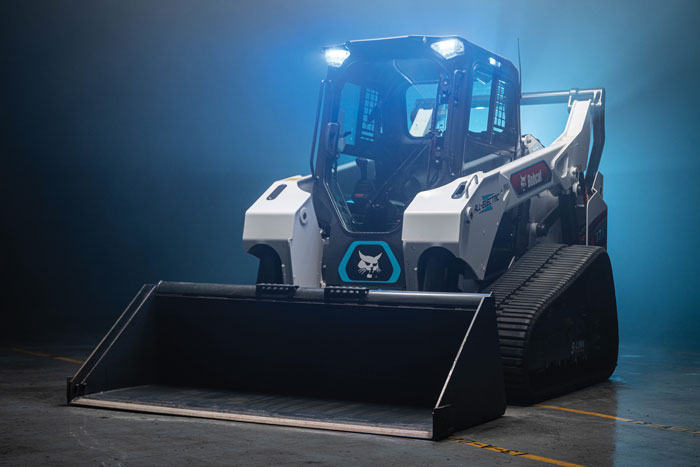 G. Bobcat introduced the fully electric T7X electric compact track loader in January. All-electric attachments are in development, including an electric-powered auger, angle broom and grapple. Sunbelt Rentals plans to purchase a fleet of the electric loaders and make them available this year.
Dvorak says electrified farm equipment as it is being developed also offers reduced maintenance because modern battery packs and motors are custom- designed and programmed for their application at the factory.
"Electric motors don't break that often, so there won't be many service calls," he adds.
3. Labor Shortage
The third driver of electrified farm equipment development is the continuing shortage of labor on farms of all sizes. This driver is met by the trend toward autonomous farm vehicles that are increasingly being powered by batteries.
Praveen Penmetsa, CEO of California-based Monarch Tractors, the maker of the first fully electric, driver-optional farm tractor, says the autonomous nature of his company's offering is aimed directly at farm labor challenges.
H. Zero-turn mowers from Mean Green Mowers, Scag, Cub Cadet and Gravely.
"We can use one driver to control 6-8 tractors, saving labor and freeing up personnel for other duties on the farm," Penmetsa explains. 
"At the same time, our digitized platform is capable of collecting data in the field to automatically generate time-consuming regulatory reports and provide seed-to-table traceability of produce.
"This capability allows buyers of high-value crops to monitor crop development throughout the season without visiting the farm. It also allows growers to verify to consumers the farm practices in use throughout the growing season."
Filling the Need
An intersection of economic and political pressure is driving the current fledgling electrified tractor industry. But while the electric motor provides the above-mentioned advantages over traditional ICE powertrain design, many serious challenges to immediate widespread adoption of EV technology exist.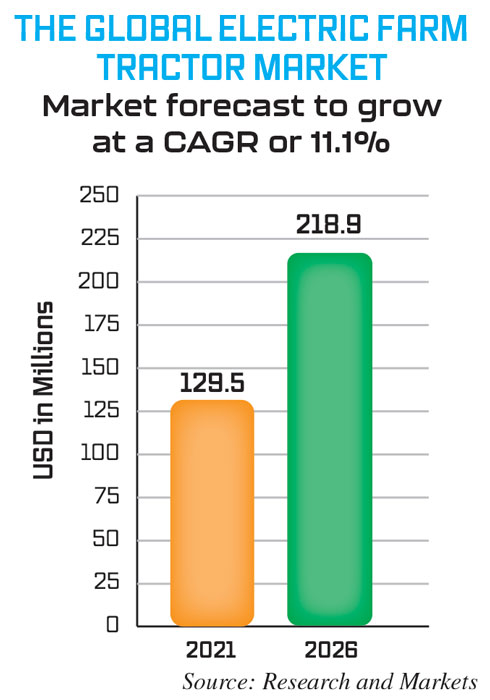 Ag Equipment Intelligence's surveys of North American farmers in February 2022 show a significant number of producers are reluctant to embrace EV technology. According to the 2022 survey data, top reasons for their hesitation include:
Initial equipment costs.
Lack of charging infrastructure.
Run time concerns and lengthy charging time requirements. 
Distrust of "unproven" EV technology on the farm.
Dongoski says farmers will continue to look for technologies that make their jobs easier, more profitable and less risky. Electric tractor manufacturers like Monarch Tractor and Solectrac will need to prove their electric technology measures up to — and surpasses — the capabilities of traditional diesel-powered equipment to convince leery customers. But it seems the technological genie spawned by the automotive industry's shift toward EV is out of the bottle and making farm visits.    
More from "Is Ag's Future Electric?" report
Ag Prepares for Electric-Powered Future
Stockpiling & Pulling Sales Forward: Will There be a Repeat From Diesel's Tier 4 Days?
OEMs Explore, Acquire Electric Farm Power
Could Electric Machinery Disrupt the Traditional Dealership Model?
Most Realistic Applications of EV Technology on the Farm
Electric Tractors Present 'Greatest Opportunity in the World' for Alabama Dealer