Bringing two strong family businesses together can be messy. Trying to unite two cultures and two ways of operating the business into one isn't without its challenges. But, for Sydenstricker Nobbe Partners (formed in January 2020 through the merger of Sydenstricker Implement Co. and Wm. Nobbe & Co.), year one of the merger proved not only to be a success but the team got there with little to no drama.
The two dealerships signed a term sheet in February of 2019 and quickly got to work on an integration plan, explains CEO Ted Briscoe.
"The reason we didn't have any drama last year is because we spent 8 months working on the integration plan. We chose to slow walk it rather than rushing the process," he says.
Managing the Merger
The ownership groups worked together to identify all the core business processes and each shared how they did it, then they picked the processes that made the most sense, were the most scalable and would be most appropriate for the size of the merged business.
Sydenstricker Nobbe Partners
Founded: 2020 through the merger of Sydenstricker Implement (1944) and Wm. Nobbe & Co. (1907)
Employees: 660
Ownership Group: Eddie Sydenstricker, Connie Sydenstricker, Tom Nobbe, Gabe Gabriel, Brad Nobbe, Lee Ann Sydenstricker, Jared Nobbe, Greg Gabriel, Kim Sydenstricker and George Obernagel  
Locations:  27
2020 Revenue: $551,533,742
2020 Market Share: 70.4% Large Ag; 57.6% Mid-Size Tractors; 38.1% Small Tractors
Return on Assets: 11.58%
2020 Parts & Service Absorption Rate: 91.93%
Major Line: John Deere
Shortlines: Brent, Dalton, Danuser, Honda Power, Stihl, Ashland, Jay Lor, Kuhn, Landoll, Maxwell Trailers, Raven, Redline, Richiger, Snow Ex, Tiger, Tubeline, Unverferth and Westfield
"There was total alignment. In most cases, we converted to the agreed business process several months before the actual merger occurred," Briscoe explains. "When we hit January 2020, it was just business as usual."
Briscoe says another key to how smoothly the merger went was that everyone on the leadership team worked together. If something needed to be debated, everyone was free to share their opinion but once a decision was made everyone stuck to it and they executed it. He also says ownership — Eddie Sydenstricker and Tom Nobbe — trusted the leadership team to do what had to be done.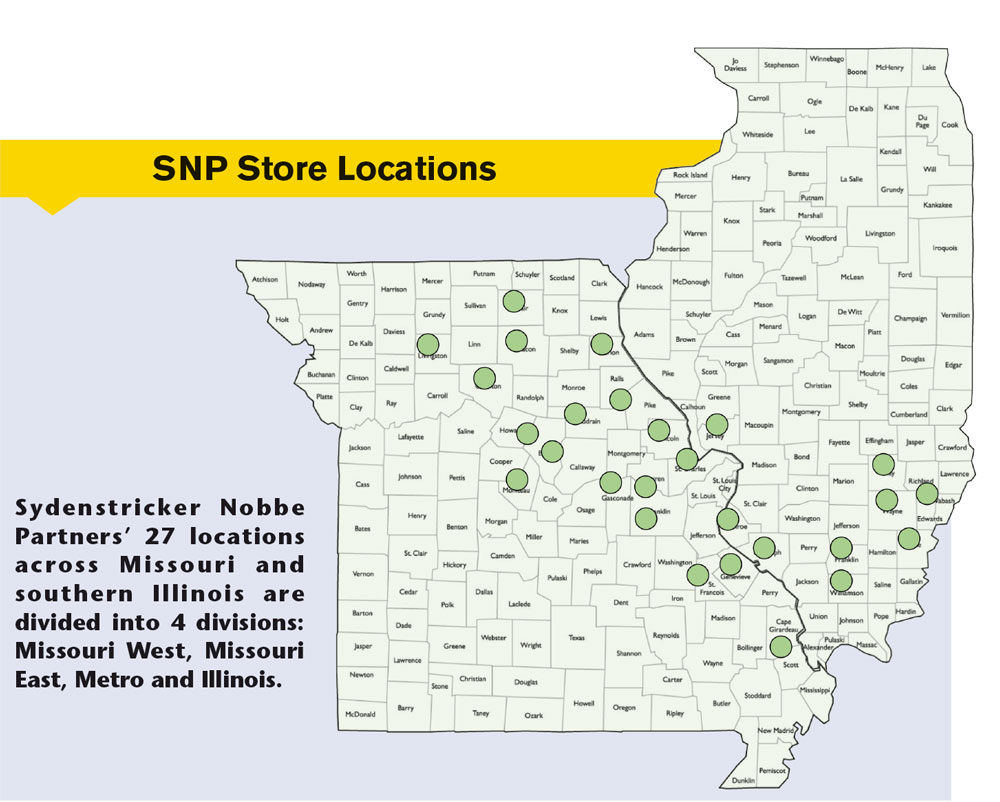 "They let the operators operate the business and allowed themselves to grow into being non-operations shareholders, and that's a journey too; it's hard. You can't just let go when your whole life has been defined by something and your identity is tied to something. I can't imagine how hard it was for both of those guys, who are strong men with strong personalities, to do that. It's pretty exceptional what they've been able to do."
'Blueprint for the Decade'
With a year under their belt as a merged organization, SNP is looking toward the future and developing its long-term strategic plans — it's "Blueprint for the Decade," Briscoe says. That plan, whether it is truly 10 years or can be done in 5 or 6, is all about looking at what outcomes the dealership wants and how they are allocating resources to drive those outcomes. Briscoe identifies 3 areas SNP is investing in for growth: precision ag, aftermarket and break-out opportunities. To align the organization and focus on those three areas, he says they need to leverage their size with a corporate team, while also staying close to the customer with their divisional teams.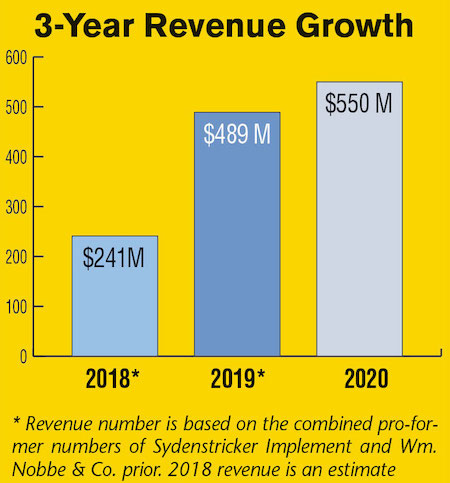 SN Partners had 11.3% organic revenue growth in its first year following the merger of the two dealerships.
"It's really about a clear corporate organization that's driving repeatable, consistent processes and programming. I've taken a lot from my background in terms of what I've seen with other companies, to put a classic product management organization in place here — separate groups for complete goods and aftermarket.
"It's really our programming, the inventory management, the market share, anything specific for a particular product group. The corporate team drives the programming and the divisional teams are our customer facing groups driving the execution of what's developed at corporate," Briscoe says.
While the division staff influence the dealership's policies and programming, it's not their job to create them. "They influence it and their job is to implement it and be our face in the community, be an advocate of the customer back to us to influence the programming," he says.
Part of the blueprint is also being lean and making fast decisions with rapid implementation. "We want to make sure we are in a mode where we can respond to market opportunities quickly. We're not afraid to fail. If we are going to fail, we want to fail fast. We frequently talk about accelerating the time to failure," Briscoe says. "It's how SNP gets things created. We want to be in the market with informed fast decisions, admit when we're wrong and quickly modify."
If they do all of this right, it shows up in the dealership's financial performance, both on the income statement and the balance sheet, explains Briscoe.
'Think Corporate, Act Local'
Because of the number of stores in the operation, Briscoe says having a strong strategy and consistent processes is integral to success.
"You can get away with a lot of poor processes when you have seven stores. It's impossible at our current scale. As we talk about our business strategy and what we're doing, I think it's important to recognize at the foundation, it's all about having repeatable, consistent processes," he says. "Not because we want to be corporate, but we don't have a choice. If there's one theme it's that we want to run the business in a responsible, predictable, consistent manner but stay local. We really want to think like a corporation but act locally."
---
"Mistakes cost you money and variation in process drives mistakes. It's all about having a consistent way that we do business. We can't afford to do things 27 different ways because we have 27 different store managers…" –Ted Briscoe, CEO, Sydenstricker Nobbe Partners
---
Briscoe touts the idea of consistency by noting that when everyone does something the same way, fewer mistakes are made. And, when fewer mistakes are made, less money is lost. "Mistakes cost you money and variation in process drives mistakes. It's all about having a consistent way that we do business. We can't afford to do things 27 different ways because we have 27 different store managers," he says.
To help keep that local feel to such a large organization, SNP has divided its 27 locations into 4 divisions — Missouri West, Missouri East, Metro and Illinois. Each division has about 7 stores and does around $150 million in business. Likewise, each division has a general manager and divisional staff who serve as the "face of SNP" in those local communities.
"Over time we would really like to shift to having those general managers truly empowered to run the division. Right now, there are limitations, but as they get more confidence and we get more consistent with our processes, we can let GMs act more and more regionally," Briscoe says.
Diversifying the Business
When it comes to continuing to grow the dealership group, Briscoe says "breakout opportunities" — or business diversification — is the cheapest way for SNP to grow and will have a greater ROI than say going out and buying a store that's doing $35 million in revenue. Briscoe explains these "breakout opportunities" as ways to change the slope of the curve outside of SNP's traditional, core Deere business. Two examples of this would be SNP's Commercial Application Division (CAD) and its Compact Construction Division.
"We started our CAD business in 2018 without any revenue, now it's a $40 million business for us. Our construction business, we started August 1st last year, should equal that amount in the first year," he says.
Last April, SNP's Area of Responsibility for construction increased because Deere changed its policy, allowing ag and turf dealers to take on more responsibility for the compact construction equipment from the construction and forestry division. Briscoe says they hired a full team from a competitive compact construction dealer.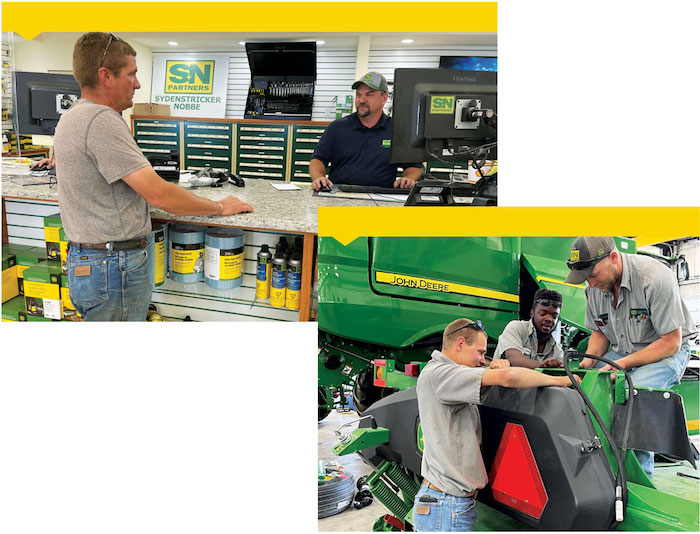 One way that Sydenstricker Nobbe Partners plans for ongoing, sustainable growth is by winning in the aftermarket. In 2020, the dealership achieved a parts and service absorption rate of 91.93%.
"In one deal we hired 6 people, plus a manager, that we added to a couple people we already had on-board to form a dedicated construction team."
In a period of 1 year, SNP took its market share in compact construction from 14.7% to 35.4%. "That's a massive increase in our market share in just that 12 month period from making an investment in the market. We went and hired people who had customer relationships and who knew how to sell," says Briscoe.
Prior to the merger, in May 2018, the dealership formed a sprayer division in the Sydenstricker footprint and added it to the Nobbe footprint in December 2019. Together, the organization now has over 70% market share in the sprayer business.
Briscoe says they took a similar approach to waht they did with the construction division and went out and hired an entire team from a competitive sprayer dealer, who knew the application business. While SNP ended up hiring complete teams in both initiatives, that was not necessarily the intention.
"When we went after Chad, he pretty much said, 'This is my group, they're coming with me or I'm not coming,'" says Briscoe.
The third opportunity is the addition of what SNP calls "Production Solution" Specialists, whose objective is to shift from selling programs and prices to selling solutions. Recent hires for this group include a combine specialist and planter specialist, both of whom came from John Deere.
Briscoe says the Production Solutions Specialist approach will help the dealership exploit Deere's production system advantages and ultimately improve their margins. "This is a very strategic investment that will help us to go from being good to great. The last 10% that will help separate us from the pack and add demonstrable value to our producer partners."
Not Just Large Ag Business
Slightly more than half (55%) of SN Partners revenue comes from its large ag customers. Another 20% is middle market tractors and 25% of their revenue comes from small tractors. As any dealer who sells in both the large ag and the more transactional rural lifestyle markets, each segment takes different sales approach.
"We have a very strong small tractor business. What that means is that every week, it's a cage fight for your market share. In this market, if you take a week off, you lose a week. It's not like large ag, where you have strategic selling cycles and large sold-ahead positions. We battle for our small tractor business every week," Briscoe says.&
The SNP leadership team has proved they're not afraid of trying something new and taking risks. The dealership group gives considerable attention to its small tractor business. With 80-90% of their less than 100 horsepower tractor sales being what Briscoe calls true retail, business to consumer sales. SNP can't engage those customers the same way as their large ag sales.
In 2020, Sydenstricker Nobbe Partners launched an online credit application pilot program, focused on selling compact utility tractors. In that first year of the program, SNP sold 194 units, making up 12.5% of their <100 horsepower tractor sales.
"Our success or failure is entirely driven by our ability to think like a consumer and transact in a way that a consumer wants," he says. "If we treat them like a large ag customer, we'll lose them. They don't want to sit here and go through a 3 hour sales process."
To the consumer customer, a credit application that can be approved in 30 seconds is a big deal. The specs aren't as important to this customer base either. They are more concerned about what the solution will do for them. In response to that, SNP has created different tractor packages — Workhorse, All-American, Mississippi Queen, Homesteader and more — to help show the customer what options might be best for them.
On the website, each package lists the total price or a monthly payments, and customers can apply for financing right on the site.
In 2020, SNP made its first real push to sell compact utility tractors online and sold 12.5% of their under 100 horsepower tractors through this new channel in the first year. Briscoe notes there will always people who want to come into the store to make the purchase, but he also says the number of people becoming comfortable buying online is going to continue to increase.
"To sit there and pretend like it's not how some people want to buy is being foolish. We've got to make it easier for people to buy what they want, how they want, when they want. If it's 10 o'clock on Sunday night, when they have time to think about things and they're in a good mood and that's when they want to buy it, then we better be ready to sell it to them," he says.
Another way they are catering to their consumer customers is with a new concept store, SNP Express, that opened April 15, 2021.
The store is located in Franklin County, Mo., the group's single largest county for small tractors sales ($4.06 million), but also where they have their lowest market share. "That's because we are in the wrong place to address those customers," Briscoe says.
The express store is only 18 miles from SNP's Dutzow, Mo., store but in talking to potential customers Briscoe says they learned that people either didn't know there was a store there or said they'd never drive that far. It again comes back to understanding that small tractor customers are very different from large ag customers.
So, what makes it "express?" The store has two salespeople and is only focused on retail sales of compact utility tractors and Gators. The store is open Tuesday-Saturday from 9 a.m. to 6 p.m. – very different from the core ag locations. While customers can drop equipment off for service, it won't be done at the Express store. Maintenance parts will be available starting in July.
Exclusively Online
Visit FarmDealerOfTheYear.com to watch exclusive video interviews with Sydenstricker Nobbe Partners CEO Ted Briscoe. Filmed on location by Farm Equipment editors, these videos are sponsored by CDK Global Heavy Equipment. Topics include:
Managing a Successful Merger
Launching the SNP Express Concept Store
Improving the Aftermarket Business
New Ways to Recruit Service Techs
And more
"We're cautiously optimistic this is going to be a neat concept that we can replicate in other places. The key is very low overhead. We can't make it an all-purpose store, which is our muscle memory. We instinctively think all stores ought to have everything — full service, fully staffed — and that won't work," Briscoe says. 
Developing Talent 
Sydenstricker Nobbe Partners is making a true effort in developing its talent, or in cases where they don't have it internally, going out and recruiting that talent. A large part of this focus has been investing in middle management training. "In a big organization, the people who develop their middle managers most effectively are going to be the ones who win," Briscoe explains. 
In addition to getting the right talent in the company, Briscoe adds the other part of the equation is finding people who want careers vs. just looking for a job. This marks a change in strategy for the dealership. 
"Our history has been to ask, who's the best guy available in Livingston County? Whose family are good farmers there? And then we go and hire their son. But we need to get people who want a career. We are a big ag employer in our area, so there's no reason we shouldn't go out there and offer great opportunities for people to come in and have a career, not just a job in the parts department. It's a different conversation." 
SNP has started a leadership training program for its managers who are not part of the executive leadership team (store managers, service managers, parts managers, etc.) that consists of 5 modules. The program is led by a facilitator from Korn Ferry, a consulting firm that focuses on organizational structure and workforce development. 
The program is still in the early stages, having completed 3 of the 5 modules for the first group. Briscoe says the goal is to start a new cohort every 9 months. (Jared Nobbe will share more about the program at the 2021 Dealership Minds Summit — Developing Your Home Grown Talent — in Omaha, Neb., Aug. 3-4.) 
Focusing on the customer — whether that's large ag, compact tractors, sprayers or compact construction — building repeatable processes that can be executed across 27 locations, maintaining a commitment to customer service  and investing in people has carried Sydenstricker Nobbe Partners through a successful first year of a big merger and will guide it well into the future.