---
Pictured Above: Dutch dealer Erik Hogervorst (l), president of the European dealer association, met Claas of America's Eric Raby in Germany during the once every 2 years German show Agritechnica in November 2019.
---
Erik Hogervorst, President, CLIMMAR (European dealer association) and independent equipment dealer based in the Netherlands
Eric Raby, President/GM-Sales, Claas North America
Editor's Note: Originally intended to be a "Conversations in Ag" discussion during Germany's Agritechnica in November 2019, there was so much ground covered in this 60-minute interview during Agritechnica, that we're departing from the "Conversations in Ag" format ... for this one article only.
On Day 2 of Farm Equipment's trip to Agritechnica, Erik Hogervorst, owner of Wout Hogervorst V.O.F.. dealership in the Netherlands, and president of CLIMMAR (European dealer association) and Eric Raby, president/GM-Sales of Claas North America gathered in Hall 9. With an international theme, it was the first meeting between the two, even though Raby had previously lived and worked for AGCO in the Netherlands. 
Much of the conversation was a comparing and contrasting of the European vs. North American dealer networks. Raby, who likely studies the numbers nearly as much as anyone, is experienced on both the dealer side as well as the manufacturing side (with multiple manufacturers), in addition to his farming background. He provided the industry demographics and numbers to drive the discussion. 
As president of CLIMMAR, Hogervorst leads 19,000 dealers across Europe, who in turn serve 3.4 million farmers. He is the co-owner of Wout Hogervorst (dealership for Kubota, Mazotti sprayers, Kverneland, Yale and other brands).
Hogervorst and Raby covered a great deal of ground in their conversation. This "Conversation" worked as it should, with me stepping out of the way, recording the interview and managing the clock. Here's some observations about the European dealership market, to compare vs. our lens of the industry in North America.
Many Dealers, Low Transaction Volumes. "Our members sell only about 10 tractors per year," Hogervorst says. "In Germany (largest of the dealer economies in Europe, a nation the size of Wisconsin), we have 4,300 dealers that may average 5-6 tractor sales a year. Here in Europe, farmers drive their tractors to the dealer, so they need to be within a certain range of distance to do that."
Specialization Assists Survival. Hogervorst says European dealers expected the total number of outlets would dramatically fall through consolidation. The result, however, was different. "Dealers are specializing; spraying and technology adoptions and/or special machines. Or they can specialize in sectors," he says, citing horticulture in the case of the Netherlands, where he's from. "If a customer wants a more specialized machine, they can go to another dealer."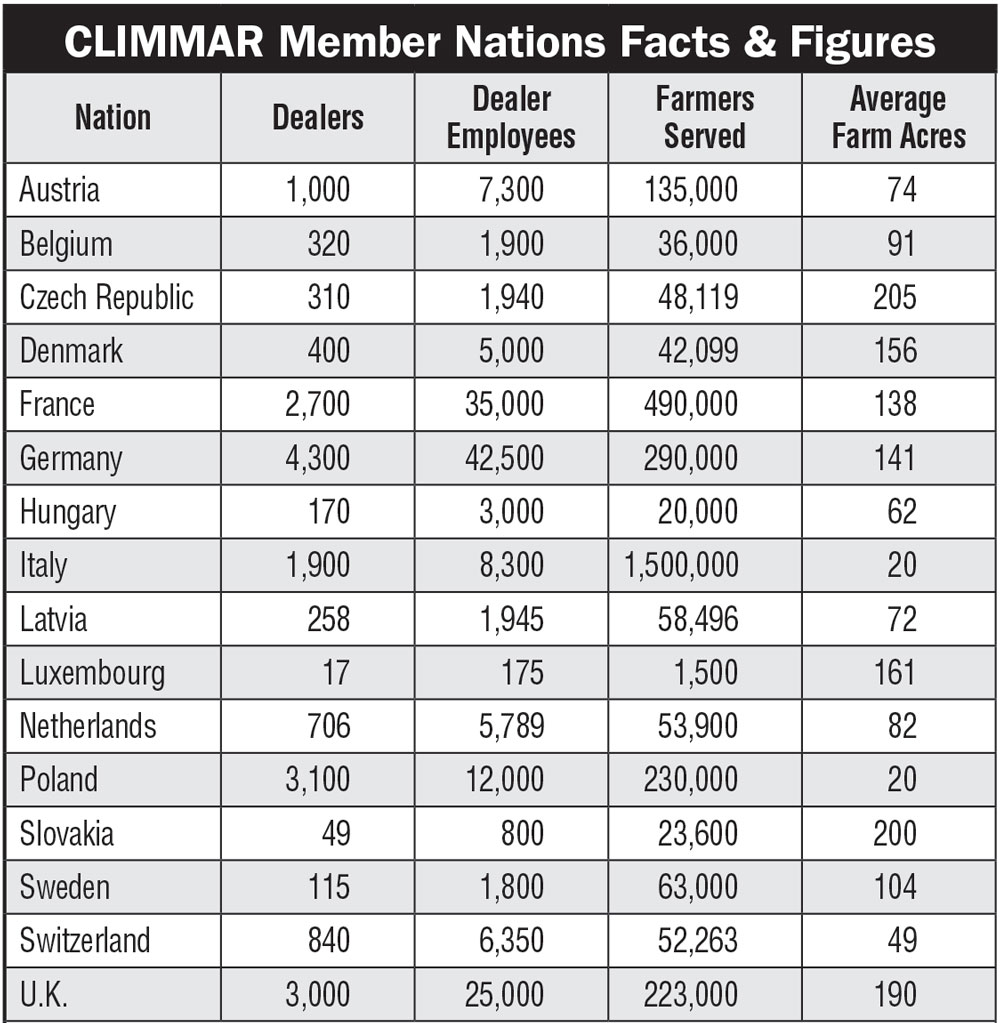 Germany, roughly the same size as Wisconsin, has 4,300 dealerships on its own, vs. commonly cited figures of 7,500 dealer locations for all the U.S. European dealers average just $22.5 (U.S.) million in sales and 11 employees.
Deere's Consolidation Efforts, Years Later. One of the things Hogervorst explained in detail were the changes John Deere had brought to Europe from the U.S. "When they started to change the way they're working with the dealerships in Europe, they put in a strategy almost the same as they were doing in the U.S. You saw a lot of dealers who were very unsatisfied. They didn't understand; they didn't see how it could at all work in Europe. Some stopped being a John Deere dealer or were shut off from the John Deere program. Deere took the number of dealer-owners in the Netherlands from 57 to 6." 
Despite the consolidation of John Deere and other manufacturers, the total number of outlets remained about the same in Europe; though Deere now has just 6 big dealers to work with now. Hogervorst said the situation changed in 2014 when Deere came out with a dealer improvement program. Since then, dealers' satisfaction with John Deere has been on the rise once again. John Deere received the third-highest marks of manufacturers in the study (bested only by Fendt and Kubota).
Raby discussed the impact of brand-purity in dealerships, which has naturally followed consolidation.
Manufacturer-Dealer Relations. Hogervorst cited Climmar's new Dealer Satisfaction Index (DSI), which is similar to what North American dealers have come to expect out of the Equipment Dealers Assn. (EDA) annual Dealer-Manufacturer Relations survey. Raby explained how Claas, now with a tractor in the U.S., is being evaluated differently from the past when it was considered a "shortline OEM." 
Data Connect: Claas, John Deere & CNH. Raby explained to Hogervorst the Nov. 3 announcement about Data Connect, a joint effort between Claas, John Deere and CNH, and the insistence that "the data belongs to the farmer." Says Raby: "If we get their permission to get some of that data that helps us make their machines run better or tell us how they want their machines in the future, that's the way we'll use it."
"The thing I'm missing from this discussion is the role of the dealer," says Hogervorst. The discussion is often about the manufacturer and the farmer. The dealer can be forgotten about and we play a very important role. We must teach the farmer how to use the information and techniques and we need to help him, support him to read the data in the right way so he can use the machine in the best way possible. That's why CLIMMAR has a code of conduct between farmers, contractors, manufacturers and the dealers."
This part of the discussion was one of the more spirited exchanges between this dealer and manufacturer, who appeared to agree on many things but also veered off into discussions about the unknown. Check back for more in upcoming Precision Farming Dealer editions.
Used Machinery, Reversal of Trends. Hogervorst and Raby discussed used machinery in Eastern Europe, which had been a strong opportunity for all dealers in Western Europe. "There had been a good market for used machinery in Eastern Europe and Africa a few years ago," he says, recalling how big of an attraction the used business had been for Eastern European farmers at prior Agritechnica shows. "But now you see a rapid change in demand there as they're buying new and bigger machines. Maybe in a few years, it'll be the other way around. Western Europe will start buying used machines from the east that have 2,000 or 3,000 hours on them and come back this way. The average hours on a tractor in Western Europe is around 500 per year."
---
Conversations in Ag: Introduction
Commercial Vehicle Business vs. Ag Equipment
Shortliners Ask: Is Ag's Future Autonomous?
Women Add a Different Perspective to the Sales Process
2 Industries, 1 Problem: Recruiting Technician
33 Years Later: Lessons Learned Make Today's Dealers Stronger
Hemp's Future: What Will Happen When the Dust Settles?
Early Experience & Advantage in European Brands
Two Sides Examine 2-Step Distribution
Overcoming Adversity Through Technology & Diversity
Getting Real: Farmers Growing Too Much Corn...
Research: Can It Be a Dealership's Business?
Dealer Structures: Europe, North America a World Apart
Trading Places: Farmer vs. Dealer Expectations
Dealer & Economist Compare Notes on Challenges Global Economy has on U.S. Agriculture
Avoiding Hefty Fines When Doing Business Out of State
Thinking Ahead: How Should Dealers Prepare A Succession Plan?