I wish I was writing about a wild weekend in Las Vegas, waking up with a Tiger in my room and having to explain to Mike Tyson how we got it, but I'm not. The hangover I am referring to is not the hit movie, rather the glut of 2012-14 used equipment on the market, more specifically combines.  
Everyone remembers the ride from 2010-14. Equipment was flying off the yard. Manufacturers couldn't keep up with demand and buyers were flush with cash. Because the supply of new equipment was so tight, used equipment was more valuable than in the previous years. Row-crop tractor hours did not seem to matter as long as there was one to buy. In many cases, retail prices were higher than when the tractor was new. 
The same was true for 4WD tractors. During this time, options like PTO and 3-point started to become "standard options." More and more of these machines were ordered with options and more and more used buyers were seeking out these options. 4WD without at least a PTO has reached a point of obsolescence. Because of cost and efficiency, machines with PTO can do many jobs on the farm. 
During this time, used combines were not like the rest of the used equipment market. Because of on-farm-income, combines where being updated rapidly. The normal flow from one series to the next was not happening. For example, a customer with a 50 Series combine might skip buying a used 60 Series and jump right to a 70 Series. In some cases, which weren't all that isolated, the same 50 Series owner might jump to an S-Series — jumping two series in the buying cycle. This wreaked havoc on the combine market, not because of lack of buying interest. Rather it was because for a few dollars more, why buy a 1- or 2-year-old machine when you could buy a new one? The number of new units produced hit all-time highs, and in subsequent years, so did the number of used combines.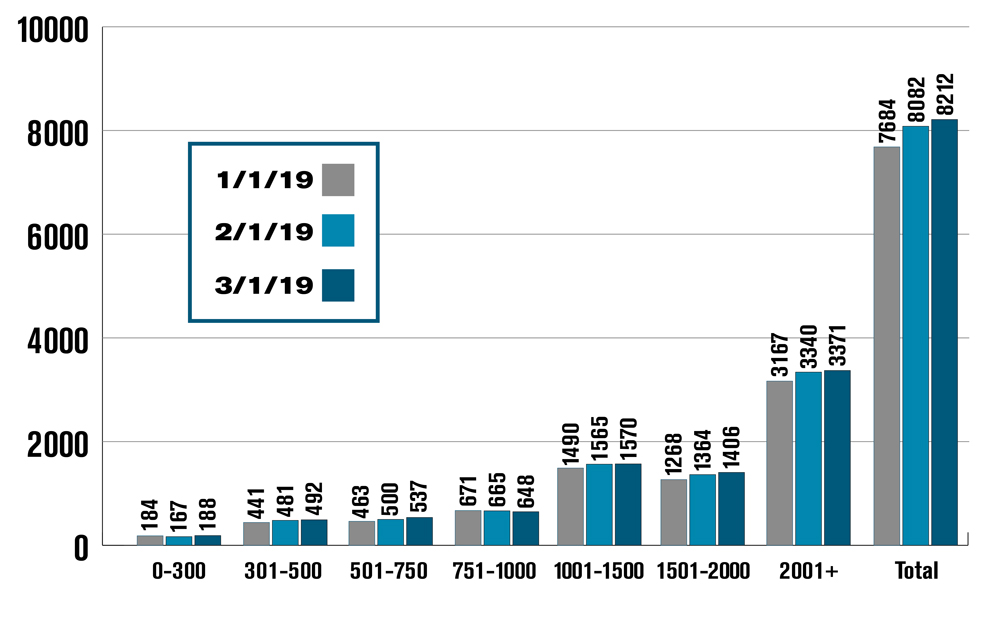 Prepare for the Bubble to Pop
In my opinion, used combines are an issue again. A few months ago, I wrote a column titled "The Space Between" (Farm Equipment, February 2019) The point of that article was because of the number of used combines with 1,000–2,000 separator hours it will become hard to complete the washout cycle because of the lack of 750 and fewer hour machines.  
Why is this important? As the number of combines with 1,000 or more separator hours continues to grow, there will be a bubble that will pop. Market conditions have limited the number of buyers with machines in this hour range to upgrade. Most are electing to repair what they have instead of trading. In these segments, machines are getting more hours per year, on average, than they have in the past causing the hours to increase.
Looking at the graph, the number of units from 751-1,000 separator hours to 1,001-1,500 separator hours almost double in numbers. The same can be said for 1,501-2,000 separator hours to 2,000-plus separator hour machines. The combine number of units with hours ranging from 1,000-2,000 separator hours are about equal to the number of machine with 2,000-plus separator hours. These combines, for the most part, are 2012-14 model year. 
With the exception of combines with 751-1,000 separator hours, all hour ranges have a month-over-month increase in units. Combines with 750 or less separator hours will command a premium simply due to supply and demand. I am anticipating a sharp devaluation of 2012–14 model year combines. I say this for two reason: the supply of units on the market and lack of buying interest. When the economy starts to pick up and on-farm income increases, 2012-14 combines with more than 1,000 separator hours will have less buying interest than they do now and will be passed over. This will be the same as what happened from 2010-12 with 1- and 2-year-old combines.

Farm Equipment's Ask the Expert: Used Equipment series is brought to you by Iron Solutions.
At Iron Solutions, we provide used equipment valuations, market intelligence and a suite of integrated, cloud-based business systems custom-tailored for the equipment industry. Our proprietary model is built on actual dealer sales transaction data. Learn more…