Generally, North American farm equipment dealers remain positive about their prospects for improving sales in the year ahead, according to the most recent results from the monthly Ag Equipment Intelligence Dealer Sentiments & Business Conditions Update survey.
Average dealer sales were reported flat year-over-year in February, in line with January. A net 13% of dealers missed their sales budgets during the month, below the 9% that missed plan last month. Commentary suggests softer demand in February and less attractive programming.
The 2018 outlook in February saw sequential improvement in 3 of the 6 regions, while the outlook improved in all regions except the Corn Belt in the fourth quarter. The Lake States/Northern Plains region posted the highest sales outlook in the month and also saw the greatest sequential improvement from January.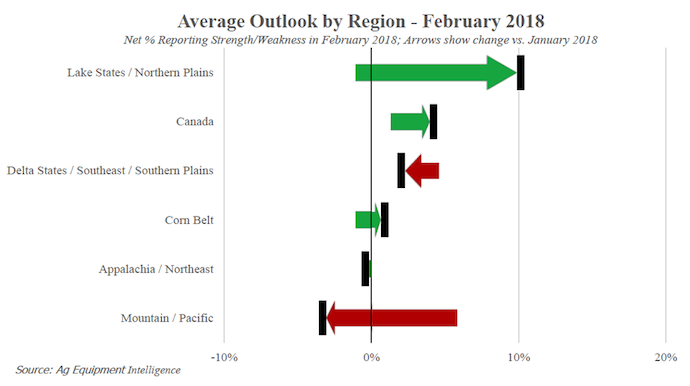 The outlook for the remainder of the year calls for 1% growth, which is in line with dealers' average growth forecasts from July to February. Dealers were less optimistic this month but remain optimistic on the full year.
The forecasted 1% year-over-year growth is below the 2% projected in January, with a net 10% of survey respondents expecting growth, below the 23% in January and the 33% of contacts expecting growth in the fourth quarter of 2017.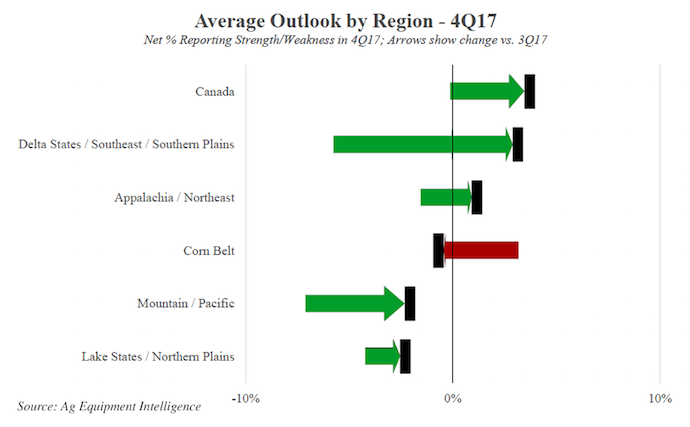 Some 40% of dealers surveyed believe the tax bill will have a moderate (1-5%) positive impact on sales of machinery equipment in 2018 vs. 45% in the previous month.
Overall, the major ag equipment OEMs are forecasting North American sales from flat to up 10% in 2018: AGCO outlook "flat;" CNHI outlook tractors "Up" 0-5% and combines "Up" 10%; John Deere outlook "Up" 10%.
— Ag Equipment Intelligence March 2018 Dealer Sentiments & Business Conditions Update survey