For 31 years, members of the American Society of Agricultural and Biological Engineers (ASABE) have recognized and honored the most innovative advancements in engineering in the areas of agriculture, food and biological systems with the AE50 Award. The products selected save producers time and reduce cost and labor, all while improving user safety.
To be eligible for the award, each development —which could be a component, machine, structure, system, end product or procedure — must embody the application of new technology or the innovative application of an older technology. The technology must be new to the entire industry, not to an individual company. Each year an international panel of industry experts in technology, design and product development gather to evaluate the entries and select up to 50 products for recognition.
New this year to the AE50 Award is "The Davidson Prize," in honor of Dr. J. Brownlee Davidson, founder and first president of ASABE, which will recognize the top innovations among the AE50 winners. The Davidson Prize winners will be announced during Commodity Classic in Anaheim, Calif., in February. 
In reviewing this year's winners, Maury Salz, president-elect of ASABE and president of Claas Omaha, says a clear trend continues to be the move toward data and electronic control systems. "You see more and more work being done on sensors and delivery of data to the users. The future is more sensors, more data, more knowledge, more transparency and more efficiencies being gained out of that," he says.
Kuhn Merge Maxx MM 1100 Hay Merger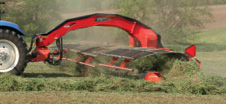 With 36 feet of continuous merging capability in a single pass, the Merge Maxx MM 1100 hay merger is the largest and most efficient merger on the market. ISOBUS compatibility allows for improved operator ergonomics and reduced fatigue. Designed for commercial operations, the MM 1100 incorporates proven 6-tine bar cam pickups with tine-arm wear guards and anti-wrapping rings. The floating windguard ensures the operator lays down smooth and even windrows to make the forage harvester more efficient. The crop netting improves leaf retention into the windrow for optimum feed quality. Folding the machine is done in one simple operation to make it faster and more efficient when transporting from field to field.
Kuhn North America Inc., Brodhead, Wis.
Class Jaguar 900 Series  (Type 498) Forage Harvester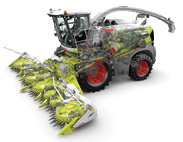 The Claas Jaguar 900 Series has added many new innovative features to the new Type 498 forage harvesters. The feeder house has been redesigned for better feeding and offers an optional hydraulic header drive that allows the operator to adjust header speed from the cab for changing conditions. A new heavy duty axle with optional differential lock improves traction in wet conditions and hilly areas. The drivetrain has been redesigned for improved efficiency, less fuel consumption and up to 13.6 mph in first gear. Duals can now be ordered from factory for even greater stability on hilly or soft ground. The automatic adjustment of the shearbar now also adjusts the lower drum concave for improved cut quality and performance in silage blowing in the field. 
Claas of American Inc., Omaha, Neb.
Kelley Mfg. Co. KMC 2100 Double Fold Field Cultivator 

The KMC 2100 Double Fold Field Cultivator is an economical 3-point lift implement that creates a smooth seedbed. It has up to 41 feet working width, improved transport dimensions and a better center of gravity location. The shortened overall length is the result of repositioning the gauge wheels, tines and toolbar. The wings flex to keep a consistent operating depth (2-6 inches) on uneven ground. Transport safety is improved by reducing the width (17 feet, 10 inches) and height (13 feet), while maintaining excellent rear visibility from the tractor cab. Operators can cover more acres per day due to the 47% increase in operating width over the previous model. The spring-loaded rear finishing section can be equipped with various options depending on the soil type and desired condition of the seedbed.
Kelley Mfg. Co., Tifton, Ga.
Hardi Rubicon Self-Propelled Sprayer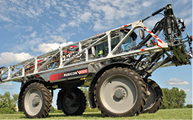 The new Rubicon introduced by Hardi is the largest production self-propelled sprayer made. It provides the ability to cover more ground, in less time, minimizing labor, fuel and depreciation, while maximizing the available days per year to apply chemicals to your crops, and allowing the savings in labor and fuel. The large cab is the new certified "class 4" clean environment, setting it apart in the industry. With a 2,200-gallon product tank, and up to 160 feet Aluforce boom, a powerful and efficient 380 horsepower Cummins FT4 engine, all new incredibly stable boom suspension system and pneumatic ride.
Hardi North American Inc., Davenport, Iowa
Graintec Hot Air Drying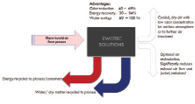 Hot air drying is one of the most widespread drying methods within the extruded aqua feed industry. The exhaust air from hot air dryers are malodorous, humid and warm. Traditional processing invokes the use of separate process steps to allow reduction of odor emission, in order to obey local legislation and keep a positive relation with nearby neighbors. The new solution brings a promising alternative to the existing technology pool, promising an eco-efficient and sustainable technology to simultaneously reduce odor, increase process energy efficiency and safeguard fresh water resources for future generations.
Graintec Inc., Kansas City, Mo.
Innoquest SpotOn Digital Soil Compaction Meter 
The SpotOn Digital Soil Compaction Meter from Innoquest is a handheld meter for quickly and accurately quantifying areas or layers of compacted soil in production agriculture and turf markets. This electronic meter features high sensitivity and automatic peak compaction capture previously lacking in analog type meters sold to the same markets. A large digital display includes a color-coded bar graph for easy interpretation of compaction readings by farmers and growers. The meter's electronic loadcell design allows all types of soil to be accurately measured without the need for changing tip sizes. 
Innoquest Inc., Woodstock, Ill.
Valley Irrigation Valley X-Tec Center Drive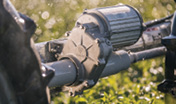 The new Valley X-Tec advanced DC drive motor with FastPass technology delivers top performing speed for quick irrigation cycles and dynamic power to take on the toughest terrains. It operates at up to twice the speed of a standard, high speed AC center drive motor. The advanced DC drive can move at speeds as low as 1 rpm — just 1% of maximum motor speed — or ramp up to a fast 136 rpm. Valley X-Tec can do more than move twice as fast as standard AC motors. It can also move at full torque at any speed to handle rough terrain with ease. Technology operates up to twice the speed of a standard, high speed AC center drive motor. The motor design provides constant torque at any speed, providing growers with control and additional options to maximize crop yields. 
Valley Irrigation, Valley, Neb.
Spectrum Technologies Field Scout TDR 350 Soil  Moisture Meter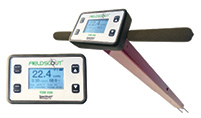 The FieldScout TDR 350 Soil Moisture Meter provides growers, researchers and turf managers with a portable tool for measuring three important parameters in the soil: moisture, salinity and temperature. The TDR 350 adds electrical conductivity (EC) and temperature sensors to improve water content accuracy in a wider range of soil conditions and at grower-selectable depths through its use of replaceable rods in multiple lengths. An optional infrared temperature sensor provides instantaneous surface temperature readings, bypassing the latency of contact sensors. The integral GPS receiver records the location of every measurement. The TDR 350 will help growers better manage irrigation, fertilization, near-surface salt accumulation and disease pressure. 
Spectrum Technologies Inc., Aurora, Ill.
Sukup Mfg. Co. Sweep Wheel Grain Reclaimer 

The Sweep Wheel Grain Reclaimer is an assembly that reduces the amount of grain left behind the drive wheel of a bin sweep. It consists of a slanted plate that fits over the drive wheel gearbox and directs grain inward toward the sweep auger, and a reclaim shield that fits behind the drive wheel. It captures grain so the sweep wheel can lift it onto the slanted plate, where it flows by gravity into the path of the sweep auger. This patent-pending assembly reduces the amount of grain left behind by more than 80%. Besides reducing manual labor to remove grain after the sweep has been turned off, traction of the sweep's drive wheel is significantly improved.
Sukup Mfg. Co., Sheffeld, Iowa
Case IH Agriculture CVXDrive for Steiger & Quadtrac Tractors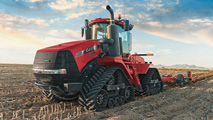 The CVXDrive in the Case IH Steiger, Rowtrac and Quadtrac series tractors is the industry's first continuously variable transmission for an articulated tractor. At 605 peak horsepower, it is the highest horsepower agriculture tractor with a continuously variable transmission available today. The intuitive CVXDrive delivers constant variable speed and uninterrupted power to the ground from 3 feet per minute to 25 mph. The four mechanical speed ranges in the continuously variable transmission ensure peak mechanical efficiency, especially in the lower operating speeds where power and torque are required for the intended use of a 4WD tractor. Once the operator sets the desired operating target (working speed or engine rpm), the CVXDrive automatically selects the most efficient transmission range, turning novice drivers into experienced operators.
Case IH, Racine, Wis.
Kondex Corp. Straw Claw Chopper Blades 

Kondex Corp.'s Straw Claw chopper blades feature a patented, self-serrating design that uses a laser cladding additive on a through-hardened blade to control product wear and maintain blade sharpness longer. By controlling the wear pattern, Straw Claw blades have a reduction in chipping and blade damage, which better maintains rotor balance and minimizes maintenance. Their stay-sharp design creates a more efficient cut time after time, while delivering smaller, more consistent straw particles than traditional blades. Having smaller particles produces a thinner, more evenly distributed crop mat that maximizes ground contact for the fastest microbial breakdown. 
Kondex Corp., Lomira, Wis.
Kuhn Krause Interceptor 8050 High Speed Tillage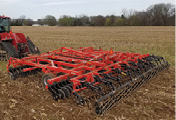 The Kuhn Krause Interceptor is a high speed tillage system utilizing rotary soil engaging components, combined with a single row of heavy duty, adjustable, 30 inch tines that maintain full contact with the soil surface, which force "airborne" soil and residue from the front row of blades downward, for further sizing and leveling. Two parallel rows 32 flute Excalibur CT shallow concavity blades, configured in a tandem vs. offset design, are mounted onto individual, compound angle bearing arms providing a clean cut that removes young weed growth and creates a uniform seedbed floor for today's high speed planting demands. Two active hydraulic down pressure circuits maintain uniform operational depth across the machine and consistent contact of the Star Wheel rotary treaders. 
Kuhn Krause Inc., Hutchinson, Kan.
New Leader NL5000 G5 Dry Nutrient Applicator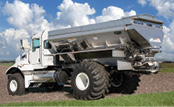 The NL5000 G5 is a high output, variable-rate, dry nutrient applicator with 16 section swath width control. The patented technology dynamically and simultaneously adjusts the spinner assembly left/right and fore/aft to give the operator a highly responsive and reliable method to apply the right amount of nutrients in the right place. The G5 section control gives increased accuracy for point rows and irregular shaped areas, and provides last pass control to significantly reduce overlap when finishing a field with less than a full swath. A new advanced hydraulics system supports the spinner control, fast and exact conveyor control and an automatic chain tensioner. 
New Leader, Cedar Rapids, Iowa
Praxidyn Mixmate 

Mixmate is a fully automated chemical blending and record keeping system with modular options for portable or stationary installations and measurement by weight or volume. The patent pending jug process drains, weighs, rinses, records and reconciles the data from a jug in about 12 seconds. It can simultaneously measure multiple products for fast mixing speeds. The typical time to fill a large sprayer is 4-8 minutes. The Android app controls the system and captures the records automatically. The app synchronizes with Praxidyn Intersect cloud service to backup data and provides access from the office. Intersect has CSV and API data access for easy data transfer with other record keeping systems. Intersect and Mixmate can automate data processing to save time and reduce errors in the office and the field.
Praxidyn, Oakland, Iowa
Lindsay Corp. FieldNET Pivot Control Lite 
Pivot Control Lite from FieldNET by Lindsay is an easy-to-install, economical remote monitor and control product for agriculture that adds on to any brand of electric center pivot irrigation system, converting them into a highly efficient management solution. Pivot Control Lite gives farmers the tool to properly place irrigation water in the right spot to avoid over-watering, which can decrease unnecessary pumping costs, use water more effectively and reduce labor cost and time. Pivot Control Lite includes an integrated cellular modem and on-board GPS. Additionally, Pivot Control Lite will monitor the electrical cable and detect tampering and alert the proper people to a potential theft of the copper wire.
Lindsay Corp., Omaha, Neb.
F Poulsen Engineering Robovator Weeding Machine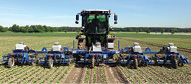 The Robovator Mechanical weeding machine removes weeds growing near the plant. A camera above each row controls a hydraulically operated tool that moves in and out of the row at the correct time with respect to the passing plants. The cameras record and detect the position of the individual plants. The software calculates the correct timing from plant to plant. The software and the side shift mechanism lock the position of the machine on to the row. In this way it is possible to remove weeds close to the plants. 
F Poulsen Engineering, Hvalsø, Denmark
Hesston 2370 Ultra High Density Baler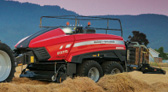 The Hesston by Massey Ferguson 2370 Ultra High Density (UHD) baler redefines the capacity, capability and performance of high-density large square balers. A faster, more powerful plunger, extended-length bale chamber, newly designed pickup assembly, heavy duty chassis, redesigned driveline and new gearbox are the key features that will allow this baler to create bales with 20% greater density than those of Hesston's current extra density model, the 2270XD. The 2370 was designed specifically for producing heavy, dense bales in grass hay and hard-to-bale crop residue. 
AGCO Corp., Duluth, Ga.
GVM Double Duty Twin Chain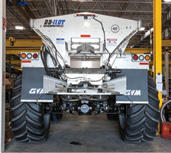 GVM's Double Duty Twin Chain spreader offers up to four section swath width control with simplicity and precision. It features two bar chains with individual shutoff and air-actuated funnel control to precisely direct product placement. After product is placed onto the spinner discs, the patented five blade spinner discs reverse-rotate to spread product farther and flatter than a traditional spreader. Offering up to a 120 foot spread width, the Double Duty Twin Chain offers on-the-go adjustability, perfect for waterways, point rows and boundary spreading. 
GVM Inc., East Berlin, Pa.
Continue on next page for additional AE50 award winners >>