For 30 years, members of the American Society of Agricultural and Biological Engineers (ASABE) have recognized and honored the most innovative advancements in engineering in the areas of agriculture, food and biological systems with the AE50 Award. The products selected save producers time and reduce costs and labor, all while improving user safety.
To be eligible for the award, each development — which could be a component, machine, structure, system, end product or procedure — must embody the application of new technology or the innovative application of an older technology. The technology must be new to the whole industry, not just to an individual company. In addition, for the 2017 awards the development must have been first made available for purchase or ordering during the 2016 calendar year.
Each year an international panel of industry experts in technology, design and product development evaluate the entries and select up to 50 products for recognition.
---
Woods 30 & 40 Series Rotary Tillers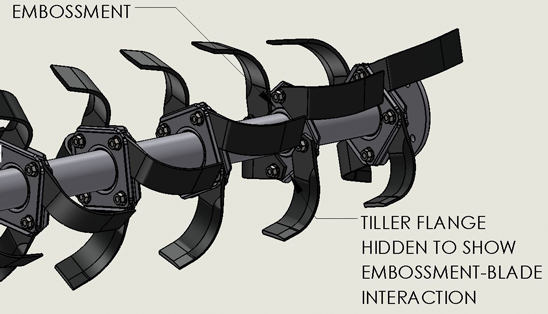 The Woods 30 and 40 Series rotary tillers are 3-point mounted, gear-driven tillers designed specifically for small-acreage farming and gardening. A unique double-flange rotor design was developed for these forward and reverse rotating tillers, which incorporates a single bolt that positions the tiller blade at the proper orientation for engaging the soil. The double-flange design creates two shear planes in the bolted joint, which reduces the load on the bolt by half when compared to existing single-flange designs. This design is advantageous in reducing assembly and service times by as much as 50% and providing a more durable product to the customer. This approach in attaching the tiller blade to the rotor shaft makes domestically manufactured components more competitive in a price-driven global market.
Blount International Inc., Oregon, Ill.
De Bruin Engineering Integrated Harrington Seed Destructor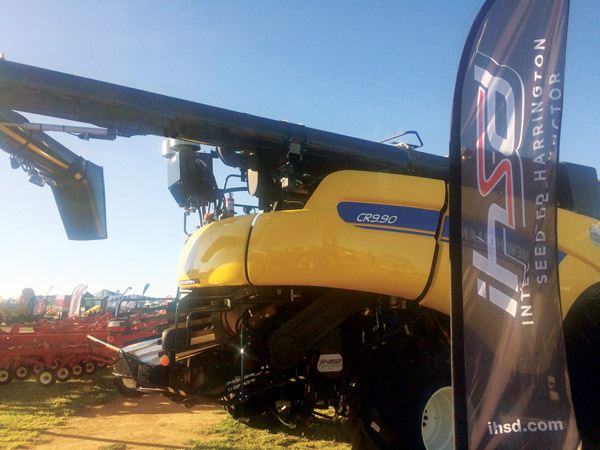 The Integrated Harrington Seed Destructor, or iHSD, is an innovative weed seed management product that mechanically destroys weed seeds at harvest time. The iHSD is installed on and powered by a combine. Once the grain is separated, the chaff containing standing weed plants is processed through an impact mill that results in up to 99.8% destruction of specific weed seeds. Importantly, this process is non-selective to herbicide-resistant weed species. The benefits of using it in continuous cropping operations include reduced overall emerging weed numbers and decreased populations of herbicide-resistant weeds, resulting in lower volume, fewer spraying treatments and fewer chemical herbicide groups. Organic matter is returned to the field and retained, resulting in healthier, more productive soil and reducing the need for supplemental phosphate, nitrogen and potassium applications. The iHSD can be fitted to an expanding range of combines.
De Bruin Engineering, Mount Gambier, Australia
MacDon M1240 Self-Propelled Windrower Tractor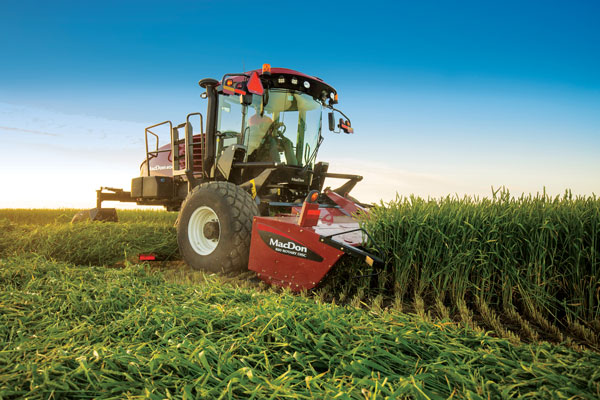 The MacDon M1240 Windrower provides increased speed and improved ride quality with patented CrossFlex suspension. To obtain higher speeds without sacrificing low-speed torque, the windrower varies the displacement of the wheel motors electronically. This leaves the operator with full available wheel motor torque at low speeds, combined with the ability to reach road speeds without the need to shift speed ranges. The 248 horsepower Cummins engine uses dual radiator cooling that draws air from the cleanest location, behind the cab. To keep the clean air flowing constantly, a hydraulic-drive reversing fan blows out unwanted debris on the go, without the need for operator input. An all-new One-Touch-Return preset system allows the operator to adapt to changing field conditions with the push of a button.
MacDon Industries Ltd., Winnipeg, Man.
Kopper Kutter ARRO Conversion for Corn Heads to Harvest Sorghum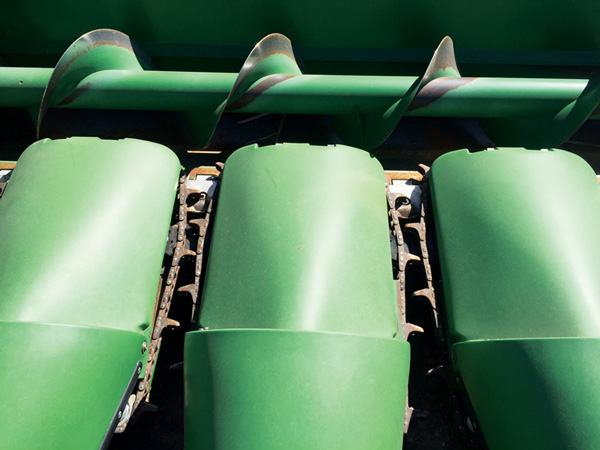 The ARRO Alternate Rotary Row-Crop Option from Kopper Kutter consists of a conversion kit for existing corn heads so they can harvest additional crops including sorghum (milo), sunflowers, millet and some cellulosic crops. The reconfiguration kit uses simple sprockets driving the dual disc cutters. It can be installed on reliable base corn heads, preferably those that have been used for a few seasons and have worn stalk rolls and deck plates. These used corn heads already have individual row unit slip clutches, enclosed gear case drives and poly divider shields and points, along with reliable (optional) header height control systems. A benefit of the ARRO head is the long poly points that can lift lodged crops. The higher cutter positioning on the topside of the frame leaves over 10 inches of stalk remaining in the field.
Kopper Kutter, Cimarron, Kan.
Tribine Harvester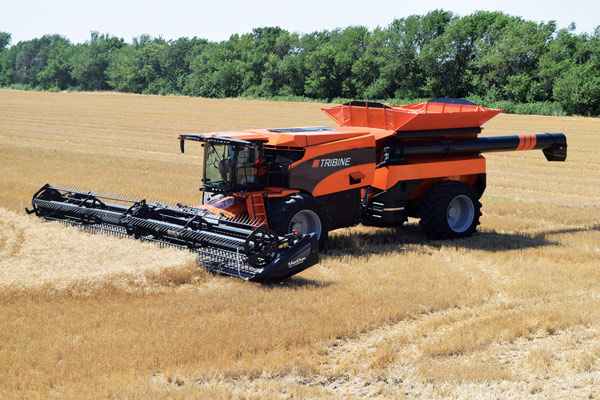 The Tribine Harvester is a 4WD grain harvester with a high-capacity threshing and separating front module that is connected by articulation joint to a large 1,000 bushel capacity grain tank on the rear module. By removing the grain tank from the top of the processing unit and removing the guide axle from beneath, the Tribine achieves a new architecture that allows for significant gains in harvesting throughput to accompany the on-board grain tank. The unit features a 38 inch diameter rotor (for increased threshing capacity) underlain by a 103 inch wide cleaning system. On each side of the large rotor is one of two engines that power the unit, giving great weight balance and limitless total power combinations for the harvester's future. The 40-degree articulated steering, combined with another 22 degrees of rear axle steer, allows the machine to turn tighter than other current combines.
Tribine Harvester, Newton, Kan.
Appareo Gateway 300 Advanced Computing Platform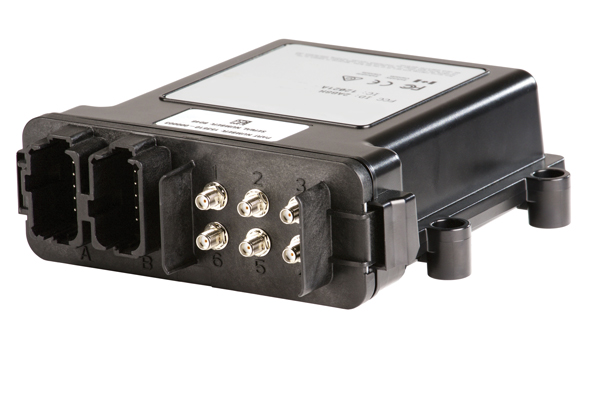 Gateway 300 is an all-in-one global control, monitoring and telemetry solution, equipping motorized farm vehicles with terrestrial and satellite communication connectivity capabilities enabled by the global Iridium satellite network. Appareo designed this computing platform to provide a wide range of communications technologies, including Wi-Fi, Bluetooth, cellular, GPS, 433 MHz, CAN and Iridium satellite. Gateway 300 is built with a rugged enclosure for outdoor use and for mounting on heavy machinery. The device can collect and distribute real-time data, product and performance data, health and asset management data, location data and security and recovery data, in addition to remote diagnostics and the possibility for future predictive maintenance capabilities. The benefit to farmers is greater uptime for their machines, more optimized use of their machines, and less time and energy required to manage the service and maintenance of their machines.
Appareo, Fargo, N.D.
AGCO Challenger 1000 Series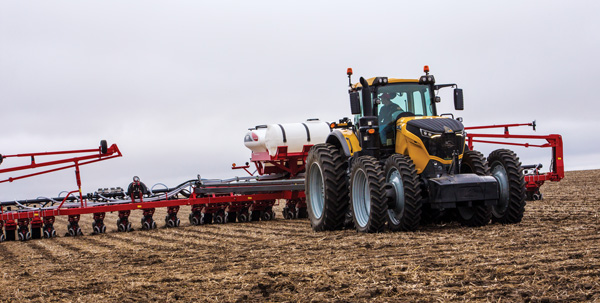 Designed to deliver lower cost of ownership and improved productivity per acre, the Challenger 1000 Series tractors allow producers to invest in a machine that can serve multiple needs. These compact fixed-frame tractors with flexible ballasting options are designed to prepare an operation for the needs of tomorrow, as producers need to cover more acres in less time, and compete one-for-one on efficiency and cost of ownership with any comparable tractor. The 1000 Series tractors combine the power of a small frame, articulated 4WD tractor with the flexibility and speed of a lighter weight, fixed-frame row crop machine. This allows maximum utilization from spring to fall without the need for two tractors to perform row-crop and heavy tillage work. The Challenger 1000 Series includes four models ranging from 396-517 engine horsepower with a weight range of 31,204-50,706 pounds.
AGCO Corp., Duluth, Ga.
John Deere 9009A Terrain Cut Rotary Rough Mower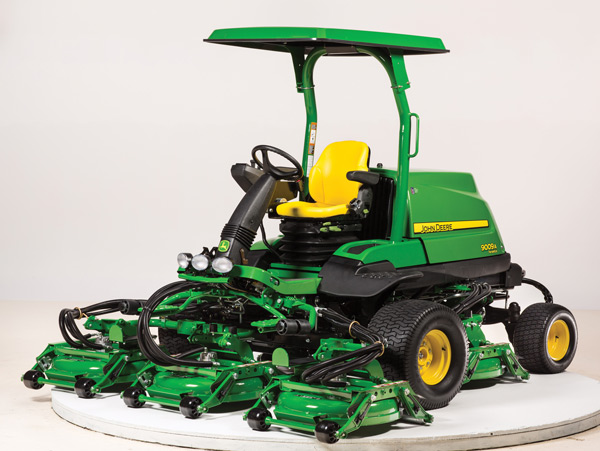 The 9009A TerrainCut Rough Mower is a five-gang, 27 inch independent rotary deck mower with a 9 foot cutting width. The deck allows quick, tool-free height-of-cut adjustment, and the asymmetric rear discharge minimizes the need for blowing and dispersing clippings. The 9009A traction system with a standard eHydro traction pump, wheel motors and internal wet disc brakes maximizes performance on undulating terrain while eliminating adjustments and linkages. Operator improvements include AutoPedal, which controls engine rpm and transport speed through the eHydro foot pedal. The TechControl display on the command arm allows the operator to electronically set mowing and transport speed, and control turning speed, deck drop rate and weight transfer. The display also engages the LoadMatch power management feature, which automatically adjusts the machine speed to power the cutting deck to maintain cut quality in heavy load conditions.
John Deere, Moline, Ill.
Anderson Group Pro-Chop 150 Bale Processor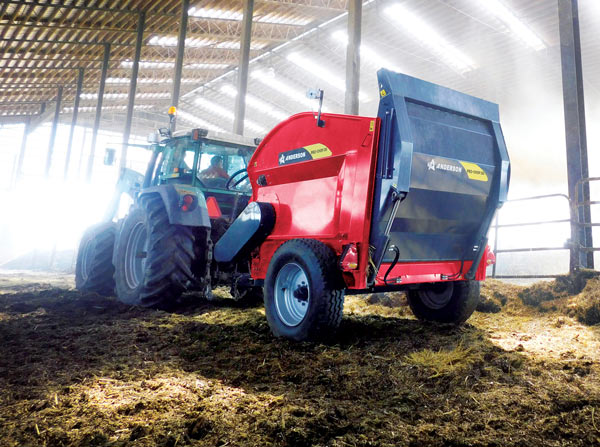 The Pro-Chop 150 bale processor from Anderson Group is a bale blower with a new modular chopper system. The chopper system is easily adjustable to the optimal cutting length for each use (bedding or feeding) and material (straw, hay or haylage). This system is a combination of a new rotor equipped with 264 aggressive knives, a top gate that helps chop fiber when engaged, counter-knives that chop finer when used along the top gate and a removable recutter screen with 2 inch holes that force longer fibers to be recut. The flexibility in cutting length (from no cut to 1 inch) and ability to process all fodder types is unique. A conveyor and comb allow bales to be fed perfectly through the rotor, preventing blockages. The 68 inch diameter blower can spread up to 52 feet and the 5 foot wide chamber is ideal for all round and square bales.
Anderson Group Inc., Chesterville, Que.
TeeJet TTI TwinJet Spray Tip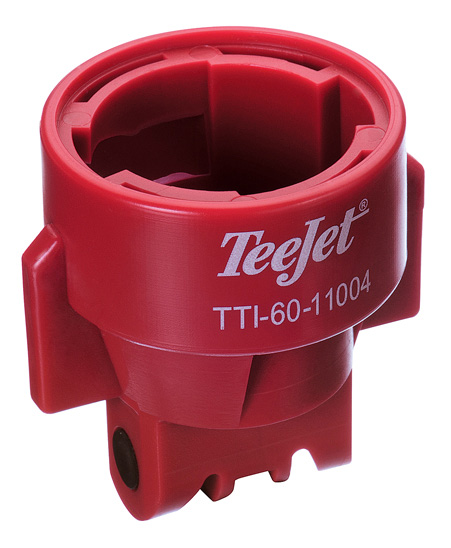 The TTI60 TeeJet twin flat spray tip provides large droplets for maximum drift control along with the improved coverage of a wide-angle twin spray. By using existing air-induction spray technology in a new configuration and with new geometries optimized specifically for creating Ultra Coarse droplets across the majority of the recommended operating range, TeeJet Technologies has improved spray application coverage while maintaining superior drift reduction in comparison to conventional spray nozzles. Twin style flat spray tips are best suited for broadcast spraying where superior leaf coverage and canopy penetration are important. The single-piece tip and cap design allows for easy installation and, unlike some other twin sprays, has a very compact size. The TTI60 is ideal for the application of systemic, post-emerge herbicides. The drift control makes it ideal for operating near sensitive areas such as susceptible plants, open water or residential areas.
TeeJet Technologies, Wheaton, Ill.
Continue on next page to view additional award winners...
Back to February 2017 Issue Contents