For 29 years, members of the American Society of Agricultural and Biological Engineers (ASABE) have recognized and honored the most innovative advancements in engineering in the areas of agriculture, food and biological systems with the AE50 Award. The products selected save producers time, reduce costs and labor, all while improving user safety.
To be eligible for the award, each development — which could be a component, machine, structure, system, end product or procedure — must embody the application of new technology or the innovative application of an older technology. The technology must be new to the whole industry, not just to an individual company. In addition, for the 2016 awards the development must have been first made available for purchase or ordering during the 2015 calendar year.
Each year an international panel of industry experts in technology, design and product development evaluate the entries and select up to 50 products for recognition. This year, given the strength of the nominated products, the judges awarded 55 products.
CDS-John Blue Visagage Orifice Selector System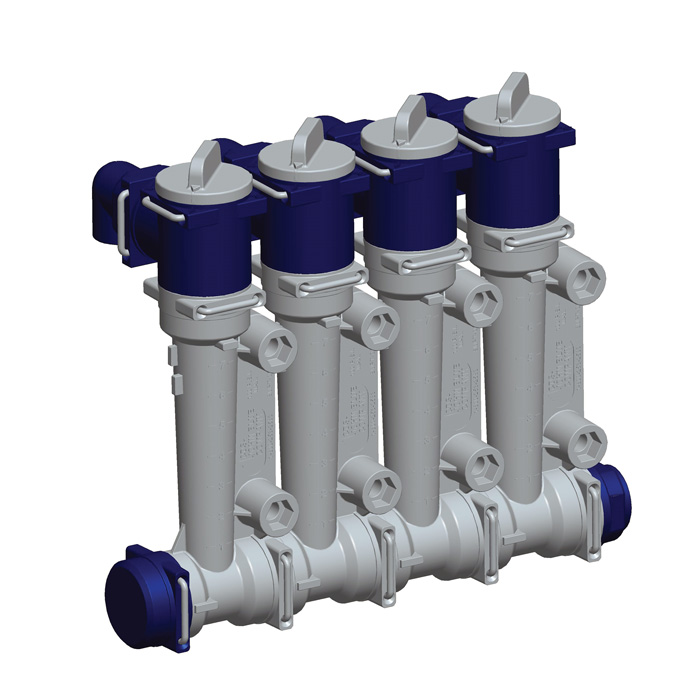 The CDS-John Blue Visagage Orifice Selector system is a self-contained orifice device that allows the user to quickly change between four different orifice sizes at each row without any line disassembly. This system eliminates messy traditional orifice plate changes where fertilizer lines must be opened. It also reduces the time needed to make the changes because the devices are grouped together on top of the Visagages instead of down low at each row, and greatly reduces the amount of extra loose parts (orifice discs) that must be maintained. The Visagage Orifice Selector installs in the outlet of new or existing Visagage II columns, which allows for quick orifice adjustments at these grouped sections instead of visiting every row unit. Changing between orifice sizes is as simple as rotating a dial on top of the unit, and the four positions are clearly marked. The orifice sizes in the plate were chosen to cover a wide range of applications, and a second, larger plate is included with every unit to cover high-end applicator installations. The free CDS-John Blue Info Link app is available for both iOS and Android devices to provide the user with calculators and chart information in the field to help with orifice size selection.
CDS-John Blue, Hubtsville, Ala.
Nelson Irrigation 3NV Nozzle System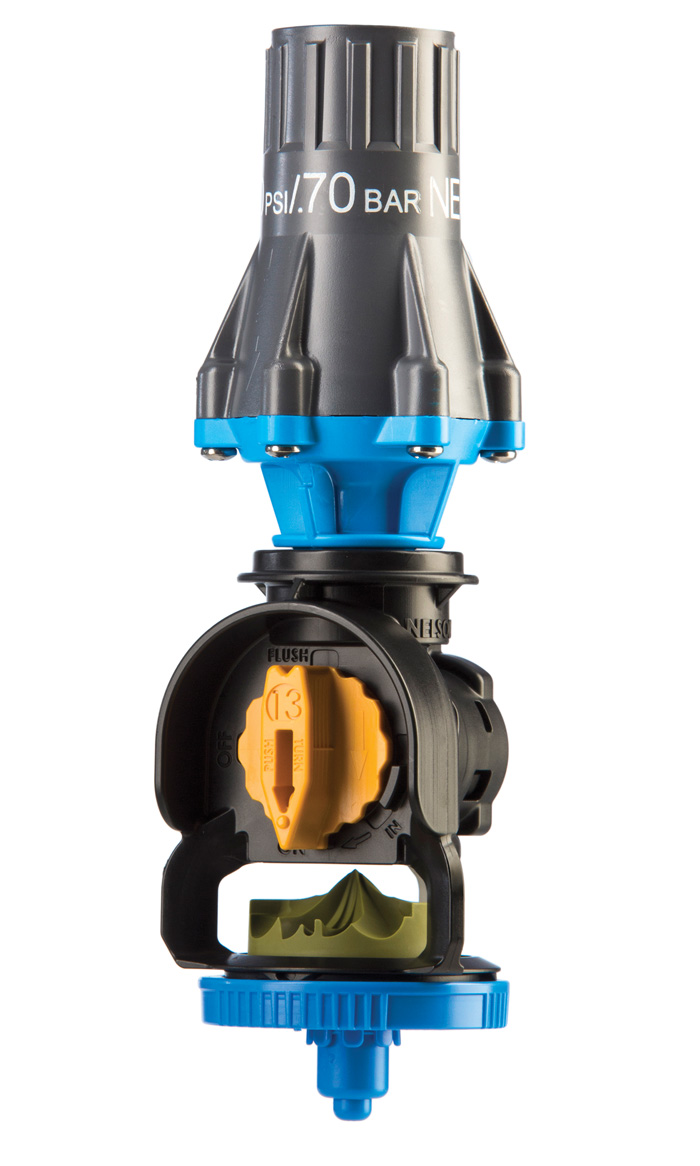 At the heart of Nelson's 3030 Series Center Pivot Sprinklers is the new, multi-function, side-load 3NV Nozzle. The nozzle can also act as an integral shut-off valve, a much more economical and reliable solution to a ball valve. In tough agricultural conditions, growers spend considerable time managing their water application devices. Nozzles can get plugged with debris and have to be removed for cleaning. The 3NV Nozzle system allows a grower to simply push and turn the nozzle between on, off, nozzle flush and line flush positions to remove debris without removing the nozzle. If you are overwatering, or if you need to conserve water during certain parts of the season, simply switch the sprinkler(s) to the off position. The 3NV Nozzle can be part of a Dual Nozzle Clip (with hi-flo, lo-flo differentiation). This is another way to help farmers adapt to differing watering needs (such as crop establishment, chemigation or lowering water tables). The 3NV nozzle fits all existing Nelson sprinkler types: Rotator, Spinner, Accelerator, Sprayhead, Orbitor and Part Circle.
Nelson Irrigation Corp., Walla Walla, Wash.
Lindsay Corp. FieldNET Pivot Control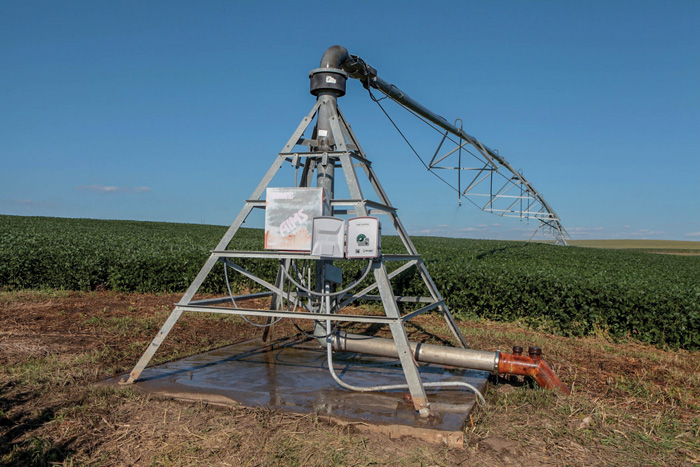 Lindsay's FieldNET Pivot Control is a controller designed to retrofit almost any existing center pivot brand to the latest, most efficient irrigation technology. This allows significant labor savings and the convenience of full remote control and monitoring of pivots and other equipment, such as pumps, injectors, pressure sensors, flow meters, rainfall sensors and other devices. Many farmers have a variety of older pivots that create the challenge of multiple user interfaces to learn and remember. In addition, farmers need the latest control technology to better manage their labor, water and chemical resources, lower cost and maximize yield. Pivot Control's main differentiating features include a universal look and feel at all pivots in the operation for easy in-field control and variable rate irrigation (VRI) of up to 360 sectors. It also features full control and monitoring at a fraction of the cost compared to a new controller upgrade.
Lindsay Corp., Omaha, Neb.
MacDon R1 Series Pull-Type Disc Mower
The self contained "road friendly" endwise tow transport option for the new R1 series of MacDon's pull-type disc mower is designed to permit transition from field operational mode to transport mode in 30 seconds without leaving the cab. Transport wheels are stored behind the mower so they don't interfere with the mowing operation or negatively affect weight distribution of the machine. During the process of deploying the transport system the wheels are also used to elevate the mower and create clearance for transport tires to pass under it. By coupling the hitch to the transport frame, the hitch and mower simultaneously rotate to the transport position. This design allows a 16-foot wide mower to have a 9-foot transport width. This promotes easy movement on roads and access to fields with narrow gateways, conditions that traditionally excludes the use of wider machines.
MacDon Industries Ltd., Winnipeg, Man.
Claas Lexion 670 Dynamic Cooling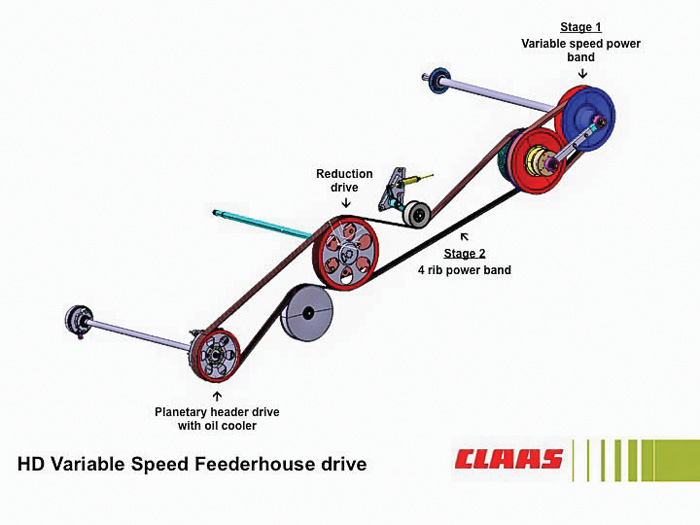 The Lexion 670 Dynamic Cooling is a horizontal engine cooling system located on top of the combine, over the engine, to pull in air from where it is coolest and cleanest. The dynamic cooling system is fitted with a variable speed on-demand cooling fan that increases in rpm as the engine temperature rises. As the engine temperature cools, the fan speed will idle down conserving up to 20 horsepower over constant speed cooling fans. Air that is pulled through the cooling system passes through the engine compartment, which aids in keeping the engine compartment free of loose debris, and is forced out through vents in the combine's side panels. As the air is forced out, it creates a curtain effect that prevents ambient dust and debris from getting aloft and pulled into the cooling fan, thus increasing its service interval for greater uptime. Its position enables easier, safer access for inspection and maintenance, too.
Claas of America, Omaha, Neb.
Sukup Mfg. Simultaneous Monitoring & Reaction Technology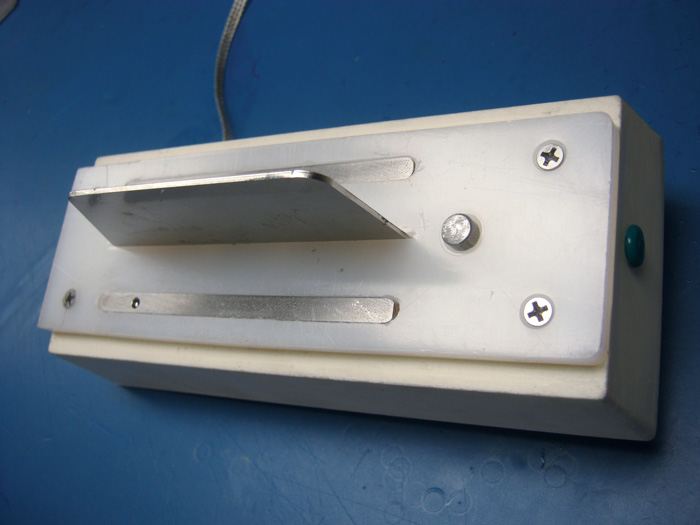 Sukup Mfg.'s new Simultaneous Monitoring and Reaction Technology, called SMART Loop, is a self-learning control system for operating an automatic grain dryer at optimum speed and temperature levels. It uses a newly redesigned moisture sensor that is much more accurate than predecessors to feed moisture readings into a control system that also receives readings on column and discharge grain temperatures, plenum temperature, unload speed, ambient humidity and temperature and static air pressure. The control system allows the dryer to quickly close in on where it needs to be running based on current readings from multiple analog inputs, and does so without overriding the set point (desired discharge moisture setting). SMART Loop is also equipped with settings for further fine-tuning using proportional gain control and deadband area settings. The advanced control loop combines classical drying principals with proportional-integral-derivative (PID) control technology and robust math engines to deliver a superb method of dryer control.
Sukup Mfg. Co., Sheffield, Iowa
Exmark Spreader-Sprayer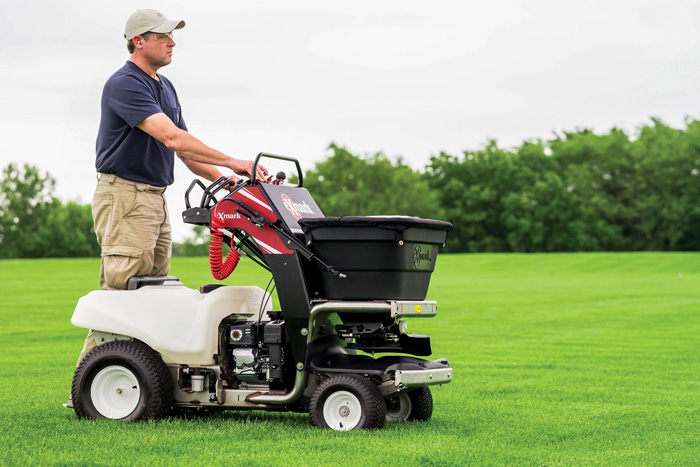 The Exmark Spreader-Sprayer is a stand-on machine that gives lawn care professionals the ability to apply fertilizer and chemicals to lawns with increased speed and precision. The machine introduces a number of innovations to the marketplace, including Lean-to-Steer controls, which permit one-hand steering and forward/reverse speed control. As a result, the other hand is free to operate spreader or sprayer controls, or perform spot spraying with the easy-access spray wand. The intuitive control layout allows on-the-fly adjustments of the spreader or sprayer from the operator position. Selectable narrow (5.5 feet) and wide (11 feet) spray nozzles deliver increased accuracy of application combined with the versatility to spray virtually any lawn. Two in-tank induction nozzles provide enough agitation to keep wettable powders in suspension, allowing lawn care professionals to choose from an expanded range of chemicals or fungicides to tackle tough lawn problems. The welded stainless steel frame increases durability, and a stainless steel operator platform includes isolation mounts for increased operator comfort.
Exmark Mfg. Co. Inc., Beatrice, Neb.
DICKEY-john IntelliAg ISO6 Control & Monitor System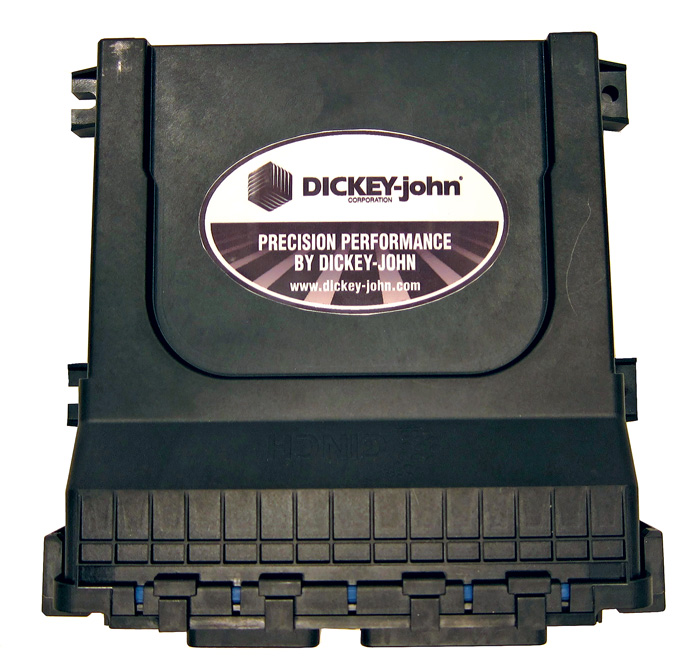 The Dickey-john IntelliAg ISO6 is a six-channel, ISOBUS-compatible control and monitor system that allows planters and seeders to apply multiple material types, such as seeding, granular and liquid, from one module. ISO6 utilizes a unique approach to software design in order to greatly reduce the validation time required after new feature integration. Additionally, software features have been implemented to reduce hardware needs by integrating advanced seed monitoring, section control with virtual switches and implement fold control. ISO6 originated from the reputable IntelliAg WSMTII and has received a comprehensive upgrade to include best-in-class precision control technologies. One such upgrade is the graphical user interface. Through the utilization of a high level of customization and convenience, the interface is engaging to users of all technological skill levels.
Dickey-john Corp., Auburn, Ill.
Agrible Morning Farm Report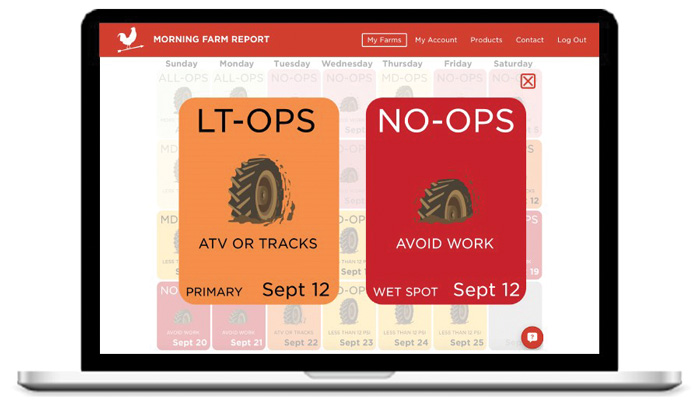 Morning Farm Report is a predictive analytics tool for growers and agricultural companies that provides agronomic knowledge and forecasts on rainfall, temperature, growing degree days, fieldwork logistics, yield estimates and more. Instead of just providing data on what has already happened in a grower's fields, Morning Farm Report provides forecasts and fieldwork recommendations for up to 2 weeks in advance. Morning Farm Report's Yield Engine is the only service that predicts corn and soybean yields starting the day of planting, according to the company. This allows growers to make market and business decisions months in advance. Depending on what data a grower is interested in, they sign up for yearly subscriptions to Morning Farm Report's different services: Rainfall, Field Intel, Tractor Time and Yield Engine. Data is then delivered through a daily email at 5 a.m. and the Morning Farm Report website.
Agrible Inc., Champaign, Ill.
Graham Electric Planter Pro Electric Drive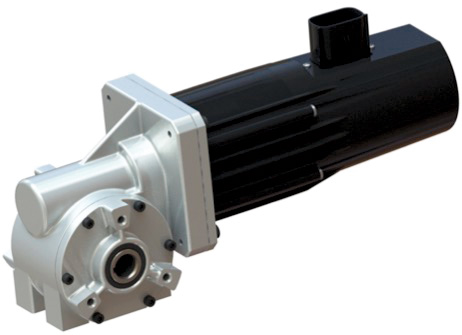 The patent-pending Graham Pro Electric Drive is a 100% wirelessly controlled system that features 12 volt DC brushless motors with RF wireless control boards integrated into each motor end cap. This innovation reduces cost of row-by-row variable rate retrofit, further reduces input costs compared to existing retrofit options and allows one motor to control multiple applications simultaneously for each row. This is the next generation of the award winning Graham Electric Drive System. The 100% wireless control eliminates cost of wiring and harnesses related to variable retrofit. Additionally, the system's response to operator command inputs has been reduced from 4/10 of a second down to 30 milliseconds, which means lower cost inputs because of the improvement in precision. Lastly, this system features row-by-row variable rate seed, liquid or dry fertilizer application in addition to turn compensation, auto row shut-offs, seed monitoring and prescription mapping.
Graham Electric Planter, Sterling, Colo.
Kuhn FC 3160 TLR Side-Pull Disc Mower Conditioner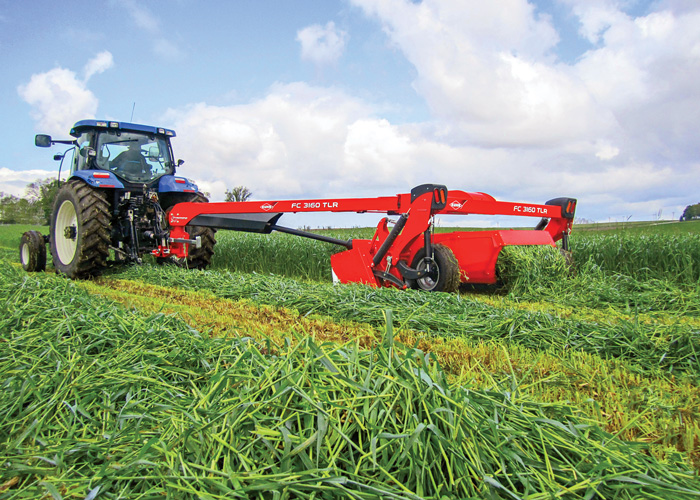 The Kuhn FC 3160 TLR side-pull disc mower-conditioner is a simple to use, yet heavy-duty machine designed to mow, condition and windrow hay crops to maximize nutritional value and increase productivity. The exclusive Diamond Block roller style conditioning system allows quick dry down of forage crops, by utilizing a horizontal diamond pattern giving the crop more points to be crimped as it comes off the disc. Another key feature is the direct drive system with a shear bolt protected main gearbox that provides protection in adverse conditions, with no belts to adjust and very minimal maintenance. The Optidisc cutterbar, with differential disc spacing and lubed-for-life reliability, ensures a clean cut and even crop flow to the conditioner. Crop layout can also be varied from a 3-foot windrow up to 75% of the cutting width by adjusting a single lever. The Constant Float suspension and Pro-Active Lift provides quick adaptation to different ground contours.
Kuhn North America Inc., Brodhead, Wis.
Pentair Closed System Cleanload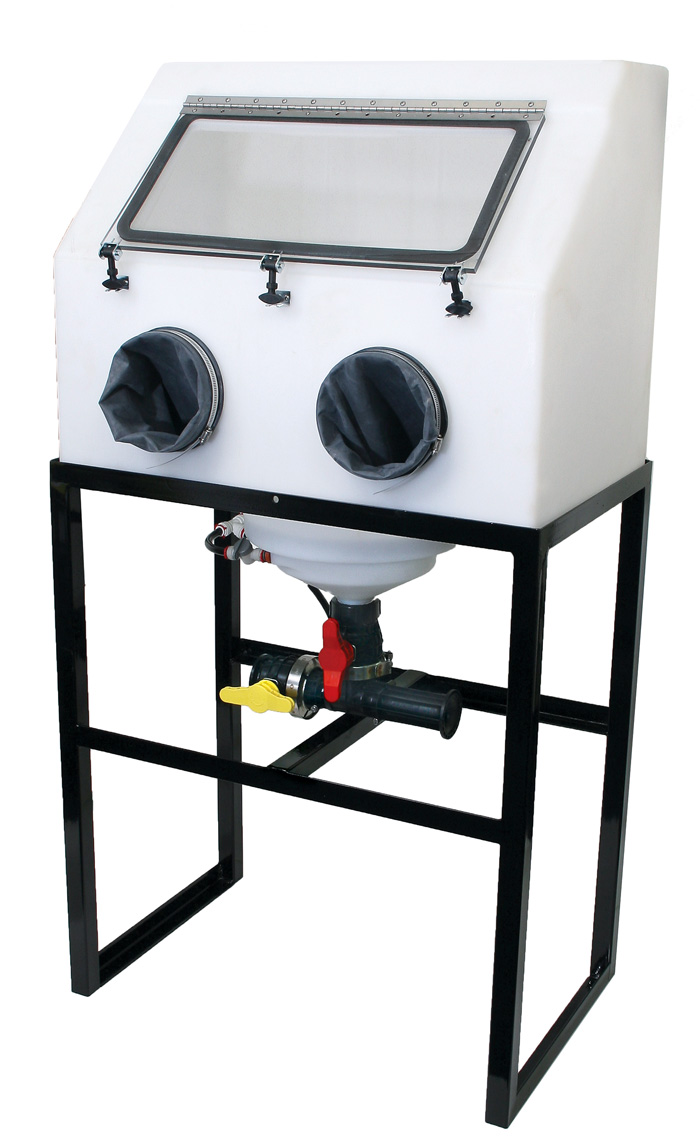 Pentair's Closed System Cleanload is a device for safe and efficient measurement, mixing and loading of dry or liquid formulations into a sprayer with minimal exposure to pesticides. The system features a sealed glove box that safely separates the operator from the chemical container. Within the glovebox are all the requirements for measuring, triple rinsing of container for disposal and mixing of formulation into a saturated solution that then is educted onto the sprayer. Using a closed system allows the operator to wear minimal personal protection equipment in the heat of the day instead of full-body, chemical resistant, protective clothing with cooling device.
Pentair-Hypro, New Brighton, Minn.
New Holland Dual Stream Combine Header Attachment
The all-new New Holland Dual Stream Combine Header Attachment mounts to the back of the New Holland 760CG Varifeed Grain Header to allow operators to make a higher cut, removing only the top portion of the plant that contains the grain for processing in the combine. The secondary cutterbar on the Dual Stream attachment makes a final, lower cut removing the remaining straw to the final desired stubble height all in the same pass. The attachment includes a processing roll to actively work the second-cut straw down into the stubble, improving its rate of decomposition. Because the combine is only processing the top, driest portion of the plant, the combine operator will see significant improvements in combine capacity, reduced fuel consumption, reduced grain loss, longer harvesting window and perfect straw distribution. The Dual Stream Header attachment is available for the 25, 30, 35 and 41 foot 760CG Varifeed Grain Headers.
New Holland Agriculture, New Holland, Pa.
Laforge PowerFold System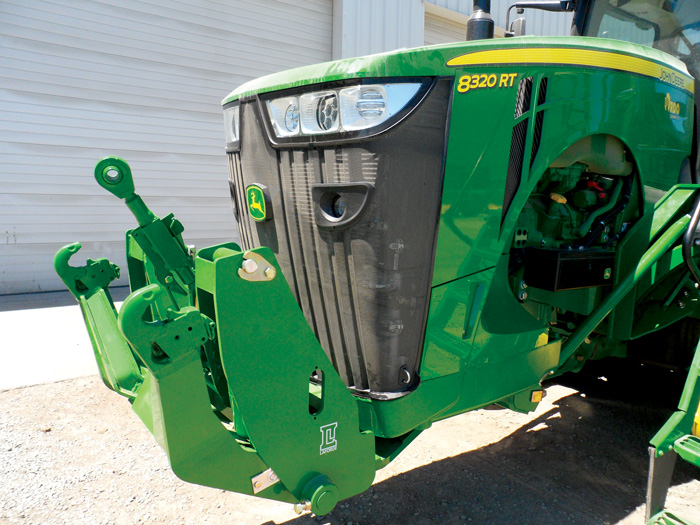 PowerFold is a folding system for a tractor's front 3-point systems that allows for push-button folding and unfolding from the cab. It's the first and only design that eliminates the need for the driver to exit the cab to manipulate hitch components to execute the folding. Most front hitches are equipped with lower links that can be folded up. The prevailing designs lead to reduced strength and increased wear and tear. And because of the cumbersome folding procedure, many are left in working position at all times. A European study showed a third of tractors going down the road had not folded up the hitch. This can be a traffic hazard because the hitch is largely out of sight for both the diver and fellow road users. Safety around the farm is also compromised by leaving the hitch unfolded due to the driver miscalculating the length of the tractor as well as people or animals stumbling over it.
Laforge Systems Inc., Concord, Calif.
John Deere DB60T Twin Row Planter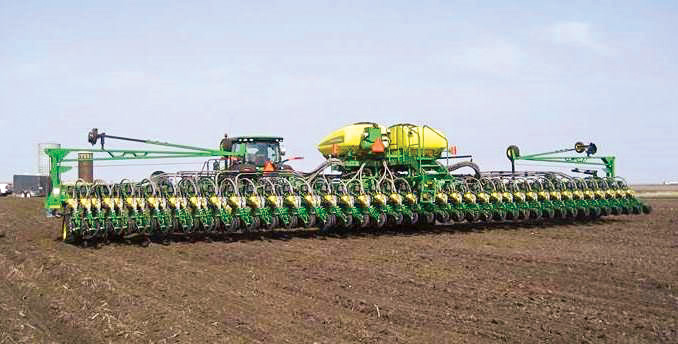 The John Deere DB60T is a 72 row, 60 foot twin row planter, the first of its kind in the industry, the company says. Its row spacing contains MaxEmerge 5 twin row pairs spaced 8 inches apart and each pair is spaced on 20 inch centers allow a typical 20 inch corn head to be utilized during harvest. A more uniform seed-to-seed placement is achieved with this spacing, therefore reducing plant to plant competition. The DB60T was developed to be used in conjunction with high population corn varieties to significantly increase yields. A range from 23,000-80,000 seeds per acre can be achieved for corn, and up to 225,000 seeds per acre are possible for soybeans at 9 mph (14.5 kph). The 60 foot wide frame is based on the same sound structure as the rest of the DB model line. Larger tires have been selected to reduce compaction in the field and increase stability during transport.
John Deere, Moline, Ill.
I-Lighting Avilighting System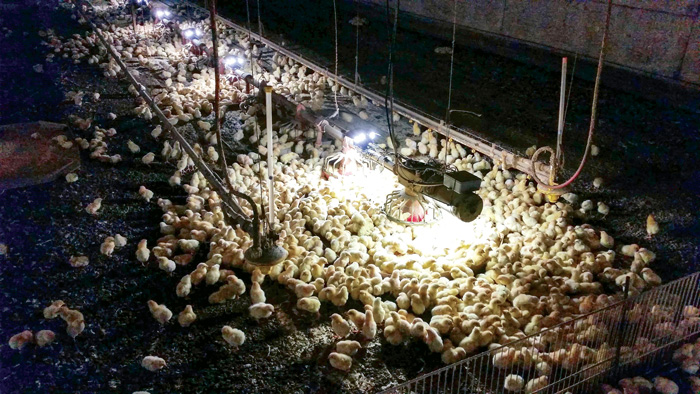 Avilighting is a complete LED poultry lighting system that places the proper amount and intensity of light at the feed and water lines in commercial poultry houses. Benefits to the system are the energy savings it provides from the use of LED lights and the health benefits it provides for the birds by humanely guiding them to food and water sources, reducing mortality and allowing them to reach their full genetic potential. A controller that gives the farmer the ability to alter the intensity of light through the full 0-100% spectrum in both blue and white lights. The use of aluminum plates inside the feeder lights carry current in place of traditional hardwire. Each component of the system works together to maximize production and reduce costs in a new way.
I-Lighting LLC, North East, Md.
Oxbo PremiumSort Cleaning System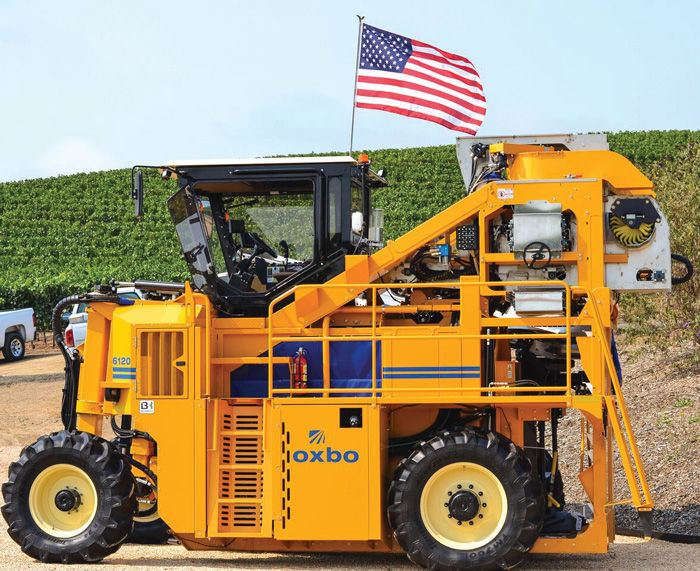 PremiumSort is a new add-on cleaning system available on Oxbo's 6120 grape harvester. It was designed to meet the growing customer demand for high quality, mechanically harvested grapes without sacrificing in-field productivity. The system de-stems grapes and removes petioles (leaf stalks) in the field, tasks traditionally performed in the winery prior to fermentation. PremiumSort uses a continuous, perforated belt to separate petioles and other fine matter other than grapes from the grape load and sorts the fruit using a patent-pending belt agitation mechanism. A unique feature of PremiumSort is the ability for the operator to bypass the system in a matter of seconds, giving increased harvest flexibility. PremiumSort is the first supplemental, centrally located cleaning system, allowing the harvester to be configured with any combination of fruit handling options.
Oxbo International Corp., Lynden, Wash.
AGCO Sunflower 9830NT Series Single Disc Air Drill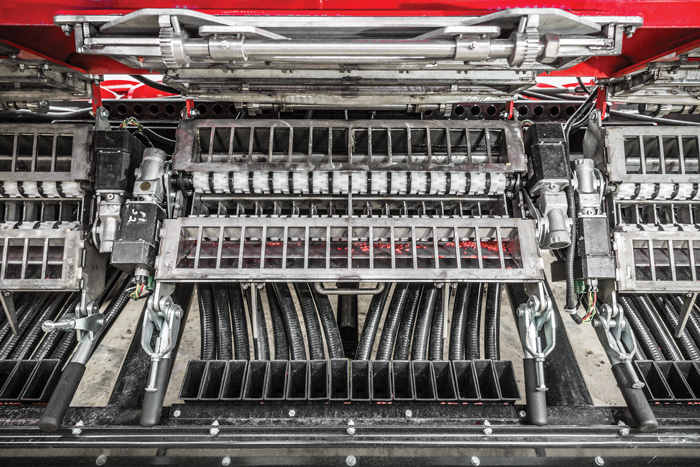 Sunflower 9830NT Series single disc air drill is the most universal seeding tool available. A single rank, single disc opener system provides high speed seeding performance and the brain is the AgControl system providing product rate control of each meter shaft by section. The 175 bushel integrated tank consists of two commodity chambers divided in a 60/40 split. Combined, this is a 5.83 bushels per foot seed capacity. The seed is accurately metered through a stainless steel bodied venture type metering system that provides a dedicated meter flute for each row. The ISO task controllers and electric meter drives provide responsive rate change with three section zone control and seed rate turn compensation. Available in 30-foot working width and 11 feet, 5 inches transport.
AGCO Corp., Duluth, Ga.
Case IH Early Riser 2150 Front-Fold Planter
The Case IH Early Riser 2150 Front-Fold Planter represents the first 16-row planter that can be factory-ordered with system configurations that range from a basic machine to a fully advanced-featured, integrated, high-technology customized planter, all within a common model. Available technologies include: pneumatic row unit tillage tools; passive pneumatic row unit down pressure or active hydraulic row unit down pressure with both lift- and down force capability and individual row load-sensing with the ability to apply reactive wing down force; spring or pneumatic control closing system; electric drive vacuum seed meter with speed-based seed meter vacuum level compensation; selection of gravity drop seed tube or positive seed delivery belt, which allows for high speed operation without sacrificing seed placement; fertilizer delivery system with individual row shutoff; and an electric drive, granular chemical delivery system. The operator controls all systems with a single in-cab user display. Systems are integrated into a new frame, which allows for higher operating speeds and provides for row-unit travel of +/– 8 inches.
Case IH, Racine, Wis.
Kelley Mfg. KMC Unload on the Go Tank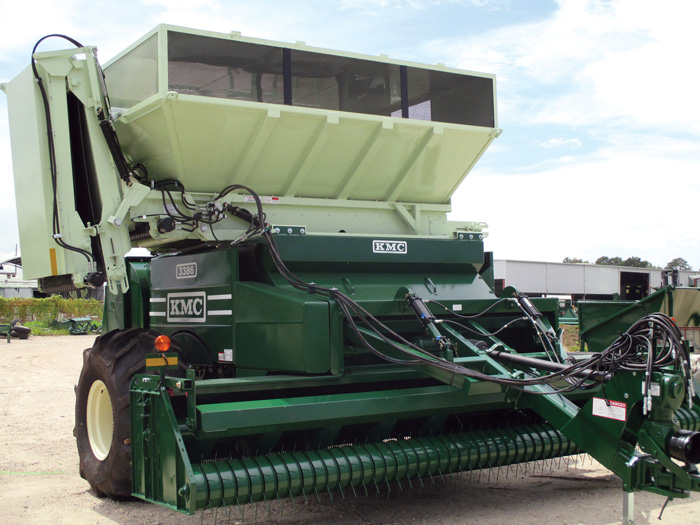 The KMC Unload on the Go Tank is a storage tank mounted to the top of a peanut harvesting combine that can unload the contents of the tank into a cart or wagon while the combine continues to harvest. It uses a folding conveyor that is 33% wider to unload the peanuts up to 50% faster and, because it folds flat against the side of the tank, transport width has been reduced by 2%, giving the operator better visibility for safer transport. The new Unload on the Go Tank has a larger volume, capable of holding an additional 750 pounds of peanuts, while also featuring a new tilt design, which allows the operator to access the threshing cylinders located under the tank.
Kelley Mfg. Co., Tifton, Ga.
John Deere SeedStar Mobile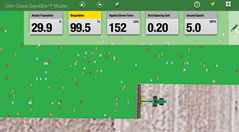 John Deere's SeedStar Mobile is a mobile application that helps operators better understand and optimize the performance of their planters. It utilizes an iPad to display and document the row-by-row performance of the planter while planting in the field. This provides the operator a better visualization and understanding of how the planter is performing, helping the operator verify the planter is running properly or when adjustments/repairs are needed. SeedStar Mobile displays the planter performance through numerical dashboards and high definition maps enabled by the high screen resolution of the iPad. The app captures the following planter data attributes: actual population, target population, seed spacing CV, singulation, applied down force, gauge wheel margin, ride quality, ground speed and variety.
Deere & Co., Moline, Ill.
John Deere Machine Sync Coverage Map & Guidance Line Sharing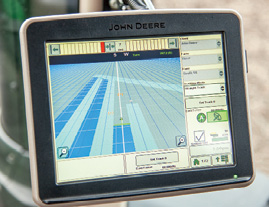 The John Deere Machine Sync Coverage Map and Guidance Line Sharing increase your ability to automatically apply inputs while operating multiple machines in the same field. Coverage Map Sharing provides operators the ability to view coverage documented on a second GreenStar 3 2630 display operating in the same client, farm, field and task; providing the ability to utilize John Deere Section Control to manage inputs based upon the previous coverage of a second machines. It also simplifies the creation and setup of guidance lines with Guidance Line Sharing and easily sends a straight-track guidance line created by one vehicle to the second in near real-time. Coverage Map and Guidance Line Sharing functionality has been added to the existing John Deere Machine Sync supplementing Harvest Automation and Harvest Logistics functionality.
Deere & Co., Moline, Ill.
John Deere Mobile Data Transfer
John Deere Mobile Data Transfer (MDT) utilizes a USB to Wi-Fi device to transfer data files between a precision farming display and a user's mobile phone. The data files can then be sent between the "cloud" (MyJohnDeere.com) for secure storage and sharing with trusted business partners. Prescription files can also be sent from MyJohnDeere.com to the precision farming display via MDT. The use of MDT reduces the need to manually transfer data via USB flash drive between office, machine and business partners, increasing customer uptime and productivity, reducing the risk of data loss and enabling easy data sharing and quicker decision making. It connects operators to their data when utilizing mixed fleet solutions or older John Deere equipment. With MDT, operators are able to share information within the Operations Center for most of their fleets, including some competitive displays.
Deere & Co., Moline, Ill.
John Deere Harvest Mobile
John Deere Harvest Mobile is the first mobile application that optimizes machine functions to improve grain harvesting and features data collection and transfer to help operators make timely decisions with a simple, usable interface, according to John Deere. Interactive Combine Adjustment(ICA) is an industry exclusive tool that enables combine operators to make smart, quick adjustments to settings when issues arise. The tool is visualized through the app and uses the combine's current settings, priorities set by the operator and issues reported to recommend the best adjustment to address the issues. Two new map layers are available to the operator in-cab — ground speed and dry yield — which are presented in addition to moisture and wet yield. Data is collected on the iPad and available wherever and whenever the customer wants to view their harvest map layers. Harvest Mobile also transfers data near real-time to the MyJohnDeere Operations Center to be viewed by remote managers and trusted advisors via the Job Monitor. They can view up to the date progress and key job metrics.
Deere & Co., Moline, Ill.
John Deere AirPower 2
John Deere AirPower 2 increases customer productivity by allowing wider working widths while maintaining seed and fertilizer application rates with equal to or better than current production commodity distribution. The system was designed from the ground up by John Deere for the 1910 Commodity Cart and is compatible with the John Deere SectionCommand option. The system is powered by two new large diameter cast aluminum fans contained in cast aluminum housings driven by efficient hydraulic motors designed specifically for fan applications. The air is blown into a molded plenum, which evenly distributes air across its ports. After being divided up the air is sent to new 3 inch stainless primaries and 3 inch manifolds that interface with current meters. Also new is the tank pressurization system that adds user adjustable valves, which determine the amount of air routed to the tanks as well as a new in-cab electronic pressure monitoring system.
John Deere Seeding Group, Moline, Ill.
John Deere 2510H High-Speed Applicator with Dry Nutrient Attachment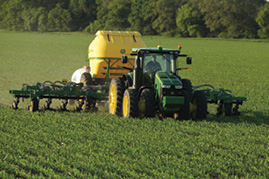 The 2510H High-Speed Applicator with Dry Nutrient Attachment from John Deere increases nutrient placement capability and improves accuracy while reducing field passes. By adding the on-board dry tank attachment, dry nutrients and anhydrous can be applied in a single pass. The 2510H with Dry Attachment can now apply all three of the primary nutrients, nitrogen, phosphorous and potassium and micro nutrients below the soil surface during the fall, pre-plant and side-dress seasons. By having the nutrients available in the root zone, the crop is more effectively nourished potentially leading to improved yield. In addition, the sub-surface placement greatly reduces runoff and other losses resulting in more nutrients available to the plant. The 2510H with Dry Nutrient Attachment allows the customer to boost yields, save time, cut cost and better manage nutrients through application practices adhering to the 4R Nutrient Strategy.
John Deere, Moline, Ill.
John Deere TruSet Tillage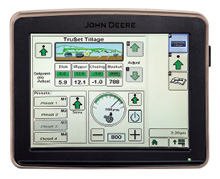 TruSet from John Deere is an industry-exclusive technology that enables users to independently adjust depth or pressure settings for each operation on their 2730 Combination Ripper from the cab, on-the-go, for maximum agronomic results. As conditions change throughout the field, operators running the 2730 with TruSet can quickly and efficiently respond to varying soils, compacted areas, heavier residue and moisture. Making customized adjustments that respond to these agronomic factors help customers maximize their yield potential. With TruSet, operators can adjust depth settings for their discs, rippers and closing discs on the 2730 Ripper along with pressure settings for the active hydraulic rolling baskets. These adjustments are made in cab from the GreenStar 3 2630 Display that also provides users with real-time data for their actual tillage settings.
John Deere, Moline, Ill.
John Deere 1870 Air Hoe Drill
John Deere will be launching a 76 foot wide, 1870 Air Hoe Drill that will increase the productivity of large ag, small grains producers by seeding more acres per hour. This new machine includes these new features: TruSet depth control, dual acting cylinders on improved tyne openers, a heavy duty John Deere engineered frame designed to minimize transport height and width, a floating hitch for improved ground following, an opener pattern optimized for residue flow and an improved seed blockage detection system. All of these features will be integrated in a 36% wider working width compared to previous offering. The TruSet control system will allow the operator to adjust opener depth and down force on the go from the comfort of the tractor cab. Design features that minimize transport width include retractable openers that increase ground clearance, as well as bump-up and bump-down transport height adjustment that temporarily raises and lowers the frame to avoid obstructions overhead and below. This results in a seeding tool that transports under 23 feet wide, ducks down to 17 feet transport height and raises up to provide 18 inches of ground clearance when needed. The machine's efficiently designed, heavy duty frame allows for future increases in draft and tow loads. Increased front to back opener spacing combined with a floating hitch allows for ease of residue flow through the frame while maintaining ground following performance.
John Deere Seeding Group, Moline, Ill.
John Deere Tractor Plus Mobile App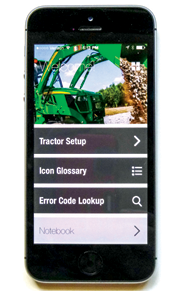 The John Deere TractorPlus mobile application provides customers with easy access to information to help them be more productive with their 3E, 3R, 4M and 4R compact utility tractors. The application is intended to serve as a quick reference tool for on-board instructions and diagnostics while offering a variety of features for convenience while working. The application offers the following features: Tractor Setup — provides a step-by-step guide for setting up features, including the hitch assist and Final Tier 4 engines; Icon Glossary — allows users to familiarize themselves with the instrument panel and premium features; Error Code Lookup — a searchable database of diagnostic trouble codes; and Notebook — a place for operators to save notes on the machine's performance for future reference.
Deere & Co., Moline, Ill.
John Deere 6R Series Tractor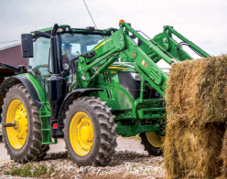 The new John Deere 6R Series Tractors offer increased power, advanced technology and improved productivity. The new PowerTech PVS 6.8L and PowerTech PSS 4.5L engines meet Final Tier 4 requirements while providing the customer with industry leading fluid consumption, an additional 5 horsepower per model and up to 40 horsepower Intelligent Power Management (IPM). The new 6R Series Tractors have 8 total models to choose from between 110-215 engine horsepower offered to customers worldwide, with the 110-155 horsepower models introduced in 2015. The new ComfortView Cab incorporates technology and functionality, with the new CommandARM featuring an integrated CommandCenter display, an electronic reconfigurable joystick, increased seat swivel and wide angle mirrors. Other improvements on the series include optional cab LED lights, improved stability and handling during transport, automatic MFWD and differential lock, relocated rear SCVs with hose disengagement levers, and the new R-series loader with increased lifting capacities and automatic mast latching technology.
Deere & Co., Moline, Ill.
John Deere 8000 Series Self Propelled Forage Harvester
The new John Deere 8000 Series Self Propelled Forage Harvester allows for 15% more forage productivity, 50% more reliability and 65% less time in maintenance. New in 2016, John Deere Stone Detection is a solution for the detection of stones in the incoming swath of material via sensing of rapid upper front feedroll movement and/or impact to the lower front feed roll. This system will provide a lower cost of operation because the machine should run more efficiently over time due to more pristine cutting parts. The system will provide reduced maintenance cost due to reduced component damage and repair. Finally this system will produce a higher quality of cut due to better condition of cutting components throughout the life of the harvester. John Deere Stone Detection uses an accelerometer on the upper front feedroll arm to detect rapid movement, and a knock sensor in the lower front feedroll to detect impact. Either sensor, individually or together, can stop the feedrolls to prevent ingestion of a stone. This reliably prevents damage to the cutterhead, knives and other components by avoiding contact of the knives and cutterhead drum with large and small stones. This system is completely adjustable for sensitivity from the cab; operators have the ability to adjust the sensitivity in extremely uneven windrows. This is the first system on the market that can differentiate between lumps in windrows and stones using this combination of technology. In 2016 John Deere increases its SPFH range with three new models. The eight model line-up is 375-832 horsepower. Stone detection adds to the list of unique features such as dual header drive, twin line inoculant dosing system, HarvestLab with constituent sensing and quick change kernel processor with integrated removal hoist. The new JetStream crop flow provides for greater throughput, while being protected by stone detection and metal detection.
Deere & Co., Moline, Ill.
Claas Lexion 700 Series Variable Speed Feederhouse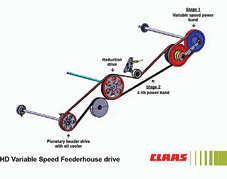 The Claas LEXION 700 Series' 278 horsepower heavy-duty "variable speed" feederhouse/header drive is designed to provide adequate power transfer to the attached header through a heavy duty planetary header drive gear box (with oil cooler) that is driven by a variable speed pulley set via a heavy duty reduction drive gear box to drive extra large combine headers and their attachments (e.g., 16-row/30-inch or 18-row/20-inch chopping corn heads) at any rpm according to need. The 278 horsepower feederhouse/header drive provides industry leading "variable speed" header drive power, which allows the operator to vary (or optimize) the speed of the combine's feederhouse and platform header's cutter bar or corn head's row units, simultaneously, according to the condition of the crop. Comparatively, the other feederhouse/header drive with similar power offering adjusts its feederhouse/header speed using a 5-speed power shift transmission that does not enable the operator to optimize feederhouse and header speed beyond its 5-speed limit.
Claas of America, Omaha, Neb.
Sukup Mfg. Stirring Machine Delay Control System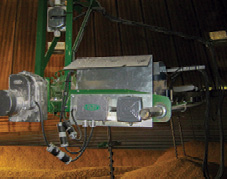 The Stirring Machine Delay Control System from Sukup Mfg. helps keep a grain stirring machine on task by providing more time for removal of obstructions and by notifying the operator if a stoppage caused by wet or crusted grain lasts more than 10 minutes. The device uses a micro-controller that senses if a down auger is hung up in grain. As soon as the hung-up auger returns to vertical, the controller sends a signal for the machine to wait an additional three minutes before resuming travel around the bin. This allows more time for the rotating auger to break up obstructions. If the auger does not return to vertical within 10 minutes of the stoppage, the operator is notified via horn or text message that the stirring machine has stopped working. Currently, the operator has to rely on visual observation, which delays response in correcting problems, thus delaying the grain drying/conditioning process.
Sukup Mfg. Co., Sheffield, Iowa
Sukup Mfg. Self-Aligning & Locking U-Trough Auger Hanger Bearing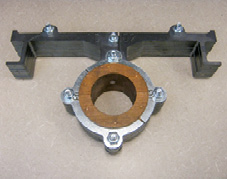 Sukup Mfg.'s Self-Aligning and Locking U-Trough Auger Hanger Bearing is an easy-to-install bearing that helps guide itself into place and is easily locked into position, requiring no special forming of the trough. The bearing is designed with arms that slide along the walls of the trough to balance the bearing on top of the auger as it is pushed into the trough. It also has tabs that lock the bearing into place on supports inside of the trough. The bearing's design allows the auger to be removed and reinstalled without direct access to the bearing, which is critical in the event of a plugged unload system. Competitors' hanger bearings require a specially formed trough or hands-on access to the bearing for auger installation, removal or replacement.
Sukup Mfg. Co., Sheffield, Iowa
Sukup Mfg. QuadraTouch Pro Grain Dryer Control Console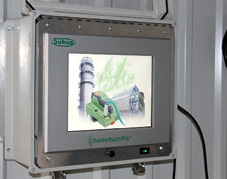 Sukup Mfg.'s new QuadraTouch Pro grain dryer control console is an enhanced version of the 2009 AE50 Award-winning QuadraTouch console. The new version has a fully integrated OPC (Open Platform Communications) server that allows for multiple devices to be connected and read simultaneously. This new console has a larger, higher-resolution display that shows more content more clearly, and an 80 gigabyte hard drive that stores not only the operating software but the entire operating manual for the dryer and, remarkably, 17 troubleshooting videos. The console's front-access audio port allows easy plug-in for listening to videos. QuadraTouch Pro allows remote operation wherever cellphone service is available, and a fully functional Windows personal computer with on-screen keyboard. Software can be upgraded easily online or by using a flash drive and features an all-in-one format enabling use on Sukup dryers ranging from an 8-foot portable to a 10,000 BPH tower dryer.
Sukup Mfg. Co., Sheffield, Iowa
Pentair ProStop-E Ball Valve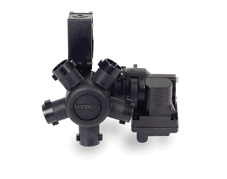 ProStop-E from Pentair is an intelligent, compact, electronic quarter-turn ball valve that mounts directly onto the sprayer's nozzle body to provide instantaneous, individual nozzle on/off control across the boom. ProStop-E's high flow performance and low power requirement makes it an ideal precision control component for pesticide applicators on today's modern farms. Its smart circuitry accepts either an analog signal or CAN bus message to individually switch product flow, consistently and reliably, on or off, in 180 milliseconds along a simplified, daisy-chain networking system.
Pentair, New Brighton, Minn.
Kuhn SW 4014 Square Bale Wrapper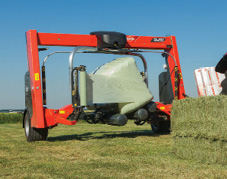 The SW 4014 Square Bale Wrapper from Kuhn North America now features an AutoLoad function for non-stop, fully automatic wrapping. The new laser guided AutoLoad feature detects approaching bales, automatically scans the length of the bale and sets the loading arms into pre-load position ensuring accurate loading and unloading of the bale on-the-go. AutoLoad reduces driver fatigue increasing productivity by up to 15%. Increasing the productivity reduces the amount of time the bales sit unwrapped in the field directly preserving the bale silage quality. The SW 4014 is a versatile, self-loading wrapper that has the ability to wrap large square bales up to 6 feet, 6 inches long or round bales up to 5 feet wide and 4 feet, 8 inches in diameter. Its solid design makes it extremely stable while wrapping. Forage growers will notice the increased overall wrapping capacity and user comfort with the AutoLoad feature that contributes to their forage quality and bottom line. Operator comfort is enhanced further with in-cab controls through ISOBUS compatibility.
Kuhn North America Inc., Broadhead, Wis.
New Holland T7 Heavy Duty Series Tractor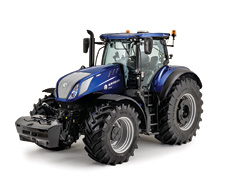 The new T7 Heavy Duty Series from New Holland answers the mixed crop and large livestock customer's desire for higher power and productivity levels from a multitasking medium frame tractor. An NEF 6.75 L engine, specifically designed for the two model range, delivers a peak power of 313 horsepower on the T7.315. The Auto Command transmission delivers infinite speed adjustment while a 4 speed rear PTO and a unique optional 2 speed front PTO allows engine speed to be optimized. ISOBUS Class 3 technology makes it possible for implements such as New Holland's large balers to control the tractor's speed automatically, increasing output by up to 10%. The extensive list of equipment available includes a driver's seat with climate control, up to 20 LED work lights and a tire pressure monitoring system. The T7 can be fitted with large group 49 tires and front dual wheels are available.
New Holland Agriculture, New Holland, Pa.
New Holland IntelliCruise Feed Rate Control System
The new IntelliCruise Feed Rate Control System for New Holland BigBaler 300 Series large square balers automatically matches tractor forward speed to the crop load at the baler, greatly reducing operator fatigue while increasing productivity and lowering fuel consumption. A charge sensor on the stuffer continually monitors the bale charges or slices delivered to the bale chamber to determine the demand placed on the baler and adjusts tractor transmission speed for optimal crop feeding. The IntelliCruise system has two operational modes. In Charge Control Mode, the tractor speed is adapted to achieve an optimum capacity pre-set by the operator. In Slice Control Mode, the tractor's speed is adjusted according to bale-slice thickness to achieve a pre-set bale length. The feed rate control system is available on BigBaler 330 and 340 Rotor Cutter models with electronic bale length control and requires a New Holland T7 AutoCommand Tractor with Continuously Variable Transmission and ISOBUS Class III.
New Holland Agriculture, New Holland, Pa.
New Holland Flexi-Coil P Series Air Carts
The all-new Flexi-Coil P Series Air Carts from New Holland set a new standard for accurate, reliable air-seeding delivery. Each primary run on the IntelliRate Modular Metering System (IMMS) operates using patented, independent, 24-volt electric-drive motors with integrated controls that provide the flexibility to accurately apply product in either single-shoot or double-shoot applications. This modular system can distribute and combine any tank to any primary run. The IMMS system adjusts rates on individual runs to match the number of ports for each separate header maintaining seeding accuracy across the entire width of the drill. The P Series IntelliRate sectional-control option has the ability to individually control up to 12 sections of the air drill to eliminate double applications of seed and fertilizer. With New Holland PLM (Precision Land Management) auto-guidance, the system turns off air-drill sections automatically in areas that have already been covered.
New Holland Agriculture, New Holland, Pa.
New Holland Autofloat Sunflower Kit
The New Holland Autofloat Sunflower Kit provides sunflower harvesters the next step in automation by removing the need for the operator to adjust the chopping height while going through the field. The new patented kit, which can be added to most sunflower headers in the market, delivers a constant chopping height — independent of the cutting height — regardless of field conditions or machine orientation. This is achieved by using hydraulically lifted choppers controlled in a closed loop by sensing and reacting to the ground pressure applied by the chopper. Once the operator sets the cutting height and selects a set point for the pressure of the chopper on the ground, the Autofloat kit keeps the cutting height and ground pressure constant without further intervention of the operator. The system reacts quickly to bumps or stones to avoid damage to the chopper while allowing the operator to focus on other combine functions vs. manual interventions.
New Holland, Turin, Italy
New Holland Modular and Configurable Rice Concave for CX Combines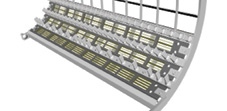 The new Modular and Configurable Rice Concave for New Holland CX Combines gives operators the ability to quickly and easily switch between crops as well as configure the concave for the optimal balance of protecting grain quality while reducing the amount of crop left unthreshed. Instead of spending hours exchanging a compete concave, the operator can easily unbolt and remove sections of the concave to remove or add friction wires to match crop conditions in less than 30 minutes. Broken kernels in this sensitive crop can be reduced by 50% while unthreshed grain heads can be reduced to nearly zero. This new rice concave is an option on New Holland CX flagship combine models CX7.80, CX7.90, CX 8.70, CX8.80, CX8.85 and CX8.90.
New Holland, Turin, Italy
Case IH Axial Flow 140 Series Combines Upgrades
Extensive upgrades to the Case IH Axial Flow 140 Series Combines improve harvesting capacity and ease of both operation and maintenance. Innovations include a new two-speed electric-shift ground-drive transmission, a new side-hill compensating cleaning shoe and significantly enhanced operator access to all harvesting systems. The new transmission provides increased tractive efforts and eliminates the need to manually shift the transmission during any harvesting maneuvers. A new side hill compensating cleaning shoe significantly increases capacity while harvesting on side hills. Operators benefit from improved user access to the machine's threshing, separating and cleaning systems, made possible by new lighter and more-maneuverable concaves for easy changeovers; better concave access now that the entire drive system and clean-grain elevator have been moved; the residue system on a new swiveling hinge at the rear of the machine that opens access to both the cleaning shoe and the spreaders; and redesigned clean-out doors for the clean grain trough.
Case IH Agriculture, Racine, Wis.
AGCO Fendt 500 Vario Tractor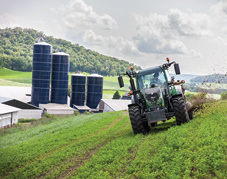 The Fendt 500 Vario meets the needs of operators who increasingly demand more with less. Representing award-winning German engineering, the Fendt 500 Vario consolidates the proven innovations and features of Fendt's higher horsepower offerings into an expanded product line in North America, ranging from 110-150 horsepower (107-137 PTO). The Fendt 500 Vario comes fully equipped with the Varioterminal, which unites all functions together in one terminal for both tractor and implement controls, including VarioGuide automatic steering system, VarioDoc documentation system and built in camera function. The Fendt VisioPlus cab curves up into the roof and offers nearly triple the upward angle of sight, ideally suited to work with the Fendt CargoProfi Loader. Key features of the CargoProfi loader include Memo functions for saving loader positions as well as tilt and measuring sensor systems.
AGCO Corp., Duluth, Ga.
AGCO Command 3300 Series Corn Heads

AGCO's Command 3300 Series corn heads represent the latest technology in addressing tougher stalks that support higher yields, with faster harvesting rates and reduced header loss relative to both cobs and overall kernel loss. A smoother transition of crop into the head is due to low density polyethylene snouts that feature a new shape and geometry allowing crop a smoother feeding without butt-shelling and ear bounce. Completely redesigned gathering chains and lugs that are synchronized to the large 20 inch auger that reach over gatherer and row units providing top performance in down corn. The chopper position and swing diameter minimize fodder intake. The horsepower required to drive the 3300 Series header was optimized to save up to 20% compared to one of the leading competitors. Standard fore-aft header tilt provides great performance in down corn. Available in chopping or non-chopping models, the chopping function can be disengaged.
AGCO Corp., Duluth, Ga.
AGCO Sunflower High Speed 6830 Rotary Finisher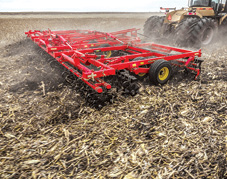 Sunflower has added the all new Sunflower High-Speed 6830 Rotary Finisher to its lineup of tillage implements. The SF 6830 is specifically designed to provide producers the high speed, high residue flow capabilities unattainable with traditional shank equipped finishers and cultivators, according to the company. It produces a smooth level seed bed not always obtained by today's vertical tillage tools. The 6830 is a new concept in seedbed preparation. The tool is completely void of sweeps and combines four types of rolling ground engaging tools into a three-step process: spherical disc blades and reels, wavy coulters and the Sunflower exclusive "Rolling Spider tines." With this tool you can build a perfect seedbed in one pass. The SF 6800 series is also the first Sunflower tool to be equipped with Sunflower's all new "maintenance free" disc gang bearings.
AGCO Corp., Duluth, Ga.
AGCO ProCut MF 2200 Series Large Square Baler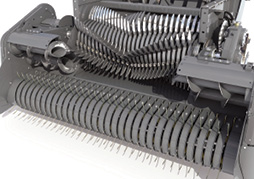 The ProCut system for AGCO's MF 2200 Series large square balers introduces unique clamp-on rotor fingers and a range of new features to deliver a huge increase in capacity with a finer, uniform chop while also offering superb service access. This unique mounting allows rotor finger sections to be replaced easily, saving time and maintaining optimum performance. Two hydraulically selectable knife banks in the magazine allow operators to quickly engage or disengage the knives and change chop lengths from the tractor seat. Both knife banks are fitted with hydraulic protection. This uses an accumulator on each side that allows each knife bank to fold back against the hydraulic pressure to let foreign objects pass through. The driveline has been strengthened to handle the higher capacity and now provides 35% higher torque output. A 650 mm rotor, driven 10% faster, increases the baler capacity. The ProCut system is controlled by ISOBUS electronics.
AGCO Corp., Duluth, Ga.
AGCO WR9800 Series RearSteer Option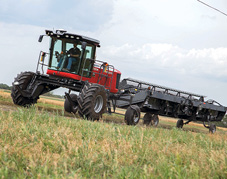 AGCO's WR9800 Series now offers a RearSteer option, giving operators more on-road benefits like greater ease of transportation, best-in-class speed and enhanced stability at higher speeds, the company says. With the rear steer option, operators can tow their draper head along at speeds up to 20 mph. Using fully active hydraulic cylinders for true rear steering, this top-of-the-line option gives you steady steering and driver comfort at much higher speeds, up to 24.5 mph without a header and without the need of additional ballast, cab or rear axle adjustments, the company says. The RearSteer feature is engaged easily from the cab.
AGCO Corp., Duluth, Ga.
Claas Disco 1100 C Triple Mower Conditioner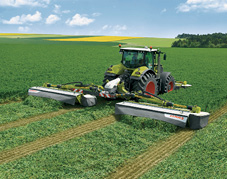 The Claas Disco 1100 C is the world's largest triple mower conditioner at a working width of 35 feet, 2 inches. Its simple side shifting wings and Active Float system make it unique, the company says. Each cutterbar is 12.5 feet, but with side-shift and curtain folding features, it can be folded upright to maintain a total transport height of less than 13.5 feet. The unique sliding PTO shafts improve reliability over standard 3-piece shafts currently used by the industry. The ISOBUS feature allows the operator to assign hydraulic functions to the auxiliary buttons on the joystick of the tractor — regardless of make — which makes it very user friendly, according to Claas. The Max Cut cutterbar leads the industry in cut quality due to its smaller disc design and concave channels under the cutterbar, which allow soil to flow underneath the cutterbar and keep it from plugging at the front.
Claas of America Inc., Omaha, Neb.
Claas Cruise Pilot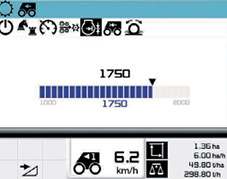 The Claas Cruise Pilot on the Jaguar 880 Forage Harvester is an innovative option that regulates the output of the machine in 3 different modes. The first mode regulates the engine for greatest capacity and best fuel per ton. This mode will push the Jaguar Forage Harvester to its maximum output. Claas Cruise Pilot not only senses engine load, it also uses the yield measuring sensor to monitor the crop coming in for consistency and actual tons so it can predetermine the maximum output of the machine. If the system senses slug feedings, it automatically slows the travel speed to prevent a plug. Mode two regulates ground speed only. Mode three is for small bunkers or small pack tractors and can set the max tons per hour the machine can harvest. In all three modes, the system will not allow the machine to be lugged down under 1,500 rpm for safe operation.
Claas of America Inc., Omaha, Neb.
Claas Jaguar 900 Series Forage Harvester
The Claas Jaguar 900 Series Forage Harvester (Type 497) introduces many new features that improve upon the previously sold Type 494 models. A new feedroll cabinet with hydraulic down pressure and dampening increases capacity by more than 5% while reducing vibration. The industry-first modular accelerator makes for easier and quicker maintenance. The new Type 497 forage harvesters are the first that can remind the operator to sharpen knives based on tons through the machine, according to Claas. The Dynamic Cooling System features a variable speed belt drive that reduces horsepower and fuel consumption when maximum cooling is not needed. It also features front and rear tire pressure adjustments for not only reducing compaction but also for a better ride in the field and savings in fuel consumption. A hydraulically adjustable accelerator gap adjusts the throw from the spout to save fuel when more aggressive is not required.
Claas of America Inc., Omaha, Neb.
Claas Xerion 4000-5000 Series
The Claas Xerion 4000-5000 Series is a powerful line of 4x4 tractors featuring the strength of a rigid frame, a turning radius tighter than that of an articulated tractor, the efficiency of a CVT transmission and a unique rotating cab that delivers unmatched flexibility and vision for even the toughest of jobs, according to the company. The Trac VC cab option allows for 180-degree rotation of the cab with the touch of a button. All in-cab controls are reoriented based on the direction the cab is facing. The rigid frame design eliminates the weak point of an articulated joint, while providing greater stability and operating comfort. High-capacity axles and five different steering modes including standard, crab, synchronous, control lever and 4-wheel steer ensure maximum maneuverability for any type of operation. The CVT transmission — unique to tractors of this size — eliminates the constant shifts of a traditional gearbox for precise speed control while maximizing productivity and fuel efficiency, the company says.
Claas of America Inc., Omaha, Neb.
John Deere Active Terrain Adjustment on 2016 S-Series Combines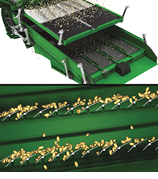 The new Active Terrain Adjustment feature on John Deere model year 2016 S-Series combines automatically adjusts the cleaning fan speed, chaffer opening and sieve opening when ascending and descending hills. It improves grain tank samples when descending hills and saves up to $64 per acre in grain loss when ascending hills.
John Deere, East Moline, Ill.
John Deere Planter Closing Wheel Control System
The John Deere planter closing wheel control system improves upon the existing ExactEmerge and MaxEmerge5 row units to deliver enhanced control and capability of the seed trench closing system. Proper seed to soil interaction is critical for seed germination. As soil conditions change, the closing force may also need to change to achieve optimal closing performance. Utilizing a pneumatic spring, the system is fully adjustable from the cab and provides a larger range of applied force as well as smaller adjustment increments. Additionally, operators receive real time feedback on closing wheel performance via the planter monitoring system. The pneumatic closing wheel control system provides greater ability for the operator to achieve the optimum closing force as soil conditions change.
John Deere, Moline, Ill.