Back in 1990 while Greg Hamilton was at the Northwest Horticulture Expo in Wenatchee, Wash., he noticed there was always a large crowd surrounding a little red tractor. When he went to see what the commotion was all about, he was impressed by what he saw — Antonio Carraro's 22 Series, a 50 horsepower reversible tractor.
"It was a really low profile that was even smaller than the John Deere orchard tractor that was available at the time and the reversibility looked like a great feature. And growers seemed interested and were checking it out the whole show. We talked to them and they had a dealership available," he says.
So, Hamilton and his service manager at the time, Wayne Turner, flew to Italy to attend a service school to learn more about this little tractor. "I wanted to make sure that it was something we could stand behind, that it was a quality product. After a tour of their factory, Wayne and I were satisfied it was a quality product," Hamilton says.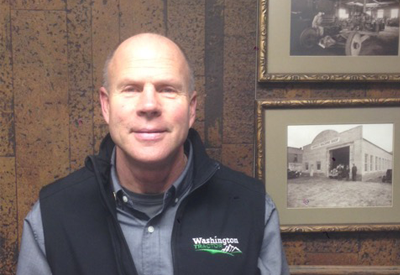 Greg Hamilton is store manager of the Okanogan, Wash., location of Washington Tractor. In addition to John Deere equipment, Washington Tractor sells equipment from 17 shortline manufacturers.
At that time, Hamilton was the owner of Hamilton Farm Equipment, a single store John Deere dealership in Okanogan, Wash. In 2012 the dealership became a distributor for Antonio Carraro Tractors, and at that time established a separate company — MGH Equipment LLC. Then later in 2012, the dealership merged Washington Tractor, formed in 2010 by a merge of three independent dealers — North Washington Implement, Barnett Implement and Liberty Farm & Lawn. Today, Hamilton is the store manager of the Okanogan location.
At the time, Deere was OK with it carrying the Carraro line, but Hamilton and Washington Tractor decided to keep the distributorship separate when they merged just in case Deere were to change its mind. "We wanted to make sure we'd still be able to take care of the Carraro customers," Hamilton says.
Filling a Niche
Success in Shortline Machinery is a new regular feature in E-Watch, our bi-weekly e-newsletter. It is brought to you by Versatile.
The Antonio Carraro tractor, like most shortlines, is a very niche product, Hamilton says. "Here in upper north central Washington, we have a lot of orchards farmed on steep hillsides. The configuration of the Carraro has a couple of unique features, like a chassis that oscillates 15 degrees vs. a standard tractor with a front axle that only pivots 5 degrees, giving you more stability. On flat ground that doesn't make much difference, but on the steep hillsides where you're turning sideways on the top of a hill to come back down a row, having that oscillation is very important," he says. "That's been a feature that sets it apart from anything else on the market. And, it's a very low tractor with a low center of gravity."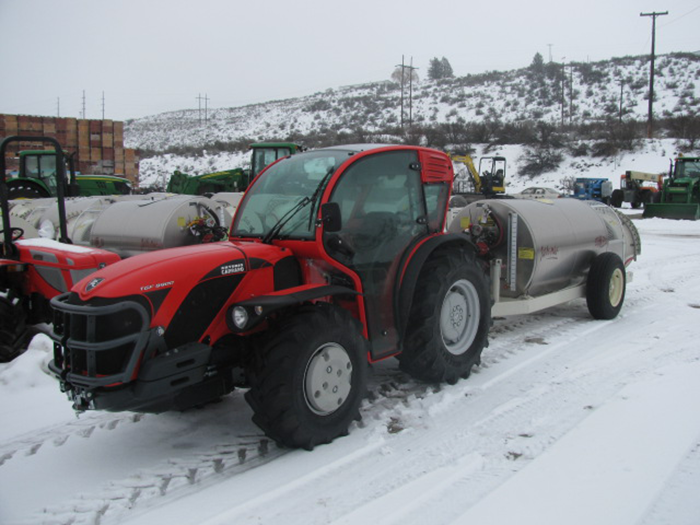 The older orchards in the Okanogan Valley have a lot of overhanging tree limbs, so the low profile is very important to Washington Tractor's customers in that area. The tractor offered by Deere kept getting taller and taller with each new model, Hamilton says. "Our loyal customers were looking for something else. Fortunately we had another tractor — the Carraro — that would hold up to the corporate farming."
Picking a Shortline
Before dealers decide to take on a shortline, Hamilton says dealers need to determine if the product is unique enough to make it worth the time. "Sometimes as dealers, we want to have everything. And customers will come to you and say, 'Oh I wish you would stock this,' because they want this new disc or this new tractor," he says. "But sometimes, you have to stop and realize there's really not enough market there. All of us can sell anything once.
"There's the adage that the salesman sells the first piece of equipment, but your parts and service department sell the rest. And that's what I'm getting at. It has to be something with enough volume to get behind it parts and service wise and to make the investment in that training and aftermarket support."
Washington Tractor
Main Line: John Deere
Locations: 12 in Washington state
Primary Shortlines:
Antonio Carraro
Billy Goat
Bush Hog
Frontier
Great Plains
Holcomb Scraper Inc.
Honda Power
Hustler
Kuhn
Polaris
Rears Mfg.
Scag Power Equipment
Stihl
Top Air
Turbo Mist
UM Unverferth
Yanmar
And more ...
The second question Hamilton poses to other dealers thinking about taking on a shortline: Are you prepared for it to potentially take several years before the line is profitable?
He compares it to growers picking a new apple variety to grow in their orchards. "They're picking a new variety to plant and it's going to be 3 or 4 years before they get a return on it. They have to try and make sure they pick a variety that's going to have enough demand that they can hold off getting any money from it for 4 years. That's kind of what we're looking at with shortlines. Can we stay the course until we get enough critical mass to make it profitable?" he says.
Sticking with It
Hamilton says when it comes to taking on a new shortline, dealers need to be prepared to be in it for the long haul. "With a brand like John Deere, you could start up a new dealership just about anywhere and people have a perception of Deere quality and you just go on with business. With a product like an Italian tractor with so many different tractors that have come and gone in the marketplace, you have to prove yourself," he says.
For Hamilton Farm Equipment — and now Washington Tractor — it took 20 years to prove that the Carraro tractor was the right tractor for customers. "We started selling them in 1991 and it wasn't until 2004 that we felt we had a tractor to go to the corporate farms with. And of course with the consolidation in the industry, the orchards were consolidating and getting bigger and bigger," Hamilton says.
One plus to working with a smaller manufacturer, though, is they can be more receptive to requests and suggestions on changes to the equipment. "We talk with Antonio Carraro himself and his sons Marcello, Massamiliano and David. It's still a family run large business in Italy. But, even though their willingness was there, it did take awhile to get them to beef up the components to make a tractor that would hold up to our corporate customers' standards," Hamilton says.
Washington Tractor's major line doesn't currently have any concerns with the dealership carrying the shortline, and in the meantime the dealership's focus continues to be on serving its customers' needs.  "Until they offer a similar tractor, we're going to maintain our customer base with a tractor that fits their orchard needs," Hamilton says. 
Success in Shortline Machinery is a new regular feature in E-Watch, our bi-weekly e-newsletter. It is brought to you by Versatile.