Last Friday, the Assn. of Equipment Manufacturers reported that the U.S. and Canada sales of new large tractors and combines fell by 19% year-over-year, which was a step up from a 29% decline in the previous month.
Based on what dealers told us in the June 2015 "Dealer Sentiments & Business Conditions Update" survey, at least part of this decline can be attributed to efforts to reduce their backlog of used machines.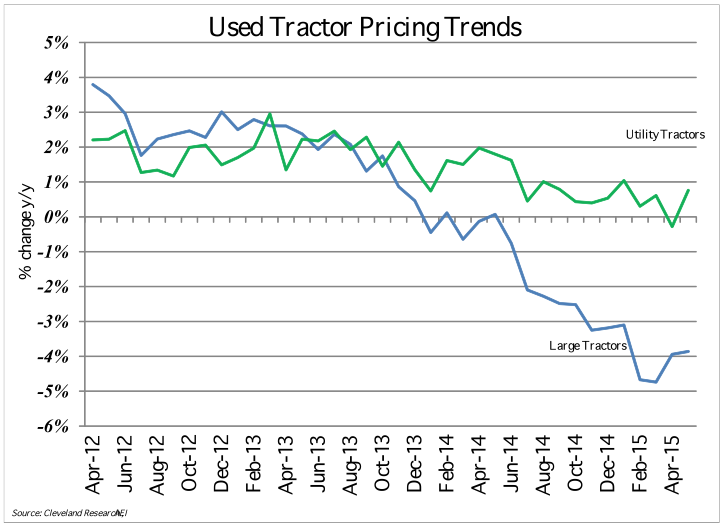 According to the results of the survey, used equipment inventories do appear to have improved in May, with only 34% of dealers reporting inventory was too high vs. 43% in April.  Anecdotally, many dealers report their efforts to sell used inventory instead of new has been helpful in recent months, but inventories are still too heavy in specific product categories. Used combines remain the biggest challenge for many dealers, with over 50% of them reporting inventories are above where they would like them.  
Typical comments from dealers included: "We are selling used but new tractors over a 100 HP are big zero" … "Managing our used inventory means probably selling less new" … "There is high inventory of used across North America" … "Our focus is on used. We need to reduce used inventory in order to take more trades."
Large inventories of used equipment continue to take a toll on pricing. According to the survey, used large tractor pricing is reported down 4% on average, in line with the survey results of the previous month, while utility tractor used pricing improved slightly in the month to up almost 1% year-over-year. Used combine prices remain weak at down 8% on average, falling from a 7% decline reported the previous month.  
— Ag Equipment Intelligence's June 2015 "Dealer Sentiments & Business Conditions Update" survey