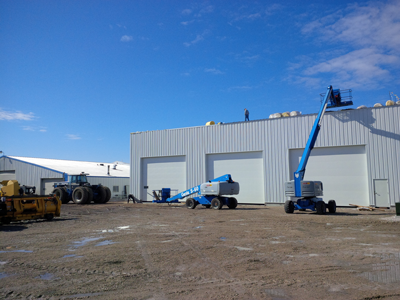 Gellings Implement, a New Holland dealership in Eden, Wis., is in the midst of building an addition to its service shop that will be completed later this year.
"Our customers have been saying for years that we needed a larger shop, and now we are excited to have it near completion. With our increase in sales and staff in the last 6 years, we believe that the service area will only increase the efficiency for our service techs. We also believe we can get customers' equipment repaired faster with more space," says Ruth Bode, general manager.
Bode says the new shop will allow Gellings to better manager the workflow through the service department.
"Instead of having one machine being repaired, we now will be able to appoint two or three machines to our master techs.
"By doing this, they will be able to diagnose and order parts for the first repair then start on the second machine while they wait for the parts to come in for the first job," she says.
While the project is still a few months from completion, Bode says the dealership is excited to move into the new space.
"It will only help us to grow in the future," she says.