One of our 6 Core Values at Lessiter Media is Teamwork with a maxim of "Call out the landmines; don't let your teammates fail. Be named on others' Foxhole Test!"
Ahead of our March 8 quarterly all-company luncheon meeting, we asked each employee to identify 3 individuals they'd want in their foxhole — defined as "who you can count on the most when the chips are down and the stakes are high."
On Feb. 28, I personally handed the Lessiter Media Foxhole Test to everyone on staff — from the founder/chairman to the interns. This "test" focuses on how each of us views our teammates. As it's been described, it "cuts through all the friendships and cliques" to identify who "has your back." There may be people you love to be around on the golf course or at a party, but the circumstances are different when "in battle."
The instructions were simple — identify 3 foxhole-worthy staff (the 7 of us on the Leadership Team were D.Q.'d) and why you chose them. The position to your rear is worth 3 points and is awarded to your most trusted, courageous and tough teammate. The other two positions received 2 and 1 points.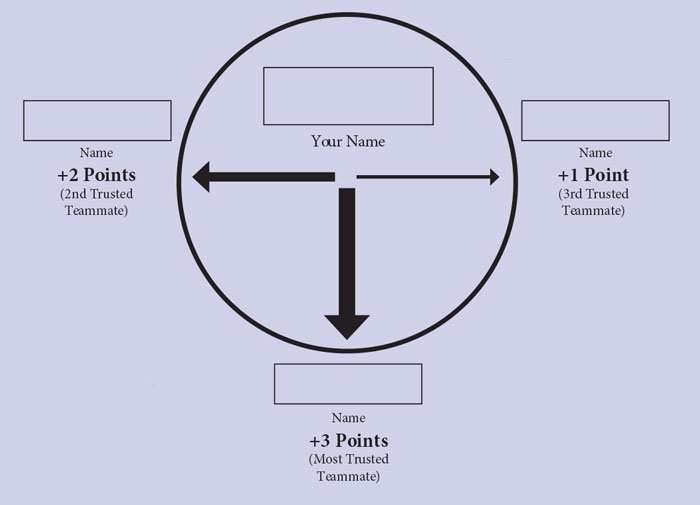 The exercise sparked a few questions, and it was clear the staff put thought into its selections. Fortunately, several said they struggled to select just 3. I'm proud to report 100% participation on the exercise.
When it came time to announce to our team who they had selected to be in their foxhole, I reminded everyone how all of us, regardless of role or department, depend on others to fulfill our commitments to customers and each other. I trust the same could be said about each of your businesses.
The comments made it clear what matters to our team: reliability, creative solutions, calmness under pressure, recognizing each other's successes and contributions, working toward a collective goal … and a sense of humor. 
The results were kept confidential — I'm the only one in the company who saw the total scores and full comments. We publicly recognized 3 teammates at that offsite meeting — each was surprised, humbled and speechless after hearing their coworkers' remarks. Tenure at the company didn't matter — our 3 honorees ranged from 18 months to nearly 20 years. 
In a follow-up to the announcement, President Mike Lessiter said "I cannot think of any greater professional honor than what was bestowed on you today by your peers." The declaration of the recipients needed no trophy, plaque or cash award — it stands on its own as the most meaningful recognition one can achieve.
The exercise also lit a fire under each of us to be stronger teammates — and we've seen results already.
It's easy to get caught up in the stresses of the day-to-day in business, but taking a few minutes to reflect on what you value most about your teammates is important and renews the energy behind the teamwork that is so critical to success.