Shell Lubricants has unveiled a new full-synthetic engine oil designed specifically for gasoline-powered pickup trucks and SUVs to complement its full-synthetic Rotella T-6 heavy duty diesel engine oils.
Shell Rotella Gas Truck oil made its debut at the SEMA Show in Las Vegas in late October completing Shell's portfolio of full-synthetic engine oils for both heavy-duty diesel engines and gasoline powered vehicles. The new multi-viscosity formulation will be offered in 0W-20, 5W-20 and 5W-30 to cover new vehicle warranty requirements for Ford, GM, Ram and Toyota gasoline-fueled trucks and SUVs.
Megan Phino, Shell Rotella brand manager, says all three grades of Gas Truck are formulated to provide unsurpassed wear protection in extreme conditions these vehicles face in extreme temperatures, hauling and towing.
"Like our Shell Rotella T-6 full-synthetic heavy duty diesel engine oils, Gas Truck is formulated with synthetic base stocks for added oxidation stability, improved volatility and low-temperature properties," she explains. "The 0W-20 and 5W-20 oils meet API SN PLUS and API SN-Resource Conserving ratings commonly recommended in many new vehicles with modern engine technology and maximum fuel economy, while the 5W-30 offering is recommended for use in vehicles requiring SAE 5W-30 grade motor oil under all driving conditions."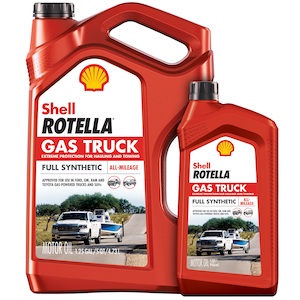 Gas Truck is formulated in three multi-weight versions to meet all new-vehicle warranty requirements and boasts extreme engine wear protection under severe operating conditions.
Shell's Global OEM Technical Manager, Dan Arcy, says changing warranty requirements spurred the development of the Gas Truck lineup and supplants the company's Shell Rotella T-6 Multi-Vehicle offering. That product was introduced several years ago to give fleet owners, farmers and ranchers a common family of related full-synthetic engine oils for their diesel and gasoline-powered vehicles.
As specific OEM warranty requirements changed as engine builders seek to boost fuel economy and performance, the new line of lubricants specifically designed for gasoline-powered vehicles became necessary, he explains.
"Our T-6 products were designed for mixed fleets, but new demands from OEM made it very difficult to cross over and meet the requirements with a single formulation," he says. "Gas Truck answers those challenges and makes Shell the first company to offer a full line of synthetics designed specifically for both diesel and gasoline-powered vehicles."
Specifically, Arcy explains diesel engine oils must carry sufficient dispersants to control the buildup of combustion byproducts found in compression ignition engines.
"Those dispersants are not necessary in cleaner-burning gasoline-powered engines, and they affect fuel economy requirements," he says. "That is why we developed a new line of engine oils specifically for gasoline fueled applications."
Gas Truck, available beginning in December and January, meets the following specifications and approvals:
API SN-Resource Conserving (also all previous categories)
API SN PLUS
ILSAC GF-5
Chrysler MS-6395
Ford WSS-M2C947-B1
GM dexos 1 Gen 2
Gas Truck will be available in 1 quart, 5 quart containers, and Ecobox (24-quart) containers in the U.S. and 5 litre containers in Canada.
Related Content
Shell Introduces New Stable of CK-4 Diesel Engine Oils
Two New Diesel Engine Oils Coming