It's deadline day for me, and I'm blogging from the passenger seat while cruising the Illinois countryside. Before my son, Drew, heads off to college, I enlisted him to drive me to St. Louis (for the Krone Annual Meeting) so I could keep productive during 12 hours in the truck. In between fast food trips, tapping his fingers to Lithium radio, and an occasional coming up for air from the keyboard, we talked about his recent internship (he moved back home Saturday) and future aspirations. (Well, I asked anyway.)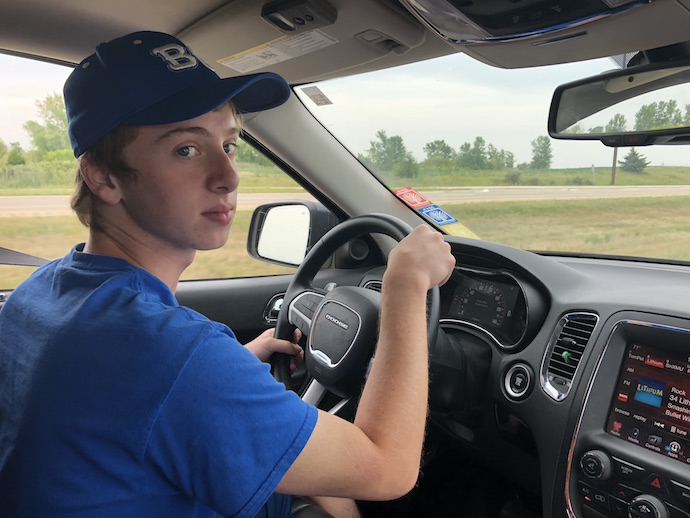 As my 18-year-old son Drew (pictured) took the wheel for our 6-hour drive today, succession planning again drifted into my blog-writing time.
Every now and again, I find myself inventorying my three sons, ages 18, 14 and 12. I occasionally wonder if they will develop an interest — and aptitude — to want to take my chair one day. And take the responsibility for the team and their families who invest their time in the cause here.
While at Farm Equipment's Dealership Minds Summit 2 weeks ago in Iowa City, I'd heard the leadership news about Hoober Inc., an 8-store Case IH dealer group in Pennsylvania, Delaware, Virginia, and Maryland. The 77-year-old dealer group announced it had "gone outside" for its next president and CEO. Rod Lefever, the brother-in-law of Chuck and Scott Hoober, held the role for 18 months, and expressed a desire to move out of that role.
Named to the president/CEO role is Don Mikes, who was a vice president at Penske Truck Rental & Leasing, where he oversaw a $1.6 billion rental business. Co-owner Chuck Hoober says the family's commitment to the business is as strong as ever and points out that several family members remain at both leadership and department levels. "We wanted to find the best person to take on the president role and Don impressed us with his passion, vision and understand of what helped Hoober become who we are today," he says.
A similar thing has been taking place with the largest of the dealers on the green side in Fargo, North Dakota. This spring, R.D. Offutt Co., which includes the 75-store RDO Equipment and several other entities in equipment, farming and food production, hired its first non-family CEO in Tim Curoe. Curoe was vice president at Target Co. (and previously, GE). Christi Offutt (daughter of founder, Ron) took on the role of CEO of R.D. Offutt Co. 3 years ago in addition to running RDO Equipment, where she's worked for 21 years and been CEO for the last 11.
 "As a family, we all agreed this was a great opportunity to bring in a non-family CEO, with new perspective and different experience, to lead our business through its next chapter," Christi says.
For RDO, I'd conclude that this move represents an evolved way of thinking, particularly since hard lessons were learned during the years it was publicly-owned and it "outrun its coverage" with outside managers. (See "Don't Fall for 'Shiny Shoes'" column). Now at a different point of time, with different experiences and different structures in place, they can entertain a route that had failed previously — and I'm sure they have a better idea of how to make it work as a result.
I asked our "People & Profits" columnist George Russell, founder of Machinery Advisors Consortium, for his take.
"This is wise," Russell says. "Going outside for a professional manager is a sign of organizational maturity and an indication of the scale of these businesses that allow them to attract outside professional managers with the capability to continue their growth."
There comes a time when a non-family leader is the right course. Many of you have shared several reasons with me before — including that next generation isn't ready or may not be capable.  To remain in that spot on the company life cycle bell curve where there's dynamic energy, innovation and re-invention, a disrupting force is needed to thwart stagnation. As ownership grays in our industry, it takes a confident, mature owner to know when to deploy a new field general.
The hardest part, I assume, is affording newcomers the room to do the job in a way different than what got the owners there to begin with. But just like few people could likely do what the founder and entrepreneur could do, few could also manage the growth and expansion.
What do you think?