More automation, improved operator comfort and upgraded feeding and durability on front end systems marks 2018's new-model year headlines for combine technology.
John Deere's S700 quadruplets highlight the new combine year with the S760, S770, S780 and S790 sporting the latest in "smart" technology to make efficient harvesting easier to obtain and maintain. The S700 Series differs from Deere's S600 combines introduced in 2012 by further embracing automated harvesting with many automatic harvest adjustments made on-the-go.
"We've enhanced the overall intelligence of these machines with automated adjustment and calibration tasks for both small and coarse grain," says Kevin Ripple, Deere's marketing manager for harvest. The four models of the new series feature John Deere's Combine Advisor package, which incorporates 7 technologies to help operators set and optimize harvest operations regardless of field and crop conditions. Part of that package includes the company's Auto Maintain function, which uses cameras to view into the tailings and clean grain elevators to enable the operator to analyze and maintain optimal threshing performance based on operator-set targets.
Another S700 feature automatically calibrates the mass flow sensor to enhance yield monitoring accuracy.
Ripple says the biggest physical difference seen in the S700 Series compared with its S600 predecessor is the upgraded cab and a new CommandCenter which provides a common user experience across Deere's larger tractor and self-propelled sprayer lines. Machine performance features of the CommandCenter include a fourth-generation interface and monitor; a multi-function control lever with improved ergonomic engineering and premium activation of AutoTrac, RowSense and HarvestDoc systems. Also, intuitive harvest run and set-up screens will give operators a much quicker set-up and start-up times.
The new cab features cloth or leather seats that swivel left and right for improved visibility, enhanced seat ventilation, improved seat cushions and additional grain tank mirrors.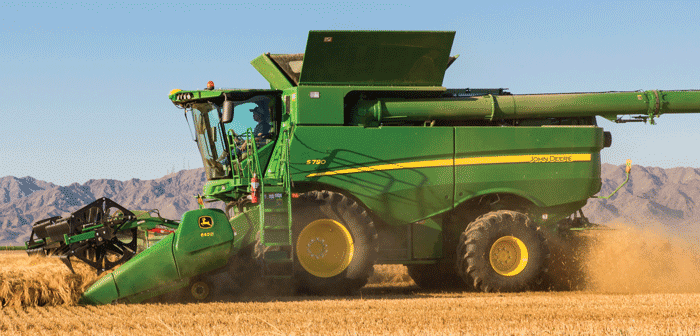 John Deere's model S700 combine series represents an upgrade in operator comfort and automated harvest activity over previous models. The S700 is being introduced with Deere's new 700C folding corn head and 700D rigid draper front end.
With the S700 Series combine, Deere also is introducing the 700C/FC folding corn head with its RowMax row unit. Brittney Guidarelli, manager for front-end equipment, says the RowMax provides up to 50% longer life for gathering chains and features solid-alloy bushings to reduce pin and bushing wear.
"We've also increased the life of the stalk rolls by up to 25% by using harder materials and adding a new wear coating on the front and trailing edges of the blades," she adds. "We calculate these changes will save operators up to $20,000 in maintenance over 5 years, compared with previous models."
For small grain producers, Deere is also launching the 700D Rigid Draper, which provides a 20% increase in capacity over previous models. The 700D features a top auger that's 50% larger in diameter than previous designs, and a new seal kit for the center section which cuts grain losses there by up to 45% in canola.

Case IH's 140 and 240 Axial-Flow combines sport factory installed telematics to make upgrading to Advanced Farm Systems precision technology less daunting. In addition to cab improvements Case IH is also offering an improved 3100 Series draper head.
In Milwaukee, Case IH is equipping its Axial-Flow 140 and 240 Series combines with factory-installed telematics capability for 2018 so operators can easily upgrade to the company's Advanced Farming Systems precision technology. The two-way file transfer and NTRIP capability eliminate the need for base stations to transmit RTK correction signals. Instead, signals can be received through the local cellular network by the system's on-board modem.
Both Series of Axial-Flow combines from Case IH will feature cloth or leather high-back seats for increased operator comfort, along with a factory outlet for plug-in cooler boxes.
For crop adaptability, the 240 Series features two new residue handling options to allow the operator to control the direction of combine residue from right to left to better spread residue the desired distance. The standard option includes a 24-blade chopper with spreader covers and cab-adjustable vertical spreaders. The optional MagnuCut chopper deluxe spreader features a 120-blade extra-fine cut chopper with window chute and cab-adjustable vertical spreaders.
Case IH also upgraded its 3100 Series draper header for 2018 by moving from a single to a double torsion block suspension system to boost support of the center flex arms and center knife drive gearbox. Also, a new reel cam is offered on 35, 40 and 45 foot draper heads.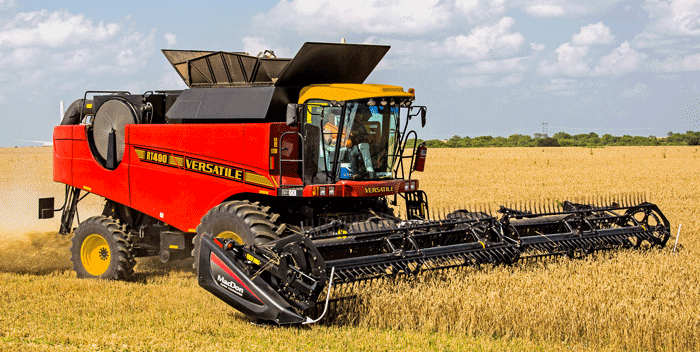 Versatile's RT490 Combine features an upgraded cab for improved operator comfort and function, along with a new rotor and chain-type feeder housing.
New developments from Versatile include upgrades to its RT490 combine which include an improved cab with operator creature comforts such as a new air-ride seat with console integration, a new joy-stick controller for major systems, video cameras for better operator visibility and improved in-cab temperature controls.
Functionally, the RT490 features a new rotor with modified intake wheels and staggered rasp bars, along with an improved chain-type feeder housing.