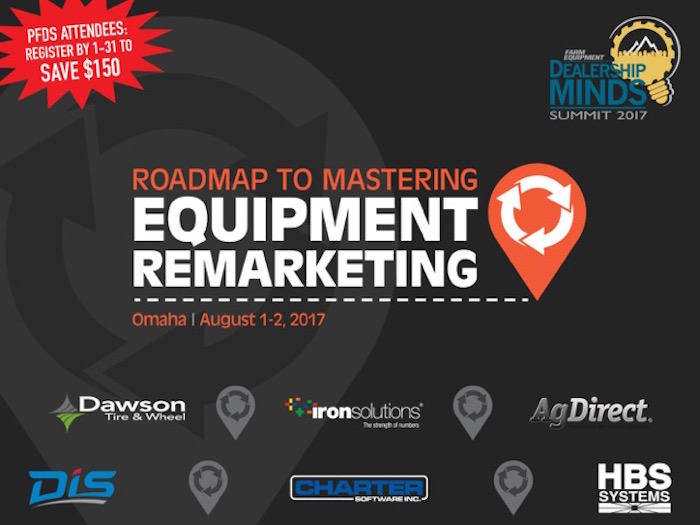 Those of you who were in St. Louis for last week's sold-out Precision Farming Dealer Summit (or following us online) heard the news. The Dealership Minds Summit is returning in 2017. 
The unique, dealers-only Dealership Minds Summit debuted 4 years ago and has been held every other year since, with the last in 2015. Based on continued feedback and dialog with you, we're bringing back the topic-specific model for the 2017. The need for best practices in used equipment marketing has been heard loud and clear on virtually every dealer survey in recent years. So, the official theme for the 2017 Dealership Minds Summit event, which is really 4 years in the making, is "Roadmap to Mastering Equipment Remarketing."
After extensive surveys on preferred venues and time of the year, our Event Team signed the contracts. The Summit will be held in Omaha, Neb., at the Embassy Suites/Marriott Courtyard's La Vista Hotel & Conference Center off I-80 (next to Cabela's). And also at your request, we're hosting it on Aug. 1-2 so that dealer-principals and sales/marketing staff can discuss and evaluate concepts and tactics prior to your dealer marketing's key planning and budgeting season.
Just as you've learned, confidence with new programs and packages that "land" with the customer is always boosted by first getting close to the customer and their specific needs. Our team is doing just that. Managing Editor Kim Schmidt is about to dive into the agenda and presenters, the Sales Team booked a half-dozen companies right out of the gate who wanted to invest in dealers' knowledge and support our content-first model, and the Marketing and Audience Development Teams are already connecting with the marketing-focused dealers who this event is perfect for.
Marketing and finding the right customer for a specific piece of equipment is everyone's job, and it remains the muscle behind the sale. All businesses today must develop and exercise that muscle differently than yesterday, particularly on those challenging trade pieces. And because you never build muscle mass without first putting it under some pressure, we're hosting this event for you. It's designed to give you the opportunity to "pressure-test" your own ideas of used equipment remarketing, while networking, sharing and learning from some of the industry's finest minds.
We're also betting on the fact that you can still teach some "old dogs" some new tricks.
Our company has hosted several national events per year for each of the last 24 years, and we learn something each time out. In fact, this "old dog" (well, at least compared to the millennials on our marketing team) saw the testing of a new technique last week that brought in 10 dealer registrations — before we even got back from St. Louis.
Hope you'll save the date — Aug. 1 and 2, 2017 — and consider joining us and your dealer peers in Omaha. A special pre-promotion and "Summit Alumni" discount is available online at www.dealershipmindsummit.com.
P.S. Is there a specific area you want your dealer peers to help you figure out? Contact Managing Editor Kim Schmidt (262/777-2431, kschmidt@lessitermedia.com) about the topics you most want to see on the program, and she'll use the Farm Equipment network (including the Dealership of the Year Alumni Group and the Editorial Advisory Board) to unearth who is having success (or made mistakes you can avoid). This week, Kim begins the process of following up on the phone researching and vetting out topics and presenters for this one-of-a-kind program.