Comparing Deere & Co.'s outlook for 2017 issued on Nov. 23 to that of USDA's issued earlier in the year, you would have to conclude that the world's largest manufacturer of farm equipment is a bit more optimistic about the year ahead than is the U.S. ag agency. Nonetheless, both forecasts are well down from the $404 billion in cash receipts and $136 billion in net cash income levels the industry achieved in 2013.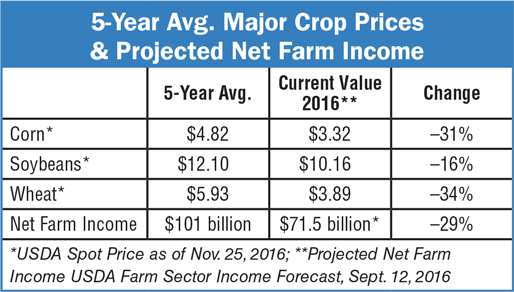 If nothing else, recent trends in commodity prices, while still weak, are somewhat improved compared to a year ago. Declines in ag equipment sales are also expected to moderate. During a call with analysts following its earnings report in late November, a Deere spokesperson said, "There are signs that the large ag market is nearing bottom as indicated by the fact that the decline expected in 2017 is less than we saw in 2016."
Crop Receipts Up?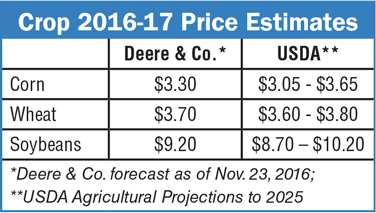 Based on USDA's most recent (Dec. 9, 2016) World Agricultural Supply and Demand Estimates, Michael Shlisky, analyst for Seaport Global Securities, expects major crop receipts to be up about 7%, but the firm's model suggests that total cash receipts will be down by 2% in calendar year 2016 followed by an incremental decline of 2% in 2017. Both Deere and USDA anticipate livestock receipts to decline in 2017: USDA down 3.6% and Deere down less than 2%.
Deere's spokesperson added, "Given the large crop harvests in 2015 and consequently lower commodity prices we are seeing today, our 2016 forecast calls for cash receipts to be down about 6% from 2015 levels. Moving to 2017, we expect total cash receipts to be approximately $367 billion, about the same as in 2016 as lower livestock cash receipts are offset by higher crop receipts."
Overall, Deere's forecast for 2016 calls for net cash income of $94 billion, increasing to $102 billion in 2017. Since issuing its long-term outlook earlier this year, USDA has since revised its forecast for net cash farm income for 2016 to nearly $90 billion. The agency's outlook for net cash income for 2017 has yet to be revised from its February 2016 forecast, which estimated it to be at that time $84.7 billion, nearly $15 billion below Deere's most recent forecast.
Deere's Year
For the year, Deere & Co. reported net sales of its worldwide equipment operations declined 9% vs. fiscal year 2015. Equipment net sales in the U.S. and Canada decreased 13% for the full year. Outside the U.S. and Canada, net sales increased 11% for the fourth quarter, but were down 3% for the full year. For fiscal 2017, the company is projecting equipment sales to decrease about 1% and about 4% for the first quarter of the year.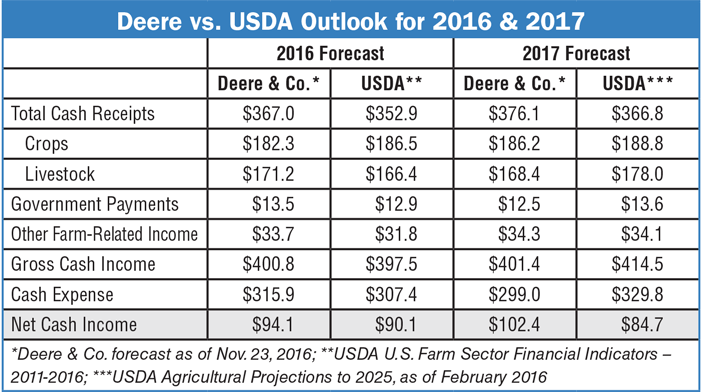 Ag and turf sales fell 5% for the quarter and 7% for the year due to lower shipment volumes. Deere's worldwide sales of agriculture and turf equipment are forecast to decrease by about 1% for fiscal year 2017. Industry sales for agricultural equipment in the U.S. and Canada are forecast to be down 5-10% for 2017. The decline, which reflects the continuing impact of low commodity prices and weak farm incomes, is expected to be felt in the sale of both large and small equipment, according to the company.
In a note to investors following Deere's earnings report, Mircea (Mig) Dobre, senior research analyst with RW Baird, remarked, "Guidance surprised to the upside — equipment sales guided flattish year-over-year after a 33% decline the past 3 years and net income guidance of $1.4 billion, 16% above consensus. Consistent with our recent upgrade, a large ag equipment bottom is in sight with profitability remaining remarkably resilient."
Will Ag Equipment Sales See a Bottom in 2017?
While some industry observers say they don't see any evidence that 2017 will produce a bottom to declining farm machinery sales, others believe the new year will be a turning point for the industry.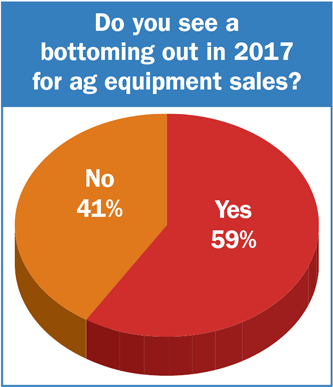 A Farm Equipment poll last month asking the question whether or not readers expected sales to finally hit bottom in 2017 indicated that 59% of those responding believe this will be the case, while 41% don't think so.
In a Nov. 29 note to investors, Mircea (Mig) Dobre, senior research analyst with RW Baird, believes an end to the 3-year decline is in sight. "Our view is that a bottom in 2017 appears likely as North American large ag equipment volumes are approaching prior cyclical bottoms, high horsepower equipment sales/planted acres are near 40 year lows, large ag new equipment inventories have destocked near historical lows and while auction used equipment prices are still pressured, deterioration is nowhere near 2013-15 as selling conditions seem to be improving into 2017."
The Baird analyst thinks our neighbors to the north could play a pivotal role in such a scenario. "Canada is often overlooked in the North American ag discussion, upside here appears possible: Canada large ag (about 20% of North America volume) looks to be stabilizing, 2017 early order programs and dealer sentiment are looking better than [the] U.S., this market could grow in 2017."
Dobre also points to the ag backlog being flat for the first time since FY13. This he calls a "big deal."
He explains, "Backlog stabilization is not only an indicator for demand but it is an indicator for future margin potential as production levels stabilize."