---
Photo Above: This 2013 Case IH 1250 sold for $59,000 on Aug. 1 at a farm auction in southwest Iowa.
It's been the softest spot in the used farm equipment market for the past couple years. I'm referencing late-model, large used planters — specifically 24-, 36- and 48-row models. It's no big secret here, as we all know it's been tough finding the second buyer on traded-in models that are a few years old. Hence, they've been stacking up on dealer lots all over.
While it's certainly not fun in any sense to see what these used planters have been selling for "hard cash" on the auction market lately, as always, it's imperative to pay attention to these actual values. Not doing so can result in some costly mistakes.
Used values on big ticket items have been susceptible to rapid drops lately. For example, in August and September 2014, I saw auction prices dive 15-25% across the board.
While auction sale prices have solidified and found some footing in the used combine and 4WD tractor sectors in 2015, it's not so with large used planters.
John Deere 1770s are a good example. There's similar value erosion (18% drop) on average auction sale price for 24-row John Deere 1770 planters. Here's the scoop:

 
Of course we need to consider that average auction prices account for a very wide range of configurations and also the large number of years John Deere made the model 1770 planter. However, we see so many 24-row 1770 models sold at auction that the statistical data is relevant. And there's consistency in the data with the consecutive years showing an 18% drop in value.
Editor's Note: Feel free to leave a comment below with any questions or feedback you have on this column. We'd also like to hear if there are any topic ideas you'd like us to pursue in  future installments.
But, as always, I prefer to look at the actual hard cash auction price data on individual items sold. Check out the accompanying data table of recent auction prices on 24-row, 30 inch used planters. I've included a few key bits of info that can and do affect used values. (Jump to table)
First, at what type of auction did the planter sell? Note in the data table that only 9 of the 27 listed examples sold at "farm" auctions (retirement or estate sales). The other two thirds sold at "wholesale" auctions (online, dealer or consignment auctions). That high of a percentage sold on wholesale auctions is simply a reflection of the excess late model used issues on dealer lots.
Another key bit of information is the date sold. I know there was a definite feeling of off-season buyer/bidder pull back at the August 1, 2015, farm estate auction I covered in southwest Iowa where the 2013 Case IH 1250 24R-30 planter, shown in the table, sold for only $59,000. That's a soft price. It was very clean with 2 years of use, loaded, row command and more. But still, it only went for $59,000.
What has been much stronger in terms of used planter values have been 12-row models. An example: 2011 model John Deere 1770 12R-30 planter with liquid fertilizer, used on a 1,000 acres, sold for $81,000 at a farm auction April 7, 2015 in northeast Iowa. Again, note what type of auction that was (farm) and when the sale was (April 7, buyers looking for planter).    
What I've been trying to stress to our farm audience is the opportunity in the current used planter market going forward. It's a great time to be thinking about upgrading into a late–model, used 24-, 36- or 48-row planter. I have told them, "Keep your eyes wide open. Even if you hadn't been shopping, do yourself a favor and take a look."
Will the large used planter market find "footing" late in 2015 into 2016? Stay tuned.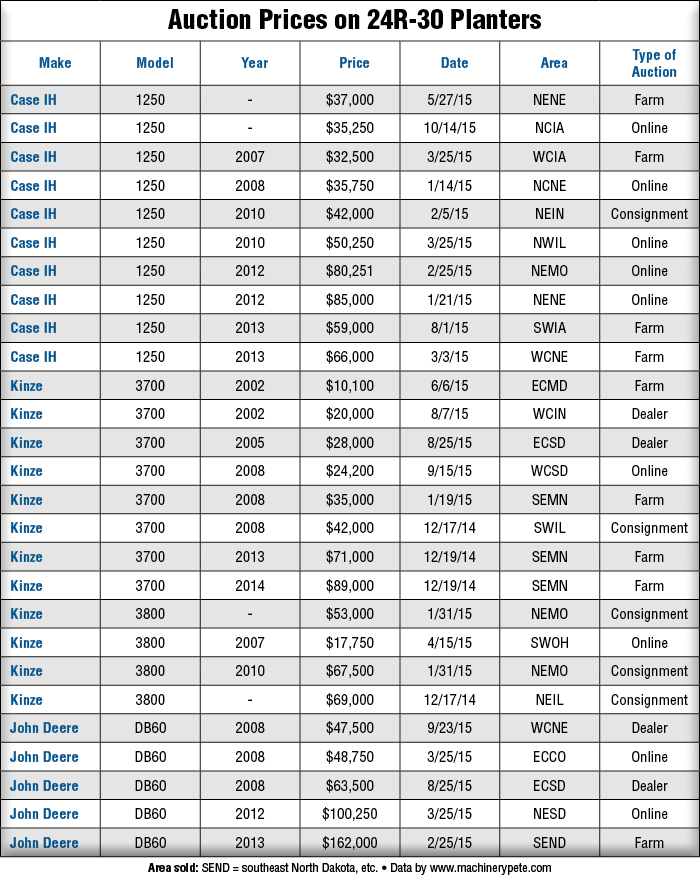 Leave a comment in the field below with your feedback and questions and any topic ideas you'd like us to pursue in future installments.