If you only look at the unit sales for big farm equipment, it would be hard to get too excited about the current state of ag machinery business. But plowing through the dealer commentary from this month's "Dealer Sentiments & Business Conditions Update" survey, it's interesting how many dealers had some pretty positive things to say. 
Maybe the most interesting take on current sales levels was offered by a dealer who compared his equipment deliveries a year ago to what he's seeing now. "This downturn is more pronounced in the YOY numbers because of the big presell deliveries that we had in March 2014."
Another sees the recent pick up in dairy prices as good reason to be optimistic. "Even with such a great year last year, the outlook is still good. The milk prices are creeping up slowly so our farmers will sustain this year also. We have found many of our customers were adding buildings last year, so machinery sales should remain steady."
A couple of other dealers are seeing strong sales of specific types of equipment. One offered, "We cannot keep our vertical tillage equipment in stock — selling everything we can get our hands on." Another talked about good sprayer sales. "Application equipment was also strong this month." 
At the same time, many dealers remain unsure of what the near-term holds, in large part because their customers are still wrestling with low grain prices and what they're going to do. As one dealer explains, "Lots of uncertainty in our area about what can be planted profitably. There has been lots of equipment sold over the last few years, so guys can get by. There is still money out there if there is a good deal, but farmers can be patient. We need moisture here to have a decent hay season."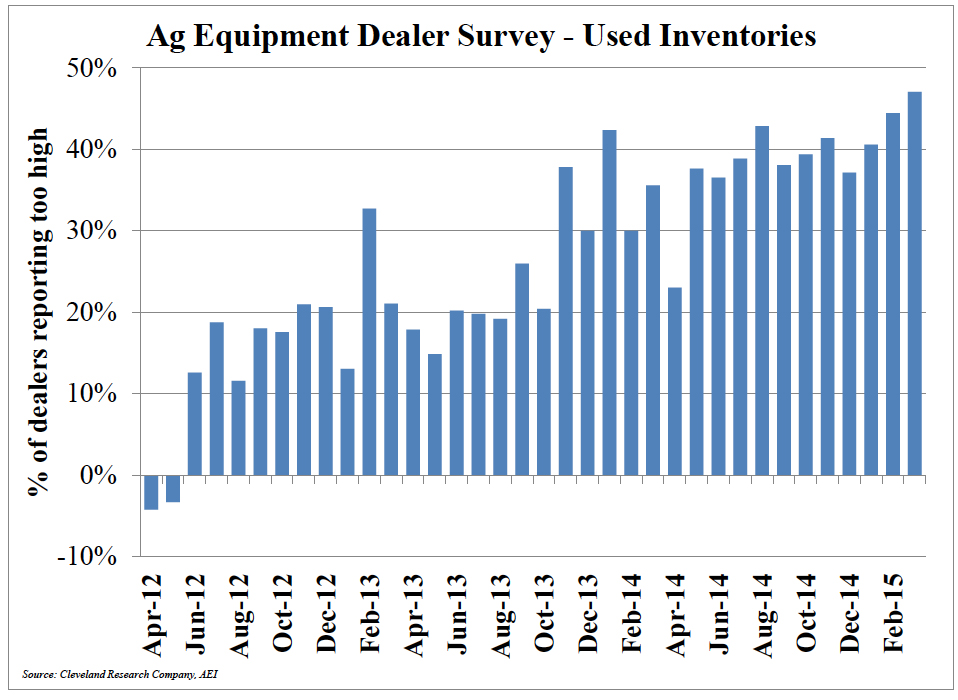 Another adds, "I think that we have gotten off to a very good start, but I do not think that we can maintain the pace." And, as usual, the weather will have a lot to say about how things go. This dealer's comment reflected much of what we're hearing these days. "Hard to tell with early spring sales. If it dries out earlier, business will decline. If it continues to rain, we could have an outstanding year."
But if there's one thing with which most dealers are most concerned and are absolutely certain about, it's the ongoing backlog of used equipment. It is now approaching 3 years since dealers began reporting that used equipment inventories were "too high."
In fact, a net 47% of dealers reported in our most recent survey that used equipment inventory was "too high." This is higher then net 44% of the previous month and is the highest in our survey history. It goes without saying what the overabundance of used machinery is doing to equipment prices.
Whatever it takes, we need to bring equipment supply into balance with equipment demand. It's not a simple, but a necessary challenge.