Originally published in 2014 as part of the Dealership Minds series
Rick Rusin, used equipment remarketer and salesman working out of CVE's Berlin, Vt., store, hasn't quite had a year under his belt in the equipment business. Yet this seasoned sales professional (23 years in insurance sales and 10 at a mid-box retailer) who is approaching an age where he can consider retirement is proof that "attitude and desire are more important than one's starting knowledge," says Brian Carpenter, owner.
Rusin, who jokes that he now understands the difference between rakes and tedders, dove into his new sales career with the vigor of one decades his junior. In fact, he earned the endearing nickname of "Google" from Berlin store manager Tom Wood. While he was new to tractors and had nearly no base of knowledge, he was constantly looking things up online to advance his learning, recalls Wood.
On the sales side, he's also proved that trust and confidence — what the customer is often really buying — doesn't have to come only through knowledge of tractor specs. In less than a year, the goal-oriented Rusin came very close to his goal of 100 units moved, though he admits his self-set revenue goal will take him another year to reach.
He's knocked around the business world long enough to know a good thing when he's found it. And because of his experience and organizational skills, he's already contributing to support functions at the same time that he hones the ins and outs of the 20-plus different brands that CVE carries.
---
Rick Rusin
Used Equipment Remarketer & Salesperson 
Years with Organization: 4 - joined CVE in February 2013 after 23 years with MetLife and 10 at Sears, where he'd been assistant store manager.
Role: Operating out of the Berlin store, he spends 75% of his time as a salesman, while also providing sales support functions, including administration and communications with the entire company's used inventory and current pricing. He also executes the IronSearch listings and Facebook and Craig's List updating.
---
That evolution started with an error in marketing that Rusin jumped in to fix so others could work on revenue generation. From there, management tapped his skills to oversee the used inventory data for the company, which is distributed twice a week so all salespeople have transparent information to help move the cash-tying used.
Disseminating Used Equipment Data
The most vital aspect of Rusin's job is collecting and disseminating the used equipment information to the company.
The process was borne 16 years earlier, after Carpenter's study of auto industry techniques. He created a process to make sure CVE salesmen knew everything that was on hand and its price. When CVE was a 1- and later a 2-store dealership, Carpenter personally compiled and distributed the information monthly, but it needed greater attention and frequency as the business grew.
Rusin has since picked up this important responsibility, and the communications have evolved to a more user-friendly spreadsheet tool that is distributed twice per week. Rusin now gives the entire company a precise document — easily printed into no more than 3 pages — that the salespeople can carry out on the lot with them and use it as an accurate "cheat sheet" in every customer conversation.
"We have quality communications on what's here for the used and at what price we're selling it," says Carpenter. "The cash is all in the used equipment, so quality communications are the key to getting our turns up."
How It Works
"If someone takes in a trade this morning," says Rusin, "I'll get an email of the pictures, description, condition and price from Derek Gregorek, inventory manager. It'll be on the website the same day and on the next used sheet that week."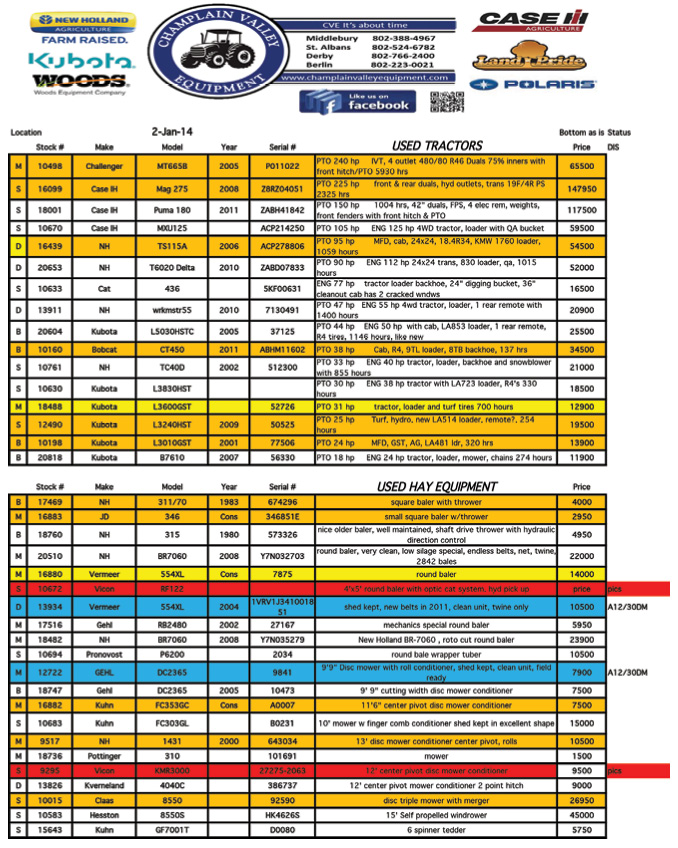 Rick Rusin distributes this spreadsheet throughout the company twice a week, detailing all the used equipment inventory specifics across all locations and the established pricing. Colored fields alert the sales team to key information, including price changes. Turns improved by 3-plus in 2013.
The spreadsheet (see image above) lists the store location, make/model/year, serial number, stock number, description and is organized by tractors, skid steers, lawn and garden, hay, forage, tillage, miscellaneous and attachments. Colored fields alert the sales team to whether the unit is on consignment (yellow), on hold/reserve/sold (blue), information is lacking (red) or there's been price a change (orange).
Prices are set throughout all regions we cover, says Rusin. "If a customer is looking for something, I and everyone else, know what each other store has available. And the price — that's the price for you, your next door neighbor and your cousin.
"They run all the numbers, give a fair trade and look for fair market value in return. That doesn't mean we never change prices because you can see all the orange — the price changes — on the spreadsheet. But when I get at phone call about setting a new price, it's entered into this spreadsheet and everyone learns of it on the next distribution date. It doesn't make sense for any of us to work against each other with different pricing."
There's an inherent accountability with this landing on Rusin's desk, too. In addition to his verification against the DIS system to ensure a sale went through, he routinely asks questions about specific units, why pictures or descriptions are lacking on a unit, why a unit is not on the list, and whether something needs fixing to make it saleable again.
Carpenter adds that the system is only as good as the participation of the salesmen and the information provided, but that Rusin has figured out a way to help police it.
With reports distributed twice-a-week, it's known when a recently traded item is missing. That keeps Rusin's email account busy on Mondays and Thursdays. "I know it's worth something to the salesmen if these guys are sending me the stuff right away to make sure it's on the next list."
The Successful Equipment Remarketing Strategies series highlights the best practice strategies employed by top farm equipment dealers to promote and sell used equipment. It is brought to you courtesy of Iron Solutions.
At Iron Solutions, we are the trusted managers of equipment and agronomic lifecycle data for the crop production marketplace. The actionable intelligence we provide through IRON Search and our IRON Guides drives profitability. Learn more...
Perhaps the biggest attribute you want in a champion is personal and steadfast belief in the cause. Rusin knows how critical it is to the financial health of the company. "As soon as something comes in, I want it — I need it — on our list," he says.
Carpenter adds, "In a consumer-oriented business with fast-moving products, everyone needs to know what price to sell at. For our business, when 80% of all our new and used unit sales are in that 100 horsepower-and-under category, these sheets are very handy to our success." Turns have moved from an average of 2-2.5 to above 3 in 2013.
The system keeps it fresh in the salesperson's mind and creates some urgency, says Carpenter. "There's also pride of not seeing your trades languish on our used list, so a salesman may work a little harder to wash his trades."
Personal Sales Approach
Spend a few minutes with Rusin, and it's clear that he possesses strong opinions on a number of subjects. Among them are honesty, fairness and team play — in other words, not operating only for personal gain.
Because he observed questionable practices elsewhere, Rusin says he knows how special CVE is. "I love to work for a place that appreciates good honest work. I'm working with a group that's trying to accomplish a goal and succeed. We're all on pretty much the same page; that's a concept you don't find in a lot of businesses these days, especially the bigger ones."
As for the idea of salespeople and team play — which can be an oxymoron in some organizations — he points to the CVE's simple "percent of cash difference" compensation plan and systems and how neither are predicated on an individual laying claim to his own trade. "I don't care if I sell it or not. If I bring it in and Alonzo or Tom sells it, great.
"Otherwise, it's like me saying I want to personally sell all those tractors lined up out there — it makes no sense. We're going to get it posted, complete the transaction and get the dollars put back into the company as soon as possible."
He admits that he'll lose some opportunities when he needs to direct a customer to another store who has the inventory. But Rusin believes that if he works in that customer's best interest and instills trust and confidence, they'll be back to see him 90% of the time. Because he doesn't have an advanced knowledge base of the equipment, he delivers those intangibles in unique ways.
For example, when he was with MetLife, Rusin stopped wearing a watch because he didn't want to be caught looking at it when focused on customers. He also learned not to schedule too many appointments so he could devote more time to each. This style of listening, patience and service, he finds, ultimately rewards him with the business.
"To succeed in sales, the biggest thing is to pay attention to the customer. You need to listen to what they're telling you. You need to ask probing questions to uncover their needs because they don't even know themselves sometimes. One of my favorite things is to get to whether they're paying cash or financing, and what their budget is."
Hustle Still Works
As an example of bringing additional value and service, he shared a recent tractor sale he landed solely because he went the extra mile securing financing from the local bank. What he did is available to every dealership, but one that more complacent dealers won't always apply.
A customer in his mid-70s came in to see him in search of an aftermarket cab for his 4-year-old tractor. After unearthing the customer's real aims, he convinced the customer that he needed a heavier machine and that, at his age, he deserved air conditioning and heat, too. The customer had been shopping around and the other colored dealers were offering the same kind of trade on his tractor and the new cabbed unit. He told Rusin the $400 a month payments were going to be too high — he couldn't afford that — but maybe he could afford $200.
"If the customer is considering financing, you can explain a finance rate for a used machine at 6% and financing on a new at 0% for 48 months and the monthly payments are very close. When you factor the years of warranty they'll get on the new machine, a lot of people will eventually go new."
Salesmanship was part of the story on this sale, of course. The customer said "I can't believe I'm considering this; I'll be paying for the tractor long after I'm dead." Rusin countered that "You deserve it, it's going to last — and your heirs are going to get a hell of a nice tractor."
But the only reason the $43,000 deal went through, says Rusin, was "I got him a loan for $201 per month through the local bank for 15 years." The other brand's local dealers, he was told, said, "No, that's the price" and never went to the effort of seeking alternatives beyond the manufacturer's finance program.
Rusin says this level of customer service requires the salesman wiping their mind clear of how much they'll make on a deal. "I never think about that until I enter it and it's a done deal. The focus needs to be on getting the right fit for the right price and getting both units sold. When the customer leaves here, he should be happy with CVE. And hopefully remember my name too."