The Successful Equipment Remarketing Strategies series highlights the best practice strategies employed by top farm equipment dealers to promote and sell used equipment. It is brought to you courtesy of Iron Solutions.
At Iron Solutions, we are the trusted managers of equipment and agronomic lifecycle data for the crop production marketplace. The actionable intelligence we provide through IRON Search and our IRON Guides drives profitability. Learn more...
Turning their used equipment inventory quickly has always been a focus for Plains Ag, a 10-store Case IH dealership in North Dakota, but over the last 2 years they've put even more emphasis on. "Our primary focus is reducing inventory over 365 days. It's always been a focus, but before it was just something in the back of your mind. Now, it's part of every sales meeting, every manager meeting, every phone call, conversation, whatever — aged inventory, aged inventory, aged inventory," says Scott Grundstad, director of sales for used and new CNH products at Plains Ag.
And that new focus is working. Grundstad says their aged used inventory is coming down. The dealership's goal is to get aged inventory to be less than 10% of their total inventory. "We're not quite there yet, but we're making some progress," he says.
Making Changes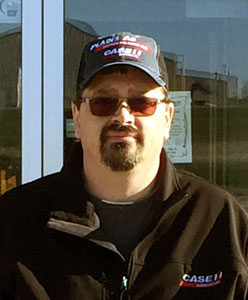 Scott Grundstad, director of sales for used and new CNH products at Plains Ag
Plains Ag has made some adjustments to its sales approach to get used equipment moving. First, the dealership has changed its commission structure to focus primarily on used equipment. "The salespeople get paid a higher percentage of the profit if they sell something used or if they sell a new unit without taking a trade," explains Grundstad. The dealership has also added quarterly incentives based strictly on aged units. The top 3 salespeople by dollar sales every 3 months get a spiff. The top 3 salespeople for unit sales are also rewarded. "Some of our stores will sell a lot of high horsepower equipment and others don't; they'll sell smaller items but we still want to incentivize those people to get rid of 10 Bobcat buckets or those type of units as well. So we incentivize both dollars and quantity," he says.
The other big change was shifting the responsibility of approving trades to one person — Grundstad. Having one person handle all the trades has helped Plains Ag to become much more consistent. "I don't have any skin in the game. I'm not the store manager, so I look at it basically based upon what we could sell it for, and then I have more time to sit and research each individual piece. Plus I have a database now after a year that keeps growing of what we've approved a unit for in the past and what we sold it for," he says. Before he took over in this role, trades and the record keeping was done on a store-to-store basis.
"Having somebody who can look at everything and then having a consistent place to look for it and keeping records is probably helped us the most."
Along with approving and setting the value for the trades, Grundstad also reviews all the dealerships used equipment prices each month and adjusts them as needed. "The first thing I look at is did we sell anything similar to this piece since we took it in on trade because we start looking at the unit after it's been here for 2 months and we start making adjustments at that point," he says. "I have a list of everything based on the month it came in, so I start with the 2-month-old stuff and then I look at my database of trade approvals and try to compare it to something I either recently approved or something we sold. Then I use that to help determine the new value."
Over the last year, Plains Ag has preached cash over margin. "What will someone write us a check for? That's the most important thing. Previously, we'd say, 'Here's our cost, we want to make x-margin, so here's the cash. We worked from the bottom up. We've changed that to work from the cash down. The most important thing is what somebody will pay for it," Grundstad says.
Streamlining the Process
Plains Ag recently switched to using Iron HQ as its customer management system, which has helped improve how Grundstad values equipment. "Before, we were using cost worksheets in an Excel document that allowed us to enter the cost, plug in our profit margin and it gave us the cash," he explains. "When we switched to working from the cash down, we realized the worksheets were a bit backward. It's hard to get salespeople — or anyone really — to the point where they're willing to lose money on something. We needed to get the cost out of the equation. At a certain point you just need it gone and you need the cash."
Included in Iron HQ are Iron Solutions Real-Time Guides, which is one of many resources Grundstad uses in valuing equipment. Other sources he uses include Ritchie Brothers, TractorHouse, Market Trend, Iron Connect, Fast Track Iron, Big Iron and other local dealerships. "Each one is weighted a little differently. Obviously the first thing I look at is if I approved one like this recently and what did it sell for. That carries the most weight," Grundstad says. "If it's almost exactly the same and it's only been a couple months, then I don't spend much time looking anywhere else because I know what we've sold it for."
One step Grundstad has added to the process is a trade appraisal spreadsheet that includes names of potential buyers for the trade. "If there's no names on the sheet, that affects the value of the trade as opposed to if it had three or four names on it." In addition to the appraisal sheet, the salesperson supplies Grundstad with pictures of the unit. "Iron HQ has helped because in each quote there's a box for the salesperson to click that indicates it needs a trade approval. The minute they click that, I get an email. So then I'll go into the quote, do my research and there are two choices for me at that point," he says. "If I make a change, I check a box that says 'Trade approved as adjusted,' and I type in a description of why I adjusted and send it back. If I think the valuations are good, I just hit 'Trade as approved.' The trade always gets approved, but we may adjust the values."
When a salesperson doesn't agree with Grundstad and thinks they should put more into a trade, they have the option of calling him and giving their reasons why they feel their value is correct. The easiest way for them to get the value to their number, is to presell the trade. If the trade is presold, they don't have to go through the approval process.  
All the changes the dealership has put in place are helping it to reduce their aged used equipment inventory, but the works not done, Grundstad says. "We need to continue to work the system. That's the biggest thing. We need to stay consistent with the system. And when we get our inventory to the level we want, we need to still stay consistent with the system."