Fontaine Heavy-Haul is expanding its product line to include a new model focused on the needs of the agriculture industry - the Fontaine Renegade AG.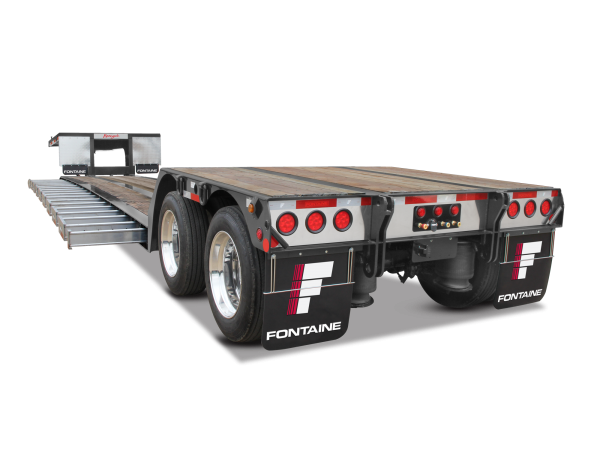 When it comes to lowbed trailers, "low deck height" and "light weight" were thought to be mutually exclusive. Not any more. Fontaine has developed a light and low, aluminum pullout outrigger trailer. The trailer has a loaded deck height of only 16 inches, and a concentrated load rating of 35 tons in 16 feet. Weighing in at only 17,700 pounds fully equipped, this trailer is ready to haul even the most difficult loads.
The patent-pending aluminum pullouts deploy and stow with ease. They are rated at 7,500 pounds each when fully extended to 30 inches on both sides of the trailer deck. Stainless steel locking hardware resists corrosion for better performance and greater durability. The Renegade AG is available in both mechanical and hydraulic gooseneck models. Built with versatility in mind, connections for air, electrical and a flip axle are standard on both models. The Renegade AG is ideal for moving heavy, wide and tall equipment.
Fontaine Heavy-Haul is the business unit of Fontaine Trailer that is focused on supporting lowbed and extendable trailer customers. Fontaine is the largest platform trailer manufacturer in the world producing a complete line of aluminum, steel and composite trailers for the flatbed, dropdeck, heavy-haul and military markets.  For more information contact Dan Rosen, Fontaine Heavy-Haul, 5398 US Highway 11, Springville, AL 35146, 205-467-6171, http://www.fontaineheavyhaul.com.