John Deere is rolling out fourteen new 7R and 8R Tractor models from 210 to 370 engine horsepower for 2014.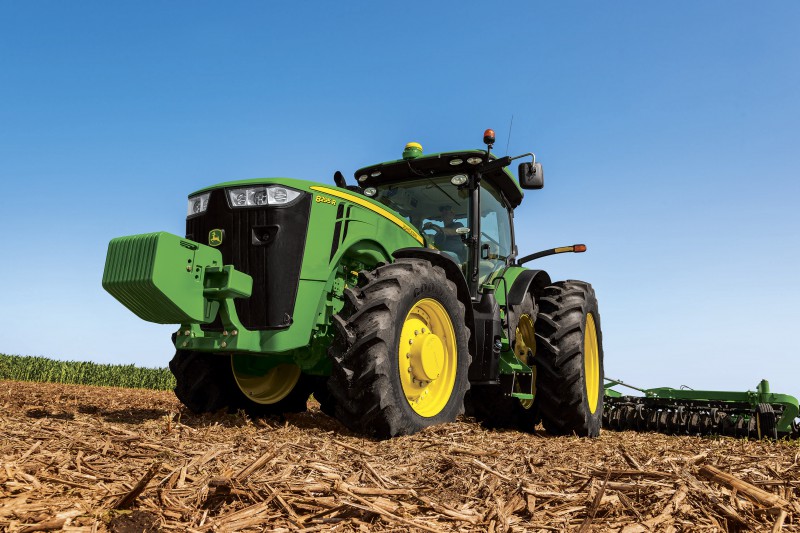 7R Series
Along with a new engine that meets Final Tier 4 emissions requirements and the e23 Power Shift Transmission, the new 7R Tractors provide customers with more power, performance and greater comfort and control.
Powered by either a 6.8L or 9.0L PowerTechTM PSS engine with John Deere's efficient selective catalytic reduction system, the new 7R Tractors boost 10 to 20 more horsepower and more torque than previous models.
All models utilize a high-pressure common rail fuel system and series turbochargers that improve total fluid efficiency while effectively reducing emissions. Fuel capacities range from 125 to 143 gallons, depending on model and transmission options, with DEF storage capacity of 6.8 gallons.
Transmission options on the new 7R Tractors include CommandQuad Eco, which is available on the 7210R and 7230R models, and the new e23 Power Shift Transmission with Efficiency Manager, standard on all five 7R models. The e23 PST has 23 equally spaced forward gears and 11 reverse gears that enable the efficiency advantages of an infinitely variable-speed transmission with the smoothness and simplicity of a powershift. The Efficiency Manager feature optimizes fluid economy during field operations and transport. IVT is also available for all 7R models.
Jarrod McGinnis, division marketing manager for John Deere, says the new FT4 engine and the transmission options help the 7R Series Tractors offer greater productivity and value to customers. "These new machines are more fluid efficient and offer increased horsepower for exceptional engine, hydraulic and PTO performance that many customers want in a highly versatile row-crop tractor."
In addition, the new 7R Tractors have many features in common with their larger new 8R cousins, including the redesigned CommandARM with improved ergonomics and more intuitive control of major tractor functions such as throttle, AutoTrac resume button, transmission speed and direction, SCVs, PTO and hitch. Depending on the model, the CommandARM comes with a 7-inch 4100 CommandCenter Display or a 10-inch 4600 CommandCenter Display. Both are AutoTrac capable and feature an easier-to-use operator interface. The CommandCenter Display puts machine operation information and control at the fingertips of the operator.
"With factory-installed John Deere FarmSight components and other integrated technologies, the 7R Tractors deliver a premium operator experience along with superior performance in the field," says McGinnis. "The remote machine information systems provide off-site dealer diagnostic capabilities and help reduce downtime and operational costs."
All 7R Series Tractors have the roomy CommandView III cab that is quieter due to a laminated front windshield that dampens outside noise. The cab features an operator's seat that swivels 40-degrees right for easier viewing of rear implements. Other options include the convenience of an in-cab refrigerator and LED lighting package that provides 40 percent greater illumination compared to HID lights.
"These new 7R Tractors are designed to handle a wide variety of chores on the farm and ranch because of their power range and customer-demanded features," McGinnis concludes. "These tractors push productivity and comfort to a higher level to provide greater value to our customers."
8R Series
The new 8R/8RT Series Tractors feature a new CommandARMTM and a Generation 4 CommandCenterTM with 10-inch display, along with other cab improvements that enhance operator comfort and convenience. Additional new options include LED lights, larger wheels/tires, and increased hydraulic capabilities.
"We've increased the engine horsepower ratings of all the new 8R models and boosted the max hydraulic flow capacity by 41 percent to 85 gallons per minute. This 8R option allows customers to operate at reduced engine speed while handling larger implements such as planters that require high, constant flow rates," McGinnis says.
"And all tractors have the opportunity to be equipped with Intelligent Power Management, which increases power and torque to maximize performance. In fact, with Intelligent Power Management on the 8370R Tractor, customers can boost engine performance to 405 horsepower."
The new 8R Tractors are available with either 16-speed Power Shift or an IVT transmission. The 8345R, 8370R and all three track models feature the IVT as standard equipment. In addition, Group 49 rear tires are available on all wheel models which improves traction, increases load-carrying capacity, and reduces soil compaction in the field because of a larger tire footprint.
Another important new feature that customers will see on the new 8R/8RT Tractors is a completely redesigned CommandARM with improved ergonomics and integration of intuitive controls for the major tractor functions such as AutoTracTM resume, throttle, transmission, SCVs, PTO and hitch. The CommandARM comes with a 10-inch 4600 CommandCenter Display that swivels with the operator and can be equipped with GreenStarTM software such as AutoTrac. The 4600 CommandCenter Display has 800 x 600 DPI resolution, one USB port, four video inputs, and has 32 GB of memory.
"The new CommandARM with the CommandCenter Display adds greatly to the improved operator control and comfort of the new 8R and 8RT Tractors. The new display is easy to use and operators can customize the pages to view the functions that are most important," McGinnis adds. "It comes standard as a touch- screen display with video-streaming capabilities for remote cameras that could be attached to planters or other implements."
Other changes include a new CommandView III Cab with a 40-degree right-hand swivel operator's seat, which gives operators a more comfortable unrestricted view to the rear of the tractor and implements. Other features include choice of optional ActiveSeat or Active Hydro-pneumatic Cab Suspension Plus, the cab suspension system that automatically adjusts ride quality based on terrain and
operator preference. New 8R's also come with an optional refrigerator to the left of the operator's seat.
"We've designed the new CommandView III Cab with laminated glass, a strategically placed insulation barrier, and an optional carpet floor mat to reduce noise and vibrations. Other enhancements include additional sunshades, window wipers, and improved key location, which are complemented by the swivel seat to make it a quieter and more comfortable work environment," he says.
For customers wanting a track tractor, the 8RT models provide a highly versatile track platform with configuration options capable of meeting a wide variety of operations and row spacings. These new track tractors are enhanced with the same engine, cab, control and technology features highlighted with the wheel models. Both the 8Rs and 8RTs come with JDLink and John Deere FarmsightTM capabilities for improved visibility to operational and machine data via Wireless Data Transfer and Remote Display Access.
"The new 8R family of tractors provides the industry's most advanced performance, power, comfort and technology features available in the 245 to 370 horsepower range," McGinnis concludes. "With the selection of horsepower and optional features available, these 8R / 8RT tractors will fit a wide variety of farming operations and provide years of reliable service in the field."