It's a common complaint heard from dealers across North America, "I can't find good techs." However, finding the right sales team can be just as challenging, and is just as important. Keep in mind, the quality of the sales team starts with the quality of the sales management. The better the management, the better the sales team.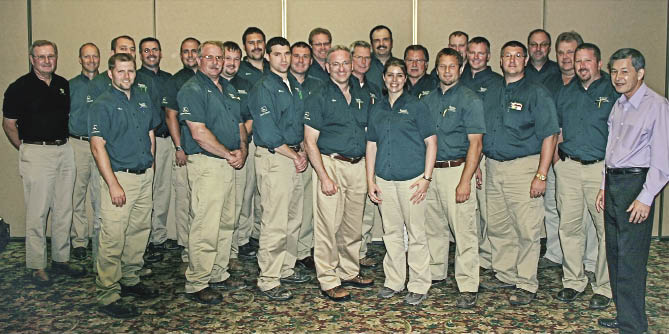 The sales team from Riesterer & Schnell, a multi-store Deere dealership in Wisconsin, recently graduated from Sales Academy Inc.'s International Ag University. This is a 3-year sales training program consisting of three 2-day classes each year for 3 years. The program develops salespeople to become ag equipment consultants. Photo courtesy of Sales Academy Inc.
In a conversation about employee recruitment with a Farm Equipment editor a few years back, Mark Foster, ag division manager for Birkey's Farm Stores, mentioned that good salespeople are just as difficult to come by as service technicians. "When you lose a good one, they're tough to replace. So we go out and actively recruit them. Several of our salesmen have college degrees. Years ago, this would have never been the case. We like to look at people who are competitive by nature," he says.
Foster, a former basketball coach, believes athletes make good high-performing salespeople. Characteristics like competitiveness and being highly motivated and driven are common among athletes and are key to a high-performing salesperson.
In years past, a farm background was one of the most important requirements dealers looked for in their salespeople. "It used to be that you hired a guy and he had to come from the farm. That was the best attribute to be a new salesperson. He's got to have a farming background; he's got to have that experience. That's not necessarily true today," says Floyd Jerkins, president and project director, Jerkins Creative Consulting.
"I do think a farm background is still in the top eight or nine skill sets that are needed, but it's not in the top five. I believe some business background and some management background are two attributes that really play well. Dealers today are finding out that we can train sales candidates on the industry if they've got the core competencies. It's easier to train people how to understand application of machinery than it is to train them how to smile at a customer," says Jerkins.
Hiring on Attitude
Today, attitude and communication skills can take you a long way with a salesperson. As Cory Hayes, director of education, SouthWestern Assn., explains, the first thing a dealer should be looking for in a new salesperson is attitude. "Hire on attitude; train for aptitude is the key more than ever before. A person's flexibility to learn and adjust is very important," he says.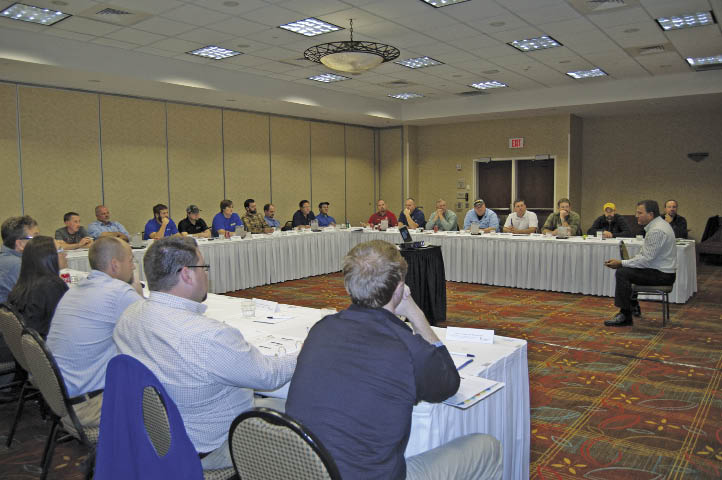 Students listen attentively during one of Jerkins Creative Consulting's 2-day courses. JCC offers classroom, online and onsite training.
Hiring for attitude is important because it is something you won't be able to train for down the road. Jerkins points to an example he hears from dealers a lot — they need their people to smile more. He says while there is some training that can be done, it most likely won't solve the problem because you can't train someone to be happy.
"If they're not happy already, or they're not happy to service customers, that's not a training issue, it's an attitude issue," Jerkins says. "And attitude is the most difficult thing to change or improve upon because you're dealing with the psychology of it and the emotional term somebody may have experienced, so being customer-friendly is a huge piece to the puzzle today. You need to hire it from the start and not try to fix it later."
Along the same lines as attitude, dealers should look for people who are self-motivated and willing to learn when hiring new salespeople. Frank Lee, president of Sales Academy Inc., explains that everyone will say they are looking for "a hungry salesperson," but the meaning of hungry has changed over the years. To him, it means someone who is motivated, able to do things on his own and is willing to learn.
He gives this example: "I got an email from a guy who just started in sales with a dealership, and in preparation for starting in sales he was reading up on a whole lot of things about selling. Then he emailed me directly to ask if I could add him to my electronic newsletter that I send because that would help him to understand more about sales. That's unusual for a salesperson to take the initiative with stuff on their own. If you can find somebody like that, you better keep hold of him."
When that new hire is found, it's important to set your expectations for a salesperson from day one. "The best thing the sales manager can do for a new sales person is to lay out the expectations that they have of the sales person right up front," Lee says. "And these should be laid out right at the interview stage, so that the salesperson understands what is expected of him or her when they come into the dealership. 'We expect you to not just sell stuff, but also we expect that within so many months you'll be able to sell x-amount of stuff.' And behavioral expectations like how many calls we expect you to make, how soon should you get back with customers, things like that."
Dealer Takeaways
Employee development begins with the manager. Lead by example by creating a trusting environment with regular communication.
Take the time to learn each salesperson's strengths and weaknesses to pinpoint where training is needed, and then communicate with them regularly about their training to track their progress.
Make sure your expectations are clear and each salesperson understands them from the start, including how many sales calls are expected each month and a timeline of when they must be up to speed.
Since every new hire isn't going to be a homerun and chances are not every salesperson on staff can be described as high performing, there are some steps dealers and sales managers can take to get their team up to speed.
Train By Example
A good salesperson becomes a trusted advisor to his customers, and Michelle Currie, owner and senior consultant of Currie Management Consultants Inc., says its paramount that you have a salesperson that can develop trust. "And how do you develop trust? You have to be honest, you have to follow through on whatever you're promising, you have to be available," she says.
Trust, she says, is best taught by example. It's up to the sales manager to model the way. "His team has to trust him. He has to be a model for trust, being honest, following through on what he promises, not only to customers but to his team too. He has to be available to them. He has to be objective, he has to manage his own feelings," Currie says.
She adds that sales managers can't have a "my way or the highway" approach and also gain the trust of their team. If an employee speaks up when they don't agree with something, the sales manager needs to listen to their concerns. Currie says a sales manager's response to an employee who disagrees can't be "I don't care, why can't you agree with me? This is the way it's going to be."
"No, no, two steps back. That's not how it works."
Currie explains that you will only get so far with this approach. Instead, sales managers should be asking the employee why he disagrees and what is it that he is proposing that doesn't work for the salesperson. Most importantly, listen to his responses. "The guy might have some very valid things to say and that's where creativity comes in. But, the team isn't going to say that to the manager until they trust the manager."
Training by example goes beyond trust, though. Owners and sales managers often face reluctance when training or other changes are presented. Getting over that hump starts at the top. Hayes points out that if sales managers or dealer-principals expect their sales team to be on board with training and adapting to changes, they better be on board themselves.
"You, as the sales manager, as a dealer-principal, as an owner, should do your best to lead by example as it relates to being open minded to additional training, learning new ideas; it can define the culture in your dealership organization, whether you're one store or 10," he says.
Building up trust among the team will also help the sales manager or dealer-principal get to know each individual salesperson, which will help identify where training needs exist.
Identifying Training Needs
One area that might be the source of poor sales performance, according to Lee, is a skills deficiency. Examples of skill deficiencies are things like not being able to close a deal or not knowing how to do a proper sales presentation, Lee says. "Very few people fail because of that, by the way," he adds.
SouthWestern Assn. Takes Training Online
Five years ago, the SouthWestnern Assn. — a branch of the North American Equipment Dealers Assn. serving farm equipment dealers in Kansas, Missouri, New Mexico, Oklahoma and Texas — developed an online learning campus to help ensure its members were able to provide steady and consistent training to their employees. The online campus is comprised of over 600 training videos that range from topics like leadership, customer service and communication to basics like business grammar and business math.
"It's a series of online video courses for equipment dealers on a variety of topics from customer service and safety to parts and service, where they could actually plug their people into on-demand video courses on their time, on their schedule, and where they can do it on a steady, consistent basis so they begin to build a learning culture within their organization, because it's a slow, steady process," says Cory Hayes, director of education for the SouthWestern Assn.
In addition to training videos, each session includes an exam and downloadable PDF material to accompany the video. More information is available at www.swassn.com/education/OnlineCampus.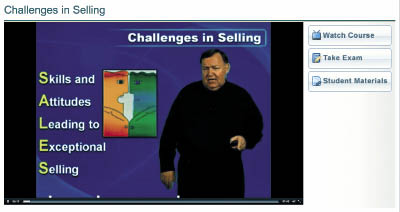 SouthWestern Assn.'s online learning center is comprised of over 600 training videos.
To help identify these deficiencies and resolve them, Lee recommends that the best thing a sales manager can do is ride along with the salesperson and observe him in action. "You will see what they are doing in real life situations," he says.
After observing your sales team in action, you'll have a better idea on how to help them, Lee suggests. "They'll know what to do to help. But too few dealer sales managers actually go out with the salespeople. They just assume that they're going off and doing the right things."
Another factor leading to mediocre sales is fear — or sales call reluctance — and Lee says it is one of the biggest reasons salespeople fail. "These are emotional disturbances that prevent salespeople from doing things, like picking up the telephone and making the call, going to see somebody, asking for the order. A lot of different things apply to sales and they have this emotional distress when they have to do things like that, so instead of doing it they hesitate and the opportunity goes away," he explains.
While sales call reluctance is more difficult area for sales manager or dealers to provide training on their own, they can work with their salespeople to help identify and manage those fears. Lee says managers should get some training themselves to be able to help their staff with sales call reluctance. "It's not like they need a whole lot of training, they just need to understand what they're dealing with because most sales managers don't understand sales call reluctance," he says.
Currie adds helping salespeople develop their soft skills — or essential skills as she calls them — is key. Essential skills are things like communication and interpersonal skills, "which means they have the ability to self-analyze," Currie explains. Whether a salesperson makes the sale or not, he should evaluate what led to the outcome. "A salesperson comes in and says I lost that deal and goes into the self-analysis of what went wrong. 'I didn't present it well, communication broke down, it wasn't a good fit,' they need to go through the whole nine yards," she says.
The same practice should be done when a salesperson does make the sale. It only takes 10-15 minutes to review what happened, such as developing good, honest communication, establishing trust, following through on everything that was promised, etc., Currie says.
She says not enough attention is given to growing soft skills compared to training on equipment and selling the features and benefits of that equipment. "They focus a lot on that, which is good, they need to know the equipment, but they fail to focus on the other stuff. And this includes the ability to interact, to manage themselves and to self-analyze and develop trust," she says.
However a combination of traditional sales training and soft skills training is needed. Currie says emotional intelligence, or EQ, needs to receive some attention as well. "Emotional intelligence is all about those essential skills, the ability to understand yourself, and self-awareness, which leads to self-management and understanding other people. Then it leads to the ability to manage whatever life throws at you.
"So along with that traditional sales school, show the salespeople how to use their EQ. Do they have it? Don't they have it? How do you develop it? It's become an add-on, an essential add-on."
This type of training can be harder to find, or may be disguised as something else. "I use EQ in all my training and there are a lot of places to get it, but you can't Google sales training and have it come up," Curries explains.
Training Services
Currie Management Consultants — Currie Management Consultants is a team of consultants to manufacturers and dealers/distributors in the ag equipment and construction machinery industries, among others. The group offers a number of seminars and workshops throughout the year in addition to onsite consultation and training. www.curriemanagement.com
Jerkins Creative Consulting — JCC specializes in business solutions for organizations in the agricultural, construction, material handling and related industries and provides training to dealerships of all sizes. JCC offers on-site, classroom and online training opportunities. www.jccservices.com
Sales Academy Inc. — Sales Academy Inc. provides behavioral sales training and services, including pre-hire and development tests, workshops and consulting services. The company offers a number of sales training options geared specifically to the ag industry. www.sales-academy.com
To help identify these types of training needs, sales managers need to take a close look at their team. Most sales teams, Currie points out, are made up of a combination of stars, average salespeople and "black holes." The key is to get to stars to understand what makes them stars through self-analysis and then have them report back to the group, she says. "That's one of the steps in getting everybody to recognize being a good salesperson isn't just knowing 'I've got to do 50 calls to make 15 appointments to get five quotes to get one sale.' The mechanical part of it is important, but on top of that is EQ stuff.
"I get called in when there's a salesperson that no one in the organization wants to work with. There's a great chance he's got all this EQ but it's all out there, none of it is inside. Then it becomes helping that person become a team player and not the rogue," Currie says.
Consistency is King
Training needs to be consistent to have a lasting affect. Hayes says the benefits of just simply sending the sales team off to two-day training events begins to fade away after a few weeks. "Where some dealers make a mistake is they'll send employees to a two-day training program — a couple times a year — or sign them up for a webinar with their manufacturer, an industry consultant or an association only to assume it's going to make a big difference in an employee's abilities. All training has some affect, but often times event-style training or two-day workshop style programs can have very little long-term residual. It's almost like the employee goes "back to business as usual" in 15, 30 or 45 days," Hayes says.
To make those event-style training sessions more effective, Lee says it's up to the dealer and sales manager to follow up with employees when they return to the dealership. "It's important that they care about the sales people's development, so they will hold them accountable for the training that they go through. And unfortunately it doesn't happen very often," he says.
"They get too busy. They send somebody off to sales training, they assume that they've learned all kinds of things, and they come back and they don't even bother to check to see what they learned and what can I expect you to do differently after learning this?"
All it takes is a 10-15 minute conversation about what was learned at the training and how the employee will put that into action. Then, you need to hold them accountable and continue to follow up on the progress being made.
Hayes recommends regular, short training videos, which can be used on a monthly basis. This keeps training consistent, but doesn't take sales staff away from making sales for an entire day or two. The SouthWestern Assn. has an extensive collection of video-based training programs available to members. None of them last for more than about 30 minutes and allow employees to undergo training onsite.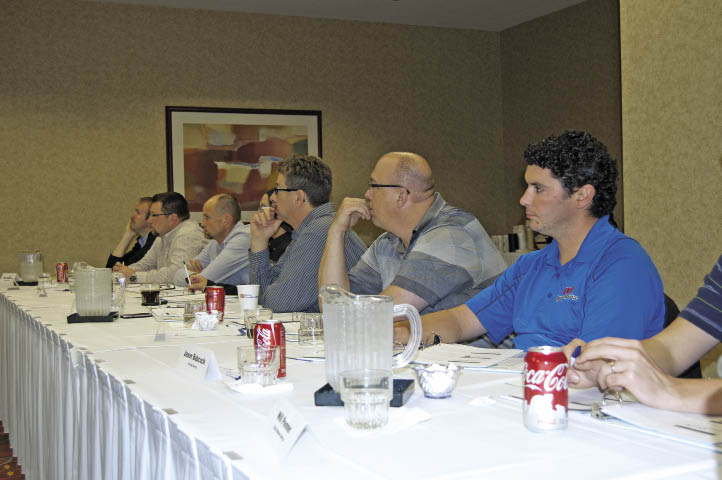 Two-day training programs allow salespeople to go through training without the distractions of the dealership. However, it's important for sales managers to follow up with their team on the training they received and to hold them accountable.
"Maybe that one video is part of a three-part series on the entire topic, which they can get to over time. But we find that small amounts of training over time consistently tend to affect change. Change affects behavior and behavior changes culture," Hayes says. "So it is not realistic to say I'm going to send everybody in my dealership or my main players in my dealership to a John Deere or Case IH or industry consultant training session once a month, that's just not feasible because we have to have those folks in the dealership making money."
Training can be something as simple as passing along interesting articles or excerpts from books to the sales team, Currie says. But, for that to be effective the manager needs to then follow up on the article, discussing it with the team to make sure they actually read it. "He should be inspiring them, inspiring new ideas and creativity within his team all the time. So a sales manager needs to keep up with his training in order to coach his team. Bringing in outside trainers is one option, buying a training program is another option, but always going back to that communication is key," she says.
Regular communication with the sales staff will you help monitor their progress and understand where they excel and where they can still use some work.
"And the manager has to be the coach. You've got a team and each player has different strengths and weaknesses, as the coach you have to know them all and work with them," Currie says.