Quint Campbell, Marketing Manager, Birkey's Farm Stores, Rantoul, Ill. (2007 Dealership of the Year)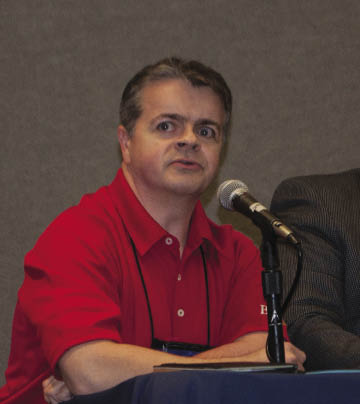 Quint Campbell, Birkey's Farm Stores, was selected to present the executives in attendance with a view into the marketing foxhole, and a few items they could employ immediately.
Marketing Minute
Campbell asked for dealers who could say every one of their employees knew what they'd be promoting the following month. Imagine the sound of crickets.
"That's a struggle, to get everybody focused in the dealership on the target and what you're going to be promoting," says Campbell.
He recalls the day at Birkey's when each store was doing its own thing, often with the parts department running a different promotion than the store, and service, parts and sales were all in the dark as to what the other was doing.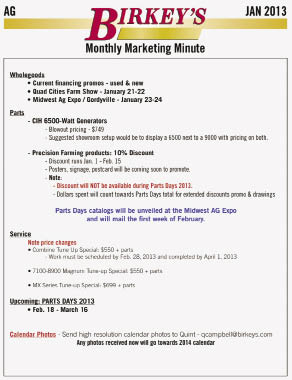 Birkey's issues a "Monthly Marketing Minute" memo to each employee to ensure all are aware, and fully promoting, the coming month's programs.
Birkey's addressed this through an internal 1-page document called the "Monthly Marketing Minute." Now, Campbell distributes a corporate-level marketing program prior to the start of each month in the form of a "Monthly Marketing Minute." This memo goes to every employee, briefly summarizing the wholegoods, parts, sales and service programs. If any combine clinics or open houses are coming up, we want to communicate it."
Customer Calendar
Birkey's has been publishing a customer calendar for years, starting with the photos of 12 customers' equipment rolling through the field. It has since evolved to a 52-photo calendar today that focuses on the people, not the iron. "We found that it's all relationship building; this is a great PR piece," says Campbell, noting that he's highlighted 395 customers over the years.
Initially, salespeople were snapping photos with their digital cameras. But since marketing has the higher-quality photo equipment, Campbell soon was in high demand. "So, we'll go out and contact the customer ahead of time to stage a shot. We're finding now that we're getting 2, 3 and 4 generations — grandparents, little kids on pedal-tractors, and all reinforcing the relationship. And it's not just the shiny new buyer who shows up in the calendar. It's lawnmower guys, contractors mowing cemetery lots, guys with remodeled Farmalls. The feedback is great."
Digital Signage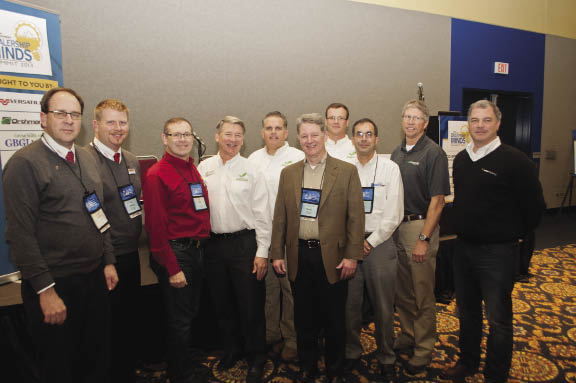 Eight companies sponsored the 2013 Dealership Minds Summit in Kansas City. While none of the sponsors was afforded "podium time," these 8 companies believed in the innovative meeting format and shared Farm Equipment's belief that an informed industry is a better one for all. The 8 Title Sponsors included: Versatile, GBGI, Iron Solutions, Agtron Enterprises, Orthman Manufacturing. Dealer Information Systems, Horsch and Agri-Trend.
Birkey's started investing in digital signage behind parts counters in 2010. Today there is a 46-inch flat screen TV behind the parts counter at each one of its 13 stores. "Each TV is connected to a PC networked back to our administrative office. I can create content as often as I like, upload and push it to the PCs at each store location — so it is completely hands-free at a store level."
It has promotional messages that rotate every 30 seconds, three-day weather radar, news ticker and a pictorial inventory system that rotates every 6 seconds. "It's set up to show the inventory of that particular store. Some customers see a piece up there that they didn't realize was on the lot outside. We've sold items that a visitor to the store wouldn't have otherwise known about."
Campbell adds that the TVs also have a calming presence for customers waiting in line, especially in season. "They're not in such a rush because they want to watch everything. Some even stick around watching the TV after their purchase to make sure they didn't miss anything. So it's a great way and a great avenue to do some marketing."
Keep it Simple & Repeat It
Campbell stresses simplicity in marketing. "Don't overcomplicate your campaigns and your promotions. Be as quick to get it out there as you can, and then repeat, repeat, repeat. Once we gear up our promotions, we'll put them on the TV screens, in-store signage, in-store posters; on our website and then Facebook, social media. We just use it everywhere that we can."