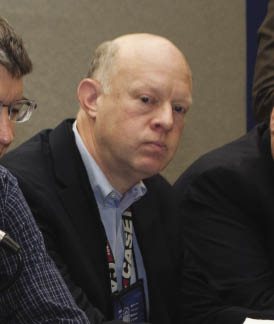 There are innumerable ways to grow your dealership. And Mike Hedge's message — that it can be done without resorting to outside influences or taking on extra debt — was a welcome message. Seeking outside capital via a public offering or working with private equity groups are options, but they aren't for everyone says the Birkey's president and CEO.
With good cash flow and diligent management of the balance sheet, Hedge contends dealers can find an ability to generate returns inside their business and use those returns to grow it. And he emphasizes that growing in this way is absolutely sustainable.
In fact, he showed attendees how a 5% return on sales and reinvestment of all after-tax profits will support a doubling of a business every 3 years. But it takes a relentless commitment to grow equity. "You can't pull all earnings out of the business and expect to generate this type of growth using debt only."
Birkey's grew 600% over 12 years with no infusion of outside capital thanks to a disciplined focus on the balance sheet, with particular attention on what drives cash flow and asset turns — which provide the funds to move forward on opportunities.
The biggest advantage of Birkey's approach, he says, is that owners remain in the driver's seat. By accepting outside money, ownership becomes diluted. Thus, the ability to run the organization a certain way and maintain culture is lessened to some extent. This approach may not offer the rapid expansion that a publicly held company or one with private equity backing can achieve, but a balance sheet flush with cash allows dealers to continue to maintain a certain culture and retain control.
By growing as the balance sheet allows, organic expansion takes on a planned emphasis, allowing management to keep pace with growth vs. growing beyond the business' capabilities to manage it. He admits that moving slowly may lead to missed opportunities, but it ensures a more steady, controlled expansion.
Used inventory turnover is another key. Birkey's pays close attention to its 4 turn goal and anytime it's coming up short, he says, "bells, sirens and whistles ring." The dealership responds immediately. Hedge says his team discusses used turnover every day, week and month and aligns everything necessary to achieve its 4 goal. With multiple locations, Hedge says, a boost in the used turns and cash flow is immediate.
Quality information is also paramount, he says. He advises investing the time to create a solid budget and sharing that information with your banker as well as managers. Banks expect dealers truly understand their balance sheets, and this step can proactively demonstrate an ability to manage the balance sheet ratios, he says.
Hedge stresses that controlled growth is essential. The key, he says, is finding the right opportunities and passing on the ones that don't generate enough sales, net income and cash flow. Then, he says, get the equity coming in so you can reduce your debt and the leverage in your organization.