As in previous drought years, net farm income in 2012 is expected to be fairly stable, according to USDA. But industry observers are divided on whether this is a "bearish" or "bullish" for farm equipment sales for the remainder of the year.
As reported in the September 15 issue of Ag Equipment Intelligence, USDA's most recent World Agricultural Supply and Demand Estimate report did little to clear up the picture about what farmers might do with the bounty they're expected to reap from record-high crop prices.
In its September 12 announcement, the ag agency lowered expected corn yields to 122.8 bushels per acre, down from 123.4 bushels, but raised its ending corn stocks forecast by 13% to 733 million bushels. (Industry consensus was 609 million bushels.) At the same time, it dropped its mid-point forecast for corn to $7.90 a bushel from $8.20.
"Our model now suggests that major-crop cash receipts for 2012-13 is $150.6 billion, up 11% year-over-year," Ann Duignan, analyst for JP Morgan says in a note. "Overall, we believe drought conditions have contributed to a broad down-shift in farmer sentiment that will affect equipment purchases in the near to-mid-term. It remains to be seen whether typical late-year spending on equipment materializes given empty grain bins and an uncertain outlook."
On the other hand, Henry Kirn, machinery analyst for UBS, says, "We remain bullish on North American ag equipment as our channel checks indicate currently strong demand is not a bubble, but rather driven by favorable secular trends that still have legs."
Stable Net Income
In current dollars, and ignoring the effects of inflation, U.S. net farm income is forecast to exceed $122 billion in 2012 and net cash income is expected to exceed $139 billion, both record nominal values.
The expected increase in income reflects large price-led gains in corn and soybean receipts, as well as large increases in crop insurance indemnities. Crop farm gains should be more than enough to offset livestock farmers' higher feed expenses and a decline in sales of wholesale milk. Extreme hot and dry conditions in the Plains and Corn Belt are drastically cutting projected corn and soybean yields. With corn and soybean supplies for the 2012 marketing year expected to be the lowest in nine years, prices are increasing dramatically, resulting in higher than expected 2012 calendar-year receipts for many crops.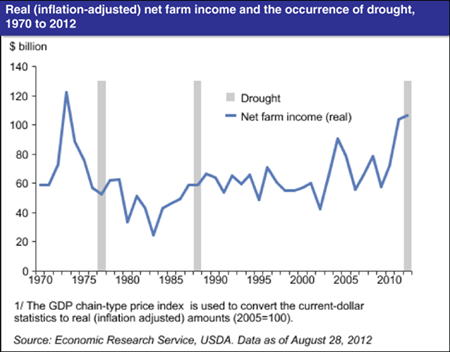 This chart is from the Farm Sector Income & Finances topic page on the ERS website, updated August 28, 2012.