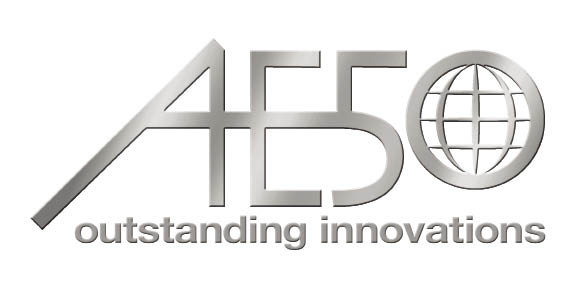 The mantra "innovate or die" applies to practically every industry. However, nowhere is it more fitting than in agriculture, where it has a double meaning. As the world's population increases and arable land is depleted, innovative equipment and farming techniques will not only keep the industry solvent and moving forward, it will also help keep the growing population fed.
Members of the American Society of Agricultural and Biological Engineers (ASABE) are working to drive that innovation. An educational and scientific organization dedicated to the advancement of engineering applicable to agricultural, food and biological systems, ASABE was founded in 1907. Headquartered in St. Joseph, Mich., ASABE comprises 9,000 members in more than 100 countries. It's recognized as a standards developing organization for the industry.
For 25 years, ASABE has highlighted a year's worth of innovative products with its AE50 Award. Sponsored by ASABE's Resource magazine, the judges who chose the winners represent engineering professions from all facets of food production. The award focuses on products and systems that save producers time, money and labor.
To be eligible for an AE50 Award, each engineering development must apply new technology or an innovative use of an older technology, and it must have been first offered for sale between January 1 and December 31, 2011 (in the case of the 2012 awards). There is no cost associated with nominating a product for consideration.
Dealer-Developed Attachment Wins Award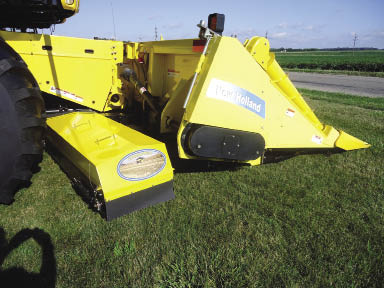 A windrowing attachment created by a farm equipment dealer was presented with a 2012 AE50 Award.
The Cornrower, invented and patented by Jim Straeter of Rochester New Holland in Rochester, Ind., is an attachment that fits the New Holland 99C chopping corn head with no modifications. It creates a corn stover windrow on the same pass as the corn is harvested.
The system works by catching the stover under the stalk rolls, preventing it from contacting the soil while chopping it into small pieces. MacDon Crop Cutting and Conveying System for R85 Rotary Disc Header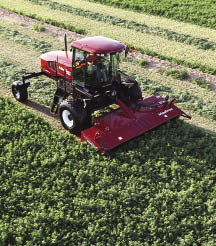 The cutting and feeding system designed for the R85 disc header features a full width (overshot) feed auger mounted behind five pairs of co-rotating cutting discs. Due to the span of the 16-foot cutter bar and the width of the auger, the center support assembly provides a small amount of flex. The full width feed auger allows the cutting discs to be oriented in the optimum rotational pattern to enhance cutting capacity and quality.
MacDon Industries, Winnipeg, Manitoba
John Deere 9R/9RT Series Tractor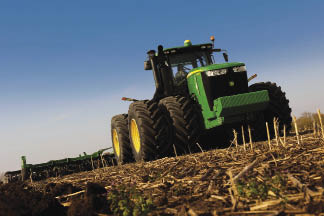 The 9R/9RT Series of tractors consists of five new models ranging from 360-560 horsepower. The new models and their features improve productivity and operating efficiency.
Deere & Co., Moline, Ill.
Dion F64 Rotary Corn Head for Pull-Type Harvesters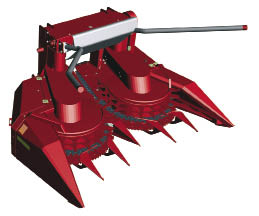 The Dion F64 header is a three-row rotary corn head adaptable to most pull-type forage harvesters. With a combination of gathering drums and conveying chains, it provides uniform feeding, faster harvesting speed and a high-quality chop. Using only three shafts, the header drive is simple and durable. The cutting discs are belt driven. It's available with a factory or field installed adapter kit for selected forage harvester models.
Development Forage Equipment, Boisbriand, Quebec
Oxbo 9120 Raspberry Harvester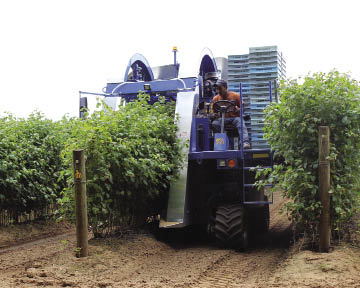 The 9120 is designed to harvest Individual Quick Frozen (IQF) raspberries — the highest quality grade. Delicate berries are contained in cups and carried to the top of the machine for debris removal via a two-stage cleaning system. The lower fluid bed fan creates a gentle lifting action on the lightweight debris without disturbing the heavier berries; the upper fan takes over to discharge the debris from the fruit stream. The three-wheeled ground drive unit is highly maneuverable.
Oxbo International Corp., Lynden, Wash.
GK H8 Bare Root Tree Digger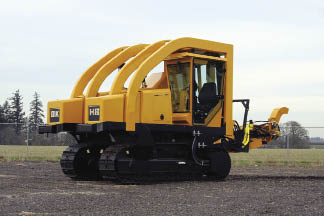 The GK Machine H8 tree digger is designed for bare root trees. A 215 horsepower Cummins engine and Caterpillar D4 undercarriages provide the strength to pull the 30 inch wide blade through the soil 36 inches deep. The arched frame allows trees to flow through the machine with less stress.
GK Machine, Donald, Ore.
Graham Electric Planter Drive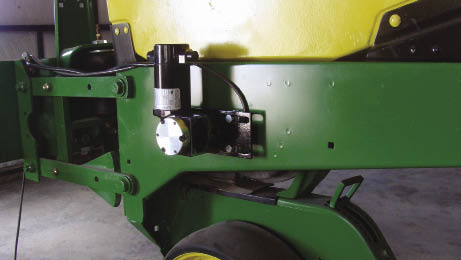 Graham's Electric Planter Drive (EPD) is available for new and used planters to replace ground and hydraulic drives. EPD offers individual row shutoff and variable rate population; eliminates maintenance intensive bearings, chains and sprockets. One EPD kit contains one control board, a weatherproof harness using Deutsch connectors, housing and four electric motors (a 16-row planter would use four kits).
Graham Equipment, Wray, Colo.
KIFCO E110 Solar Water-Reel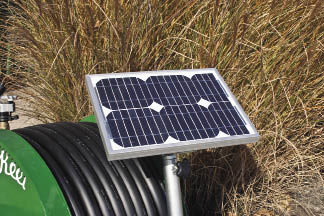 The E110 Solar Water-Reel from KIFCO is a DC-driven irrigation traveler. The company incorporated improvements in low speed high-torque DC motors, batteries and solar panels, and trickle charging to the 10-26 gpm product range. For small farms, ranches and organic operations, it improves water and energy efficiencies and increases potential areas of use.
KIFCO Inc., Havana, Ill.
Hutchinson-Mayrath NexGen Commercial Bin Sweep System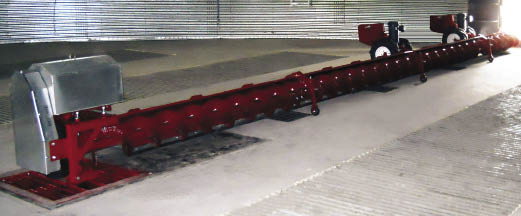 The NexGen system is a sweep auger designed to operate on the grain bin floor and perform final unloading and cleanout when grain no longer flows via gravity. It stays inside the bin to be started when final cleanout is required. The system allows control of the sweep progress and performance via electronic controls and includes "tractors" that push the sweep into the grain.
Hutchinson/Mayrath, Clay Center, Kan.
SmartCooling System for Gleaner S Series Combines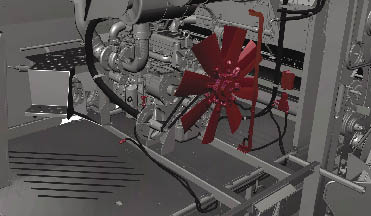 The new Smart-Cooling system on Gleaner S Series combines puts two technologies into one cooling package, reducing cleanout requirements from several times per day to once per harvest. The system monitors engine temperature, and then automatically reverses airflow for five-second intervals to blow out radiator fins and coolers that can become clogged with fine particulate crop residue. The system also monitors the outside air temperature and varies the fan blade pitch accordingly. At temperatures below 68F, the system reduces fan blade pitch to nearly zero, reducing engine horsepower requirements for fuel efficiency.
AGCO Corp., Duluth, Ga.
Claas Quadrant 3300 Square Baler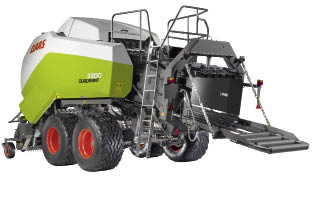 The design of the Claas Quadrant 3300 baler's crop flow, pre-packer and knotter systems helps increase its capacity. The implement's pre-chamber has sensors that measure the thickness of the bale flake, creating a dense, uniform top-to-bottom bale shape.
Claas of America, Omaha, Neb.
Raven OmniSeed Air Seeder Control System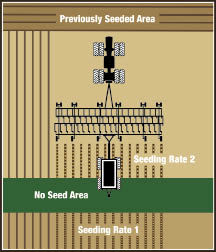 The Raven OmniSeed series of air seeder controls provides an integrated platform for air cart monitoring, remote tank meter calibration, granular product control, liquid/NH3 product control, section overlap control, run blockage real-time down pressure monitoring, and variable rate control on up to five products. OmniSeed utilizes the Viper Pro field computer and is highly configurable. OmniSeed not only provides the electronics, but also the mechanics to control and monitor liquid and granular inputs.
Raven Industries, Sioux Falls, S.D.
Capstan Ag Systems PinPoint Individual Nozzle Application Control System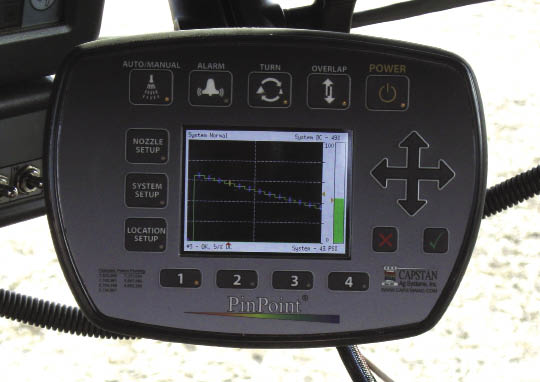 Capstan's PinPoint Individual Nozzle Blended Pulse Application control system brings nozzle GPS overlap control and individual nozzle turn radius flow compensation to sprayers, anhydrous ammonia applicators and liquid fertilizer applicators. It uses Capstan's Blended Pulse Application technology to solve application inefficiencies by providing consistent and accurate application quality, drift control and droplet size control.
Capstan Ag Systems, Topeka, Kan.
Hypro Scorpio Spray Valve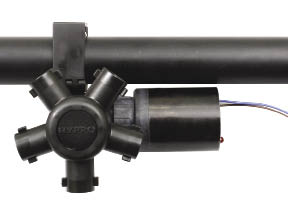 The Scorpio is an electronically actuated spray valve for mounting on the boom nozzle bodies of agricultural spray equipment. It provides on/off control at field boundaries, previously sprayed zones and environmentally sensitive areas. The power management system and two-wire connection allows the valves to be used with standard spray controllers.
Hypro-Pentair Water, New Brighton, Minn.
New Holland T9.560 4WD Tractor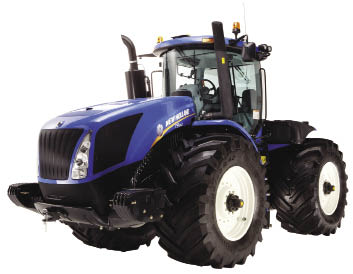 The chassis on the new T9.560 four-wheel drive tractor has been reconfigured to allow use in row-crop applications requiring 60-inch tread settings. The ability to accommodate larger diameter tires improves tractive capability with narrow tires required in row-crop applications. The hood and cooling package were redesigned for improved visibility and easy access for cleaning the coolers. The T9.560 provides the hydraulic flow to power large planters and seeders in the planting season and is also equipped with a PTO option to power grain carts.
New Holland Agriculture, New Holland, Penn.
Vermeer VR1428 High-Capacity Wheel Rake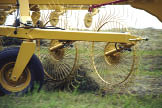 The Vermeer VR1428 high-capacity wheel rake incorporates a patent-pending rake wheel suspension. This system maintains consistent weight on the ground through the wheels' vertical range of motion, resulting in longer tooth life and cleaner raking action in the field. Each rake wheel has a hydraulic lift cylinder that's used to raise and lower the rake wheel. The rake wheel suspension is adjusted with a single, tool-free hydraulic adjustment valve.
Vermeer Corp., Pella, Iowa
DuPont PrecisionPac Herbicide Dispensing System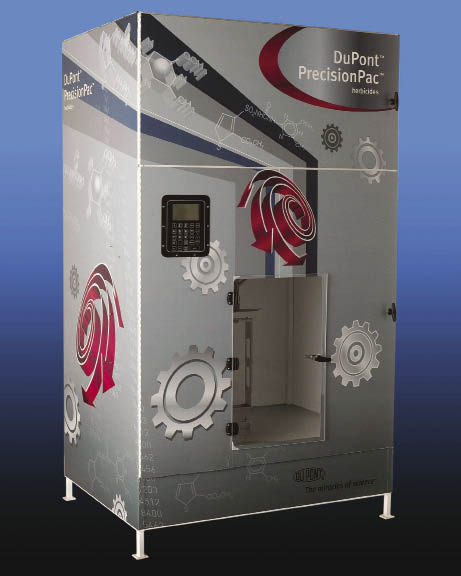 The DuPont PrecisionPac herbicide dispenser creates a customized mixture at the point of purchase. The system can utilize up to six components to create a range of herbicide products. The PrecisionPac system creates a package that's customized to match a field size or sprayer load specified by the customer. The system reduces and simplifies inventory for distributors and retailers and provides the customer with a customized product that can be used safely.
DuPont Crop Protection, Wilmington, Del.
John Deere 2620, 2623, and 2625 Tandem Disk Harrows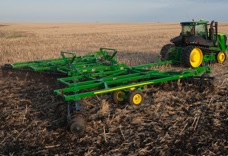 The 2600 Series tandem disk harrow features transport dimensions and a maintenance-free disk gang bearing system providing up to 134 kg (295 lb.) per blade for aggressive cutting action. The five-section 15 m (49 ft) model transports at 2 m (16 ft) wide by 4 m (13 ft) high. A 5 cm (2 in.) diameter gang bolt features a three-bolt tensioning tool that generates over 18,144 kg (40,000 lb) of tension with only 17 kg-m (120 ft-lb) of input torque. Mechanical wing control is provided on five section sizes to deliver high soil leveling performance using a standard hydraulic cylinder to provide on-the-go adjustment. Self-adjusting scrapers are disk gang mounted to maintain a tight fit between the scraper blade and spool.
Deere and Company, Moline, Ill.
Oxbo 4334 Self-Propelled Merger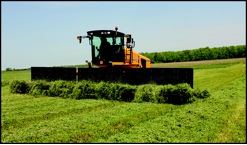 With the 4334, Oxbo has redefined merging forage crops by using 34-foot, front-mounted pickup heads to eliminate driving over cut forage. The 4334 pickup heads deliver improved forage quality and windrow control, and they fold back to a 10 ft. transfer width in under 20 seconds. Wide hoops and field-tested tines enable Oxbo mergers to pick up a wide range of forage crops. Front-mounted heads improve maneuverability, especially at headlands, in field corners, and in small field conditions. The operator has full view of the continuous pickup heads, building better windrows for the harvester, and no longer needs to twist and turn to monitor crop flow. Fingertip controls provide on-the-go adjustment to raise, lower, fold, and unfold heads with a joystick and easy-to-use controls.
Oxbo Intl. Corp., Byron, N.Y.
John Deere 4940 Self-Propelled Sprayer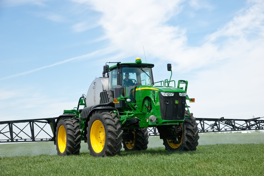 The 4940 self-propelled sprayer applies crop protection products and liquid and dry fertilizers throughout the cropping season. The 4,543 L (1,200 gal.) solution tank, 37 m (120 ft) suspended boom, and four-wheel independent air-spring suspension smoothly cover many acres per hour. A high-capacity filling system, chemical direct injection, and automatic solution system control allow rapid and efficient loading and rinsing of crop protection products. Dry products can also be applied using the multi-compartment dry spinner box. Integrated steering guidance, boom height and section control, headland management, and application documentation systems give precise application control and record keeping using a single interface. A telemetry system provides managers with real-time updates of hours, location, utilization, service status, fuel usage, and dashboard updates.
Deere and Company, Moline, Ill.
John Deere 600 Series HydraFlex Draper Platforms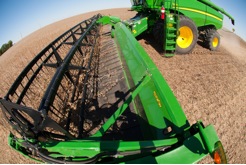 The 600 Series HydraFlex draper platforms harvest low-to-the-ground crops, such as soybeans, lentils, peas, consistently across the full width of cut when traveling over uneven terrain at high ground speeds. Using a true, fully flexible cutterbar, directly linked to the side draper belts and integrated with the HydraFlex system, the 600 Series provides a full 19 cm (7.5 in.) of cutterbar flexing over the entire width and flexes the side draper belts to allow maximum terrain-hugging capability. The HydraFlex flotation system allows modifying the cutterbar ground force weight, on the go, to match soft or hard soil conditions. This prevents cutterbar "pushing" and maximizes harvesting hours in a day. It is available in 11 and 12 m (35 and 40 ft) widths and is designed to deliver a higher level of productivity when used with John Deere's new S-Series combines.
Deere & Company, Moline, Ill.
John Deere 600C Series Corn Head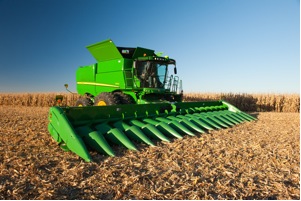 The 2012 600C Series corn head modifies the current 600C Series to include many new features that allow corn growers to be more productive. The modifications utilize critical geometries to improve material handling, grain savings, residue processing, and serviceability. New features include plastic chain guides, ultra-high-strength steel main and row unit frames for weight reductions, intermeshing stalk rolls, chopping disconnect, deck cover lift assist, larger cut widths, and automatic header height control optimization. 
Deere & Company, Moline, Ill.
Oxbo 6160 Pea Harvester with 4040 Stripper Head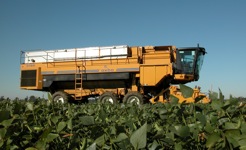 The 6160 delivers power and fuel economy while increasing machine capacity. The cooling system lowers hydraulic operating temperature 20 percent and optimizes engine operating temperature with a variable-pitch engine fan, reducing power requirements and noise levels. With peak operating engine speed of 1550 rpm, fuel economy is maximized and power is increased by 30 horsepower. An enhanced control system allows more monitoring and diagnostic capabilities to minimize downtime. Advanced control of the hydraulic ground drive delivers independent adjustment of left and right front wheel speeds, improving steering in muddy conditions. Productivity is increased with the 4040 stripper head; its 50 percent wider conveyors increase throughput and eliminate feeding issues in heavy crops. The 4040 head also improves operator visibility and increases the harvester auto-leveling range.
Oxbo Intl. Corp., Byron, N.Y.
Oxbo 6220 Trunk Shake Grape Harvester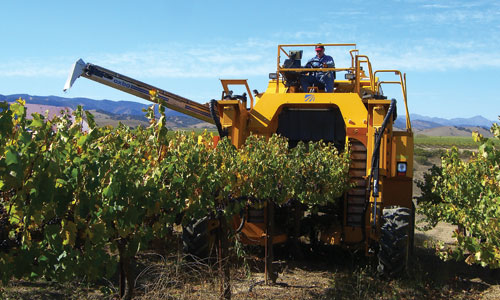 The 6220 grape harvester removes grapes with minimal leaf removal and damage to the vine because its "trunk shake" harvesting head shakes the plant's trunk instead of engaging the canopy. The head can be configured to the widest range of trellis styles—from traditional vertical canopies to complex divided canopies. Using a three-fan cleaning system, bucket conveyance, and trash removal system, harvesting costs are reduced by eliminating the need for additional on-board sorting personnel and "walkers" behind traditional trunk shake harvesters. The standard limited-slip, four-wheel traction control system enables the 6220 to climb hills and power through any terrain during harvest. The 6220 was designed from the ground up to provide a custom, cost-effective harvesting solution that improves profitability and reduces labor in the field.
Oxbo Intl. Corp., Lynden, Wash.
John Deere 7R Series Tractors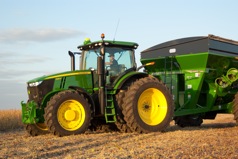 The 7R Series has five new models rated from 200 to 280 engine horsepower. This tractor lineup is more globally competitive with improvements in power density and productivity while reducing fuel consumption, and the new compact chassis is capable of field, transport, and utility operations. In Western Europe, a tractor needs to be power dense, so structural castings, including the engine oil pan, were used with weight-saving strategies never before applied at John Deere. To further improve fuel efficiency and productivity, the latest technologies in drivetrain lubrication and oil management were used. In addition, these compact and maneuverable tractors provide efficient operation while ensuring that the emission-control equipment is transparent to the operator.
Deere & Company, Moline, Ill.
CEMOS (CLAAS Electronic Machine Optimization System)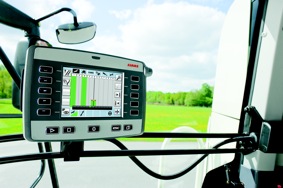 CEMOS (CLAAS Electronic Machine Optimization System) is a machine settings and adjustment assistance system for use with LEXION combine harvesters. It is designed to guide the machine operator to optimal machine settings—balancing power, quality, safety, and efficiency. CEMOS uses an on-screen dialog that asks a series of questions to derive the best settings for the current conditions and for the crop being harvested. This function-specific dialog (crop flow, grain loss, throughput, grain quality, and returns) allows the operator to focus on one function or system at a time before moving on to the next. CEMOS can increase output by as much as 20% without compromising grain quality.
CLAAS of America, Inc., Omaha, Neb.
John Bean DSI Adaptive 3D Portioning System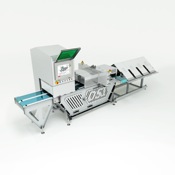 The DSI Adaptive 3D Portioning system improves the portioning of boneless meat products. Yield is increased by vertical and horizontal cutting of optimal portions out of irregularly shaped meat. The system scans incoming meat, and software determines the most profitable use for each piece. Instructions are sent to waterjet cutters to create a main portion shape as well as nuggets or strips. The resulting main portion is then scanned and sliced with a precise horizontal band saw, which adjusts its height for each incoming piece and creates upper and lower portions of the desired shape and weight. Adding a new integrated horizontal slicer to the process leads to three-dimensional portioning and high performance for a process line.
John Bean Technologies Corp., Redmond, Wash.
Sentinel Building Systems Eclipse Tower and Catwalk Solutions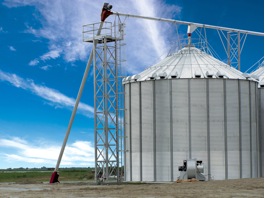 The Eclipse line of towers and catwalks is designed to support grain pump loop systems and equipment while providing easy access for maintenance and repairs. Eclipse provides an economic solution by utilizing a cold-formed "C-channel" design. This design produces economies in steel cost, manufacturing, transportation, and handling due to the low weight and ease of forming the pre-galvanized members, as opposed to comparable angle-iron systems. With a maximum tower height of 25 m (82 ft) and a catwalk simple span of 12 m (40 ft), the system can support up to a 0.4 m (16 in.) diameter loop with a 20,000 bushel per hour capacity.
Sentinel Building Systems, Albion, Neb.
HYPRO-Pentair Water Express End Cap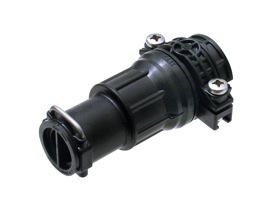 The Express end cap attaches to each end of an individual boom pipe and expels air from the boom pipe through the nozzle body's spray tip. The Expres end cap improves the activation time of the nozzle body's diaphragm check valve (DCV). Faster on/off DCV activation promotes accurate application of agrochemicals while protecting the environment from over-application and misapplication of the targeted area.
HYPRO-Pentair Water, New Brighton, Minn.
Sukup Grain Buster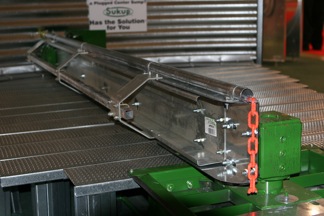 Using an approach similar to a drain snake, the Sukup Grain Buster provides a safe way to break up grain masses inside a bin. Instead of entering the bin, which can pose life-threatening danger, the Grain Buster operator works outside the bin using a variable-speed drill. The drill is attached to the end of a metal rod that extends through the bin wall and through a pipe mounted along the top of the bin sweep. On the other end of the rod is a short length of stiffened chain or cable. When the drill spins the rod, the chain or cable spins around over the center sump, breaking up any grain clumps caused by excessive moisture, freezing, build-up of fines, or crusting.
Sukup Mfg. Co., Sheffield, Iowa
Toro Groundsmaster 360 Quad-Steer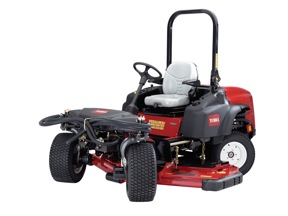 The Groundsmaster 360 is a 36 horsepower multi-purpose turf mower that uses a precision four-wheel steer system. This 1.8 m (72 in.) mower can trim around the smallest obstacles and even square corners without missing a blade of grass. The GM360 is highly maneuverable, yet it does not damage the turf in normal conditions. The steering geometry aligns all four wheels around a single turning point. The machine's center of gravity is positioned to maximize traction on slopes and maintain stability on slopes, allowing safe operation in varying conditions and terrain, such as sports fields, parks, golf courses, and other turf areas. The GM360 can also be outfitted with out-front quick-change attachments that enable year-round use for various tasks.
The Toro Company, Bloomington, Minn.
Case IH Independent Grain Tank Cross-Auger Control 30 Series Axial-Flow Combine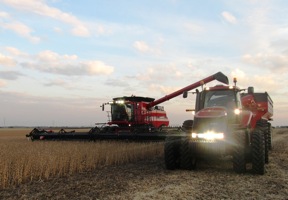 The independent grain tank cross-auger control for 30 Series Axial-Flow combines separates the drive system, creating independent operator control of the grain tank cross-augers and the unload tube vertical and horizontal augers. This mechanical drive provides more control of the unload system and allows unloading of high-moisture or dense grain crops at full discharge rate with less chance of shearing the shear bolts. This also eliminates shoveling out the grain tank and reduces downtime. The control software reduces start-up torque by starting the unload tube augers first, followed by the cross-augers. The horizontal unload tube can be fully emptied even if the grain tank is not yet empty, reducing the weight of the unload tube and extending the life of the system.
Case IH Agriculture, Racine, Wis.
LoadOut Yellow Box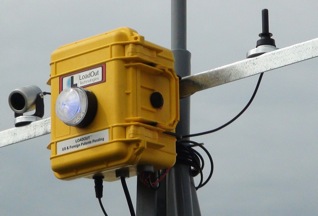 The LoadOut Yellow Box visual industrial control module enables a smartphone to become the central point for industrial process control. The hardware communicates seamlessly with software embedded on the mobile device, allowing the smartphone user to see video and data, and have complete system control. Implementation can reduce labor costs by 50 to 200 percent, as such industrial processes normally require several people. The system allows personnel to remain a safe distance from noise, dust, and environmental conditions while reducing the need for dangerous climbing. An easy-to-use graphical interface and powerful algorithms enable sequential operation of gates, motors, pumps, or any other machinery, thus reducing unnecessary wear on mechanical components.
LoadOut Technologies, West Lafayette, Ind.
Case IH MagnaCut Fine Cut Chopper for Axial-Flow Combine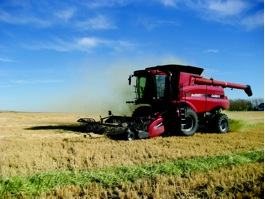 The MagnaCut fine-cut chopper is a new option for Case IH Axial-Flow combines. It improves efficiency by reducing the power required to finely chop crop residue while harvesting. The chopper uses 40 rotating knifes in 20 pairs, secured with robust hardware with ample space for easy servicing. The reduction in knife count, from 120 to 40, reduces the required power by up to 30 horsepower while maintaining optimum straw length in a uniform discharge pattern. The power saved leads to higher vehicle productivity because of higher ground speeds and fuel savings. Operators also save money and time with a lower initial purchase price and fewer, easy-to-access blades to replace when worn. The larger-diameter mounting hardware also reduces shear potential, for less downtime.
Case IH Agriculture, Racine, Wis.
New Holland MowMax II Cutterbar for Durabine The New Holland MowMax II cutterbar includes patented, lubricated splines on spring-centered and piloted module interconnecting shafts that increase wear life by 200 percent over the previous design. The new design incorporates a patented feature that allows the cutterbar to be separated for repair work without removing it from the header. This decreases repair time by 50 percent and eliminates the need for jacks or hoists to lift and support the cutterbar for repairs. The cutterbar discs are profiled to enhance crop flow through the header while maximizing wear resistance. Due to increases in individual component strengths, the minimum shear force for the shock protection hub has been increased by 43 percent, minimizing nuisance failures that contribute to downtime.
New Holland Agriculture, New Holland, Penn.
Toro Multi Pro 5800 Sprayer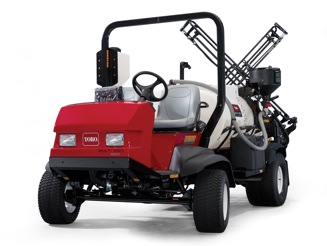 The Toro Multi Pro 5800 sprayer is a 1,000 L (300 gal) dedicated spray vehicle that applies chemicals on golf courses, sports fields, parks, and other maintained turf areas. The Multi Pro® 5800 incorporates a pulse-width-modulated electronic controller with a variable-speed, six-diaphragm, positive-displacement pump. This system provides quick response and accurate rate control in varying speed and spray-width conditions. The pump combined with a new chemical tank design gives superior agitation and spray-out rates. Tank cleaning is accomplished with patent-applied-for twin spinning nozzles fed from an onboard 114 L (30 gal) tank. Convenient chemical loading is accomplished with an optional Clean Load Eductor system. Optional accessories are available.
The Toro Company, Bloomington, Minn.
Sy-Klone RESPA -CF Vortex HyperFLOW Cab Air Quality System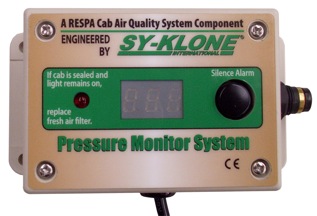 The RESPA-CF Vortex HyperFLOW Cab Air Quality System comprehensively filters all cab airflow while continuously monitoring cab air pressure. It combines compact, high-efficiency mechanical separation technology with compact, high-efficiency filtration, powered low-restriction inline compact recirculation filtration, and real-time pressure monitoring. The Vortex HyperFLOW(TM) precleaner/filter/pressurizer mechanically removes over 90 percent of particulates down to 5 microns, prior to the air passing through the filter, by creating a vortex around the filter media, which passes debris along the sides and out the back of the filter housing. Clean air is then pushed through the proprietary MERV 16 filter and into the HVAC fresh air inlet. By removing most of the particulates from the airflow before the filter, the filter life is increased.
Sy-Klone Intl., Jacksonville, Fla.
Case IH Robo-Sharpener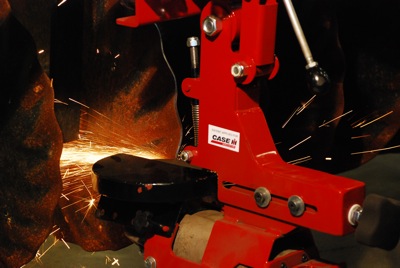 The Case IH Robo-Sharpener, made especially for Case IH True-Tandem 330 Turbo vertical tillage equipment, quickly and easily sharpens the wavy implement blades used to penetrate the soil and cut crop residues in minimal tillage. The patent-pending Robo-Sharpener is mounted directly to the gang of the implement during sharpening. This allows the operator to stand at a safe distance and use the sharpener anywhere a 110 VAC (20 A) power source is available. The Robo-Sharpener system sharpens a wavy or smooth blade in minutes using a grinding wheel mounted to a pendulous arm. It is equipped with wheels that allow it to roll along a rail from blade to blade, providing easy repeatability in sharpening a gang of blades quickly and safely.
Case IH Agriculture, Goodfield, Ill.
AGCO RoGator RG1300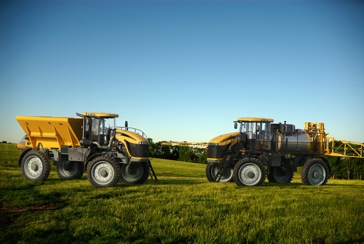 The RoGator RG1300 is a self-propelled, high-clearance sprayer used exclusively in production agriculture for application of a wide range of crop inputs and crop protectants in liquid and dry form. The 2012 model features new styling with a proven drivetrain and a Tier 4 interim compliant AGCO 8.4 L diesel engine designed with e3 SCR technology. The cab offers all-around visibility while the machine is on the road or in the field, with noise levels up to 10 percent lower than the previous model. Improvements also include the overall weight distribution between the front and rear axles. The RoGator liquid system provides precision application with pressure variance and the ability for each boom section to be turned on or off, ensuring accuracy and costs savings.
AGCO Corp., Duluth, Ga.
GEA Houle Sync2 Modular Piston Pump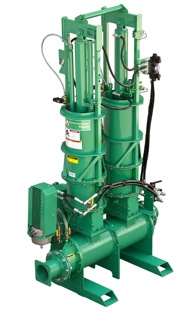 The Sync2 modular piston pump is an expandable positive-displacement pump for transferring liquids with solids content. The dual pumping chambers provide a non-pulsing flow, ideal for feeding downstream processing equipment, while using less horsepower than conventional transfer equipment. Energy savings are accomplished by consistent material velocity and elimination of restrictions in the plumbing. A compact footprint and controllable flow rate make the Sync2 an easy fit into existing systems or new construction. The design of the flapper doors inhibits fiber build-up, while the top-down assembly allows all working components to be removed from the top using standard tools. The pumping chamber design and base construction allow for higher evacuation line pressures, enabling transfer of liquids over several kilometers.
GEA Houle, Drummondville, Quebec, Canada
New Holland SynchroKnife Flex Draper Drive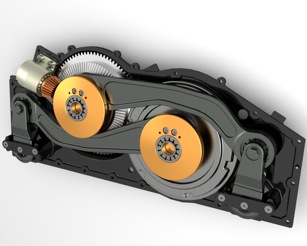 The SynchroKnife drive offered on the New Holland 880CF flex draper header is a patented center knife drive system. The double knife drive runs from a single hydraulic gearbox that requires only one PTO hook-up, uses only one driveline, and is mounted in the center of the header. This system works on the same basis as the two opposing knife drives used in larger headers, but it eliminates the vibrations caused by continually keeping the opposing knifes synchronized. The drive also eliminates complex drivelines, reducing maintenance needs and saving power while reducing overall crop losses from the header. It also reduces the non-functional header width by 16.5 cm (6.5 in.) on each end, reducing potential damage to standing crop that can be caused by header end sheets.
New Holland Agriculture, New Holland, Penn.
New Holland T8 Tractor Series The T8 Tractor Series combines a long wheelbase in a tractor with limited overall length with maneuverability, stability, operator comfort, and versatility. The 3.5 m (136 in.) wheelbase combined with a sculpted hood and frame provides tight turning performance for row-crop applications. The fully integrated, close-coupled front hitch and PTO suit heavy tillage and high-capacity hay-cutting applications, but the tractor is also engineered for secondary cultivation, drilling, spreading, and transport applications as well as operation with a full-range of front-mounted implements. This universal-concept tractor also provides operator comfort with lower in-cab noise levels and improved ergonomics. The CNH "saddle" front axle suspension provides a 61 percent increase in suspended load capacity and a 31 percent reduction in cab bounce for stability in high-speed road travel, even with heavy three-point-hitch-mounted equipment.
New Holland Agriculture, New Holland, Penn.
AGCO TerraGator TG8400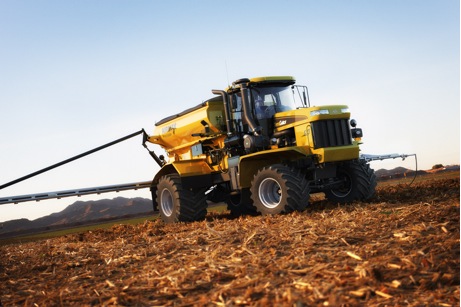 The TerraGator TG8400 is a self-propelled four-wheel flotation applicator used exclusively in production agriculture for pre-emergence, pre-plant, and post-harvest application of a wide-range of crop inputs in liquid and dry form. To meet Tier 4 interim EPA regulations, AGCO has engineered its flotation applicators with Tier 4 interim compliant AGCO diesel engines with SCR technology. Coupled with a continuously variable transmission, the TerraGator TG8400 has the potential to increase productivity by 15 percent and use up to 25 percent less fuel compared with the previous four-wheel TerraGator.
AGCO Corp., Duluth, Ga.
Spectrum WaterScout SMEC 300 Soil Moisture/EC/Temperature Sensor

The WaterScout SMEC 300 soil moisture/EC/temperature sensor is an inexpensive sensor for monitoring three important parameters in the soil profile: moisture, salinity, and temperature. The electrical conductivity electrode is made of a pair of carbon pads, which provide a larger conductive surface than a screw or rivet. A combination of firmware and software was designed to create virtual channels to transfer measurements to a digital reader or a weather station. This allows sensor readings by an analog data logging system. The SMEC 300 also offers the ability to calibrate the EC sensor—an important feature, as changes in electrode geometry, temperature, and alteration of the conductive surface can affect how the sensor conducts electricity.
Spectrum Technologies, Inc., Plainfield, Ill.
AGCO WR Series Self-Propelled Windrowers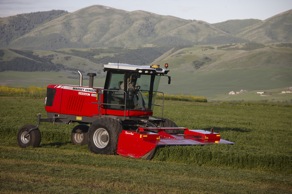 The WR Series self-propelled windrowers feature electro-hydraulic controls operated by a virtual terminal. This technology provides more precise control over the primary windrower functions while incorporating fully integrated GPS autosteering with field speeds up to 16 mph, 45 percent faster than AGCO's previous-generation windrowers. This is made possible by the electro-hydraulic steering controls, which eliminate the need for mechanical linkages that can cause steering inaccuracies. Because the steering is electro-hydraulic, operators can adjust the steering sensitivity to better suit their driving preferences. The suspension has also been upgraded to accommodate faster speeds by using air-ride cab suspension, a semi-active air-ride seat, mechanical rear axle suspension, and radial tires.
AGCO Corp., Duluth, Ga.
ReproQuest RQ 800 "Viper" Automatic Packaging System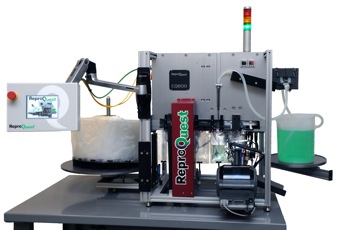 The RQ 800 "Viper" automatic packaging system allows swine producers to efficiently produce dose-size packages for artificial insemination. Using advanced controls and pump technology, the RQ 800 is capable of 1800 doses per hour while attaining accuracies of ±0.5 percent or better. It uses ethernet-based fieldbus communication to provide fast and accurate motion control and facilitates seamless expansion of additional or customer-specific features, such as check-weighers, sorters, conveyors, and RFID. The integrated display and controller eliminate the need for an external computer and allow the operator full diagnostic capabilities during setup and operation. All batch and operational information is displayed on the screen, providing the user with all necessary feedback during operation.
ReproQuest, Inc., Fitchburg, Wis.
Sukup Safe T Home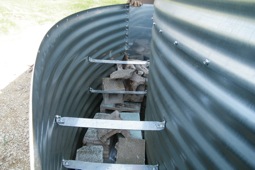 The Sukup Safe T Home is a shelter that can be used for temporary or permanent housing of disaster victims and as housing for impoverished people. It can also be used for schools, churches, clinics, and other purposes. The Safe T Home is well ventilated and, with its aerodynamic shape and ballasted design, it can withstand hurricane-force winds. The structure is 5.5 m (18 ft) in diameter, with 2.4 m (8 ft) sidewalls, and a roof peak of 4.1 m (13.5 ft). The interior volume is 23.6 m2 (254 ft2). At $8,030, the Safe T Home is economical. It can be assembled in four hours with minimal tools and crew, and it can easily be taken down and erected elsewhere. The Safe T Home provides an economical, versatile, and portable solution to the problem of emergency shelter.
Sukup Mfg. Co., Sheffield, Iowa
Sukup Single Phase Centrifugal Dryer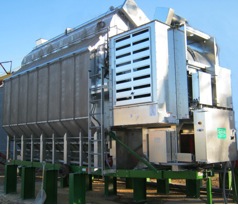 The 5 m (16 ft) Single Phase Centrifugal Dryer provides greater drying capacity than previously available to farms with single-phase electrical power. This centrifual dryer has a converter that changes single-phase power into three-phase power. This permits the use of larger fan motors—potentially up to 50 horsepower—than could previously be used with single-phase power. The converter, not sold separately, mounts to the side of the dryer. It provides clean, balanced three-phase AC power that is more reliable than the power provided by external phase converters. With a built-in, variable-frequency drive, the phase converter allows the dryer motor to be soft-started, resulting in longer motor life and smooth, steady operation.
Sukup Mfg. Co., Sheffield, Iowa
John Deere S-Series Combines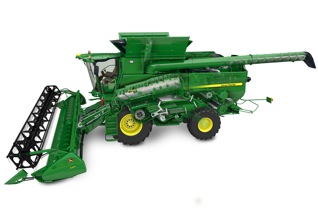 The S-Series is an all-new lineup of combines from John Deere, with over 45 percent of the major separator components redesigned to deliver higher performance than the 70 Series STS combines that they replace. Included is the S690, a class 9 combine that handles 18-row corn heads and 12 m (40 ft) cutting platforms. The cab provides 30 percent more interior space, increased visibility, and an integrated refrigerator. An isochronous governor allows the separator's functional areas to operate at a constant speed under varying loads to enhance field performance. The S680 and S690 feature the largest factory-installed grain tank (400 bushels) and can unload 3.8 bushels per second. Class 6 through 9 deliver up to a 20 percent increase in cleaning shoe capacity, even on 12 percent slopes.
Deere & Company, Moline, Ill.
Case IH Steiger 600 Tractor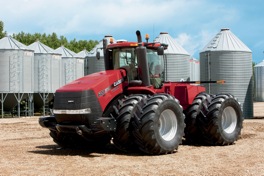 The Steiger 600 is powered by an innovative 13 L, 600 horsepower, two-stage turbo engine powering an increased-capacity drivetrain that can be ballasted up to 30 tons (66,000 lb), the highest weight capacity in the industry. Although it requires a class 5 drawbar, a conversion option is included to facilitate use of existing class 4 drawbar implements. The fuel capacity has been increased by 50 percent with a tank holding up to 1,703 L (450 gal). Operator visibility has been optimized by use of low-profile hood and properly positioning the intake and exhaust components. The redesigned interior accommodates leg room for the nearly doubled seat swivel of 40 degrees to the right to reduce operator fatigue and increase productivity.
Case IH Agriculture, Racine, Wis.