Air seeding systems keep getting bigger to match the needs of larger farms.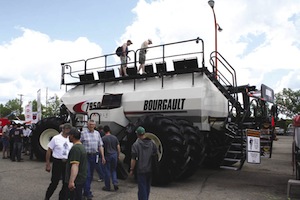 Introduced this year, this air seeder offers four main tanks with 950 bushels in total capacity; a 30 bushel side tank is optional. Other features include wide stairs ahttps://admin-farm-equipment-stage.epublishing.com/admin/article/general/load?articleId=6447#delete-keyword=656||tractornd catwalks.
The planting window for farmers remains the same whether they're working 1,000 acres or 10,000 acres. As a result, growers who are expanding their operations are looking for larger planting systems so they can cover more ground in the same amount of time. To meet their expanding needs, air drills that are 90 feet wide or more are being paired with air carts that carry more than 800 bushels of tiny seeds.
The first "pneumatic broad acre air seeder" was patented in Australia in 1956 for planting large fields through the use of a central distribution chamber. The first air seeder was mounted on a chisel plow. Today, seeds and fertilizer are pulled behind the drill in a separate cart, which houses a high-capacity fan. Air from the fan is carried through tubes located under the hoppers. Seed and fertilizer is carried in the air stream to row openers on the drill.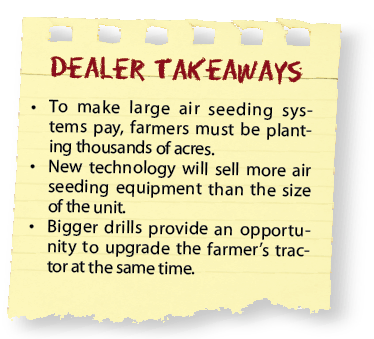 Foster's Agri-World sells farm equipment to farmers in Alberta's Peace Country, a large ag region in the northwestern part of the province. The primary crops are cereals, oil seeds and grass seed.
Many growers there raise creeping red fescue, which thrives in the summer's long hours of daylight. Grown for lawn seed, creeping red fescue is put in the ground with an air drill, because of the implement's ability to cover a large field quickly and accurately. "Farmers plant fescue in one of two ways," says Jason Hipkins, sales manager for Fosters in Beaverlodge, Alberta. They'll put it in the ground as a stand-alone crop, or seed it as a cover crop, planting it along with barley or canola. When the crop is harvested in the fall, the fescue is allowed to grow so it can be harvested for lawn seed.
Big Acres=Big Drills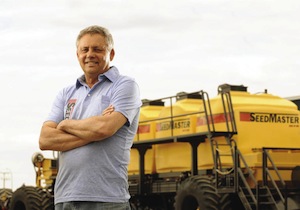 Farmer and engineer, Norbert Beaujot of SeedMaster.
"Like most areas, farms in this region are getting bigger as owners retire and sell out to operations that are expanding. The average acres our customer run has easily doubled in
the past several years," says Hipkins. "I don't have many guys under 4,000 acres these days."
That's good news when it comes to selling air planting systems, which make up 40% of Fosters' sales.
As farmers cover more acres, air planters make more sense financially. "Due to the cost of this machinery and the technology that goes into it, farmers must plant thousands of acres for it to make sense," says Hipkins. "You can't have a 75 foot drill and seed 1,500 acres with it. The cost per acre would be astronomical."
The air drills used in the Peace Country are in the 55-75 foot range.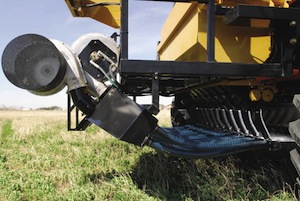 Two fans feed isolated airflows into this air cart's primary runs, allowing farmers to run low air speeds for canola and high for fertilizer, preventing seed damage.
"The trend with air drills and carts is definitely to go bigger," says Allen Carey, corporate sales manager, Redhead Equipment, Swift Current, Sask., where farms average 15,000 acres. "Today, I sell mostly 550 and 700 bushel carts, where 225 bushel carts were once our most popular units."
From Field to Field
Just how big the equipment can get in North America is limited by the need for farmers to use public roads to move machinery between fields.
"Transportation is a huge deal with this equipment," says Jack Oberlander, manager of the planting and seeding division for Amity Technology, Fargo, N.D. "Getting air drills to fold into a small enough package to move along public roads puts a limit on how wide the equipment can be in the field. Once in the field, there's really no limit, especially with tractors gaining more horsepower nearly every year."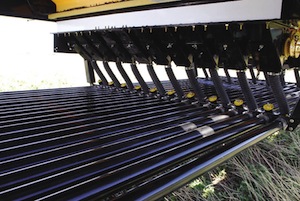 Introduced this summer, SeedMaster's new air cart holds 820 bushels of product. Its 10 primary runs carry more seed and fertilizer to ever-wider air drills. It's designed to seed up to 400 pounds/acre on any sized air drill at 5 mph.
The more densely populated a region, the greater the risk of moving large equipment down the highway. Oberlander believes that's one of the reasons Amity's air seeding system technology is popular in Russia and Eastern Europe where population is sparse. "On the other hand, in the densely populated areas of Western Europe where roads are narrow, farm equipment has to be within 3.5 meters to use the highway. Regulations like that make it a challenge to design larger equipment."
Norbert Beaujot, farmer, engineer, and president of SeedMaster, Emerald Park, Sask., says "If we could move them down the road, we'd build bigger drills and farmers would buy them. Folding becomes too complex if you go past 90 feet. It's too tall and wide for normal transport. As an engineer, it's a fun challenge, but there are always limitations. It would be easy to make the folding mechanism too complicated."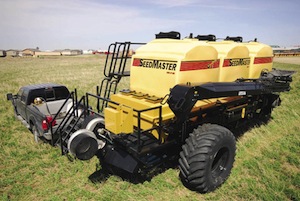 Technology helps make farming more efficient. This air cart suspends its four modular tanks on load cells that send weight readings to monitors in the cab of the tractor, telling farmers exactly how much product is in the tanks.
Dealer Support
Carey says the air seeding systems aren't as complex as they might appear because of the manifolds and air lines. "They're not like running a combine or a sprayer. The conditions those machines are operated in are more diverse too, making them more of a challenge to support.
"My guys love selling air drills," says Carey. "We sell 40-50 new units a year, and see no more than 12 of them out in the field on service calls. The rest are off and running."
Because the equipment is bigger, capital costs can go up in order to support farmers in the field during planting season, says Don Henry, COO, Morris Industries, Saskatoon, Sask. "During the busy planting time, the Morris 360 service program includes additional support staff that's available to dealers 24/7 to ensure customers are kept in the field with minimal downtime."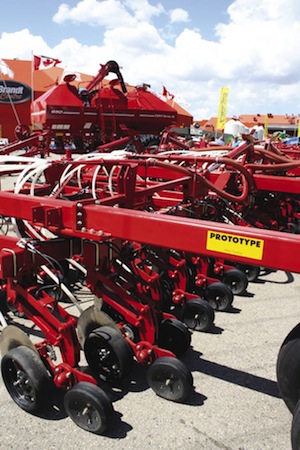 Morris Industries showed this independent disc air drill prototype at the Saskatchewan Farm Progress Show this past summer. It features 7.5, 10 or 15 inch row spacing.
From the retail perspective, Carey says larger equipment doesn't necessarily mean more challenges for dealers. "Whether we're selling a 50 foot drill or an 80 footer, there's not a lot of extra time to assemble the additional openers. The bigger drills give us more opportunities to upgrade a farmer's tractor so it's a better match to the drill."
Technology on the Rise
Impressive as they may be, size isn't the only reason farmers buy a new air seeding system. "That's an important part of some of the purchases," says Foster's Jason Hipkins, "but a lot of the buying that occurred in the past 5 years is because of new technology."
Farmers typically buy the cart and the drill at same time. But they usually don't get traded as often as a combine. Hipkins says the average farmer will run an air drill for 5-7 years. That's a lot of time for new technology to develop.
Input costs are also getting more expensive. Canola seed can cost $10 a pound. Add to that fertilizer running around $75 per acre, and farmers will be looking for ways to increase yields in any way possible.
Hipkins says a new design that has made a difference is the replacement of fixed row openers with independent units that allow for more precise seed placement because the openers follow the contour of the ground more accurately. "It's unbelievable the amount of interest these have had," he says. "The independent opener will put money in a farmer's pocket every year."
On this prototype independent disc drill, a walking beam pushes the 20 inch disc into the ground, while hydraulic closing ensures seed-to-soil contact. 
Depth control is also important. Canola, for example must be planted 0.25-0.50 inches deep. If it's too deep, the crop will not be uniform, or will not emerge at all. In the past 3 years, 85% of the drills Foster sold were independent vs. fixed frame drills.
Because of the width of air drills, sectional shutoffs are also saving money for farmers. With input costs climbing, farmers don't want to double up on seed and fertilizer placement.
Some of the new technology goes beyond the drill itself, into areas such as telematics. "Inputs are expensive. It's absolutely critical to do things correctly the first time. Providing a way for farmers to monitor how the equipment is working also provides a lot of piece of mind," says Oberlander. "Telematics will allow the owner to monitor the air system as it's working in the field. They'll be able to ensure it's running at the proper depth, at the correct rates — and even in the right field."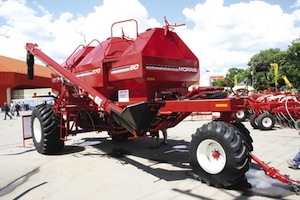 The electronic system that's incorporated into this air cart can control up to five tanks, making prescription map control of each product possible. These air carts are available in tow-behind (the drill) or tow-between configurations.