In this episode of On The Record, we examine the latest update to the Purdue Ag Economy Barometer, where rising interest rates became growers' number 1 reason to avoid large investments. In the Technology Corner, Noah Newman takes a look at one of John Deere's latest innovations: Furrow Vision. Also in this episode: USDA's prospective planting forecast for 2023, dealers' rising used combine inventories and a look at Buhler Industries' recently released annual report.
This episode of On The Record is brought to you by Agrisolutions.
Improve performance and durability with a wide range of premium tillage parts and extended life solutions, with Agrisolutions. As the market leader in wearable parts, components, accessories and solutions for tillage, seeding, planting and fertilizing, Agrisolutions is proud of their purpose - to build and feed the world. To learn more about Agrisolutions and their globally recognized brands, such as Bellota, Ingersoll Tillage and Trinity Logistics, visit Agrisolutionscorp.com.
---
TRANSCRIPT
Jump to a section or scroll for the full episode...
Rising Interest Rates Now a Top Concern for Farmers
Rising interest rates have become a leading reason for growers to not buy farm equipment, according to the latest update to Purdue's Ag Economy Barometer.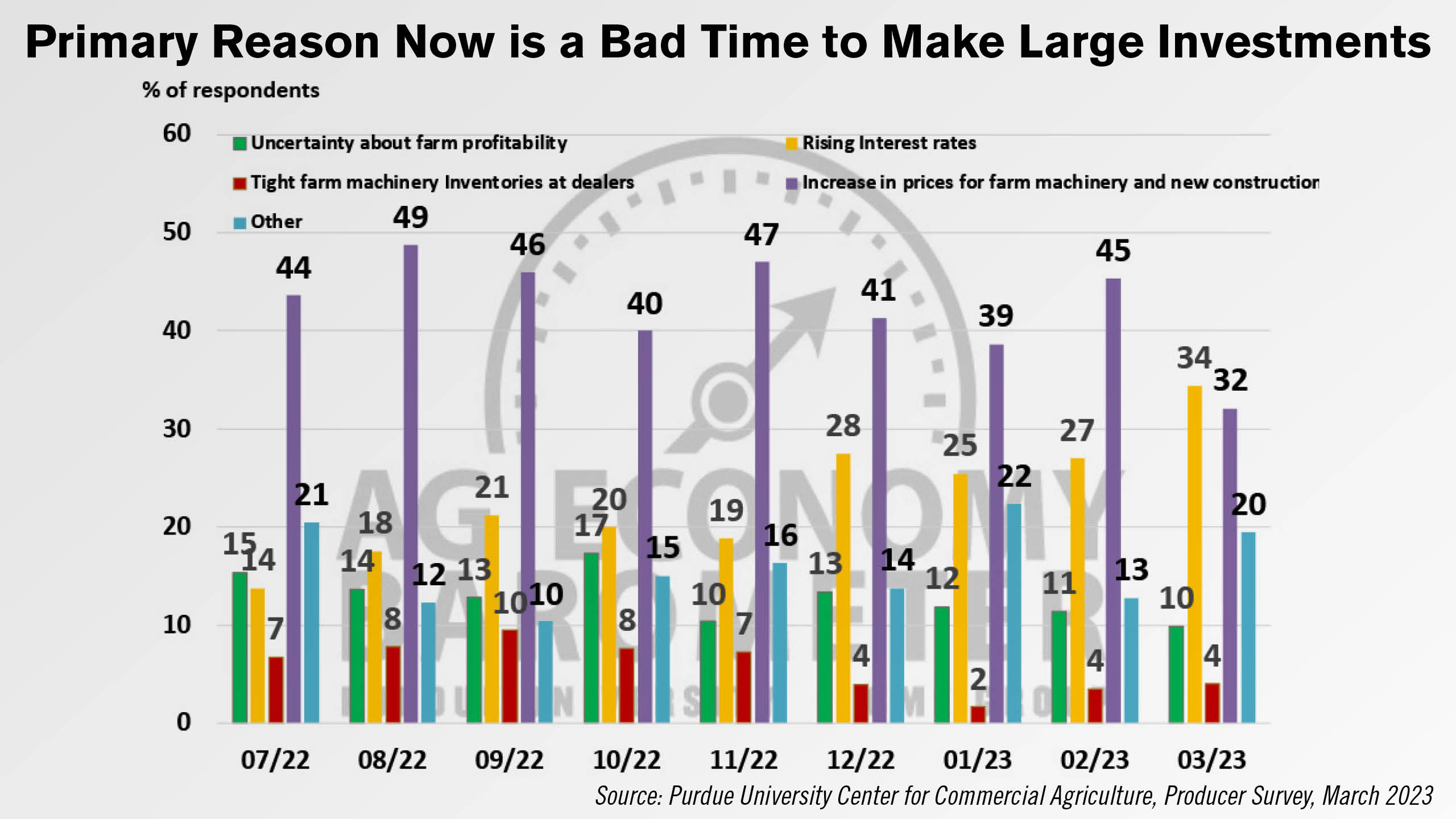 In the April update, one-third of farmers said rising interest rates was the primary reason that now is a bad time to make large investments like farm machinery and new construction. The increasing prices of farm machinery was the second-most selected option at 32%, which was down from 45% in the previous update. Overall, over 70% of surveyed farmers said now is a bad time to make large investments in their farming operation.
When responding to the open-ended comment question posed at the end of the survey, multiple respondents voiced concerns about the banking sector's problems and its potential to hurt the economy, which likely also weighed on producer sentiment, according to the report.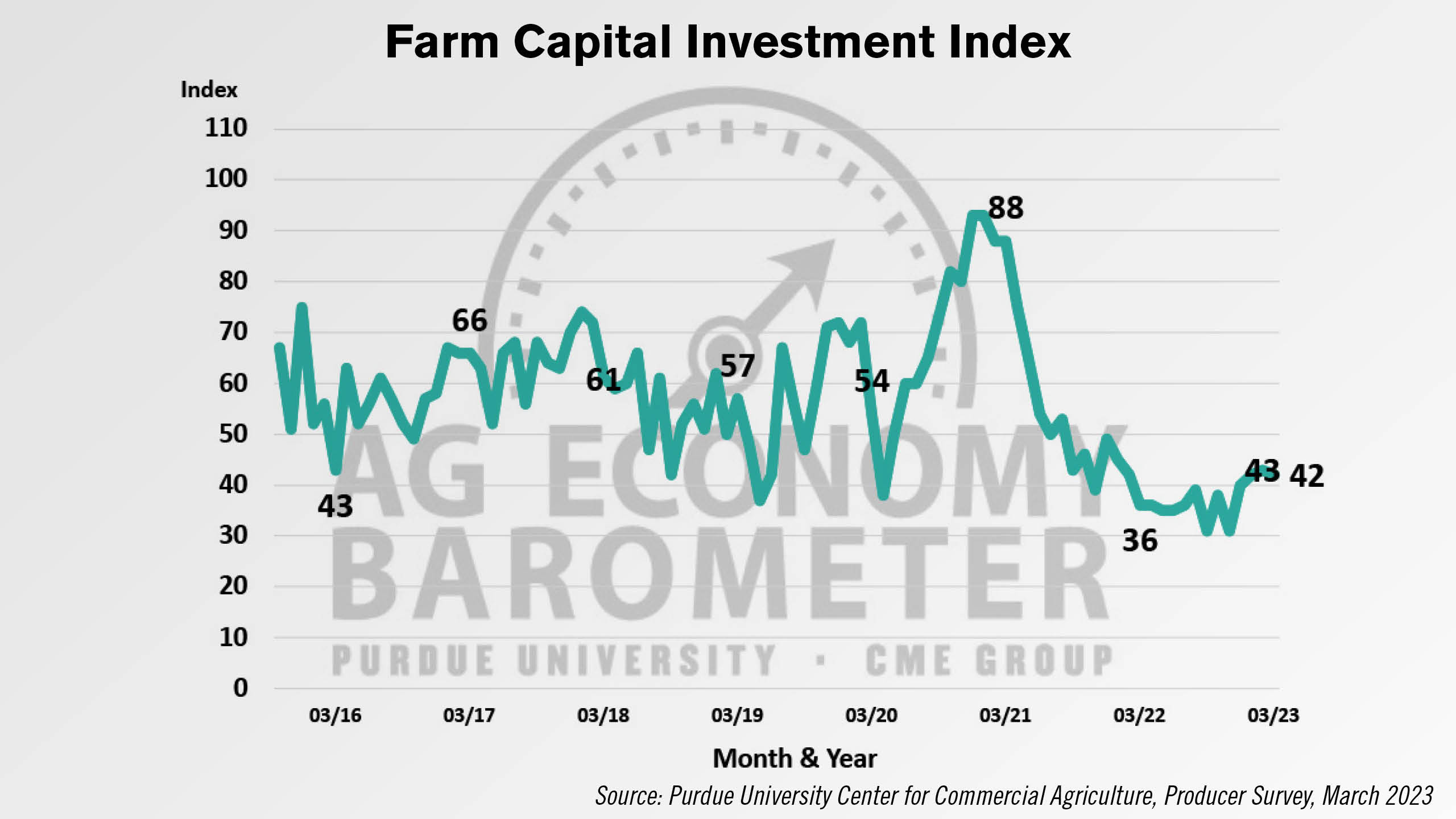 The Farm Capital Investment Index was down slightly in the latest update to the Ag Economy Barometer to a reading of 42 vs. 43 in the previous update, its third month in a row of little change.
Dealers on the Move
This week's Dealers on the Move are B&K Power Equipment, United Ag & Turf, Redline Equipment and Kenn-Feld Group.
Single-store Massey Ferguson dealer B&K Power Equipment in Marengo, Ill., announced it would permanently close on March 21. John Deere dealer United Ag & Turf announced on. March 28 its acquisition of Lawson Implement Co., which had locations in Hamilton and Goldthwaite, Texas.  Also on March 28, Case IH dealer Redline Equipment broke ground on a new facility at its Logansport, Ind., location. And John Deere dealer Kenn-Feld Group opened its 9th location in Fort Wayne, Ind., on March 30.
First Look: Deere's FurrowVision Brings Eyes of Grower into the Furrow 
John Deere showcased some of its newest precision equipment at the company's brand-new demonstration farm in Austin, Texas this week.
Let's check out some of the stuff we saw. Here's a look at autonomy in action. Autonomy senior product manager Joe Liefer, from his phone, starting an autonomous 8410R tractor with a 2430 chisel plow attached.
Elsewhere in the field, See & Spray Ultimate was on display. Designed by Blue River Technology, there are 36 cameras across the 120-foot boom. Here it is moving at the spax speed of 12 mph.
And we also got our first look at a new planter performance upgrade called FurrowVision. It mounts onto row units and brings the eyes of the grower into the furrow. Jesse Haecker shows us how it works.
 "What you see here is our Furrow vision product. It's made up of cameras, lights and a laser. We're using those components to be able to identify depth. You can get a live video feed of inside the furrow from the cab through connect mobile platform. On Gen 4 display you can see seed depth. From a customer's standpoint, not only do they get eyes into the furrow and look but the first measurement that we're doing with that technology is to give them an indication of depth so they have an idea if I need to get out of the cab and make adjustments on the machine."
 It's not available right now. It's out in the field with customers doing validation testing. Targeting a limited release in 2024. In the TC I'm NN back to you BT.
USDA: Planted Corn & Soybean Acreage Up for 2023, Current Stocks Down
USDA's Prospective Plantings report, which was released March 31, forecast increases in both planted corn and soybean acreages for 2023.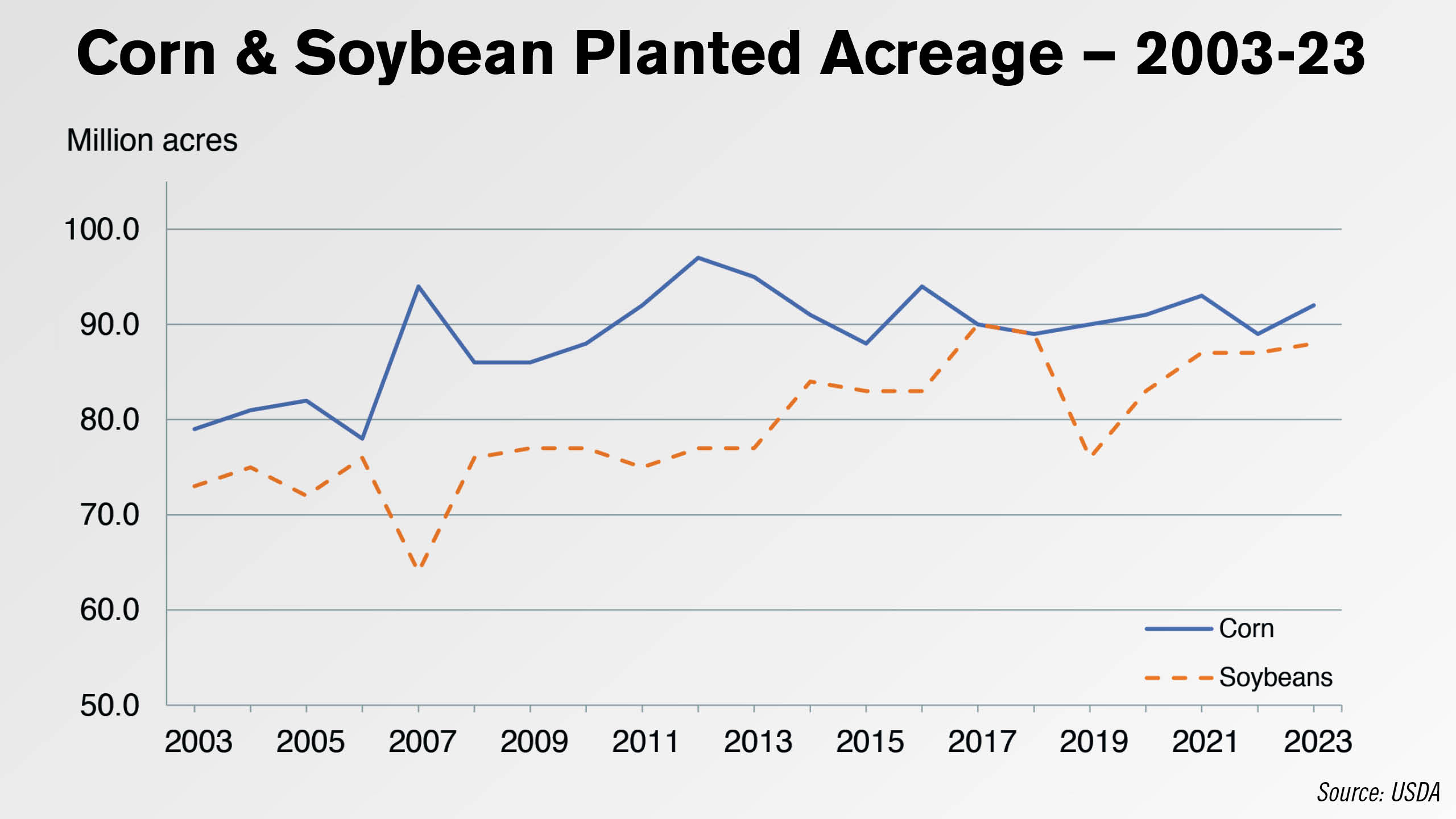 Corn planted for all purposes in 2023 is estimated at 92 million acres, up 4% or 3.4 million acres from 2022. Year-over-year, planted corn acreage is expected to be up or unchanged in 40 of the 48 estimating states. This year's forecasts represent a 1.35% decrease from the 93.3 million acres planted in 2021.
Soybean planted acreage for 2023 is estimated at 87.5 million acres, up slightly from last year. Compared with 2022, soybean planted acreage is up or unchanged in 15 of the 29 estimating states. 2023's forecast represents a 0.35% increase from the 87.2 million acres planted in 2021.
USDA's Grain Stocks report, also released March 31, reported year-over-year decreases in corn and soybean stocks vs. 2022.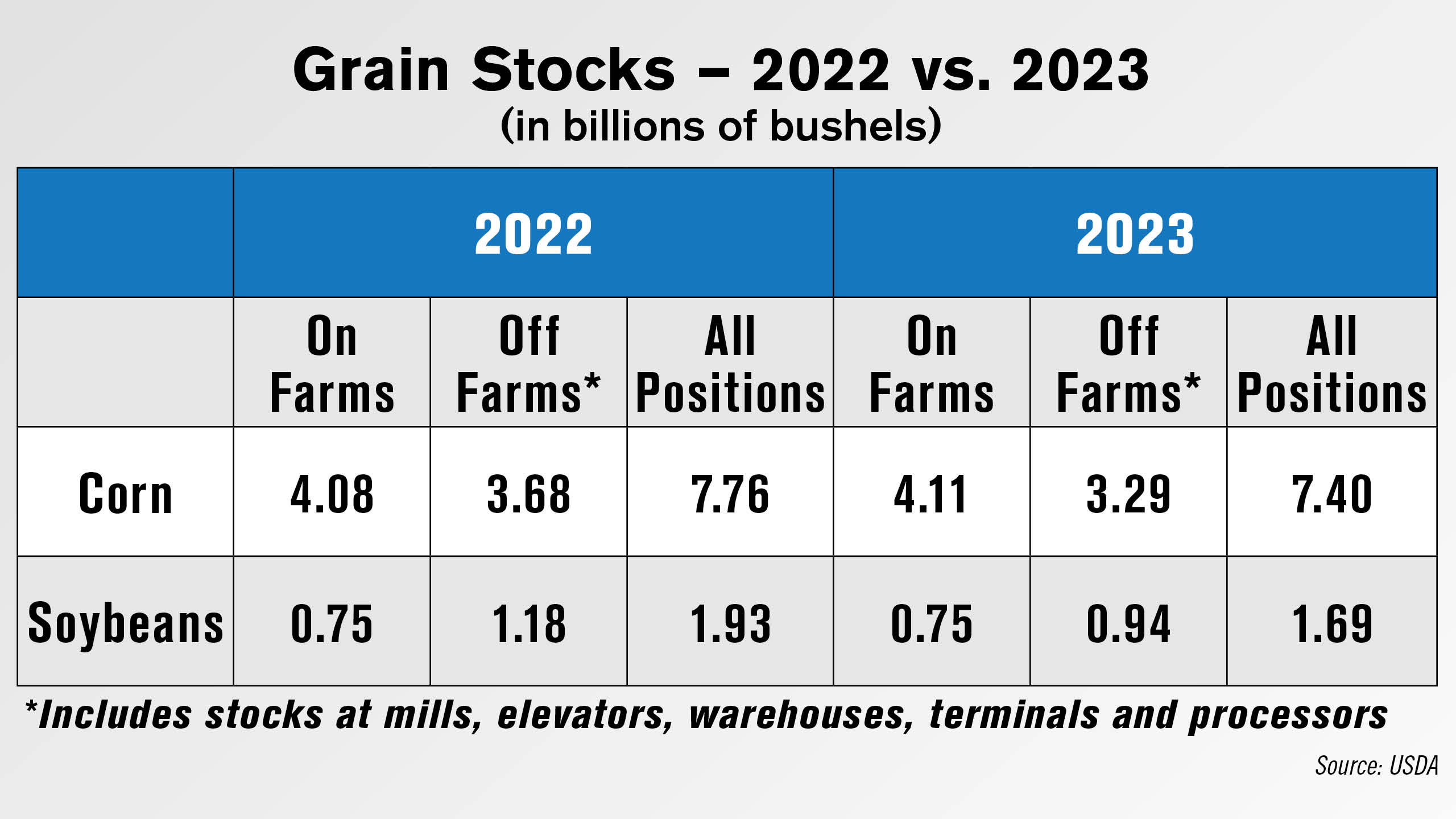 Corn stocks in all positions — both on and off farms — on March 1 totaled 7.4 billion bushels, down 5% from March 1, 2022. Of the total stocks, 4.11 billion bushels were stored on farms, up 1% from 2022. Off-farm stocks, at 3.29 billion bushels, are down 10% from 2022. 
Soybeans stored in all positions on March 1, 2023, totaled 1.69 billion bushels, down 13% from March 1, 2022. Soybean stocks stored on farms are estimated at 750 million bushels, down slightly from a year ago. Off-farm stocks, at 936 million bushels, are down 21% from last March.
Used Combine Inventories Move to 'Too High'
Dealers' used combine inventories are recovering from record lows, according to the latest results of the Ag Equipment Intelligence Dealer Sentiment & Business Conditions Update.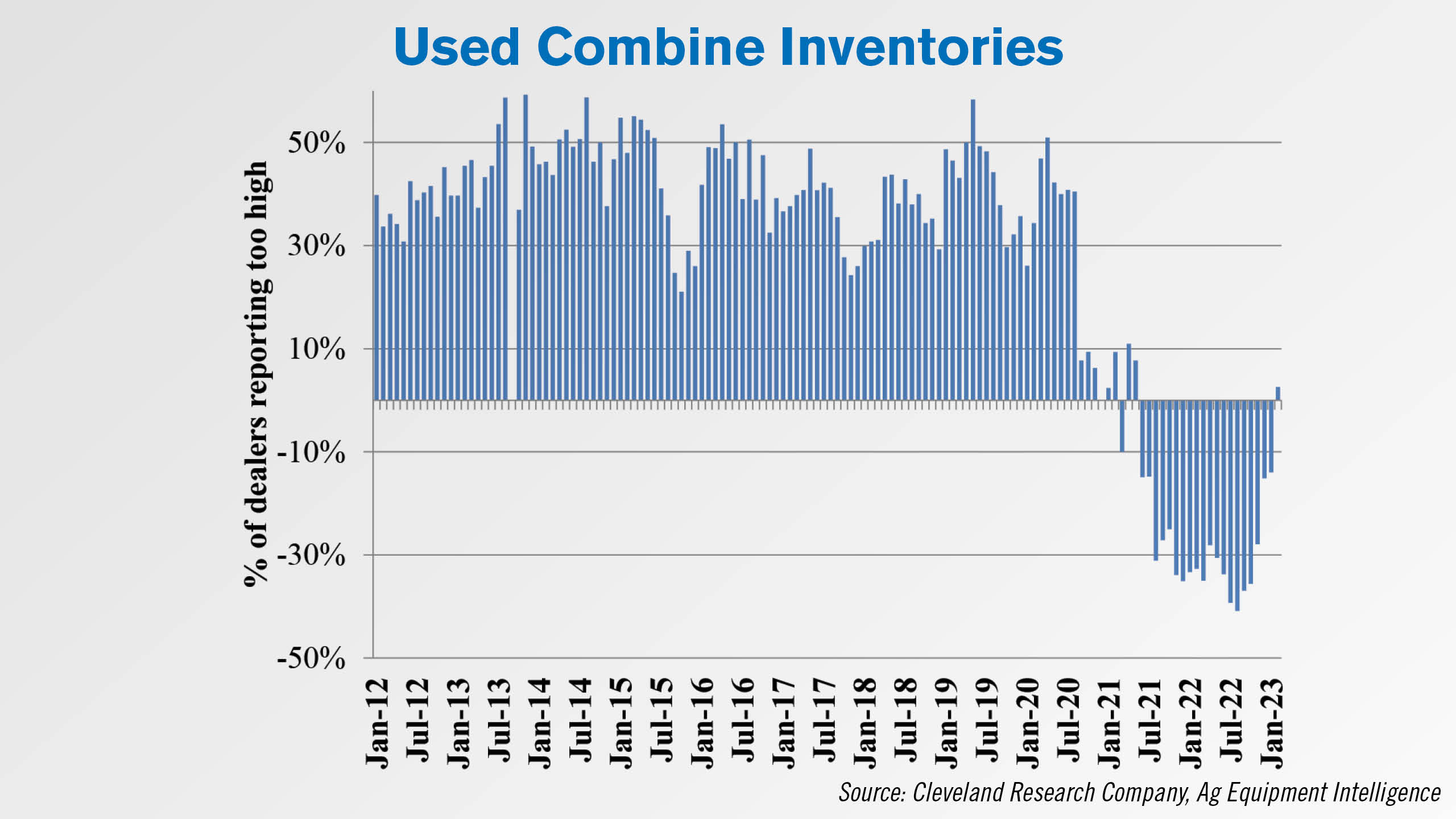 A net 3% of dealers reported used combine inventories as too high – the first "too high" reading since May 2021 – in February vs. the net 16% reporting inventories "too low" in January.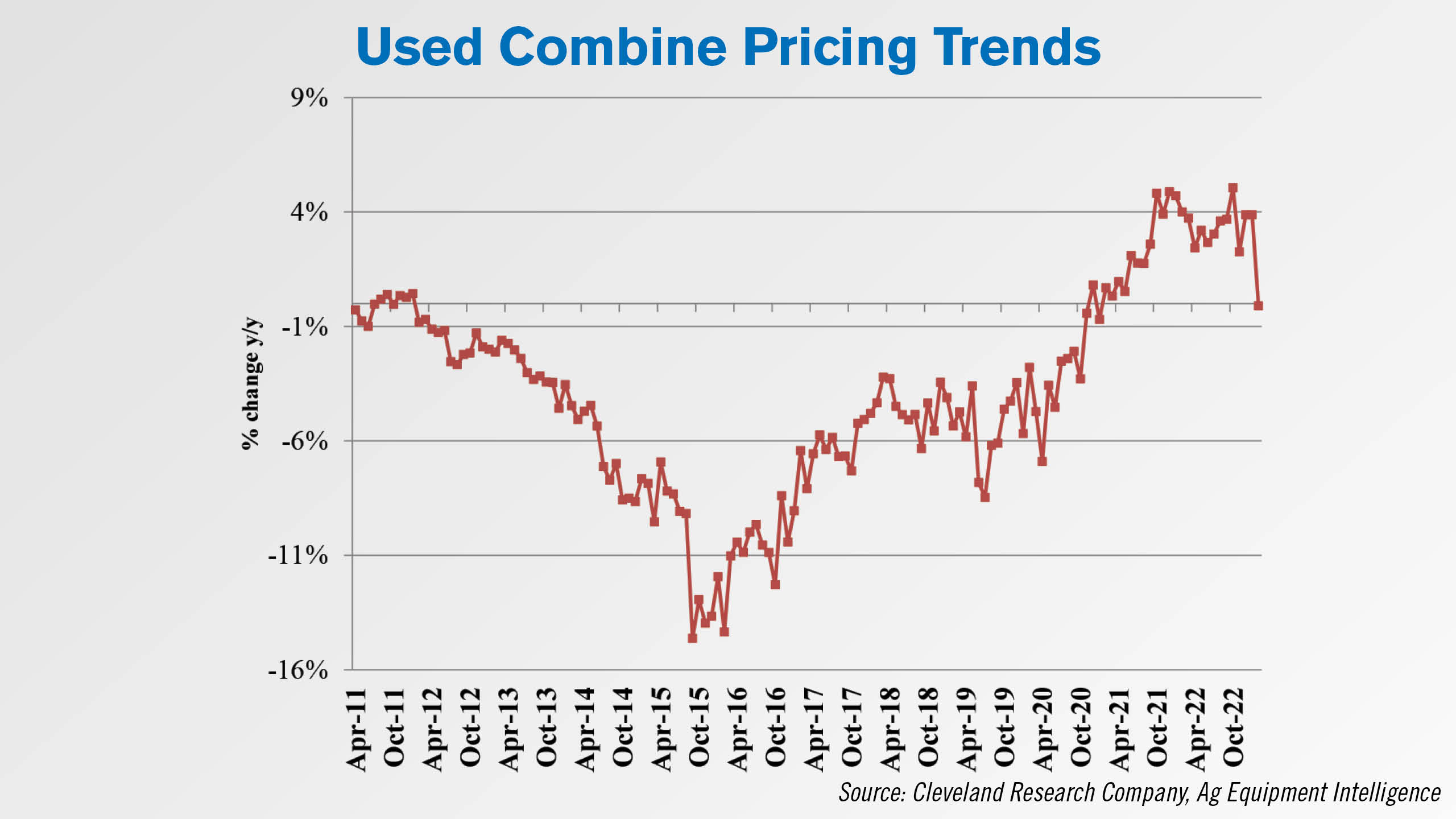 Used combine pricing declined notably in the latest r­­esults as well, coming in flat year-over-year for the first time since early 2021 vs. a 4% year-over-year increase that was reported for January.­­­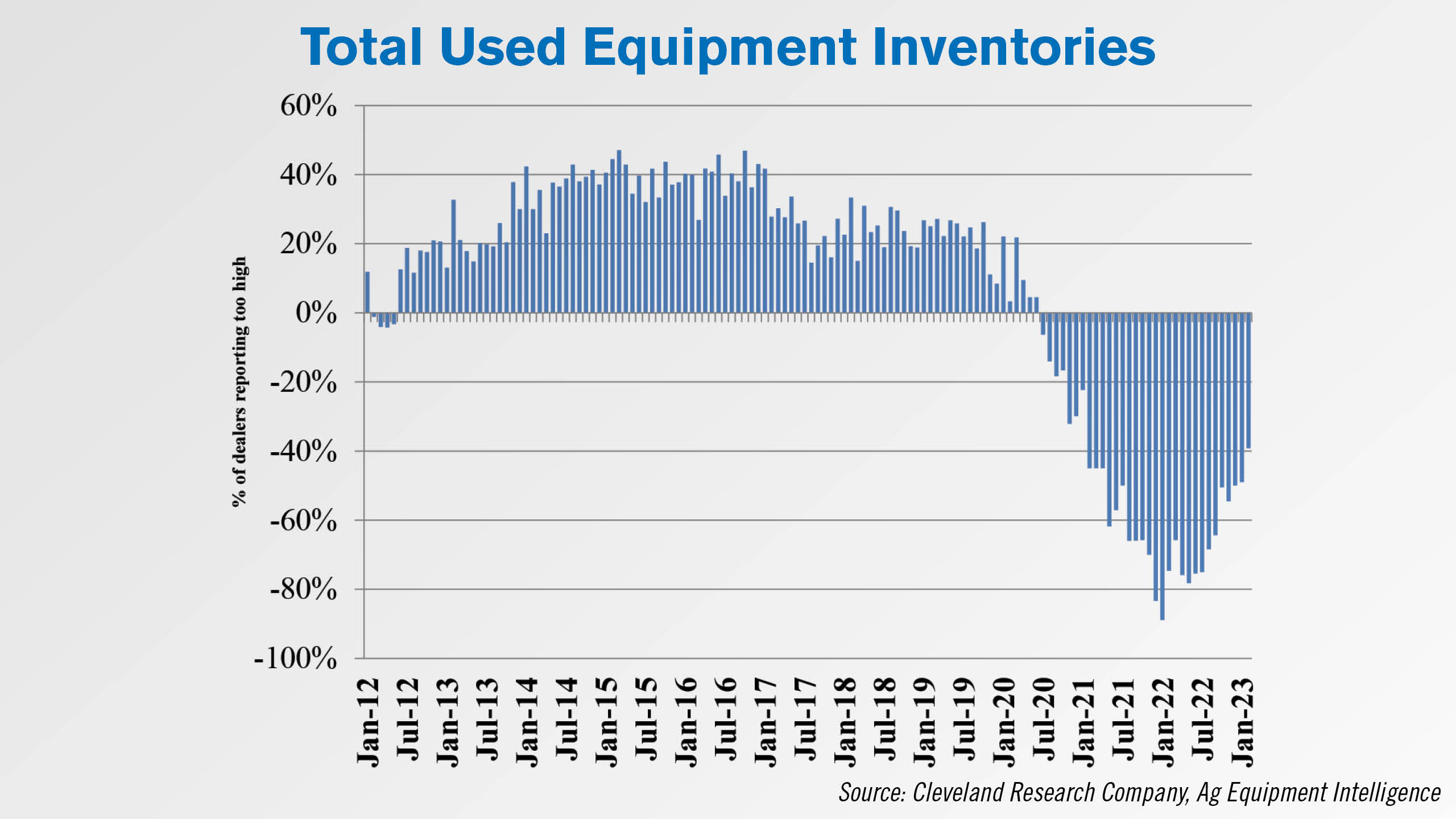 Total used equipment inventories remained in the "too low" range, with a net 39% of dealers reporting them as such, compared to 52% reporting the same in January. Used high horsepower tractor inventories remain low as well, with 78% of dealers reporting them "too low" in January.
Buhler Industries Reports $179 Million in 2022 Revenue
On March 31, Buhler Industries, the manufacturer of the Versatile and Farm King lines of ag equipment, reported $179 million in 2022 revenue, down $58 million from $236 million in 2021. 
Buhler said the decreased sales for the period primarily resulted from an accounting change to a December year-end in 2021, which reported 15 months of sales. In its annual report, Vice President Maxim Loktionov stated that despite supply chain limitations and manpower shortages, the Farm King brand specifically saw a 2.1% year-over-year increase in sales.
The company's 2022 investments totaled $3.1 million, including $2.3 million in purchases of property, plants and equipment. This was 35% below the $4.8 million the company invested in 2021, which included $3.7 million in purchases of property, plants and equipment.
Buhler spent a total of $5.5 million on research and development in 2022, down 9% from just over $6 million spent in 2021.
Buhler's total inventory came in at $130 million for 2022, up 5% from $124 million in 2021. Among that inventory, Buhler reported a 12% increase in raw materials to $69 million. 
The company is projecting increased sales for 2023 and said it has a large backlog of sales and continues to have strong demand for agricultural machinery and equipment. Buhler added that increased sales will require additional inventories and receivables to support the sales growth.
DataPoints: Farm Input Composition
This week's DataPoint is brought to you by the Dealership Minds Summit.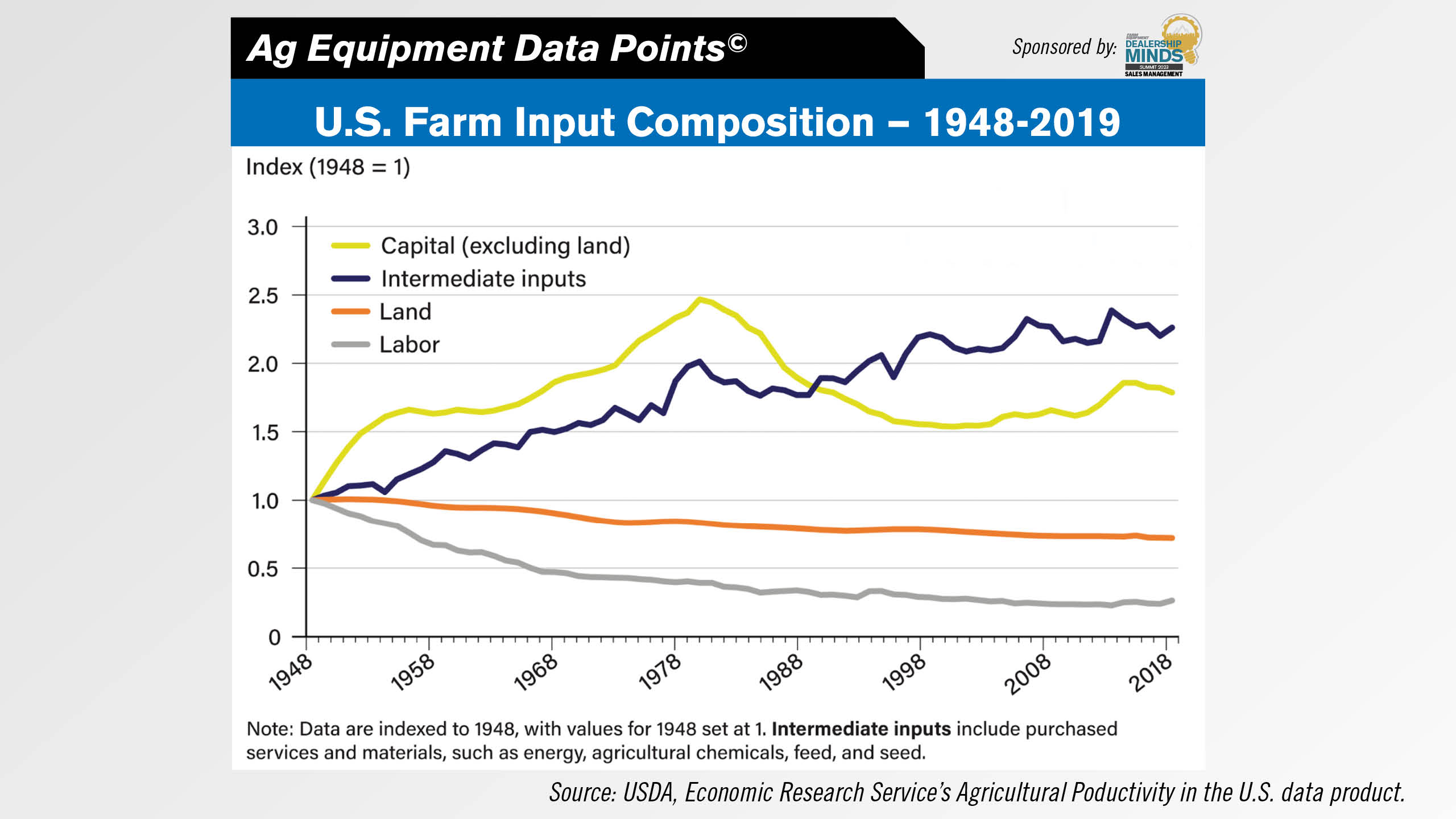 From 1948 to 2019, the amount of farm labor used in the production of U.S. commodities fell 74%, and land use declined 28%. At the same time, the use of intermediate inputs such as fertilizer, pesticides and purchased service rose 126%. The use of capital inputs such as machinery and farm structures like chicken houses and greenhouses grew 79%.

---
On the Record is now available as a podcast! We encourage you to subscribe in iTunes, the Google Play Store, Soundcloud, Stitcher Radio and TuneIn Radio. Or if you have another app you use for listening to podcasts, let us know and we'll make an effort to get it listed there as well.
We're interested in getting your feedback. Please feel free to send along any suggestions or story ideas. You can send comments to bthorpe@lessitermedia.com.