In this episode of On the Record we look at how factors beyond farm income are weighing on farmer sentiment and their willingness to buy equipment. In the Technology Corner, Noah Newman takes a closer look at Deere's new strip-till rig. Also in this episode: AGCO reports a strong third quarter and interest rate increases put pressure on grower and dealer sentiment.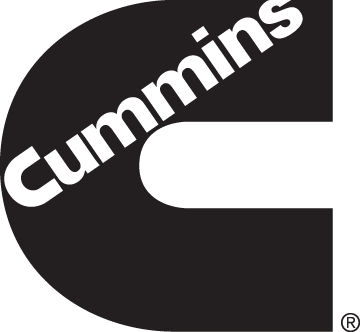 This episode of On the Record is brought to you by Cummins Inc. — Cummins Inc., a global power leader, is a corporation of complementary business segments that design, manufacture, distribute and service a broad portfolio of power solutions. The company's products range from diesel, natural gas, electric and hybrid powertrains and powertrain-related components including filtration, aftertreatment, turbochargers, fuel systems, controls systems, air handling systems, automated transmissions, electric power generation systems, batteries, electrified power systems, hydrogen generation and fuel cell products.  Learn more about Cummins by visiting cummins.com
---
TRANSCRIPT
Jump to a section or scroll for the full episode...
Politics, Inflation Impacting Farmer Sentiment
During a presentation about the outlook for the ag economy during FEMA's fall convention, Professor Jim Mintert from Purdue's Center for Commercial Agriculture, noted that more than farm income is weighing on producers mind when it comes to their sentiment.
A year ago, the big topics growers' minds were inputs, politics, taxes, policy and labor.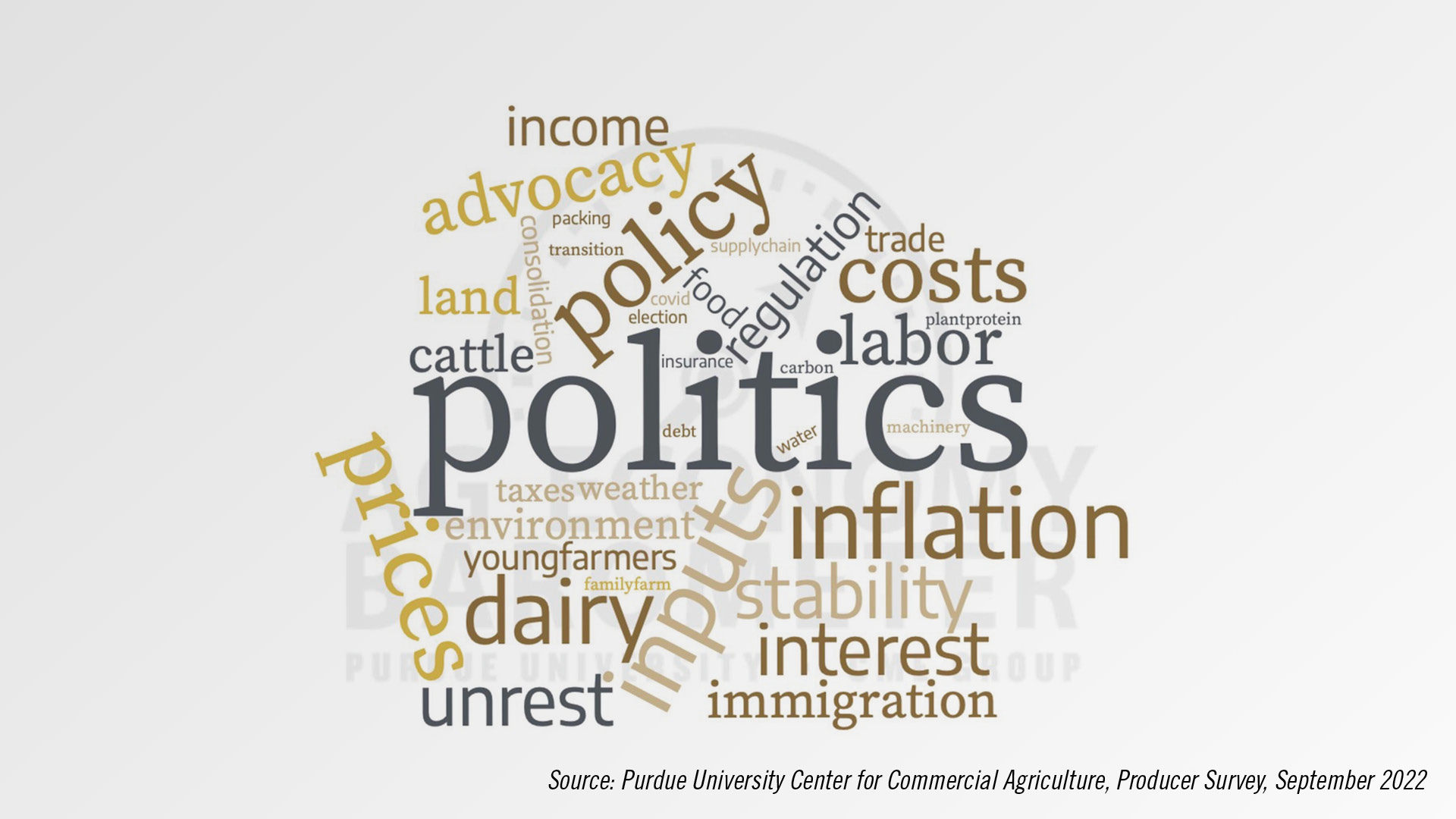 This year, based on the September Ag Economy Barometer survey, politics has moved a much larger issue on their minds. Inflation also was a popular comment, but somewhat surprisingly, Mintert says, is that inputs was a smaller concern than a year ago.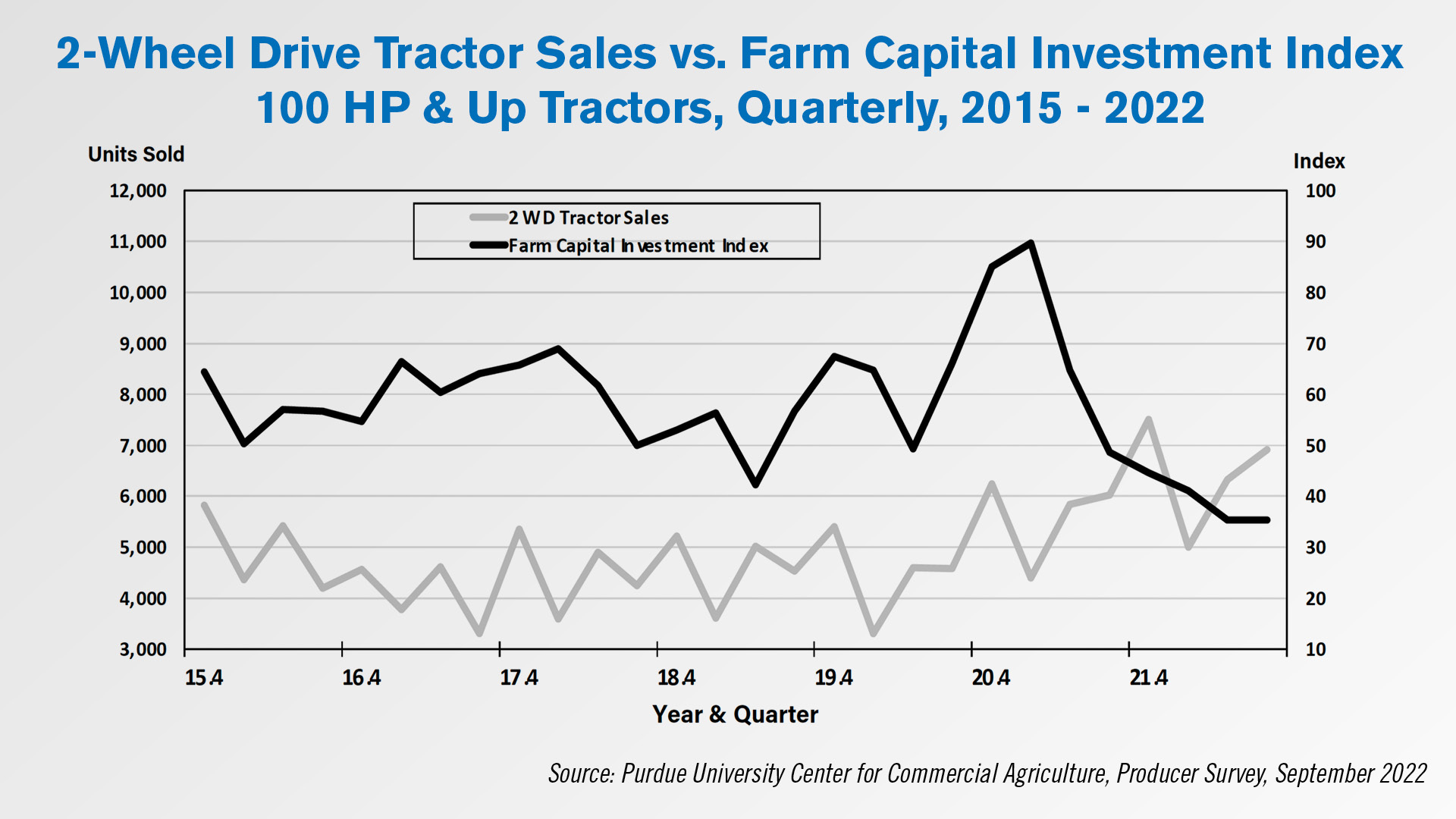 Each month, the survey asks producers if now is a good time to buy equipment. The Farm Capital Investment Index peaked in fall of 2020. Mintert also points out that while tractor sales have strengthened since the fourth quarter of 2020, farmer sentiment was plummeting at this time.
Likewise, while tractor sales strengthened the farm capital investment index was weakening.
"I presented some of this information to a group of investment bankers a few weeks ago and one of the bankers on the call said, 'I get it.' He said, 'I just bought a car. Do I feel good about that? Did I want to buy a car? Was it a good time to buy?' He said, 'No, I didn't really want to buy a car. It wasn't a good time to buy a car. I couldn't get a good deal on a car. I bought a car for one reason. I needed a car. My car was shot.'

"And I think that's what the farmers were saying as well. Is it a good time to make a large investment? No, I can't get a good deal. I'm going to pay list price. I'm going to pay way more than I would've paid back in 2019, which is my anchor point. Do I feel good about that? No. Is it going to stop me from buying? Not necessarily, right? If I need something or if the technology's better or if I've expanded my acreage, et cetera, right?

"So, it's a difference between sentiment, how do I feel about making this investment vs. am I going to do it? And I guess what we've learned is at least in this current rather crazy time, those aren't necessarily the same time with the same thing. I think at some other times those two are probably more highly correlated. But in the current environment, not so much."
The latest Ag Economy Barometer was released on November 4 with a reading of 102 vs. a reading of 112 in the previous report.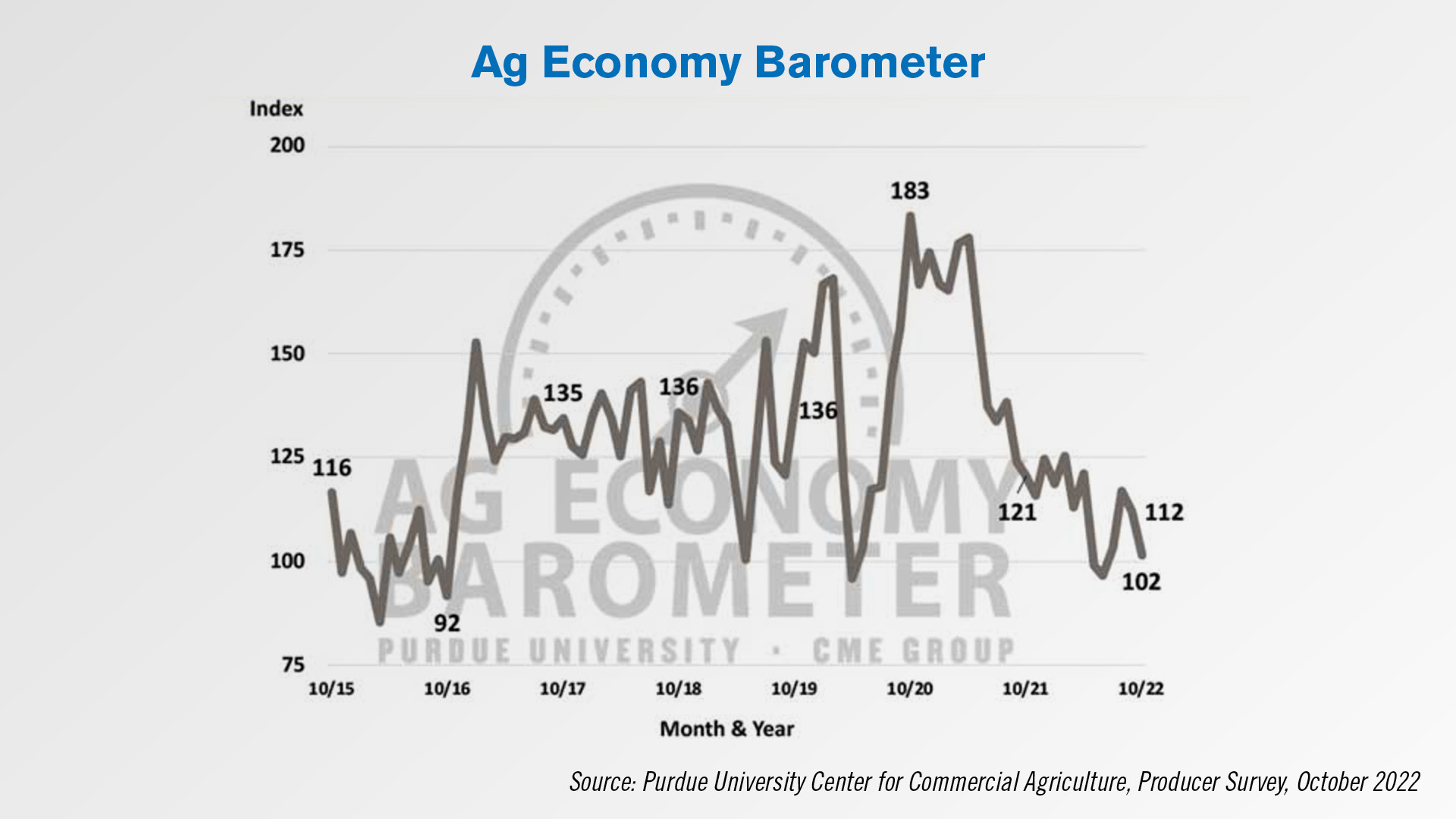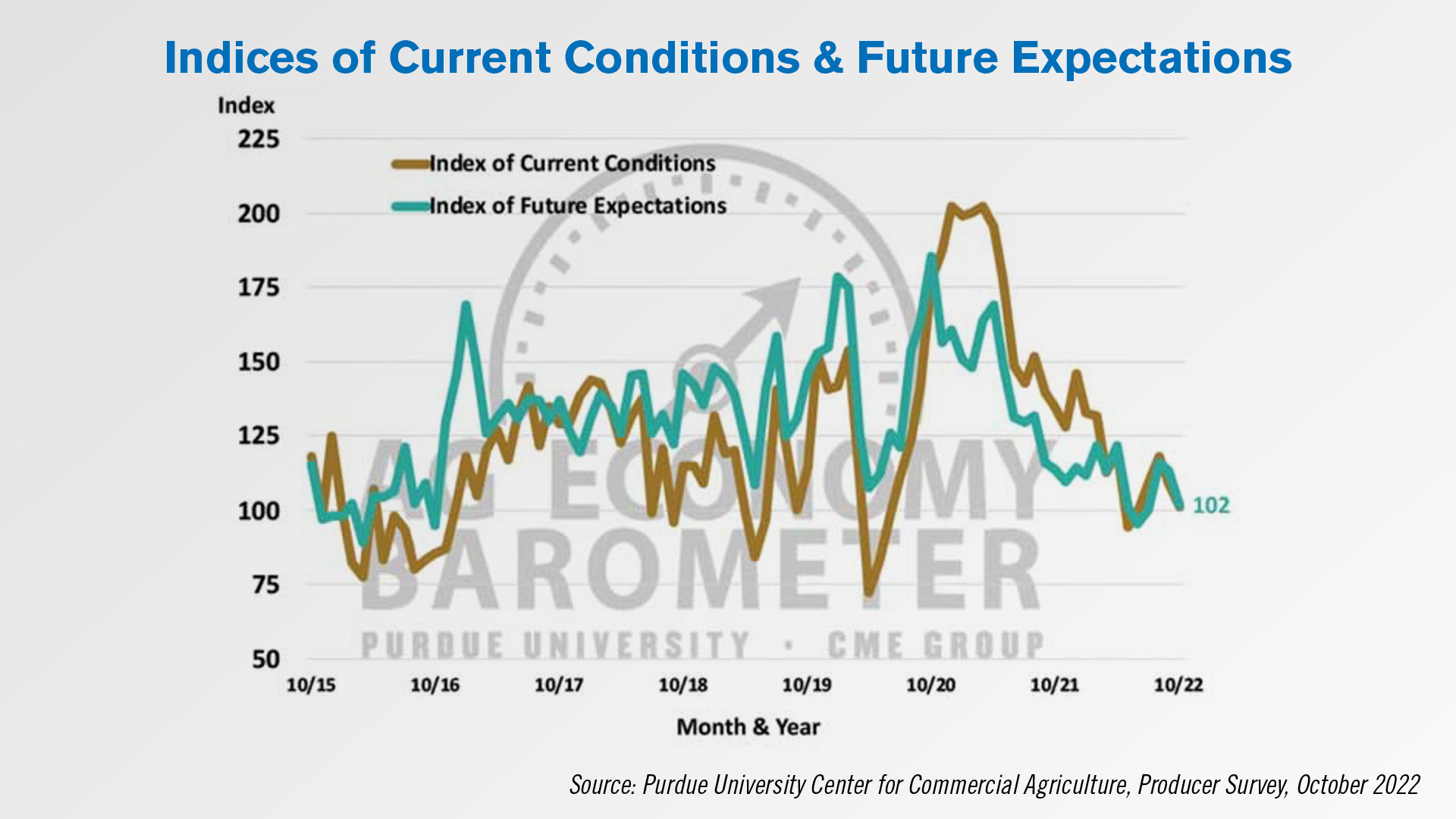 Both the Index of Current Conditions and the Index of Future Expectations, declined this month. The Current Conditions Index dipped 8 points to a reading of 101 while the Future Expectations Index dropped 11 points to a reading of 102.
"This month's survey results suggest that farmer sentiment is on par with that of late 2015 and early 2016. The comparison is interesting because this year's weakness in farmer sentiment is taking place despite very strong net farm income compared to the earlier period," the report said.
Dealers on the Move
This week's Dealers on the Move include Farmers Equipment and United Ag & Turf.
Ohio Case IH and Kubota dealer Farmers Equipment has acquired Evolution Ag, a single-store Kubota dealer in Delaware, Ohio.
United Ag & Turf, a 49-location John Deere dealership, headquartered in Bryan, Texas has completed the acquisition of Quality Implement, a John Deere dealership with 8 Texas locations and one Oklahoma store.
Technology Corner: Inside Look at Deere's Re-Entry Into Strip-Till
John Deere has officially re-entered the strip-till market, confirming what we first reported a few weeks ago. The new units will be available for order in February and will ship this summer.
We got an up-close look at the machine in action at the John Deere Training Center — the ST16 Drawn model, one of five different units available. Each offers a variety of shanks, coulters and row-spacings. I caught up with Deere Product Tillage Manager Steve Sporrer and asked him why the company is re-entering the strip-till game, and how the new unit pairs with their precision technology. 
"As we look at opportunities for growers to be more efficient and sustainable, we want to be able to provide solutions for customers wherever they are along that journey. We feel that this is a great solution for growers that want to be in the strip-till market. We've got the best strip-till solution out there and we're excited to have another tool in the toolbox for growers to implement that strategy.

"And as you look at the total solution we're taking the building blocks of our precision ag products, tying in an integrated steerable hitch so that we can use AutoPath and all of our precision ag technology to simplify the execution of the strip-till job and make it easier and more efficient for the grower to implement."
Deere also announced an addition to their precision technology package, launching TruSet Active tillage technology, which utilizes a sensor to actively check implement working depth and field conditions during operation.
TruSet Active will be included as base equipment on select tillage tools, starting with model year 2024.
AGCO Reports Growing NA Sales, WIP Inventories
In its third quarter earnings report, AGCO reported $911 million in North American net sales, up 43% year-over-year.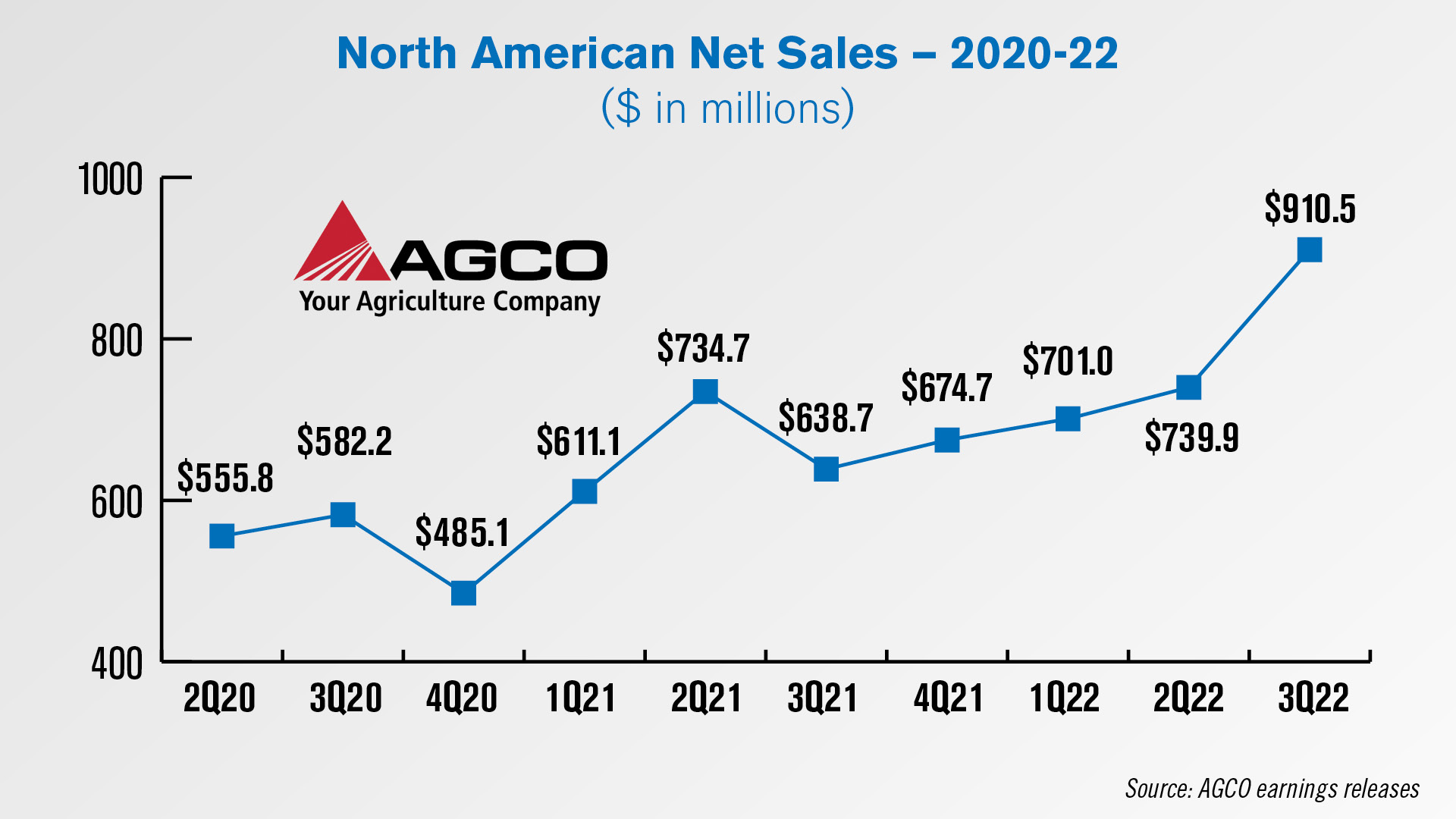 This was AGCO's highest quarterly sales reported in the last 10 quarters, with its lowest being the $485 million reported in the fourth quarter of 2020. Senior Vice President and CFO Damon Audia attributed the strong North American performance in AGCO's third quarter of this year to "the success of Fendt large tractor sales, significant increase in demand for Precision Planting products, as well as overall solid pricing." He said the company had increased prices by approximately 13% in its third quarter, which more than offset "significant material and freight cost inflation." AGCO is expecting pricing for the full year to be up 10%.
AGCO reported $647.4 million in work in process inventory at the end of its third quarter, up 3.5% from second quarter inventories.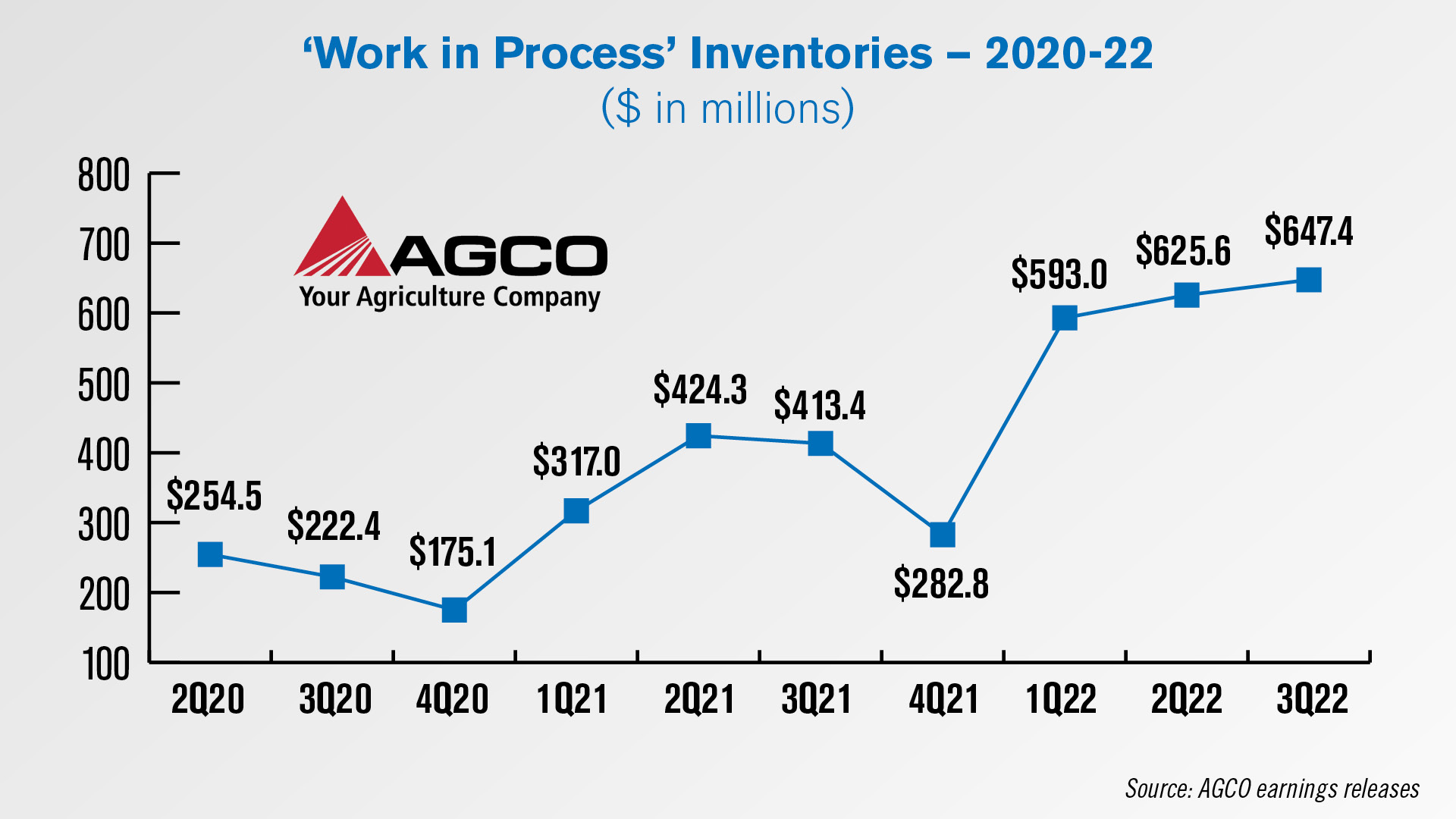 AGCO also increased its production hours in the third quarter by 12% year-over-year and expects production for the full year to be up 6% compared to 2021.
Interest Rates Continue to Worry Farmers & Dealers
According to the latest Ag Economy Barometer from Purdue University, interest rates remain a concern among growers when it comes to their finances.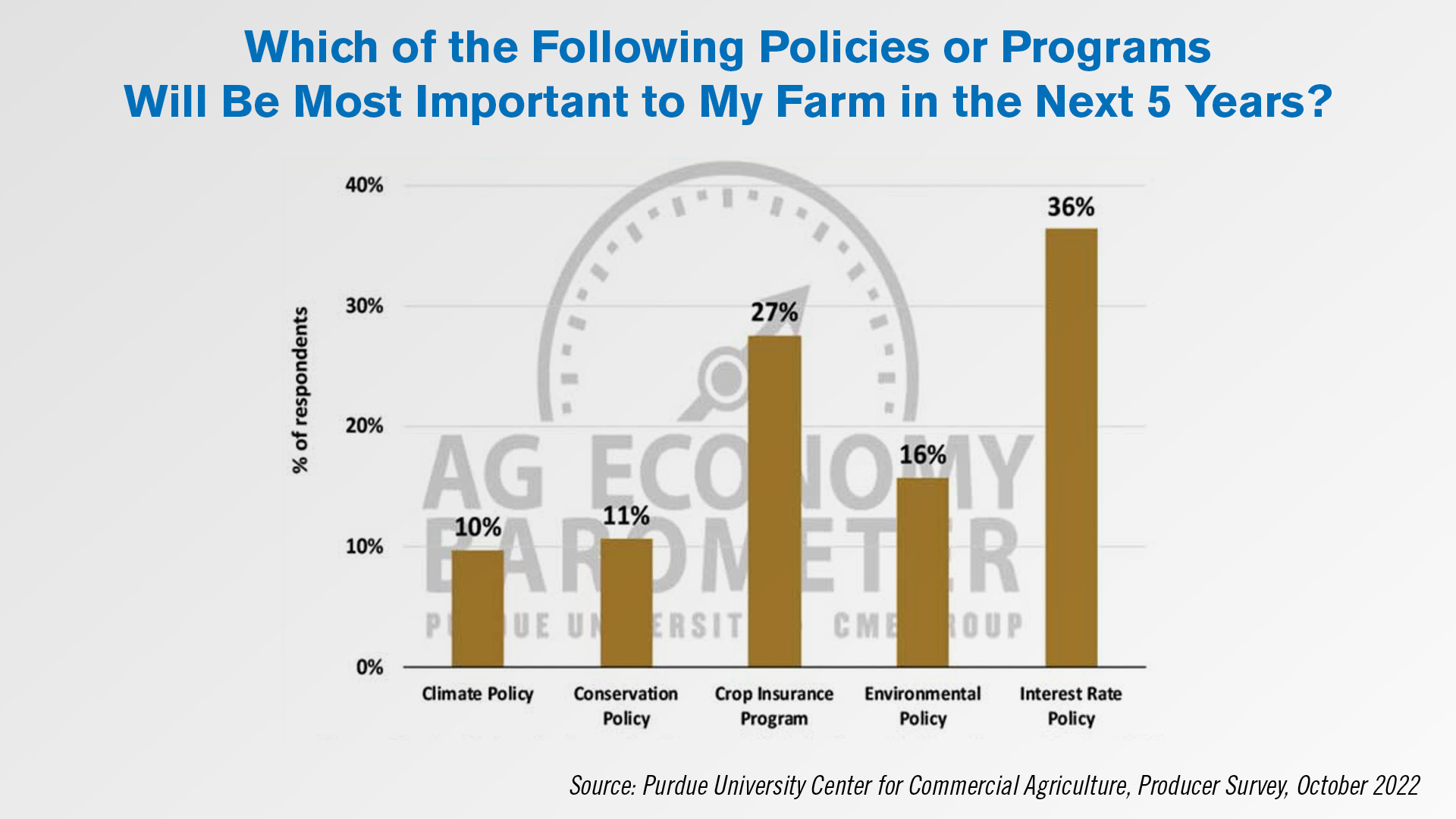 Against the backdrop of Congress preparing a new Farm Bill for 2023, growers were asked which policies or programs would be most important to their farm in the next 5 years. The most selected option was interest rate policy, with 36% of growers considering it the most important to their farm operation.
When asked for the primary reason they consider it a bad time to make large investments, equipment price increases and construction costs remained the most popular choice at 40%. Rising interest rates remained the second-most selected option, with 20% of growers giving it as their primary reason to not make large investments.
Dealers also showed concern with interest rate increases in the latest Ag Equipment Intelligence Dealer Sentiment report. One dealer from the Corn Belt said interest rates had begun to impact his customers' purchasing decisions. Another dealer from the Delta States/Southeast/Southern Plains region said, "2023 will be a challenge. 20-30% price increases paired with 3.5% interest rate increases will impact affordability."
Dealers' sales forecast for 2023 was flat in the most recent Dealer Sentiment report, with recessionary concerns, rising interest rate and equipment costs negatively weighing on dealers' outlook.
On Nov. 2, the Federal Reserve raised interest rates by three-quarters of a percentage point, its sixth increase this year. According to a report from Reuters, however, the Fed "signaled future increases in borrowing costs could be made in smaller steps to account for the 'cumulative tightening of monetary policy' it has enacted so far."
DataPoint: Average Active Ingredient Application Rates Over Time
This week's DataPoint is brought to you by Ag Equipment Intelligence's 2023 Executive Briefing.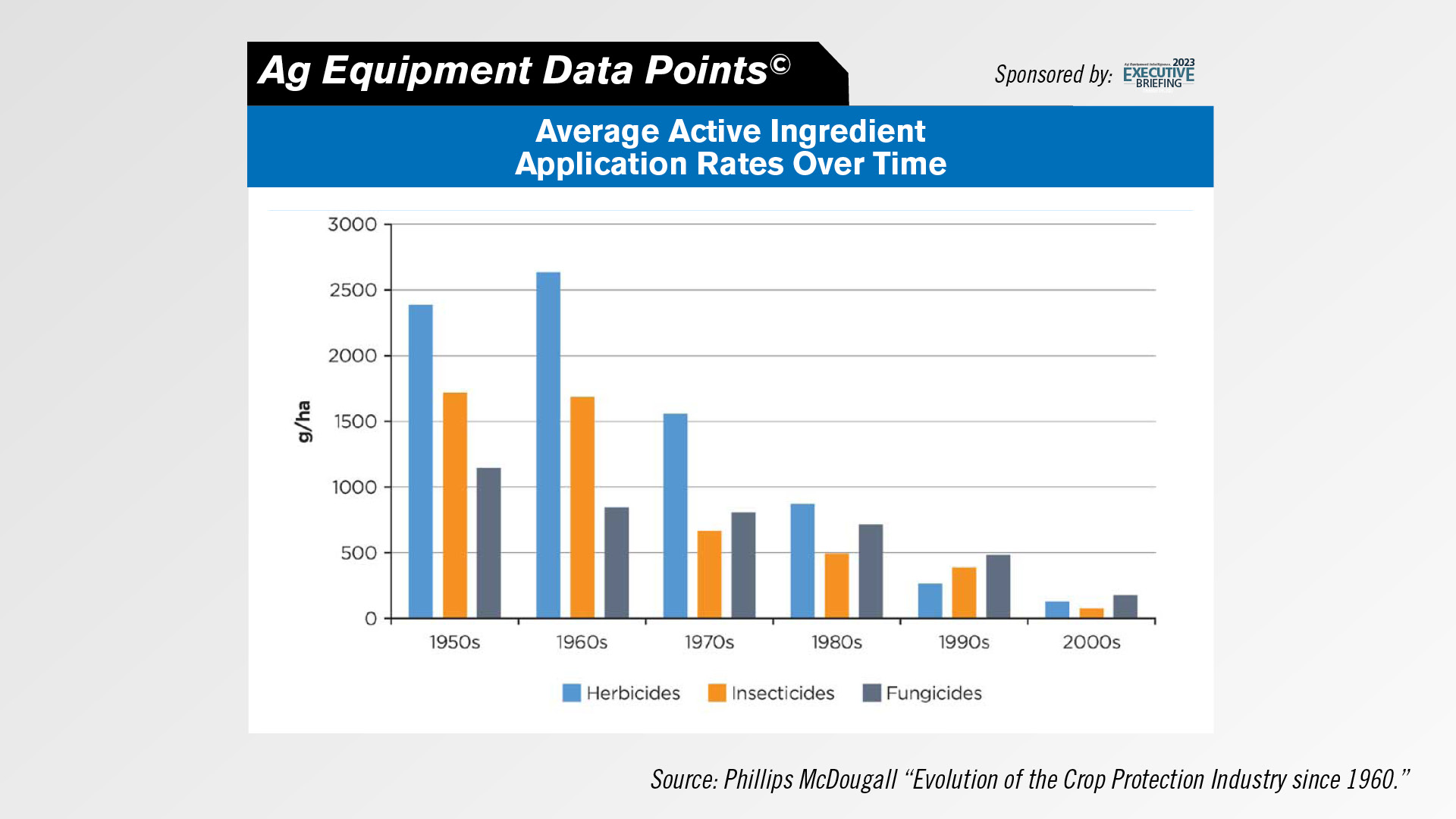 Average application rates in the 1950s were 1,200, 1,700, and 2,400 grams of active ingredient per hectare for fungicides, insecticides and herbicides, respectively. By the 2000s, the average use rates were reduced to 100, 40, and 75 grams per hectare, a 95% drop.
---
On the Record is now available as a podcast! We encourage you to subscribe in iTunes, the Google Play Store, Soundcloud, Stitcher Radio and TuneIn Radio. Or if you have another app you use for listening to podcasts, let us know and we'll make an effort to get it listed there as well.
We're interested in getting your feedback. Please feel free to send along any suggestions or story ideas. You can send comments to kschmidt@lessitermedia.com.