In this episode of On the Record, we look at a recent AEM survey that found the majority of ag equipment manufacturers reported improving supply chain issues. In the Technology Corner, Noah Newman looks at Leaftech Ag's new handheld tissue analysis tool. Also in this episode, CNH Industrial's latest acquisitions and Titan Machinery's fiscal year 2023 earnings.
This episode of On the Record is brought to you by BENZI.
BENZI delivers innovative solutions for power transmission. For 60 years we have been manufacturing PTO drive shafts, torque limiters, gearboxes, speed multipliers and speed reducers for agricultural mechanization. Our products are designed and tested to grant maximum performances in every working environment and our product range is by far the widest available on the market covering the vast majority of all power requirements and applications for agricultural PTO driven equipment
---
TRANSCRIPT
Jump to a section or scroll for the full episode...
69% of Ag OEMs Say Supply Chain Issues are Improving
Over two-thirds of ag equipment manufacturers say supply chain issues are present but improving, according to a survey from the Assn. of Equipment Manufacturers.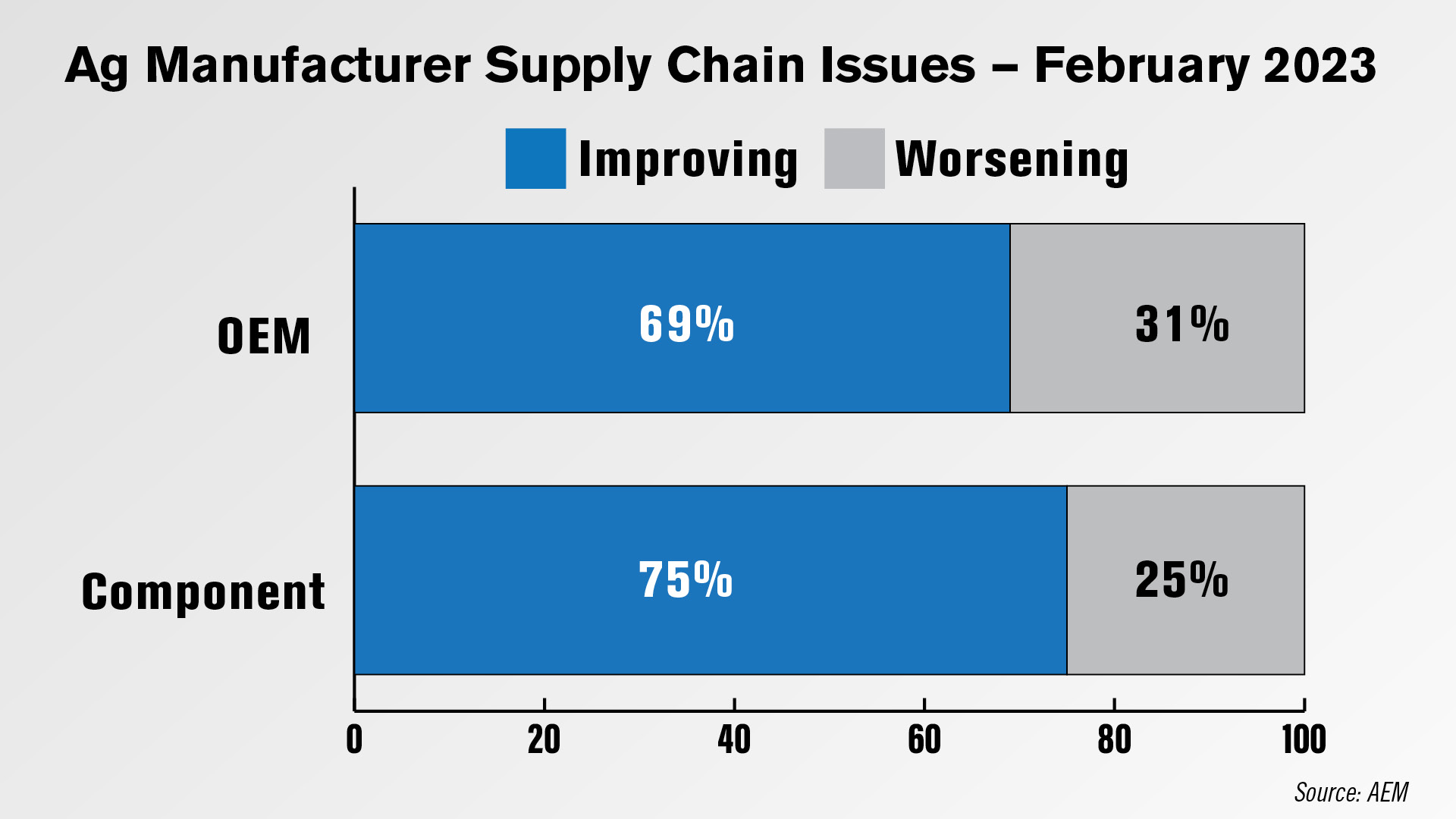 Another 31% of ag equipment manufacturers said they supply chain issues were worsening and none said they had no supply chain issues. For ag component manufacturers, 75% said their supply chain issues were improving and 25% said the issues were worsening.
When ag equipment manufacturers were asked about their component inventories, inventories of tracks were only 10% of the optimal inventory, the lowest among component categories. Semiconductor inventories were at 48% of their optimal inventory and controllers had the highest percentage at 53%.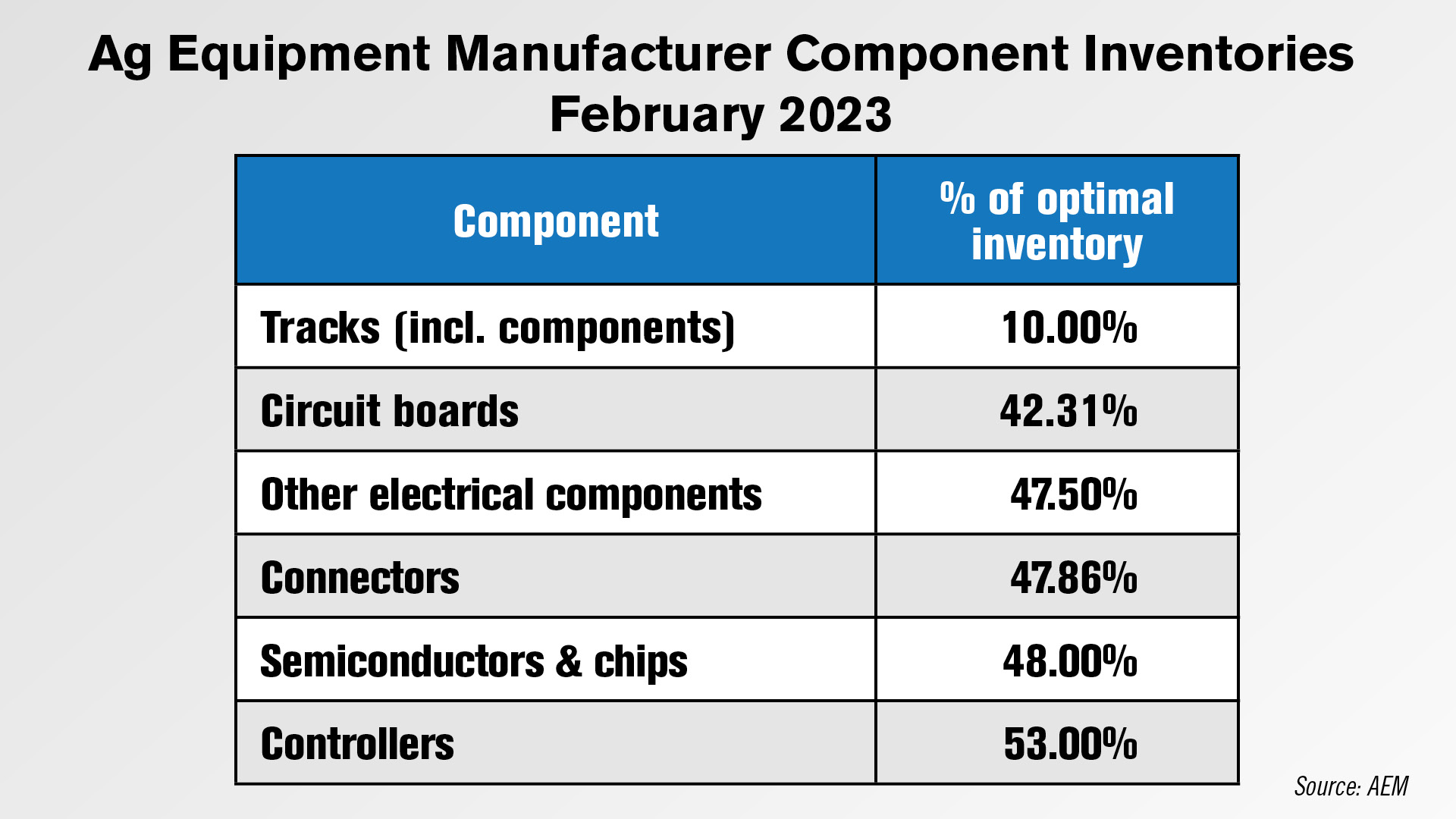 When asked when they thought their supply chain challenges might end, 46% of ag equipment manufacturers forecast they'd see resolution at the end of 2023. The second-highest percentage was for both the first half of 2024 and beyond 2024 at 16%.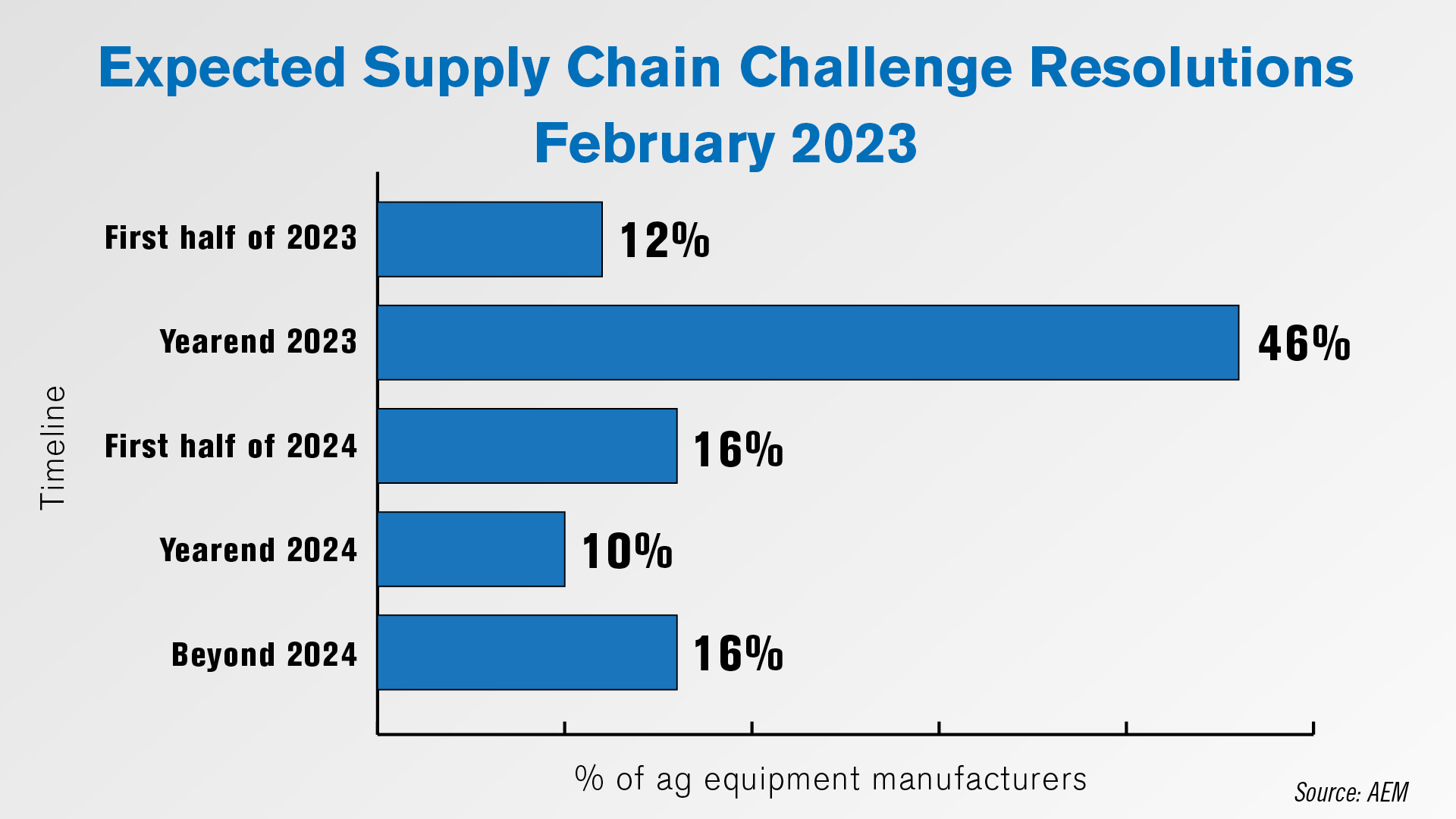 Dealers on the Move 
This week's Dealer on the Move are McFarlane Mfg., Hutson Inc. and Enns Brothers.
Wisconsin AGCO dealer McFarlane Mfg. acquired precision equipment dealer CMT AG LLC with locations in southern Wisconsin and northern Illinois. John Deere dealer Hutson Inc. acquired Sell's Equipment in Williamsburg, Mich. John Deere dealer Enns Brothers acquired the operating assets of single-store Manitoba dealership S.H. Dayton. 
Leaftech Ag Launches New Handheld Tissue Analysis Tool
On demand tissue analysis in the field has arrived. Leaftech Ag recently introduced a handheld digital lab that delivers results in less than 3 minutes. Agronomists or farmers can stick a leaf in the tool's scanner bed and see its nutrient contents on the spot. Founder and CEO John Mascoe shows us how it works.
Head to leaftechag.com for more information on the new handheld tissue analysis tool.
CNHI Continues Investments in Autonomy & Methane
Just this week CNH Industrial announced 2 moves to further its development in the autonomy and alternative power sources markets.
After acquiring a minority stake in March 2021, CNH Industrial announced March 13 it had fully acquired machine vision company Augmenta for an enterprise value of $110 million. Augmenta develops a multispectral camera and software that monitors a machine's operating environment and acts directly via that machine. CNH Industrial stated Augmenta will operate within its Raven brand as a subset of its precision technology portfolio and will maintain its existing employees and offices.
On March 15, CNH Industrial took a controlling stake in Bennamann, a UK company that specializes in capturing, repurposing and storing methane. CNH Industrial had jointly developed a liquified natural gas tank for a tractor prototype with Bennamann in 2019 and acquired a minority stake of the company in 2021. Collaboration with Bennamann led to the introduction of the New Holland T7 Methane Power LNG in late 2022, the market's first tractor powered by liquid natural gas.
Titan Machinery Sees $2.2 Billion in FY23 Revenue
Titan Machinery released its fiscal year 2023 earnings on March 16, reporting $2.2 billion in revenue for the year, a 29% year-over-year increase.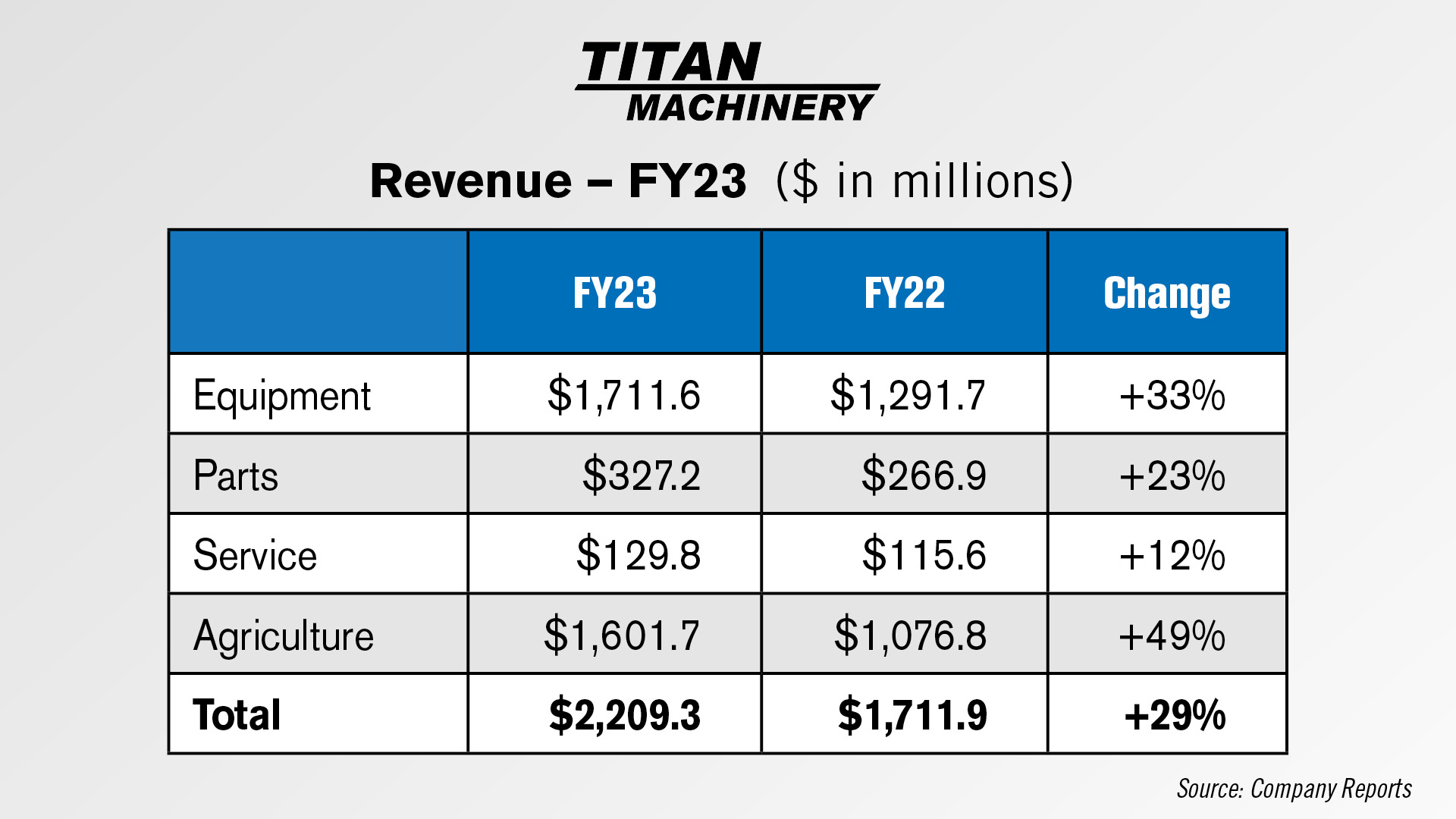 Equipment revenue specifically was up 33% to $1.7 billion from $1.3 billion in Titan's fiscal year 2022. Parts revenue was up 23% to $327 million and service revenue was up 12% to $130 million. Among its market segments, only the dealership's ag revenue saw year-over-year increases, rising 49% to $1.6 billion in 2023 revenue. Titan said in its earnings that its fourth quarter ag revenue specifically benefited from its recent acquisitions, including Jaycox Implement, Mark's Machinery and Heartland Ag. 
Titan Machinery Chairman and CEO David Meyer said:
"The fourth quarter was negatively impacted by delayed new equipment shipments. This abnormal congestion at the very end of the fiscal year limited our ability to deliver equipment to customers and recognize revenue, which resulted in an increase of pre-sold units coming on to our balance sheet at year end. While this impacted our financial performance in the fourth quarter, it is ultimately a timing nuance, as we expect to catch up on the backlog as we progress throughout the year. We are carrying significant demand into fiscal 2024."
In a March 16 note to investors, RW Baird analysts gave their take on Titan Machinery's earnings, saying:
"A uniquely favorable operating environment — record high used equipment prices, extremely tight supply environment — led to strong growth and record equipment margins in [Titan's] FY23. The supply of equipment is clearly increasing, while demand remains solid we see rising risks from potential margin normalization and higher inventory levels."
DataPoints: Labor Expenses
This week's DataPoint is brought to you by the Dealership Minds Summit.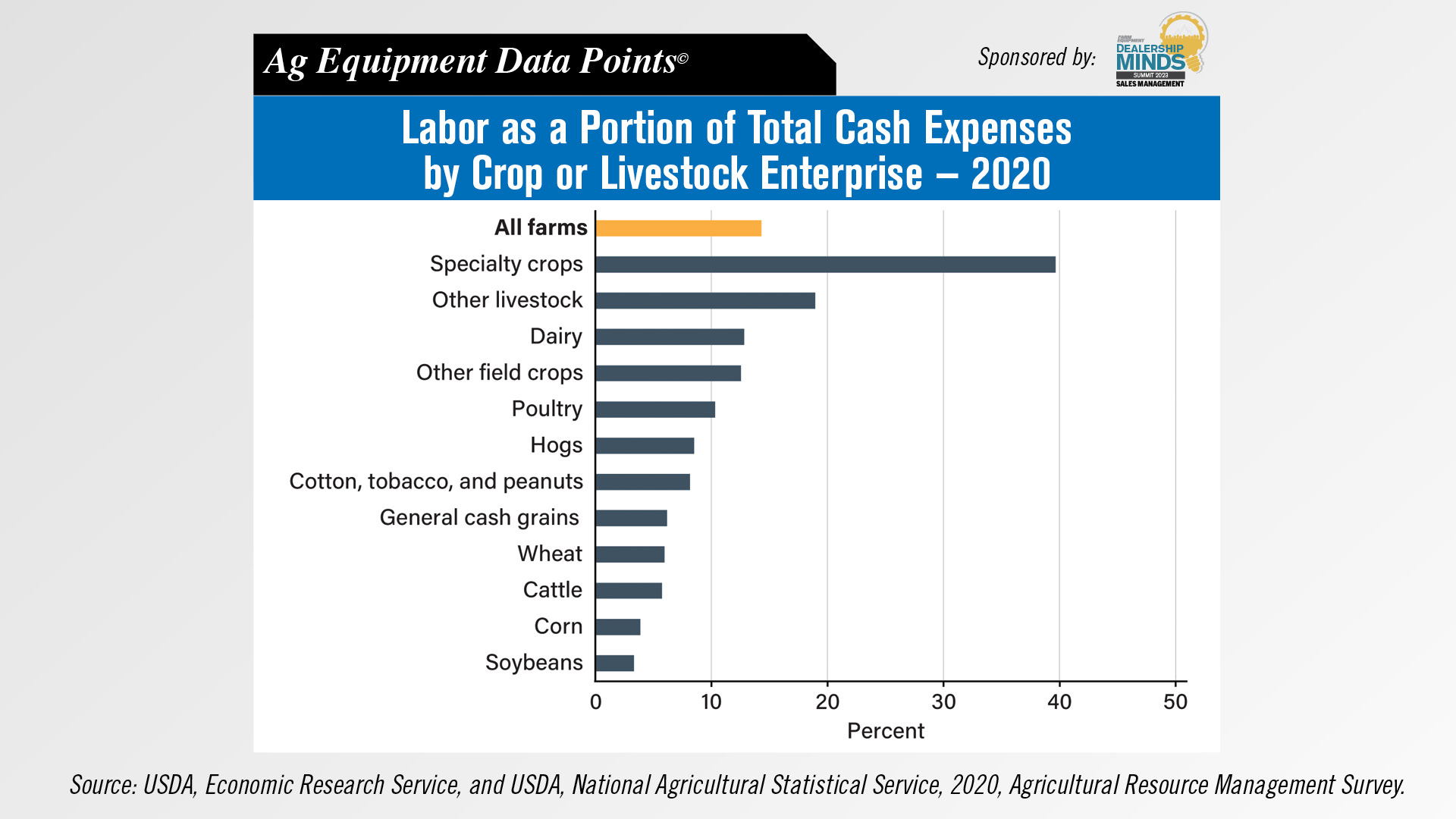 On average, labor costs — including contract labor, hired labor, and worker benefits such as insurance — accounted for about 14% of total farm cash expenses in 2020. Farms specializing in the production of specialty crops such as fruit and tree nuts had the highest labor costs at almost 40% of total cash expenses. Operations specializing in corn and soybeans, meanwhile, spent the least on labor costs as a percentage of total cash farm expenses at 4% and 3% respectively.
Farm Innovations Introduces How We Did It Docuseries
And finally, we wanted to let you know that our sister publication Farm Innovations recently launched its new How We Did It Docuseries, a collection of interviews with the farm equipment industries' top innovators and how they made it to where they are today. Here's a clip from one of the most recent episodes with Gregg Sauder, who shares his career-defining moments and lessons learned from his $250 million sale of Precision Planting to Monsanto.
Click the link in the description of this video to visit the Farm Innovations YouTube channel to watch more episodes from the series.
---
On the Record is now available as a podcast! We encourage you to subscribe in iTunes, the Google Play Store, Soundcloud, Stitcher Radio and TuneIn Radio. Or if you have another app you use for listening to podcasts, let us know and we'll make an effort to get it listed there as well.
We're interested in getting your feedback. Please feel free to send along any suggestions or story ideas. You can send comments to bthorpe@lessitermedia.com.