In this episode of On the Record, the latest Dealer Sentiments Report shows that dealers inventories of both new and used equipment are improving despite being too low. In the Technology Corner Noah Newman talks with Verdant Robotics plans to scale its fleet. Also in this episode, Titan Machinery reports record results for the third quarter of fiscal year 2023 and Farm Credit Canada forecasts tight machinery inventories well into 2024.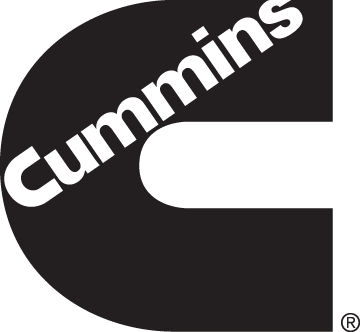 This episode of On the Record is brought to you by Cummins Inc. — Cummins Inc., a global power leader, is a corporation of complementary business segments that design, manufacture, distribute and service a broad portfolio of power solutions. The company's products range from diesel, natural gas, electric and hybrid powertrains and powertrain-related components including filtration, aftertreatment, turbochargers, fuel systems, controls systems, air handling systems, automated transmissions, electric power generation systems, batteries, electrified power systems, hydrogen generation and fuel cell products.  Learn more about Cummins by visiting cummins.com
---
TRANSCRIPT
Jump to a section or scroll for the full episode...
Dealer Report Improved Inventory Levels
Ag Equipment Intelligence's latest Dealer Sentiment Report shows that while dealers' inventory levels are still too low, they are improving.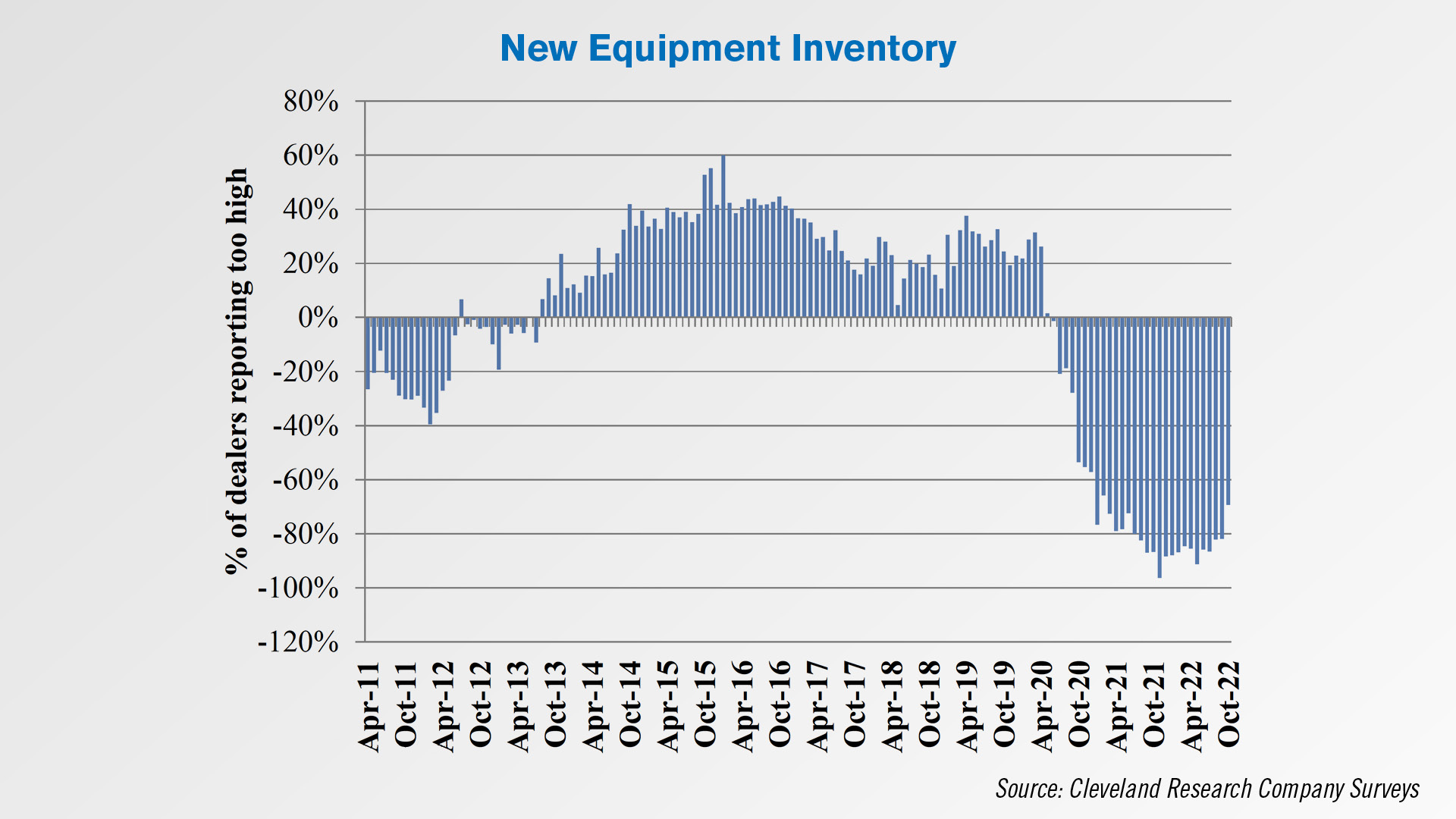 A net 69% of dealers report their new equipment inventories are too low. That's a 13 point improvement from the net 82% of dealers who said their inventories were too low the month prior.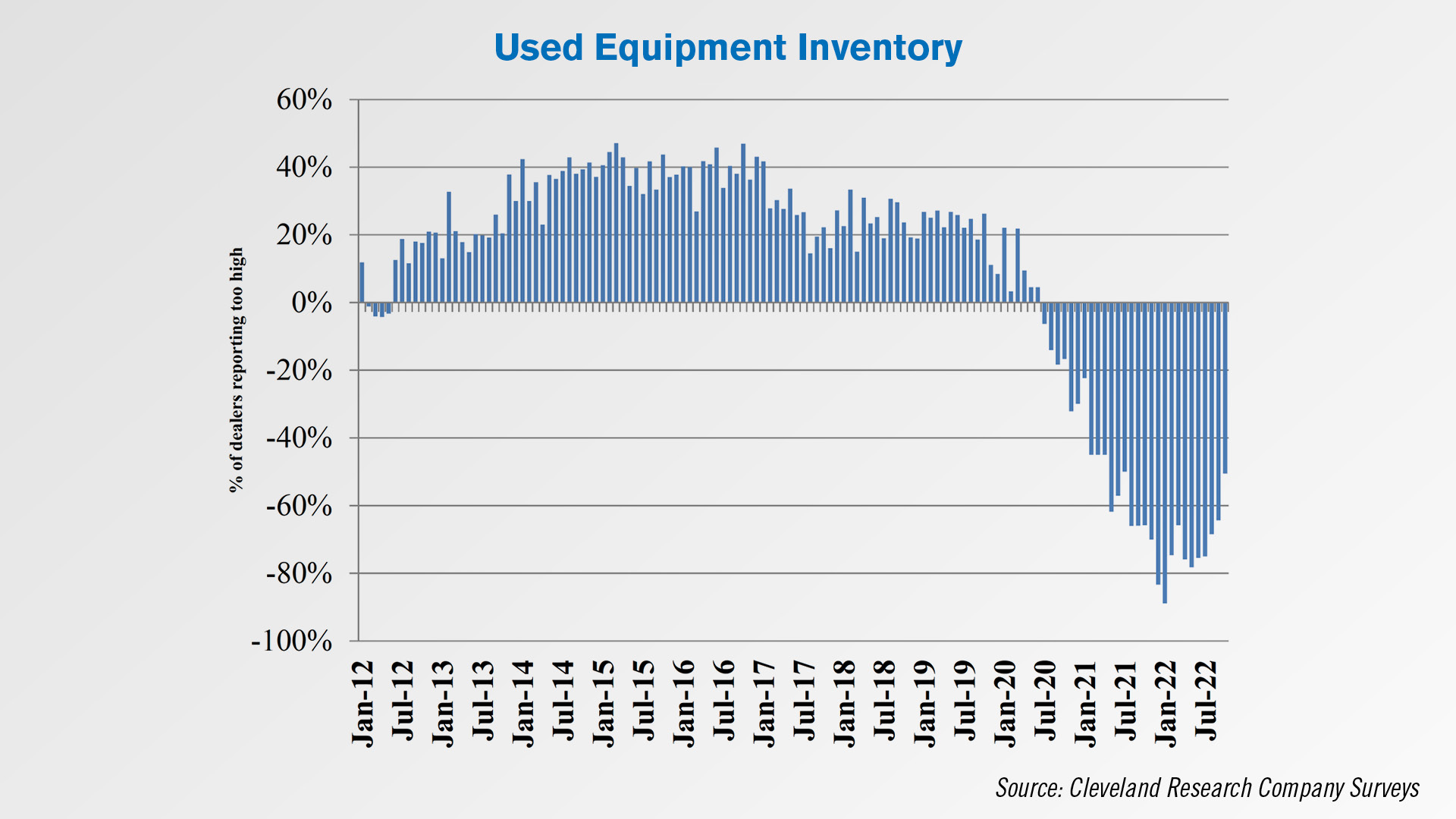 On the used equipment side of things, a net 51% of dealers reported their used equipment were too low vs. a net 64% who said inventories were too low the month before.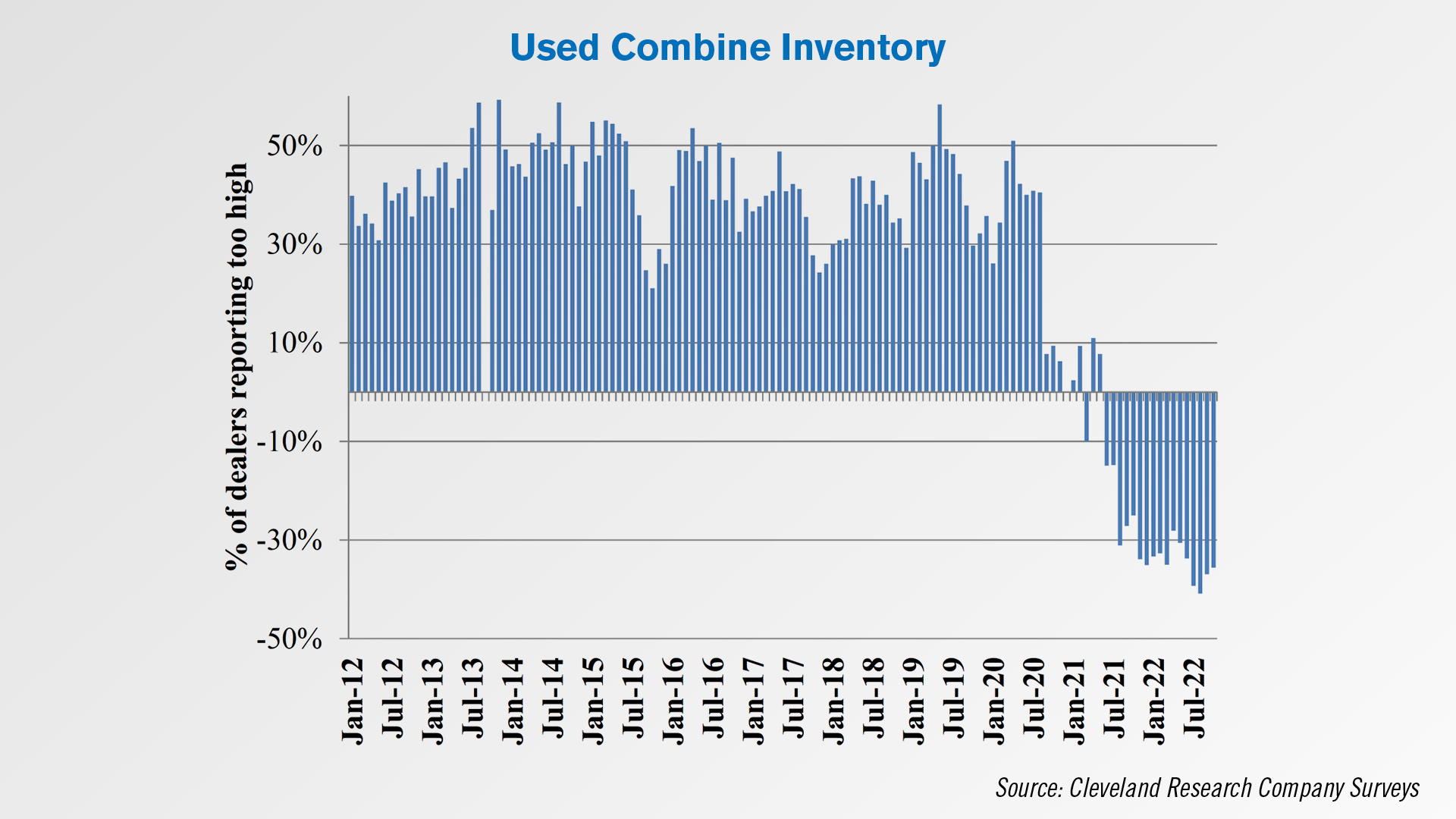 Used combine inventories are in better shape than used high horsepower tractor inventories, though. A net 36% of dealers reported their used combine inventories were too low, compared to a net 79% who said their used high horsepower tractor inventories were too low.
Dealers on the Move
This week's dealers on the move are Hutson Inc. and Brandt. 
Kentucky-based John Deere dealer Hutson Inc. announced another Michigan acquisition. The dealership acquired Gambles in Alpena, Mich. Hutson has 30 locations across Kentucky and Michigan. 
The Brandt Group of Companies has reached an agreement to acquire the assets of Agrowquip NZ Ltd. The acquisition combines the strong local presence of Agrowquip with Brandt's existing locations across the North Island to create a network of John Deere dealer locations that runs from Cape Reinga to Wellington, New Zealand. 
Technology Corner: Big Investment Enables Verdant Robotics to Rapidly Scale its Fleet
Big news from Verdant Robotics this week as they announced the close of a $46.5 million series A funding round – one of the largest investments in ag robotics to date.
Verdant Co-founder Curtis Garner says the funding will enable the company to scale its fleet, build more machines and cover more acres. 
Verdant's robot can simultaneously weed, fertilize, and treat plants for pests and disease with its sub-millimeter accurate spraying technology.  
Right now, the company commercially services a wide variety of specialty crops including carrots, onions, garlic and leafy greens. But with this new investment, Garner says it's only a matter of time until they expand into other crops like corn and soybeans.   
"We're talking to customers now with corn and soy. Our technology is broadly applicable to any crop. We just have to take the time to learn the crop and find the agronomic actions we should go after that are valuable for the farmer. And then work hand in hand, getting our boots dirty, rubbing our shoulders with the farmer and agronomist to figure out the necessary actions they want to take on the crop. That will likely be a few years to really flesh that out and develop something that will work extremely well and be commercially viable in broad acre row crops."
More machines equal more crops, as Garner puts it. He says they can now service a 50-acre grower just as well as they can service a 5,000-acre grower, helping them use up to 95% less materials on their farm.
Titan Reports 3Q Earnings Grow 47%
Case IH dealer Titan Machinery announced its third quarter earnings for fiscal year 2023 on Nov. 30. Revenue for the quarter came in at $668.8 million, up 47 percent from $456 million in the same period last year.  This was the third consecutive quarter of record results for Titan. 
Commenting on the results, Mig Dobre, senior research analyst with Baird, says,  it was a "very strong quarter (in fact the strongest ever) as good overall execution (evident in ability to secure OEM shipments in a still tight supply environment) coupled with record high used equipment prices which drove record high equipment gross margin."
Equipment sales for the quarter were $509 million vs. about $330 million for the third quarter of 2022.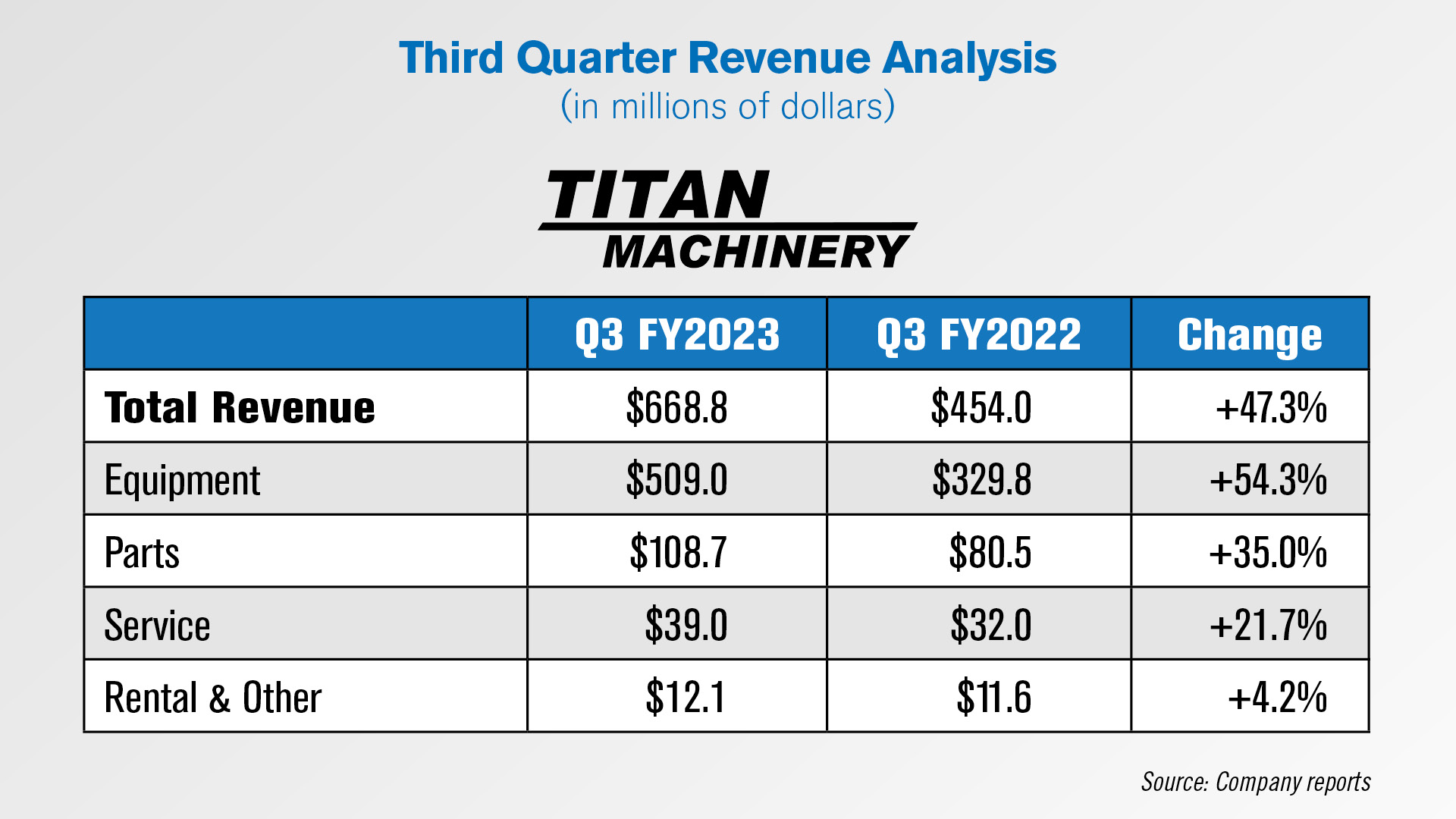 Parts sales were up 35% to $108.7 million during the quarter. Service revenue grew as well during the quarter, but to a lesser degree at up 2.2% to $39 million. 
Ag segment revenues for the third quarter of 2023 were $493.3 million, up 75% year-over-year. According to Titan, the sales increase was positively impacted by organic growth as well as the acquisitions of Jaycox Implement in December 2021, Mark's Machinery in April 2022, and Heartland Ag Systems in August 2022. 
Floorplan and other interest expense was $1.8 million in the third quarter of fiscal 2023, compared to $1.3 million for the same period last year.
Canadian Combine Inventories Forecast to Remain Tight
According to a Nov. 8 report from Farm Credit Canada, Canadian combine inventories are forecast to remain tight into the end of 2024. The firm is forecasting combine inventories to remain under pressure, while 4WD tractor inventories are forecast to recover slowly over the next 2 years. 
According to the report, inventory levels are expected to remain tight through 2024 "as producer demand remains strong for farm equipment and manufacturers catch up on pre-orders."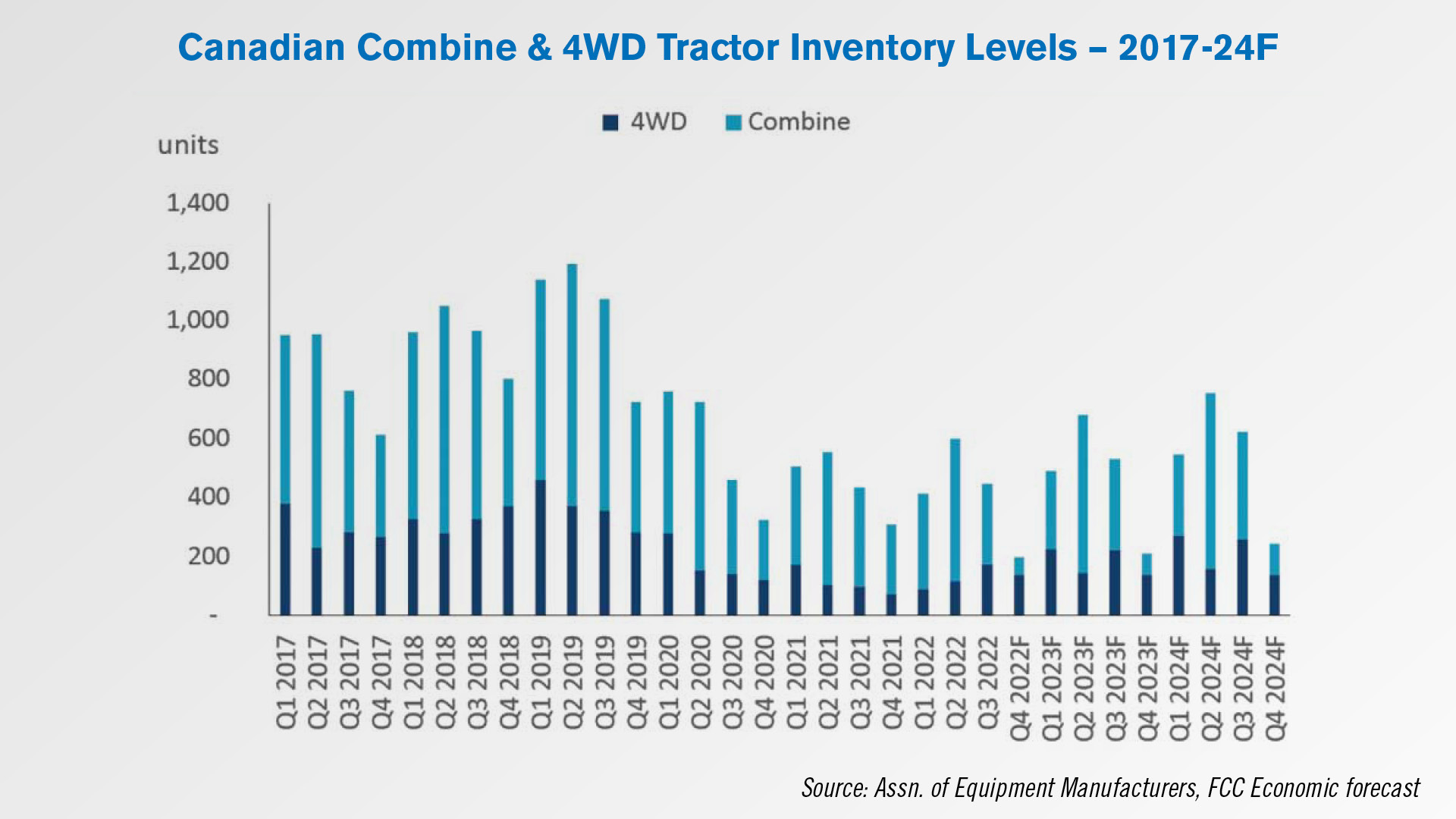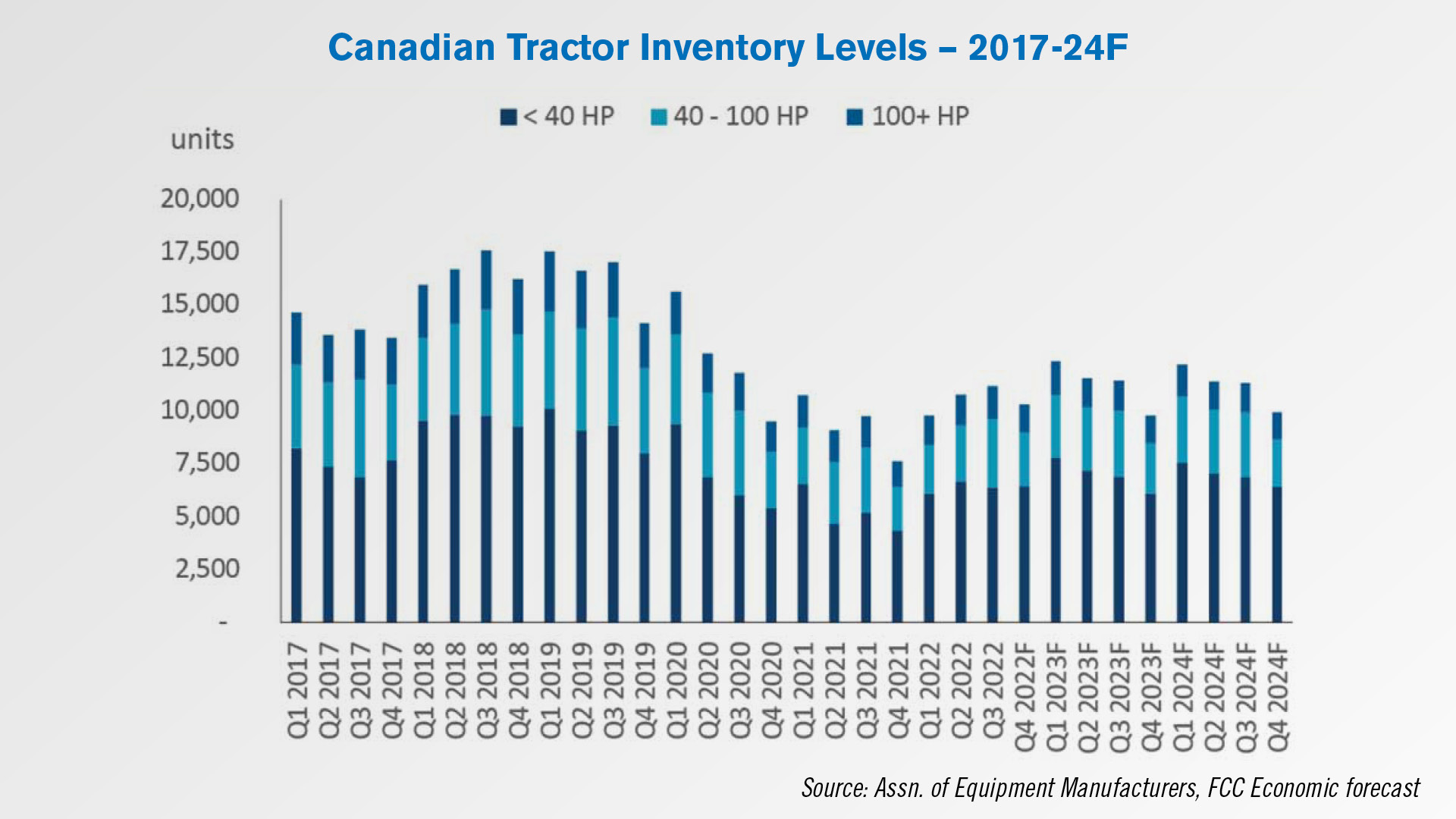 Farm Credit Canada reports new equipment inventory levels have trended below the 5-year average. Tractor inventories are down 42% and combines are down 47%. Strong demand for farm equipment for the remainder of 2022 is expected to reduce inventory levels further and support higher prices, the report says. 
According to the lender, "The good news is that equipment manufacturers are expected to adjust their production upward due to the changing economic environment as North American equipment dealers begin to rebuild their inventories. We expect farm equipment dealers to remain 100% sold on new equipment. However, individual dealer revenue remains uncertain and tied to deliveries and allocations from manufacturers. Overall, dealer sale revenue will come down to the number of trades that materialize once new equipment arrives."
Both domestically manufactured and imported equipment for the Canadian market are forecast to increase in price heading into 2023 due to inflation and a depreciating Canadian dollars. Farm Credit Canada is forecasting the Canadian dollar to average USD$0.72 through 2023.
DataPoints: Farm Production Expenses Up 6% 
This week's Data Point is brought to you by Ag Equipment Intelligence's 2023 Executive Briefing.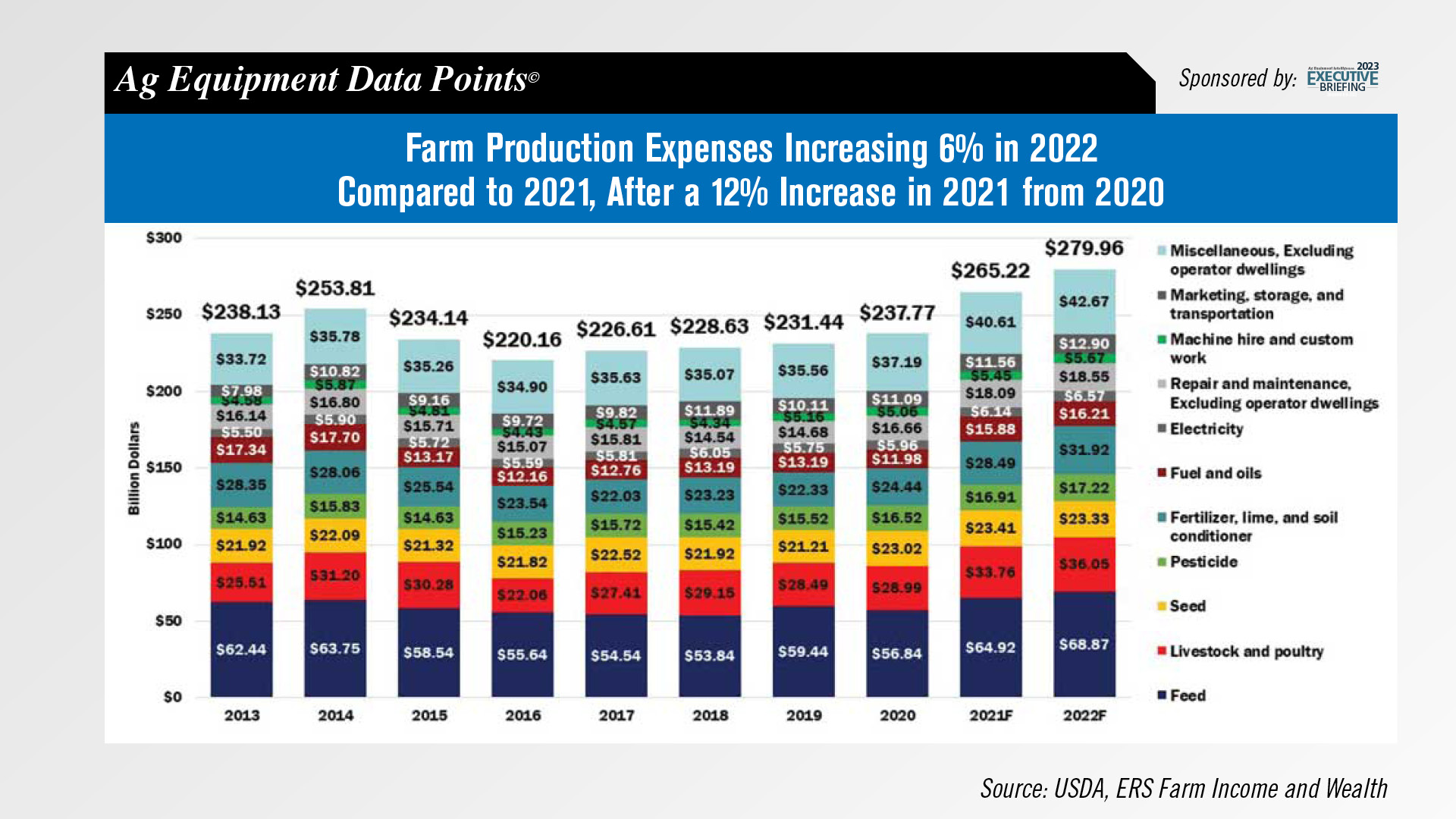 According to the USDA ERS, farm production expenses are forecast to increase by 6% in 2022 compared to last year. This follows a 12% increase in farm production expenses in 2021 from 2020. 
---
On the Record is now available as a podcast! We encourage you to subscribe in iTunes, the Google Play Store, Soundcloud, Stitcher Radio and TuneIn Radio. Or if you have another app you use for listening to podcasts, let us know and we'll make an effort to get it listed there as well.
We're interested in getting your feedback. Please feel free to send along any suggestions or story ideas. You can send comments to kschmidt@lessitermedia.com.