Editor's note: The original version of this newscast incorrectly identified Brad Stanek of Morgan Stanley as Paul Albero of Performance Brokerage Services and has been corrected. We regret the error and apologize for any confusion it may have caused.
In this episode of On the Record, we discuss how farmers and dealers view the recently announced collaboration agreement between Farmers Business Network and Greeneye Technology. In the Technology Corner, Noah Newman covers what majorline OEMs had to say about the future of autonomy with dealers at the 2023 Precision Farming Dealer Summit. Also in this episode, a look at CNH Industrial's fourth quarter earnings, the state of dealer M&A activity and Unverferth's acquisition of tillage equipment manufacturer Orthman Manufacturing.
This episode of On the Record is brought to you by BENZI.
BENZI delivers innovative solutions for power transmission. For 60 years we have been manufacturing PTO drive shafts, torque limiters, gearboxes, speed multipliers and speed reducers for agricultural mechanization. Our products are designed and tested to grant maximum performances in every working environment and our product range is by far the widest available on the market covering the vast majority of all power requirements and applications for agricultural PTO driven equipment
---
TRANSCRIPT
Jump to a section or scroll for the full episode...
Greeneye Technology Goes Farmer Direct Through FBN
On Jan. 25, Greeneye Technology and Farmers Business Network announced a long-term strategic collaboration agreement to combine Greeneye's retrofit precision spraying systems and FBN's Precision Spraying Packs customized crop protection and nutrition plans. 
According to industry analyst Shane Thomas,
"News of FBN collaborating and identifying a new product offering to take to the market is not surprising. They have shown since their founding in 2014 that they are not going to stick to norms when it comes to building their business. Couple this with the fact that FBN announced a strategic collaboration with Solinftec and their smart spraying autonomous robot last summer and it makes a lot of sense for FBN to pursue a novel service and product selling approach."
According to the Daily Scoop's coverage of the news, Nadav Boucher, co-founder and CEO of Greeneye Technology, says he plans on FBN being the primary go-to market channel for machines in just a few years.
A Farm Equipment survey of dealers, manufacturers and producers found that just over 77% of respondents think groups like FBN will be offering parts directly in the next 3 years. Another about 53% said they thought implements would be sold this way in that same amount of time.
Breaking out just the dealers, about 81% thought these types of groups would be selling parts directly to farmers and another nearly 63% thought they'd be selling implements direct in the next 3 years. A quarter of dealers who took the survey thought both high horsepower tractors and self-propelled sprayers could be sold this way in the next 3 years.
Dealers on the Move 
This week's Dealer on the Move is Monroe Tractor.  
Case IH dealer Monroe Tractor has acquired 3 Lamb & Webster locations in Springville, N.Y., North Java, N.Y., and Grove City, Pa.
Technology Corner: How Autonomy Will Reshape Ag According to Deere, Case IH & AGCO Leaders 
AGCO, Case IH and John Deere jumped at the chance to address elite precision dealers during the first ever OEM panel at the Precision Farming Dealer Summit in St. Louis.
AGCO's Seth Crawford, Deere's Matt Olson and Case IH's Kendal Quandahl fielded questions about their strategic direction for business and outlook on autonomy.
An audience member asked for their thoughts on how fully autonomous machines are going to reshape agriculture. Here's what they said.
Matt Olson, manager of precision ag go-to market for John Deere: "Our key thing is making sure that we're understanding the value that's created for the customer, making sure that they retain the greatest share of that. But then we look at sharing some of that value with our dealers and for us as a business. And so, to me, outside of the work that is done, it should be really pretty seamless because we've talked a lot about, we've been on this journey to autonomy for a long time, and now we're just getting to the point where we say, "Get out of the cab, you don't need to be in there."
Kendal Quandahl, Case IH precision technology marketing manager for North America: "If we do this right, collectively as a whole, we won't notice because we took everybody one step at a time to deliver the solutions they're asking and then in 2 years and 5 years and 10 years, we look back and say, 'Man, we had to do that?' If we're all invested in the autonomy journey, we won't even realizing that it's happening."
Seth Crawford, AGCO senior vice president and general manager, precision ag and digital: "How is it changing our business internally with everything that's going on? I could tell you for sure, we're hiring a lot more software engineers, and robotics engineers, and sensors and perception engineers than we've ever hired in our past, and we're hiring as a percentage now, a lot less mechanical engineers, and that will reshape how the products are brought out and developed."
Be on the lookout for a full recap of the OEM panel coming soon to PrecisionFarmingDealer.com. In the Technology Corner.
CNH Industrial Reports $6.9 Billion in 4Q22 Revenue
CNH Industrial released its earnings for the fourth quarter of 2022 on Feb. 2, showing $6.9 billion in revenue, a 27% year-over-year increase. The company reported $23.6 billion in revenue for the year.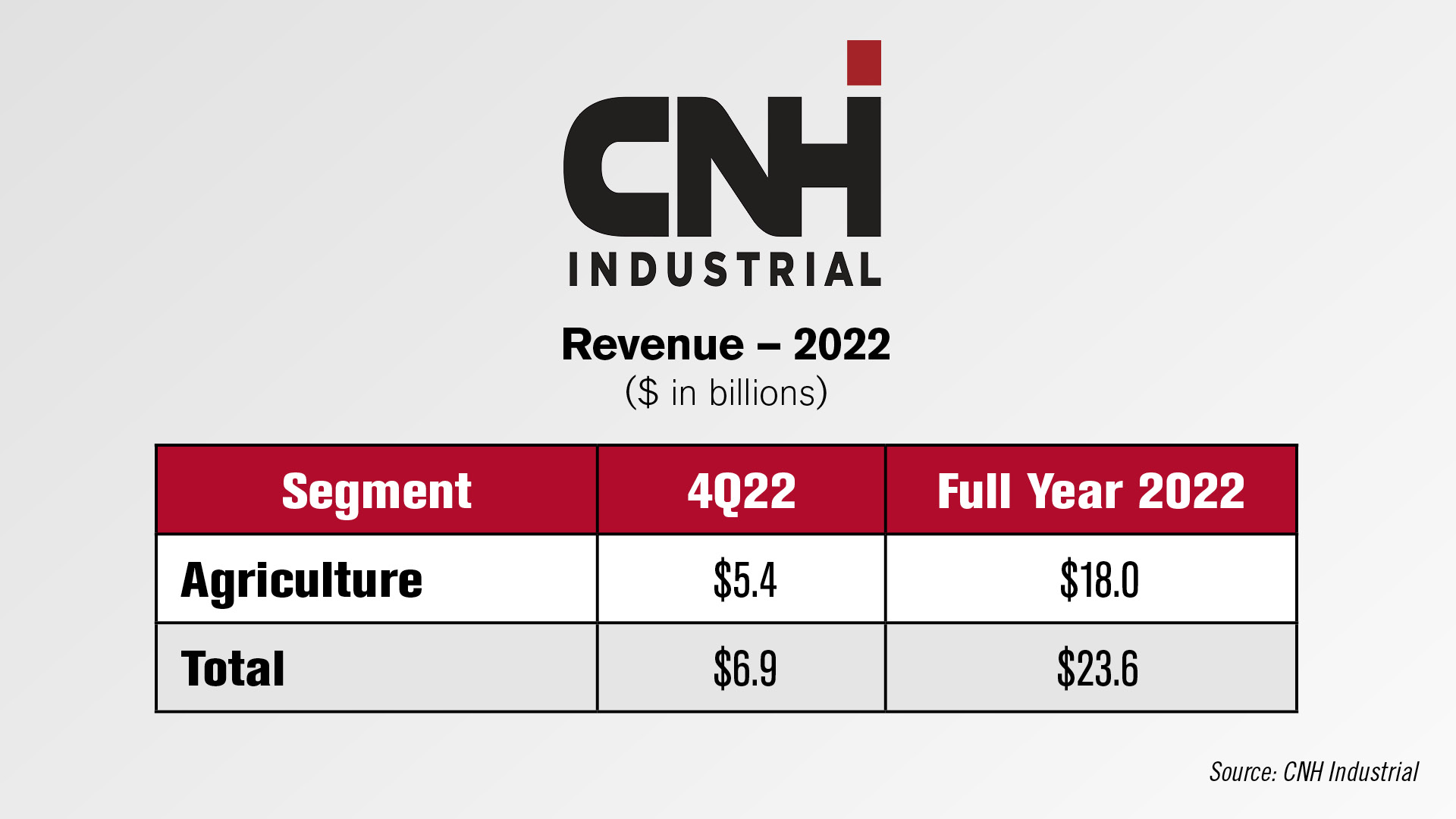 Agriculture revenue for the quarter was $5.4 billion, a 29% year-over-year increase from $4.2 billion in the fourth quarter of 2021. For the full year, CNHI's agriculture revenue totaled $18 billion, up 22% vs. the prior year.
The company said its agriculture net sales were up due to favorable price realization, higher sales volumes and better product mix, mostly driven by the North America, South America and Europe regions.
CNHI's order book in agriculture was down 23% year-over-year for tractors worldwide with all regions down except the Asia Pacific region. The company's order book for combines was down 20%, with declines in all regions except the Asia Pacific region. However, order books were 2.2 times the company's pre-pandemic levels.
Looking at 2023, the company is forecasting its industrial activities net sales to be up 6-10% year-over-year.
Brokers: Dealer M&A Activity 'Still Very Strong'
During a panel at the 2023 Associated Equipment Distributors Summit held Jan. 10-12, Performance Brokerage Services Partner Dan Argiro said he views the current landscape of equipment dealer merger and acquisition activity as "still very strong."
"So the buy-sell machinery market, thank you Paulina, over the last couple of years has been, 'Here's your evaluation,' and the next answer is, 'Show me the money.' It's just been that way, and today the buy-sell market is still very strong. There's a lot more buyers than there are sellers. Businesses have a lot of cash. They have opportunity to make moves if they so choose. Value [of] dealerships are still up and buyers are still hungry for deals."
Brad Stanek, financial advisor at Morgan Stanley, says current activity follows record sales over the last few years.
"When we take a look at where we're at now, it helps to take a look at where we were, and where we were just a few years ago, up until, let's say the past 6 months, was that we had massive government stimulus, extremely low cost of capital, supply chain issues that actually worked to our advantage and that there was a lot more demand than supply. So margins were excellent, generating significant amounts of excess cash and making it a great environment for those that sold their dealership at some of the highest values in history."
Brad did point out that heading into 2023, the industry is facing much higher capital costs than it had previously.
Unverferth Acquires Orthman Manufacturing
Unverferth, a manufacturer of tillage, seeding and haying equipment, announced Feb. 1 it had acquired Orthman Manufacturing, a manufacturer known for its 1tRIPr strip-tillage system. Unverferth will acquire the Orthman ag equipment lineup and its 2 manufacturing locations based in Lexington, Neb. 
This isn't the first time in recent memory Unverferth has acquired the equipment lineup of another tillage equipment manufacturer. Unverferth announced in 2019 its acquisition of the Blu-Jet lineup, which included anhydrous ammonia applicators, liquid fertilizer applicators and deep-till in-line rippers.
DataPoints: Agtech Investing
This week's DataPoint is brought to you by the Dealer Success Academy.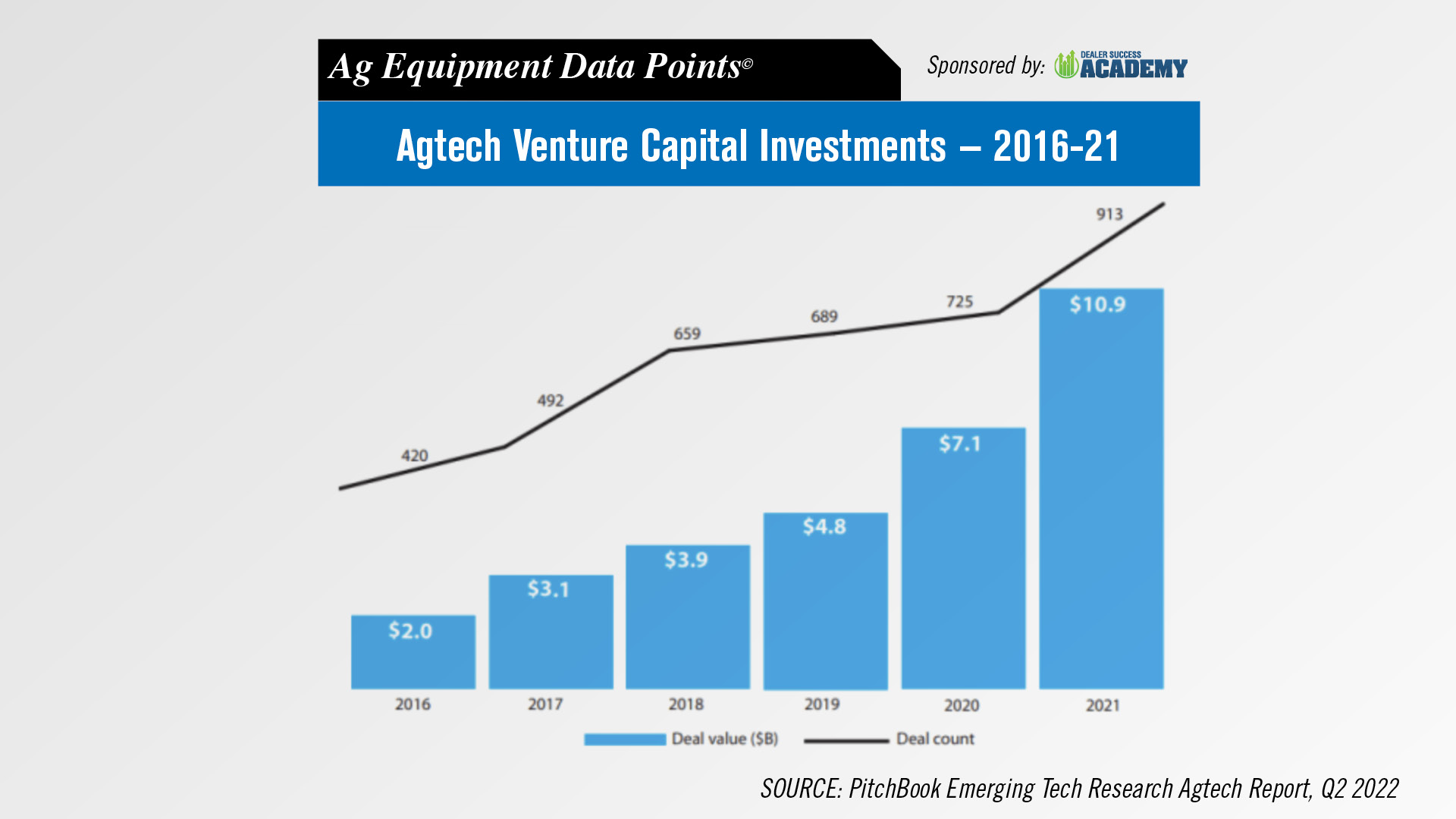 The volume of agtech venture capital activity totaled almost $11 billion in 2021, up from $2 billion in 2016. The number of deals taking place in that time more than doubled from 420 in 2016 to 913 in 2021.
---
On the Record is now available as a podcast! We encourage you to subscribe in iTunes, the Google Play Store, Soundcloud, Stitcher Radio and TuneIn Radio. Or if you have another app you use for listening to podcasts, let us know and we'll make an effort to get it listed there as well.
We're interested in getting your feedback. Please feel free to send along any suggestions or story ideas. You can send comments to kschmidt@lessitermedia.com.